Preserving Family Photographs:

7 Steps to Secure & Share Your History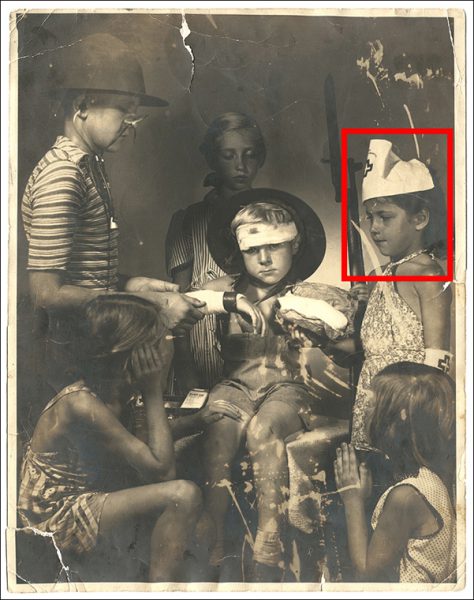 Our friend Florence Smithson at 83 years old / and at 7 years old (see red box) in this large photo of kids playing "helping the wounded soldier" from 1941.
Today we're going to use the fantastic 11 x 14″ photo above to illustrate the steps involved in preserving family photographs, especially larger photos. While we're using this specific photograph, these tried-&-true steps will also apply to your own particular photo archiving & preservation needs.
---
Step 1 –

 Finding Your Photographs
Many us of have boxes of photographs just like this tucked away in the basement or attic. These locations are prone to harmful temperature & humidity fluctuations—and are susceptible to flooding, leaky pipes, and leaky roofs—so when preserving family photographs it's best to store them in a cool / dark area or closet in your "living space" and not in basements or attics.
---
Step 2 –

Quick Inspection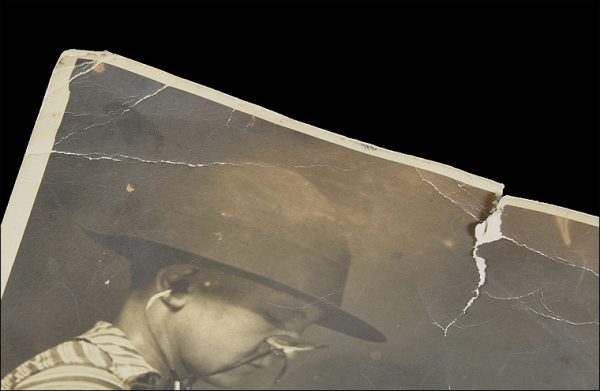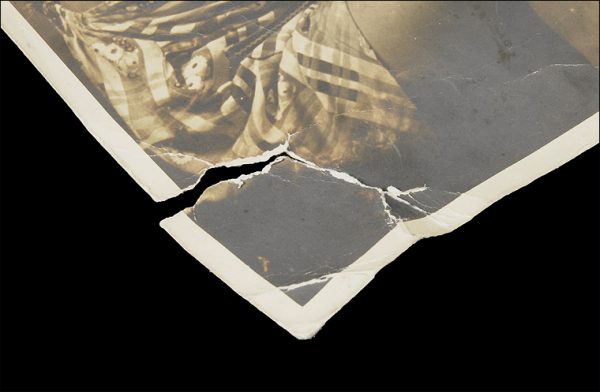 Significant issues with this old photograph include tears / creases / cracked photo emulsion / an almost detached corner / fading / & photo chemical stains.
A quick visual inspection of your old photos will often reveal no problems at all. On occasion, however, certain one-of-a-kind or otherwise important photographs will exhibit major damage. If any of your old photographs have significant damage, consider contacting a professional photo conservator (see the link to this topic at the end of this blog).
In the case of the photograph above, while there is some surface and structural damage it's not drastic enough to warrant professional conservation—as long as we're careful while scanning it and preparing it for either long-term archival storage or matting & framing.
---
Step 3 –

Scanning Photographs
Desktop scanners are relatively inexpensive and often come with easy-to-use software that will allow you to do your own scanning. If you don't have a scanner or don't wish to use it with your photographs, consider contacting the Association of Personal Photo Organizers (APPO) for friendly & professional assistance (see the APPO link at the end of this blog).
  
This 11 x 14″ photograph was carefully scanned in two sections.
The software that comes with many scanners will allow you to scan larger photographs in sections, and then select a computer command that will seamlessly "stitch" the two halves (or multiple sections) together into a single image (see photos above & below).
Once you have a scan you can:
1. use it to print additional copies for relatives / for albums / or for framing
2. email the digital image file to those who might want a copy for their own album or archive
3. safely store the original in an archival enclosure and an acid-free box (see below)
---
Step 4 –

Archival Storage
When it comes to preserving family photographs, there are a variety of different types of acid-free enclosures available, each in a wide range of sizes—including a number of larger sizes—to fit your specific needs.
With enclosures, the fundamental difference between clear sleeves or bags (see photo above) and opaque envelopes or folders (see photo below) is transparency.
Using a clear enclosure will allow you to see exactly what is inside for easy identification, while envelopes & folders offer a slightly greater level of structural support and can hold either single- or multiple images.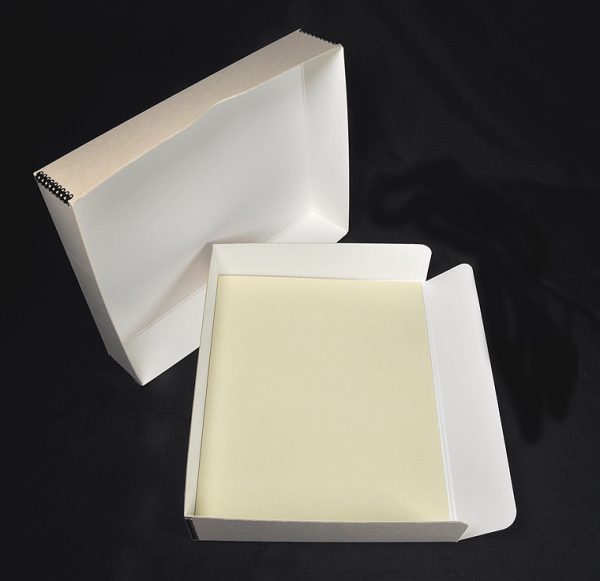 Drop Front Boxes are so named as the front wall of the inner box "drops down" to offer easy access. (Please click on either image for more information.)
Whether using clear sleeves or bags (on left), or opaque envelopes or folders (on right) when preserving family photographs, placing them in acid-free Drop Front Boxes will add yet another layer of archival protection while keeping your photos organized & accessible. These versatile boxes are relatively inexpensive, and are available in many sizes / in 1-1/2″ and 3″ depths / and in four different colors.
---
Step 5 –

Identification of Family & Friends(!)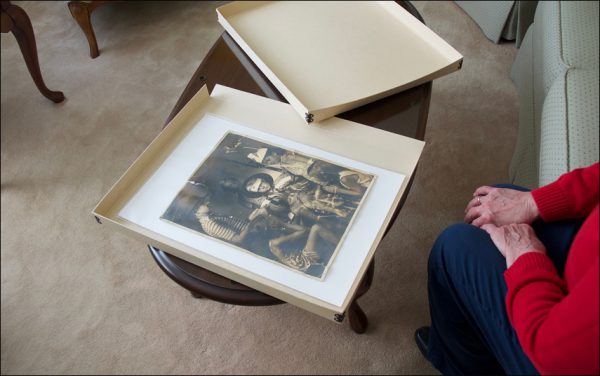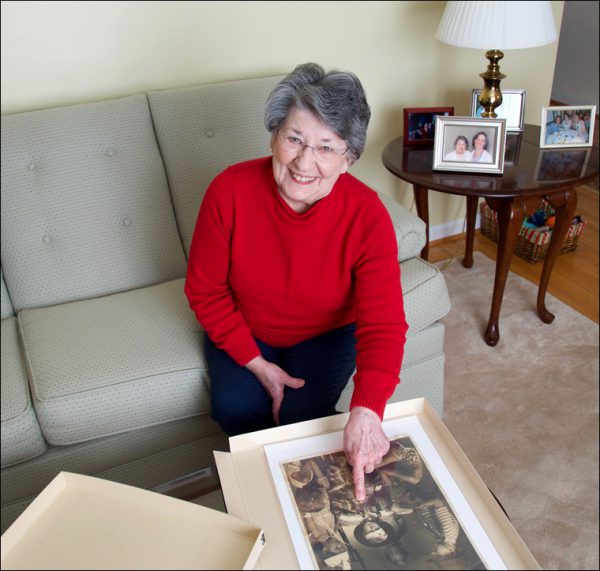 Florence pointing out who's who & what's what, so that this information can follow this photograph into the future.
In the photos above, an economical 16 x 20 x 1-1/2″ Drop Front Box is being used to transport and further support this large and fragile photograph. Here Florence is identifying the individuals in the photo—with the names / dates / & places jotted down to be added to the family archive (see below)—while the Crystal Clear Bag is keeping any finger oils off the actual print.
---
Step 6 –

Matting & Framing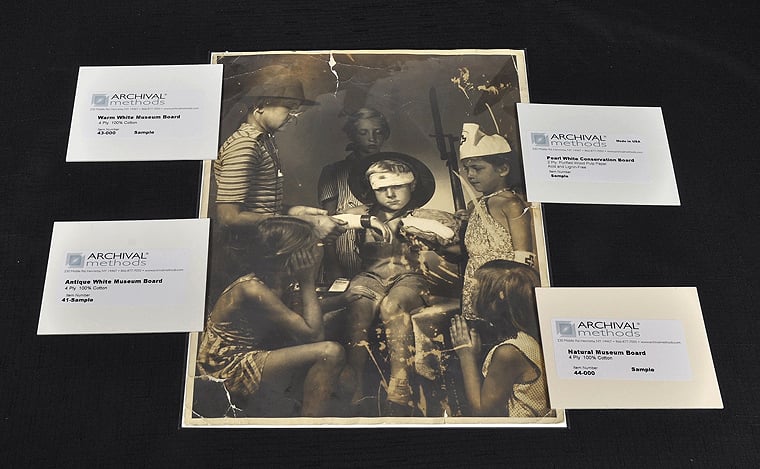 Matting and framing a unique family photograph such as this allows it to be enjoyed & shared every day, and here are the steps to follow (please contact us for more information on any of these easy procedures):
1. lay your photo out on a clean, dry surface
2. place Mat Board Samples next to the print to determine the best color match (here it's the bottom right!)
3. measure the photo
4. enter your measurements & color choices into the easy-to-use Custom Mat Cutting Template
5. order your mat, frame & hardware
6. when received, mount your photo into its window mat using archival Mounting Corners
7. assemble your metal section frame or prepare a Gallery 12 Wood Frame
8. assemble the matted piece / a sheet of Acrylite OP-3 glazing (to filter out harmful UV light) / and the frame
9. hang your newly-framed photo (out of direct sunlight / florescent light) and enjoy it every day! When displaying family papers and photographs, exposure to all light (visible and ultraviolet) can cause fading, darkening, and other changes. The best protection from light is to display copies of the originals and keep the originals in a box. If you display the original items, use ultraviolet filtering glass or acrylic in the frame, and avoid daylight and fluorescent lighting.
---
Step 7 –

Printing & Sharing Copies
As mentioned toward the top of this blog, once a photo has been scanned it's possible to print multiple copies for photo albums and to share with other family members. It's also possible to email a digital image file to far-off relatives and friends.
---
Preserving Family Photographs:

Final Thoughts
Beyond the physical preservation of this photo in an archival bag and an acid-free box, of monumental importance is the information that Florence provided as to the who's who and what's what of this old family photo (see photo on right), information that can be shared with future generations. Without her input the story behind this photograph would be lost to the ages, and we encourage you to ask relatives to help with the same sort of identifications when it comes to your own family photographs.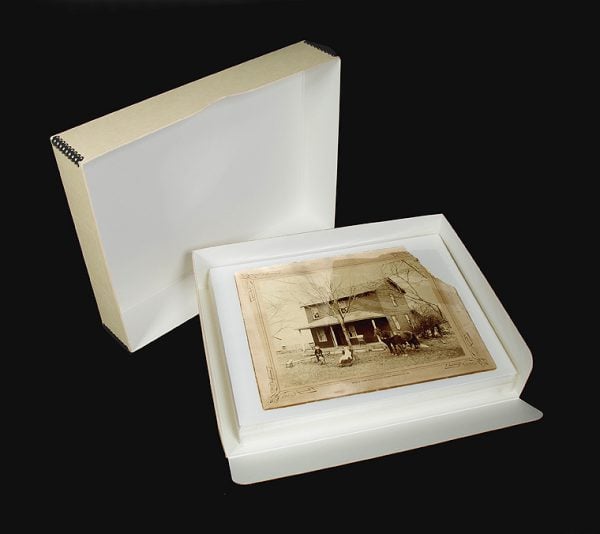 (Please click on either image to see our blog on "Your HOME as Family History & Genealogy Resource.")
In closing, we hope you'll follow these 7 Steps when preserving family photographs—and family history!—in your own archive, now and for posterity, and will feel free to contact us here at Archival Methods with any additional questions you may have.
---
Preserving Family Photographs:

Additional Links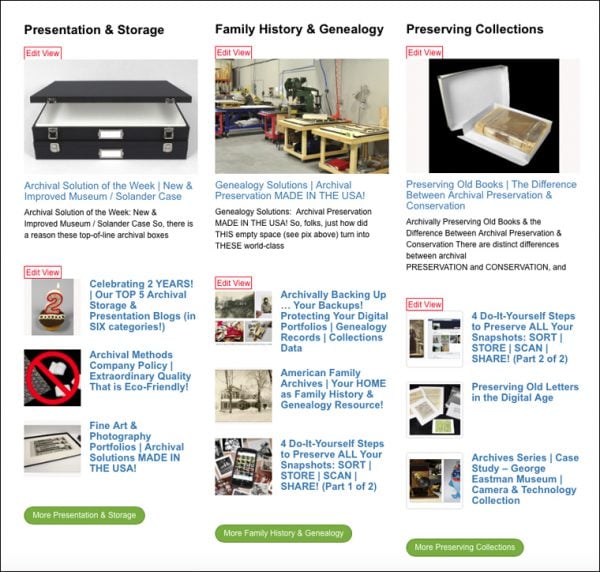 Our blog homepage, where you'll find all sorts of additional information. (Please click for more information.)
Click here for our blog on Conservators: Pros You Should Know
Click here for more information on the Association of Personal Photo Organizers (APPO)
Click here to see our wide range of blogs on archival materials and how to use them
Click here to see our short, informative videos on a host of archival topics
---