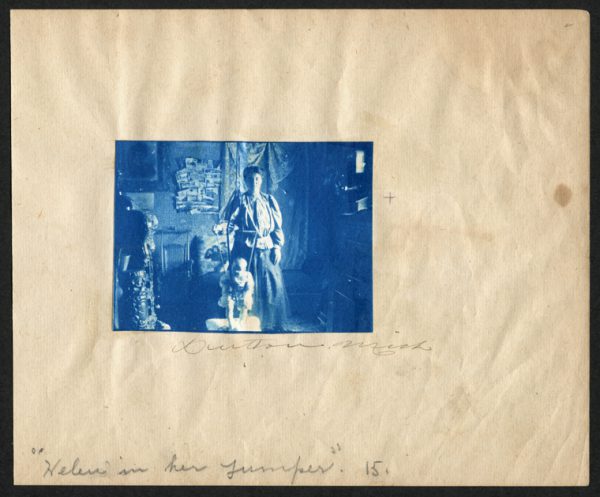 Left Pix: home at 244 Prospect Street, Northampton, MA, photographed by the Howes Brothers, c.1900
(image courtesy of Historic Northampton, Northampton, Massachusetts)
Right Pix: the same home photographed in 2017 by Sara Lyons as part of a project she's working on with Historic Northampton
to document homes and buildings originally recorded by the Howes Brothers more than a century earlier. Pretty cool!
(Please click on the left image for more information on Historic Northampton,
and on the right image to get to photographer Sara Lyons' website.)
Do you have old family photographs of your home, or of the homes your parents / grandparents / even great-grandparents once lived in?
Well, since May is "National Historic Preservation Month!" (and BTW, while this blog is being written in the middle of May, it includes ideas and information that apply ALL YEAR LONG!), let's take a quick look at the ways YOUR old photos & snapshots of your family's homes can help you identify & visualize (& archivally preserve!) your family history, while providing clues to your own genealogy!
Established in 1966, National Historic Preservation Month—NHPM for short—was originally designed to focus attention on the preservation of historic buildings, like George Eastman's mansion (see pix above).
Yet rather than dwelling (no pun intended) on preserving actual buildings, or only on those structures with specific historic or cultural importance like the Eastman mansion, in this fully-illustrated blog I'm going to take the general ideas behind NHPM (i.e. preserving the past for the present and the future) and show how YOU can apply these ideas to YOUR current home and the homes that your ancestors and relatives lived in—all through the photographs & snapshots you have in YOUR family or genealogy collection (see pix below).
Winter – Then & Now!
  
Left Hand Pix: My grandmother's house in Connecticut when she was a kid, winter c.1920. No identification information is
written on the back of this photo postcard, but I know WHEN and WHERE it was taken, and I know WHO lived there (dad told me).
It's now up to me to ARCHIVALLY PRESERVE this image, and to DOCUMENT the stuff I know about it for future generations.
Right Hand Pix: The neighbor's son and my daughter, winter 2006. While the "focus" of this image is on the kids batting
snowballs with a shovel, the large brown-painted section of the neighbors house in the background was in fact a new
addition to their kitchen, and shortly after this snapshot was made we all retired to this warm & inviting kitchen for hot cocoa.
50 years from now these two kids will remember that moment & that house fondly, and that will make THIS snapshot priceless!
(Please click on each image for more information.)
So with that, let's take a look at what YOU might have!
Your HOME (& PHOTOS!) as Family History & Genealogy Resource:
Exteriors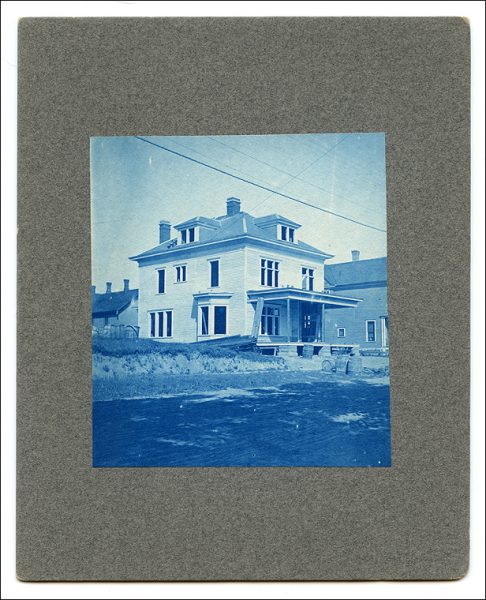 Left Hand Pix: The front of a cyanotype photograph of the Davis family home being built at the turn of the century (note the dirt road out front!).
Right Hand Pix: The back of the same photograph, on which is written "Davis residence, 25 Crosby St., in course of construction."
It is also stamped with "Photo by Chas. W. Davis, Jamestown N.Y." and a date of "Sep 16, 1906."
This sort of information is WONDERFUL, as I knew that the Davis side of the family lived in Jamestown back then, and here's their house!
(Please click on LEFT image to read about cyanotypes, & click on the RIGHT image for a visual guide to identifying all sorts of other photo
processes you might find in YOUR OWN family collection or genealogy archive, all from the world-renowned Image Permanence Institute.)
By far the most common "artifacts" associated with anyone's home—now and in the past—ISN'T actually the house itself!
It's the FAMILY PHOTOGRAPHS of these houses (including YOURS!).
Sometimes these photographs contain a wealth of important family or genealogy information (see pix above), and other times there is NO such information AT ALL! 
When faced with a photograph or snapshot of an "unknown" home or residence (and the people in them!), the best bet is to ask your relatives what they know about it.
Chances are that SOMEONE—mom / dad / grandma / grandpa / Uncle Jamoke / Aunt Ethylene—knows SOMETHING about the house & people in the picture. Write this information down (using SAFE archival pencils and markers!) & include it when you are archivally storing your old photographs & documents (more info on all this is coming up!).
  
Left to Right: From sophisticated city living / to more "rustic" accommodations /
to disasters such as fires that have hit the family home, old photographs have it all!

Photographs of your extended family's homes reveal a lot about "how"—not just "where"—your relatives lived! Sometimes they also show the trials & tribulations they went through such as fires & floods (see pix above).
Here's something else to consider: the two snapshots below, each framed by the exterior of a house, offer some interesting opportunities for "diving deeper" into family history, genealogy, and even SOCIAL HISTORY, as in one image we have the old-school "family horse" while in the other, later image "newfangled bicycles" are showing up.
Pretty cool!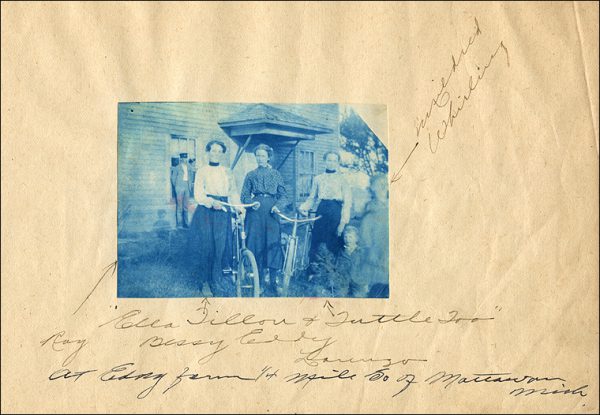 Left-Hand Pix: albumen print snapshot by the side of the house.
Right-Hand Pix: cyanotype snapshot by the side of the house.
(Please click on either image for a guide to identifying the different photo processes YOU might come across.)
Starting with the photograph on the right, this is a particularly good example of a "well-identified" photograph:
   • WHO is in this photo was written on the album page ("Ella Tillon / Roy / Bessy Eddy / Mildred Whirling," etc.)
   • WHERE it was taken ("at Eddy farm 1/4 mile south of Mattawan, Mich")
   • WHEN it was taken can be estimated by the ages of the people in it; the style of their clothes; 
      by the fact that it's a cyanotype; and by knowing "when" the family lived at the Eddy farmhouse
      in the background 
The photograph on the left is a completely different story, as there was NO information written on the front or back of this snapshot. I was able to decipher WHO this individual was by recognizing the house behind him that I had seen in other "identified" snapshots in a family album.
Once I knew "where" this individual lived I was quickly able to find him in other snapshots where he WAS named and VOILA!  – he turns out to be one of my paternal grandfather's uncles named Arthur Bromwell.
BOOM!
The HOUSE had led me to the MAN!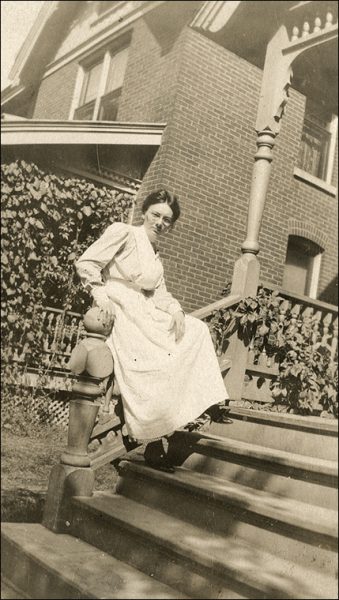 Photographs of family on the front porch. Yup, we ALL have them in our family or genealogy archives!
Again, the HOUSE details in the background can often lead you to WHERE / WHEN / WHO is in your family photos!
Once identified, it's up to each of us to ARCHIVALLY PRESERVE such irreplaceable treasures!

Your HOME (& PHOTOS!) as Family History & Genealogy Resource:
Interiors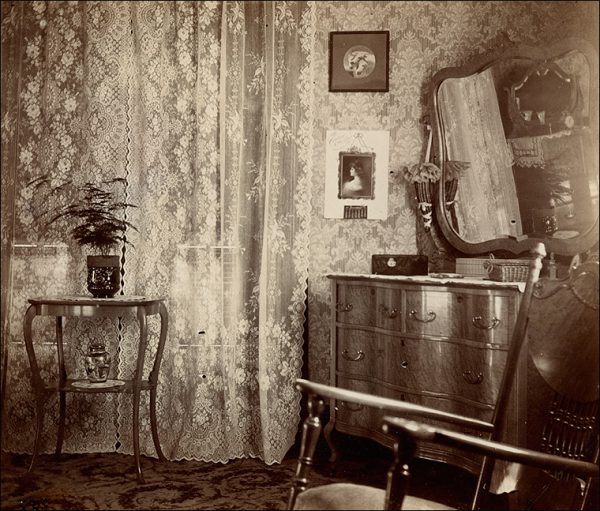 The interior of my great-grandparents' home in Cincinnati,
Ohio, c.1920. The vanity on the right is STILL in the family!
Like exteriors, old (& NEW!) photographs of the INTERIOR of your family's various homes can tell you a lot about "who they were" and "how they lived" (see pix above & below).
So, I've got two daughters in their early-20s, and the photographs above are of their respective rooms from a few years ago. Both kids have since moved away to pursue Masters & PhD degrees, and NEITHER of these rooms exist anymore, so the PHOTOGRAPHS I took are the ONLY record of this period in my kids' lives—and I am SO GLAD I took them!
Years from now we can all look back at these pix and fondly remember (or laugh out loud at!) their "lifestyle" all those years ago. Yup, it's the HOME once again giving up its secrets regarding "how" we lived, and I absolutely MUST print these digital snapshots and archivally preserve them in an album or an acid-free kit designed for photos (see the pix a bit further down in this blog to see these images—which I DID print!—placed in archivally safe 3-ring protective pages). 
YOU should print & preserve your digital photos too (click here to find out why—it's SCARY)!
  
Left-Hand Image: my daughter's great-grandmother in the kitchen of "the old house," as it used to be called c.1915.
Right-hand Image: my daughter in the kitchen of the house she grew up in, 2007.
My daughter loves to bake, as did her grandmother – who herself learned to bake from her own mother (the girl in the pix on the left).
See the connection between these two seemingly unrelated photographs of home interiors (kitchens) taken almost 100 years apart?
Cool! Gotta preserve them!
Your HOME (& PHOTOS!) as Family History & Genealogy Resource:
Archival Care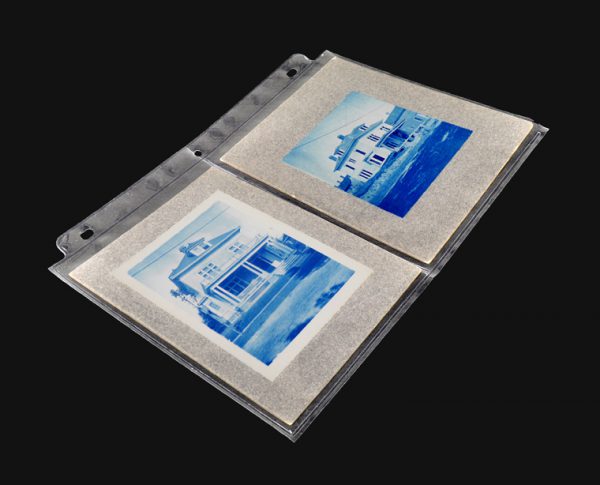 Crystal clear / acid-free Print & Slide Pages come in EIGHT different sizes for whatever photographic formats—old & new—
you find in your family history or genealogy collections. (Please click on either image for more information.)
Old photographs & snapshots from the family or genealogy archive come in all sorts of shapes / sizes / & processes (B&W, color, amateur snapshots, professional studio images, Polaroids, 35mm slides etc.), but the rule of thumb that applies to ALL the different types of photographs you may have is actually quite simple—and absolutely easy(!!!) to accomplish:
Store & display them using acid-free / archival materials!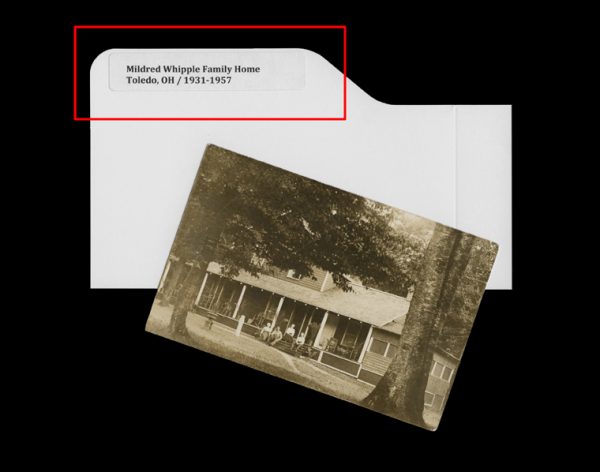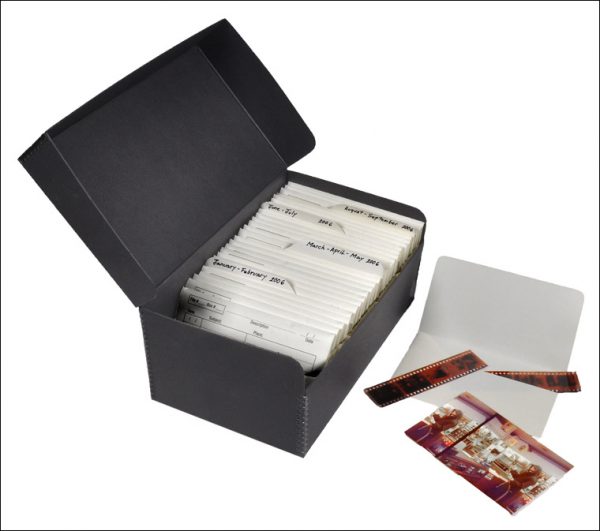 The 4×6 Archive 900 Kit includes acid-free Index Cards that will allow you to print or write important identification info to help keep your
photographs / snapshots / photo postcards organized and SAFE for generations to come! (Please click on either image for more information.)
No matter what "type" of photographs you have, placing them in acid-free kits or in archival 3-ring binder pages & binders will help keep things organized, clean, and accessible NOW and for GENERATIONS TO COME!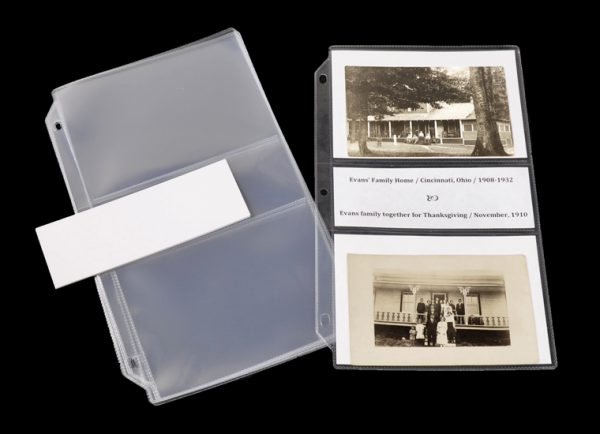 Here's a new (and UNIQUE!) solution to identifying your family photos – the Caption Pocket 4×6 Photo Page! The center strip
of acid-free paper can be removed so that you can write or print any important info before reinserting it. Boom! Identified FOREVER!
The pages also come with additional acid-free paper inserts for behind each photo so that you can place a variety of larger
or smaller sized photos into these pages. Each page will accommodate four images (two on each side), which makes the storage 
of lots of photographs a snap (no pun intended)! (Please click on either image for more information on these versatile pages.)
No matter what style or format of acid-free 3-ring pages you choose to use, MAKE SURE you place them in an ARCHIVAL binder! Standard office supply store binders are made with cheap materials that can actually harm your irreplaceable photographs over time, so NEVER use them!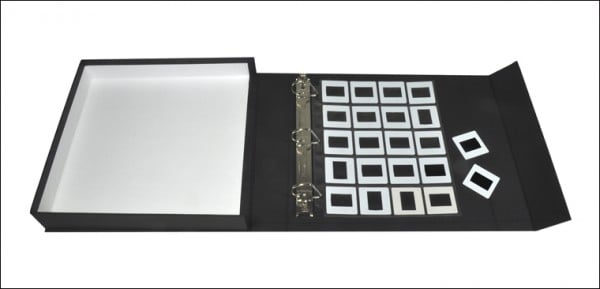 Archival binders will accept ALL SORTS of different sized pages, while keeping your photographs both ACCESSIBLE and SAFE!
(Please click on each image for more information.)
Some photographs you'll want to store in archival pages & albums / all-in-one kits / or acid-free envelopes, while others should be matted and framed to be displayed & enjoyed every day! By "doing-it-yourself" you can save time & $$$! (See pix below.)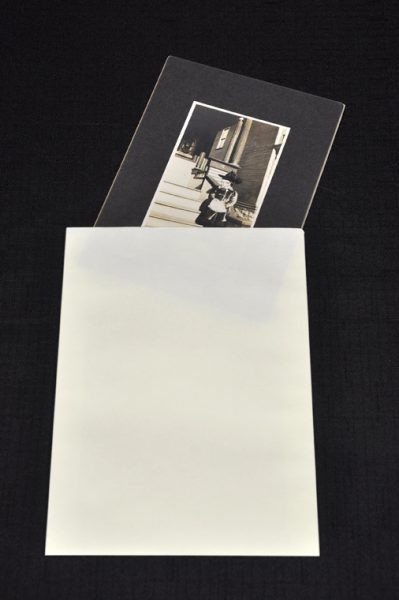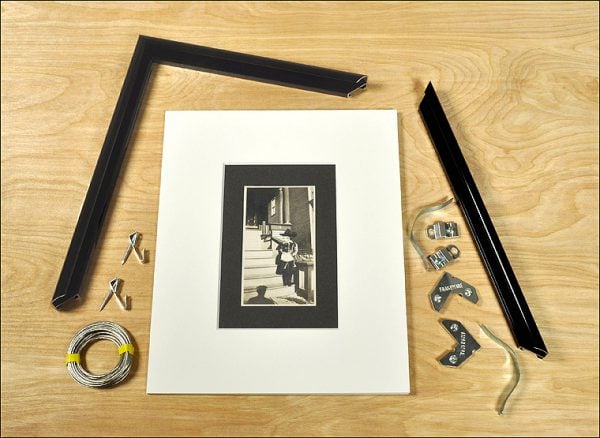 You may want to store photographs from your family or genealogy collections in acid-free Open End Envelopes before
placing them in the appropriately-sized archival box, while others you may want to mat & frame to enjoy EVERY DAY!
The Complete Frame Kit on the right includes EVERYTHING you need to "do-it-yourself": a hinged acid-free mat & backing board /
light-safe glazing / a frame in a number of colors & finishes of your choice / framing hardware / even picture hooks! It's easy & fun!
(Please click on either image for more information.)
While we've been spending time thus far discussing individual photographs, don't forget to archivally protect & preserve your photo albums and even your negatives. These are also WONDERFUL and IMPORTANT family history and genealogy resources!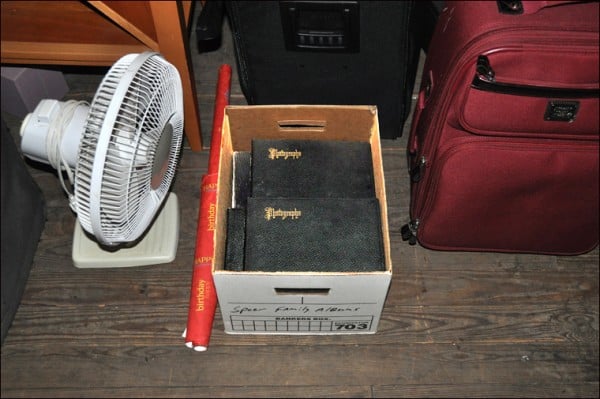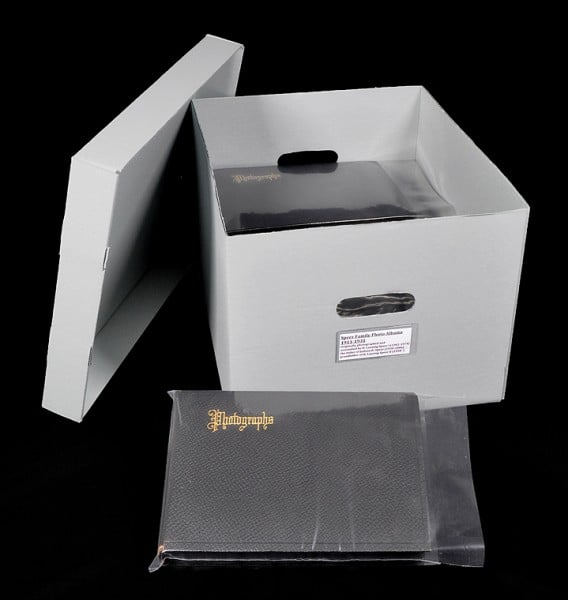 It's important to get your old family photo albums out of the basement or attic (where temperature & humidity fluctuations
and leaky roofs or pipes pose a significant danger!) and into archivally safe Polyethylene Bags and acid-free boxes!

  
"The Twins – Uncles Walter & Ephram Clarke outside the house on Grange Street, Cincinnati, Ohio, c.1930"
While sorting through your family or genealogy collections you will likely come across old negatives.
The rule of thumb here is NEVER THROW THEM OUT! Many times these negative contain images of
which NO PRINT EXISTS, so take a look at them / scan & print the "good" ones /
and then archivally store them in a correctly-sized sleeve such as the Side Lock Film Sleeve on the right,
or in any one of the many all-in-one archival kits. (Please click on each image for more information.)
So, in closing, just as your relatives made (and KEPT!) photographs of the homes they lived in over the years, YOU SHOULD TOO!
  
"Then" and "now," photographs of your home(s) are ALL part of your family history & genealogy records!
What I mean by this, folks, is DON'T take your current home for granted! Shoot some pix of both the outside and inside of your home / print them(!) / & archivally preserve them(!!!).
Someday you (and your children's children's children!) will be glad you did!
If you found this blog interesting, then please take a look at ALL of our fully-illustrated blogs in our
American Family Archive Series (and SHARE them with friends and relatives!).
There's something here for absolutely EVERYONE!
Contact Us
If you have any additional questions on preserving your old photos and anything else in your collection, or would you like more information on any of our museum-quality archival storage and presentation materials, please contact us here at Archival Methods. We're always there to help with any archiving, storage, or presentation questions you may have.