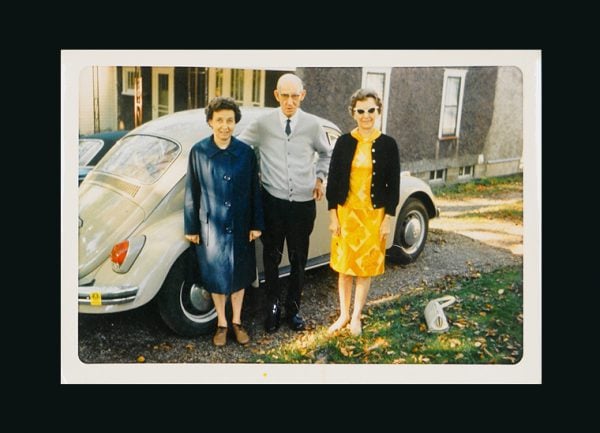 By following a few simple rules and knowing what the best kinds of pencils and markers are for your particular needs, you'll be prepared for safely writing on photographs and archival sleeves and storage enclosures!
Documenting your personal photographs and snapshots is an important step in preserving your family's history. Once you have sorted through your picture archive, you may want to label some of your photographs with important information such as names, dates, and locations. Using the wrong writing implement can permanently damage old photographs and other items in your family archive or collection.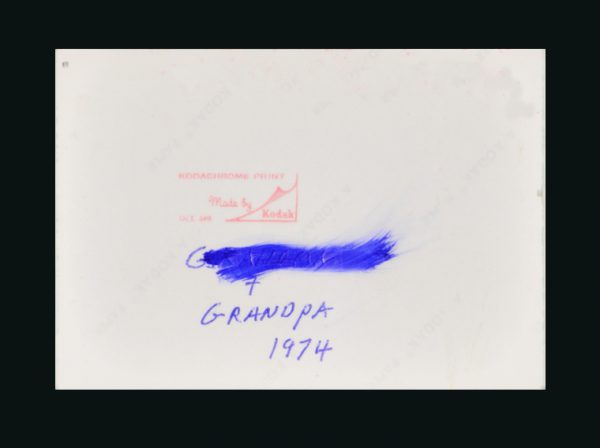 We echo the advice of museum professionals and collections experts from around the world in advising you to never use standard permanent markers, cheap pens, highlighters, and such when marking your materials. If you'd like to mark your photographs, negatives, polypropylene or polyester sleeves, family artifacts or collectibles, use the right type of pencil or marker.
The Ever Useful #2 Pencil
Professional archivists will often recommend using a #2 pencil on the back of photographic prints that are fiber-based. This refers to photographs printed on uncoated fiber-based photographic paper and not the newer plastic- or resin-coated types of photographic paper you typically find in more contemporary family photo archives. You can tell a resin-coated paper by the slick, glossy feel of the photo. #2 pencils don't work well on this plastic surface.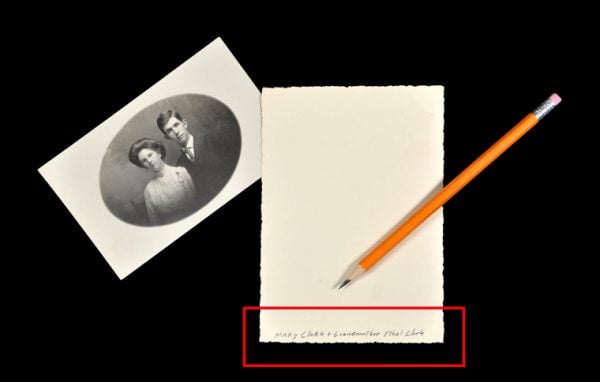 There are two main reasons why professional archivists recommend using a regular #2 pencil. It is reversible—it can usually be easily erased. Pen and marker ink is not reversible—it can't be erased or undone.
Graphite is also relatively inert, with none of the oily gunk that makes up the ink in many types of pens. Pen ink often includes oils, solvents, and other non-archival components. Inks can bleed, smear, contaminate the image you're writing on, and transfer onto whatever else is in contact with it. 
Even when using a safe #2 pencil there are some guidelines to follow. Always work on a clean, hard surface and apply a light touch when writing to avoid "pressure transfer," which may cause whatever you are writing to be visible on the image side. It is also best to write near the edges of your images—not in the middle—just to be safe!
What is a Stabilo-All Pencil?
Stabilo-All Pencils are versatile, high-quality graphite color pencils. They are excellent for writing on the backs of plastic-coated photographs and other glossy surfaces such as film, glass, plastic, porcelain, and metal. They work equally well on paper photos, album pages, and mounted photos, and on polypropylene or polyester sleeves. They are water soluble and can be wiped off of smooth surfaces with a damp cloth, or easily erased when used on paper.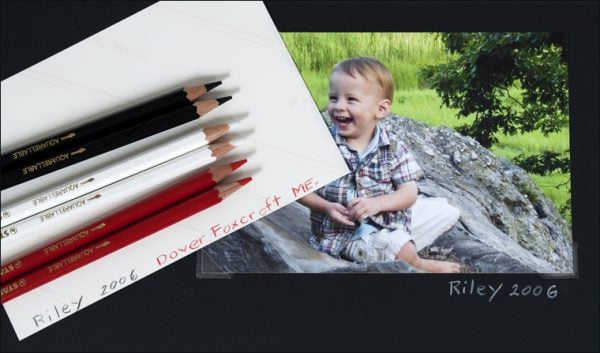 As mentioned, standard #2 graphite pencils work well on paper photos but not on plastic-coated contemporary photographs. This makes writing on the backs of these newer photos a bit tricky as they usually all have a polyethylene-coated surface. Regular pencils will also not work on polypropylene or polyester sleeves, which you may wish to use to add another layer of protection to your photographs. In both of these cases Stabilo-All Pencils work great.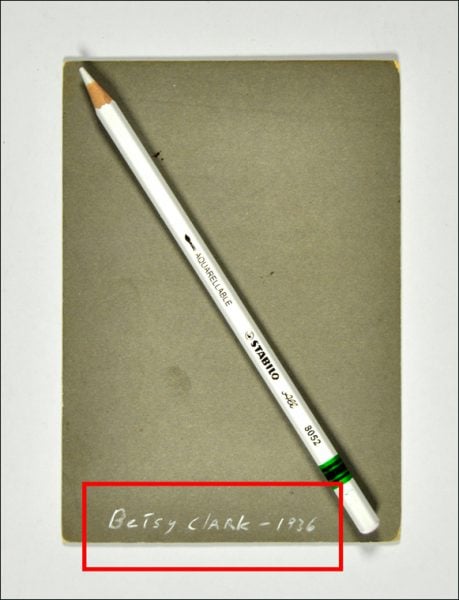 Stabilo-All Pencils are available from Archival Methods in four different colors and in several package quantities. All colors come in packages of 12. We also offer two multi-packs. We have a 6 pack that includes 2 black, 2 white, and 2 red pencils. And we have a 5 pack which includes 2 black pencils and 1 each of the red, blue, and white.
Write on Labels, Not Your Photos
There are many ways to label the who, what, when, and where of your photographs without writing on the actual photos. 
A number of our photo kits come with either acid-free All Purpose Index Cards and/or with acid-free 4 x 6 Archive Envelopes, and each offers you space to safely write whatever information you need using pencil or archival markers.
When writing on envelopes, sleeves, or other enclosures, always write your information before you place your photographs or artifacts in the envelope or enclosure. This will help prevent "pressure transfer" of whatever you're writing from possibly damaging your contents.
The same holds true for acid-free File Folders, Negative File Folders, and all of the different types of sleeves and other enclosures you can use to archivally store your collection of photographs, negatives, and paper ephemera.
So, there you have it—all the ways you can safely write on your photographs, snapshots, sleeves, and enclosures in your collection or archive!
And if you have still have any questions, please don't hesitate to contact us. We're always here to answer your archival questions!