5 Tips for

SAFELY

Writing on Photographs & Snapshots
(and EVERYTHING ELSE!)
By following a few simple "rules" (don't use regular ink pens / don't write in the center of your photographs / etc.), and knowing what the best kinds of pencils & markers are for YOUR particular needs (regular #2 pencils / Stabilio-All Pencils / etc.), you'll be completely prepared for SAFELY writing on photographs, snapshots, and all sorts of archival sleeves & enclosures!
Read on!
---
Writing on Photographs ~ 
Tip #1:  

First, 

W

hat NOT to DO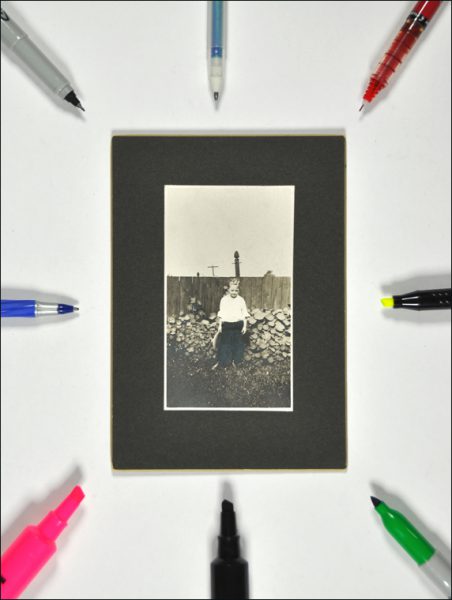 It's a JUNGLE out there!
Old photos & snapshots already have enough to contend with in terms of long-term survival (being stored in shoeboxes in attics
or basements, general neglect, etc.), so DON'T threaten them any further by writing on them with the WRONG pens & markers!
(Please click on the image for more information.)
Documenting your personal photographs & snapshots is an important step in preserving your family's history. Once you have sorted through your picture archive, you may want to label some of your photographs with important information such as names, dates, places and such to keep track of your cherished memories. 
You can't, however, use just any old pen or marker on your photographs (see pix above), as using the "wrong" kind of pen or marker can actually DAMAGE your photographs & snapshots!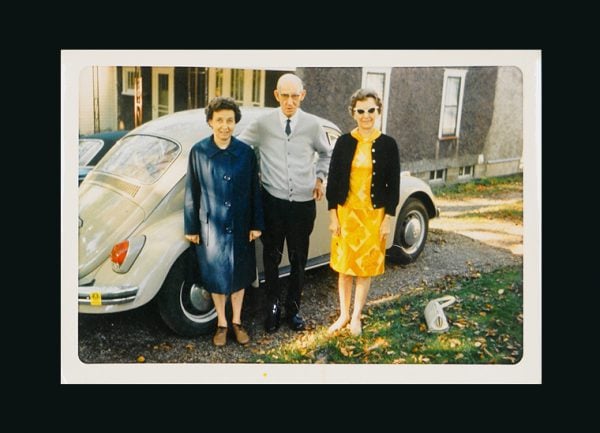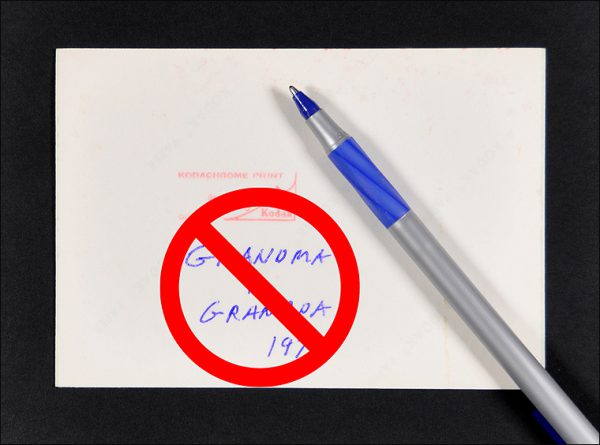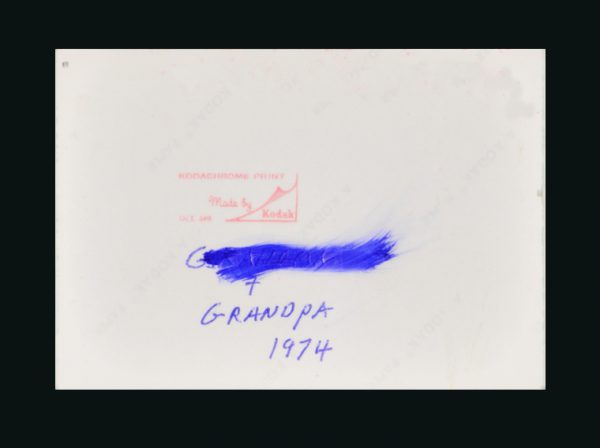 Yeah, NEVER use a pen! The inks can smear, and they often have non-archival oils and solvents in them that can bleed through to the front!
(Please click on any image to see our short video on Stabilo-All Pencils.)

There are, in fact, a zillion "wrong ways" of marking your materials, some of which can permanently damage or even destroy old photographs and other items in your family archive or collection.
We here at Archival Methods echo the advice of museum professionals & collections experts from around the world in advising you to NEVER use standard permanent markers, cheap pens, highlighters and such when marking your materials.
What IS our advice?
If you'd like to mark your photographs, negatives, polypropylene or polyester sleeves, family artifacts or collectibles, ALWAYS use the RIGHT type of pencil or marker, as described below.
---
Writing on Photographs ~ 
Tip #2:  

Use a Pencil!
Professional archivists will often recommend using a soft #2 pencil on the back of photographic prints that are "fiber-based."
"Fiber-based" simply means that the photograph was printed on photographic paper and not the newer plastic- or resin-backed types of color photographs you typically find in more contemporary family photo archives (and BTW, pencils cannot be used on prints that are plastic- or resin-backed as they just don't work on that type of surface).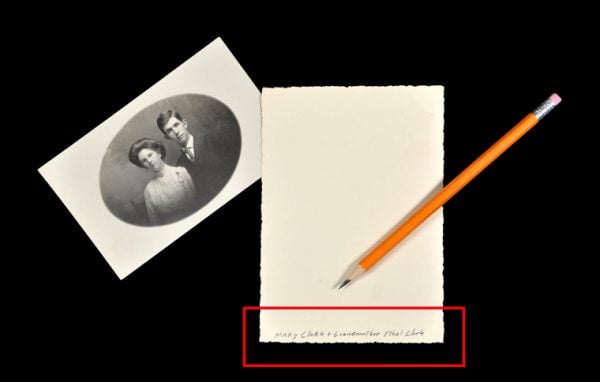 Can't read it because it's too small (see the red box on the right)?
Good!
"Less is more," as you don't want to impinge on your photographs—even the backs—too awfully much.
Two reasons that professional archivists recommend using a regular #2 pencil is that 1.) it is "reversible" in that it can usually be easily erased, and 2.) pencil lead is relatively inert, with none of the oily gunk that makes up the ink in many types of pens. 
This gunk (a highly-scientific term used by professional conservators—just kidding) in pen ink often contains goofy (another highly-technical term) oils, solvents and other nasty stuff that can bleed, smear, contaminate the image you're writing on, and/or transfer onto whatever else it is in contact with. Pen and marker ink is also usually "non-reversible" (it can't be easily erased), which conservators frown upon (and you should too!).
Neither of these potential ink hazards is a problem when using a pencil!
Helpful Hint: no matter what archivally-safe pencils or markers you do use, always work on a clean, hard surface and apply a LIGHT TOUCH when writing to avoid "pressure transfer," which may cause whatever you are writing to be visible on the image side. In a similar vein, it is also always best to write NEAR THE EDGES of your images (see pix above)—not in the middle—just to be safe!
---
Writing on Photographs ~
Tip #3:

Use a Stabilo-All Pencil
Stabilo-All Pencils are a great all-around choice as they will allow you to write clearly & legibly on the backs of photographs or the edges of film negatives / on polypropylene or polyester sleeves / and on glass, metal, or paper surfaces. They are water soluble and can be wiped off of smooth surfaces with a damp cloth, or easily erased when used on paper.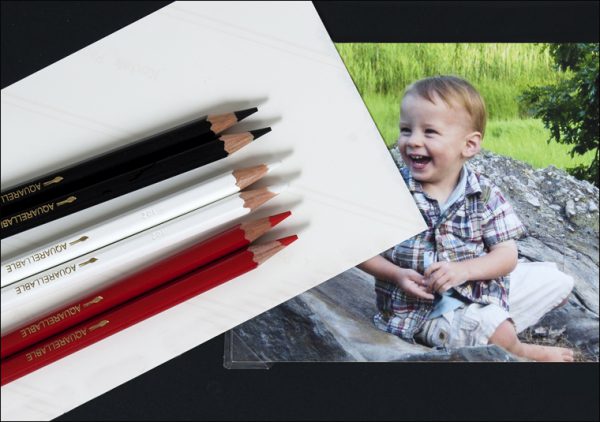 So, just WHY do Stabilo Pencils come in THREE DIFFERENT colors…?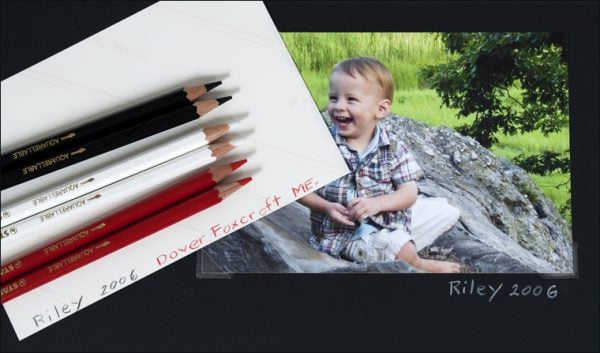 …because they'll show up on darker mounts & album pages, and can be used to accent certain information.
(Please click on either image for more information.)
          •  12-Pack of Black Stabilo Pencils
          •  12-Pack of White Stabilo Pencils
          •  12-Pack of Red Stabilo Pencils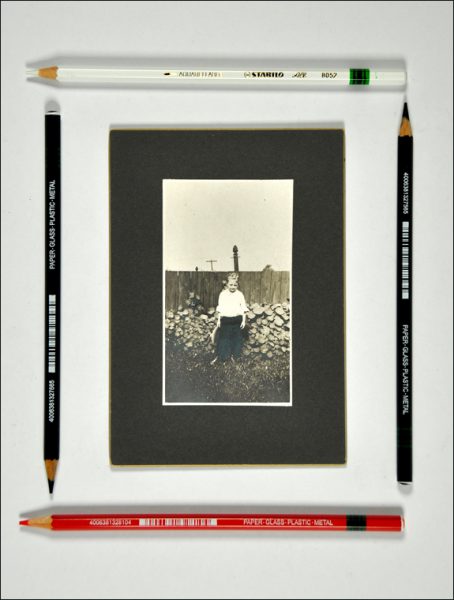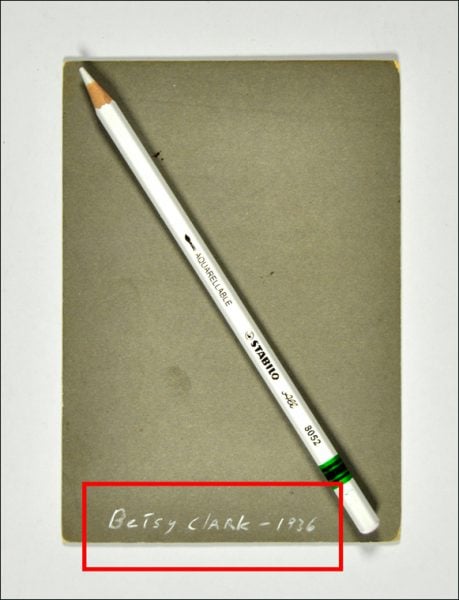 Remember that pix from the top of this blog? Yeah, now it's surrounded with the RIGHT pencils, including
a white Stabilo-All Pencil that shows up quite well on the dark-colored back of this photograph's mount.
(Please click on either image for more information.)
Regular pencils will also not work on polypropylene or polyester sleeves, which you may wish to use to protect your photographs or snapshots (see pix below). 
In both of these cases Stabilo-All Pencils come in quite handy!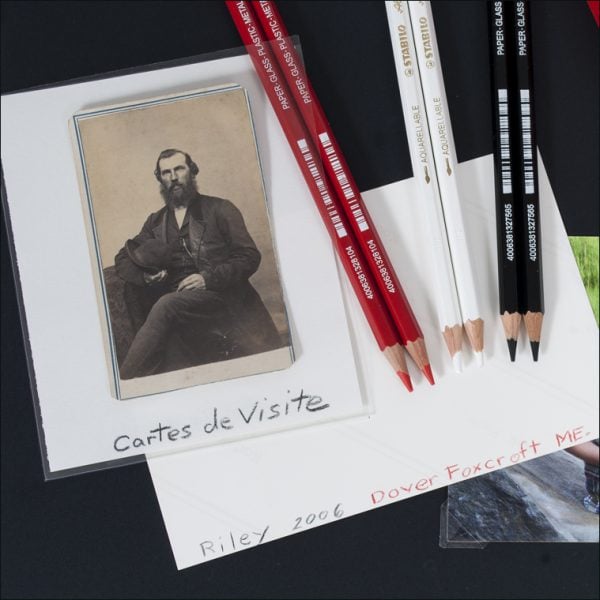 Stabilo-All Pencils WILL write on the back of plastic-coated contemporary photos & snapshots
(bottom center), as well as on archival sleeves used to house & protect your images (middle left).
(Please click on the image for more information on museum-quality sleeves.)
So if you're looking for an easy solution to writing on the backs of your photos or for marking negatives or archival sleeves, think Stabilo-All Pencils!
---
Writing on Photographs ~
Tip #4:

Use the RIGHT Permanent Markers
Another simple yet effective way to label your polyethylene-coated photographs & archival sleeves is by using waterproof Lumocolor Permanent Markers and TechLiner Drawing Markers, which are perfect for safely marking a variety of materials and surfaces (see pix below).
Because these pens feature high-quality acid-free ink they will not bleed through and damage your photographs. BE SURE, however, to test the pens' drying time on the intended surface BEFORE stacking your photographs or inserting them into 3-ring Print Pages, acid-free envelopes, archival sleeves, or other enclosures, as ink that is still wet may smear.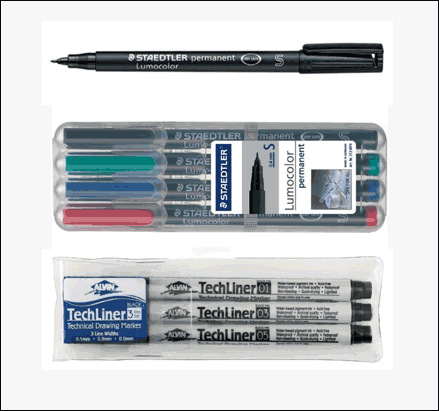 Yeah, now THAT'S more like it. I'm sure even Aunt Mildred would approve (but ONLY if you write on the BACK of her pix!).
(Please click on the image for more information.)
The Lumocolor Permanent Marker features a neutral-scent ink that is waterproof, smudge-proof, and is safe to use on CD/DVDs, plastics, and all sorts of other surfaces. These markers will write on plastic-backed photographs, and on polyester / polypropylene / & polyethylene bags and sleeves, as well as gloss-coated papers.
The TechLiner Drawing Marker features an acid-free, free-flowing ink that is perfect for use on paper surfaces. This ink is formulated with permanent, waterproof pigments. Drying time will vary depending on paper surface and, as mentioned, we recommend that you test it for drying time and such ahead of using it on glossy paper surfaces. This marker is available as a three-pen set featuring line widths of 0.1 / 0.3 / 0.5.
---
Writing on Photographs ~
Tip #5:

Don't Actually Write On Your Photographs AT ALL!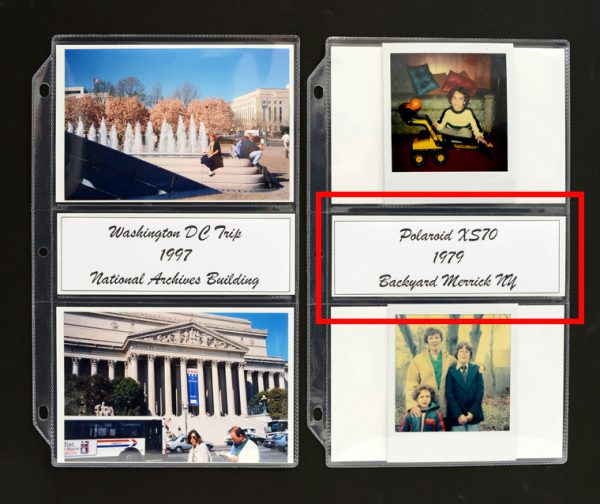 Our new Caption Pocket 4×6 Photo Pages each have a removable acid-free insert on which you can write important information. You can also print
out information on acid-free Permalife Paper right from your computer printer, and then trim the paper to the size of the insert and use that instead.
(Please click on either image for more information.)
As a final tip, there are many ways to identify the who / what / where / when of your photographs & snapshots (and whatever else you have in your archive or collection!) WITHOUT EVER WRITING ON THEM AT ALL!
  
Acid-free All Purpose Index Cards are the PERFECT tool to help you organize your archive
of photographs & snapshots, and you can write on or label them any way you'd like!
(Please click on each image for more information.)
A number of our snapshot kits come with either acid-free All Purpose Index Cards (see pix above) and/or with acid-free 4×6 Archive Envelopes (see pix below), and each offers you space to safely write whatever information you need (but use one of the SAFE pencils or markers described above anyway!).
Helpful Hint: when writing on envelopes, sleeves or other enclosures, ALWAYS write your information BEFORE you place your photographs or artifacts in the envelope / enclosure. This will help prevent "pressure transfer" of whatever you're writing from possibly damaging your stuff.
4×6 Archive Envelopes are available separately and as part of the 4×6 Archive 900 Kit.
Each envelope offers you the opportunity to add tons of identification & organizational info.
(Please click on the image for more information.)
The same holds true for acid-free File Folders (see pix below), Negative File Folders, and all of the different types of sleeves and other enclosures you can use to archivally store your photographs & snapshots (and just about EVERYTHING ELSE in your family archive or collection!).
  
Acid-free File Folders are available separately or as part of the all-in-one Document Storage Kit,
which is available in a number of colors to match your tastes and decor.
(Please click on each image for more information.)
So, there you have it—all the ways you can SAFELY write on your photographs / snapshots / sleeves & enclosures / and just about ANYTHING ELSE in your collection or archive!
And if you have still have any questions, please don't hesitate to contact us. We're always here to answer ALL your archival questions!
---
Contact Us
If you have any additional questions on preserving your old photos and anything else in your collection, or would you like more information on any of our museum-quality archival storage and presentation materials, please contact us here at Archival Methods. We're always there to help with any archiving, storage, or presentation questions you may have.
We would also like to encourage you to follow us on Twitter, Facebook, Pinterest, and our large selection of informative and crisply-illustrated (and often humorous!) blogs for up-to-the-minute information, Archival Solutions of the Week (take a look at this archive for more info!), and stories of interest. Likewise, our exclusive short videos illustrate many of the archival products and procedures that you may wish to "see in action," so please take a look!




---