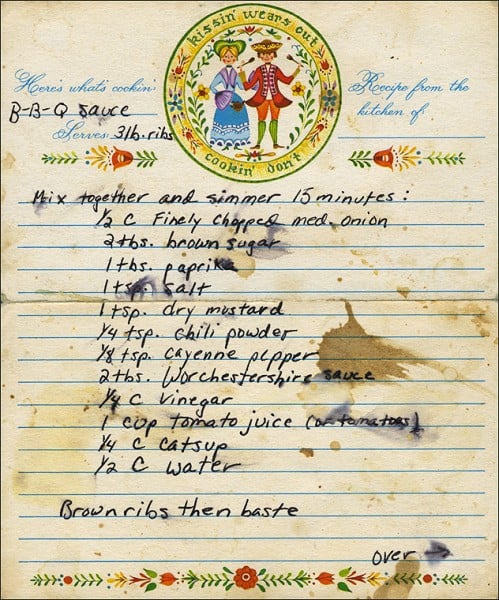 Let's face it, there are some really, REALLY important things in life that just need to be preserved and cared for. Family photographs come instantly to mind, especially when one reads (over and over again, it seems) about an individual who saved only one thing from a flood or a burning house—their family photo album.
Yet some things in life—that are in many ways equally important in their own way—are seemingly impossible to preserve. How do you capture and safely store the smell of your grandmother's house at Thanksgiving? How do you pass along to your kids the wonderful flavors of the holidays they grew up enjoying? How do you recreate that moment of joy and surprise when you bring out your loved ones' favorite dishes on their birthdays or other special occasions?
Its easy, actually, if you've taken the time to preserve…
…your old family recipes!
Now, please take a moment to consider the fact that Archival Methods—a company that supplies many of the most important and elite international museums, galleries, archives and artists with informed advice and high-quality archival products—is just as interested in making sure that you receive the same level of personalized care when it comes to…yup, you guessed it…your family recipes! Those old "family heirloom" recipes are very important because, like an old photograph, they take us back to our parent's, grandparent's, even our great-grandparent's kitchens and dining rooms where many happy memories were made.
Grandma's old recipe book, full of tasty treasures the whole family is familiar with. This one shows the wear and tear of years of use (note the destroyed spine and missing back cover), so now its time to transfer these "heirloom recipes" to archival pages and enclosures to insure that generations to come can cook up the feasts that have pleased the entire family since…well…since forever.
So, go down to the basement and grab that box of grandma's old recipes. Or stand on a chair (carefully!) and get that old disintegrating cookbook down from the top cabinet in the kitchen. Or pull together all the loose hand-written scraps of paper, various index cards, and recipes cut out of the newspaper that are floating around in a drawer someplace and organize, preserve and USE them! Your entire family (and generations to come) will appreciate it!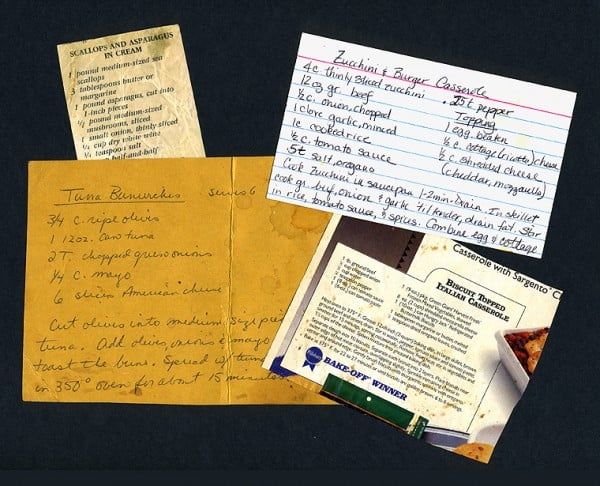 Preserving Old Recipes | Protect the Originals
Recipes written and used by a loved one hold a lot of significance, perhaps more than you've ever really considered. In many cases multiple generations have enjoyed the same recipes, passed down from one family member to another over the years / decades / centuries. Paper, however, is delicate. If not cared for properly these unassuming treasures will yellow, get torn, or the ink will fade (or get cake batter or your "secret recipe" home-made BBQ sauce on them). So keep these "keys to the past" safe by protecting them with the right archival materials and practices.
Archival print pages come in a variety of sizes and pocket formats to allow you to preserve all shapes and sizes of family recipes.
(Please click on images for more information.)
As eNotebook has observed, if your recipes are written on small cards, small sheets of notepaper or cut out of the "Food" section of an old newspaper or magazine, you can easily keep these originals together and safe in an archival binder. Even if your recipes are all over the map in terms of size and shape, archival print pages are available in a number of various sizes and formats. These pages will hold your recipes in safe and secure pockets that will help you get organized and, in addition, these durable / translucent / archival polypropylene pages will also protect your originals from the various splashes and spills that happen in EVERY kitchen.
If you have larger or full-sized 8 1/2 x 11″ recipes, you can easily store them in print pages or 3-ring page protectors, which will display Grandma's beloved apple pie recipe while keeping it safe from your everyday kitchen mishaps. Both of these types of pages fit nicely into collection-grade ring binders or a binder-in-a-box which, by the way, make the perfect gifts for those hard-to-please family members or friends.
Archival binders and slipcases and a binder-in-a-box – each available in a number of colors to match your tastes and decor – are perfect for storing your family recipes. (Please click on images for more information.)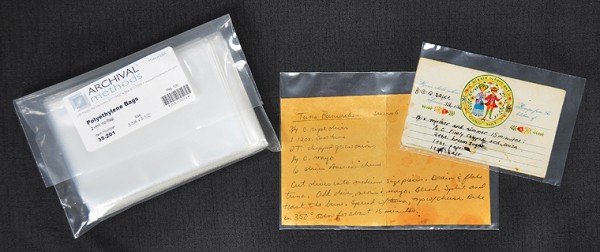 By preserving old recipes (and USING them!) you are, philosophically speaking, maintaining an active link to your family's history, and enjoying the results at dinnertime or your next holiday party!
Preserving Old Recipes | Go Digital
If you're the type of person who prefers to keep backups of precious original materials that have been in the family for years, you may wish to digitize your recipes. This will also allow you to access your recipes directly from a tablet or smartphone instead of using your precious family heirloom originals.
You can upload your recipes to a computer a few ways. If you have a scanner you can simply scan the recipes into the computer. If you don't own or have access to a scanner, however, don't worry. Instead, simply take pictures of your recipes using a digital camera or, better yet, your phone, which will allow you to upload the photos to your computer via email.
Once in your computer or tablet you can organize your recipes in many of the programs you may already be familiar with, from basic Word docs to more elaborate programs described in an article in PC Mag that will allow you to create and store your own or your family's recipes, as well as those you find online. You can sort and categorize them based on food type, cuisine style, or when it was first prepared. You can even attach images of the dish to each recipe, depending on which program(s) you're using. Lastly, as also described in the PC Mag article, you can even create categories of recipes on Pinterest to share with family and friends.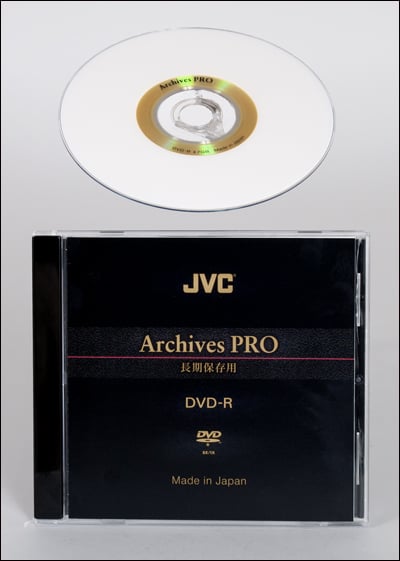 Whichever digital platform or program you use, though, it always pays to back things up—for your own peace of mind and to share these treasures with others. When it comes to old family recipes (and other digital family records), it is recommended that you use high-quality, long-lasting DVD-Rs rather than the cheap disks you often find at office supply stores. These cheap disks can delaminate or degrade over time, and the whole point of preserving your cherished family recipes is to keep them intact for your own use and that of future generations. To that end, you may also want to consider storing all of your new recipe DVD-Rs in archival CD/DVD sleeves to prevent them from getting scratched, or to make things even simpler place them in an archival CD/DVD storage kit, which contains all the components you'll need to protect and store all your DVDs, CDs, and other disk-based records.
While everyone has their own method for protecting family treasures, consider these suggestions to protect your important family recipes so that you and the generations to come can make your loved ones' favorite dishes whenever you want!
Cooking Up Other Ideas for Preservation
If you have any additional questions or would like more information on the archival storage and presentation materials that are right for you, please contact us here at Archival Methods. We're always there to help with any archiving, storage, or presentation questions you may have.
---