Storing Negatives | Archival Methods Expert How-To Guide
Storing Negatives:


Archival Methods Expert How-To Guide
We all have old film negatives—either in our family archives or as part of our photographic portfolios—that often come in a variety of shapes & sizes (see photo above). The following is a how-to guide for archivally storing negatives, with the joy of discovering forgotten treasures as part of the experience!
120mm negatives stored in the Side Lock Film Sleeves & Negative File Folders of our Film Storage System, which is also available for 35mm & 4×5″.
(Please click on the image for more information.)
Whether you're a professional photographer with a large archive of 35mm / 120mm / or 4×5″ film and negatives (see photo above), or an armchair family historian or genealogist with many personal snapshots (see photo below), here are some simple procedures & products to ensure that all your irreplaceable negatives are archivally safe, identified, and accessible for generations to come.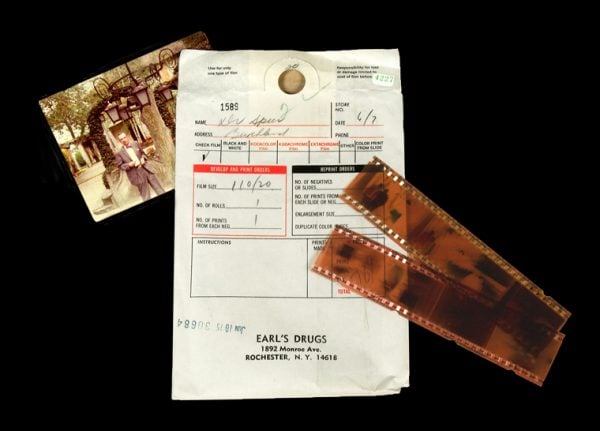 ---
Storing Negatives:

First, Find Your Hidden Treasures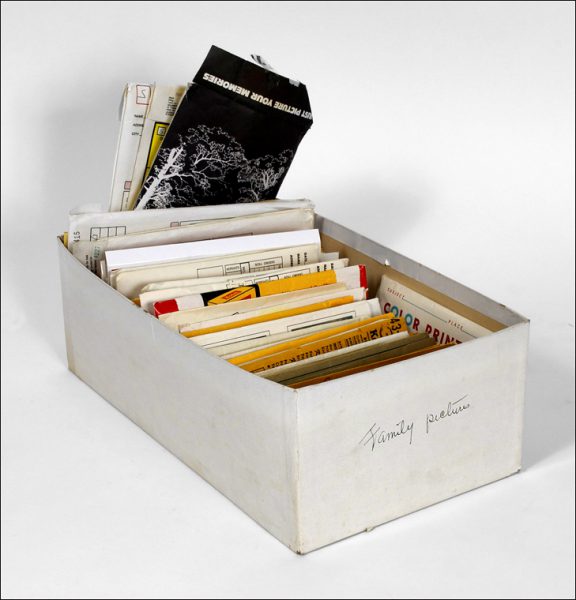 The first thing to do once you've found your negatives is to spend a little time looking closely at each frame (an inexpensive magnifying glass can help with this).
Looking through old negatives can be a bit challenging due to the fact that the colors or tones are reversed, but you'll be rewarded by finding images you didn't even know existed. 
If this is the case with negatives you find in your family collection, consider getting those negatives scanned and then reprint missing snapshots for your own photo album, to mat & frame, or to share with other family members.
As an example, the color negative above was found without a corresponding print. By scanning this negative a new print was made of this photograph of the author's now 60-year-old sister's Girl Scout initiation from the mid-1960s that has not been seen by anyone in the family (including my sister) for over 50 years.
---
Storing Negatives:

4×6 Archive 900 Kit
Once you've looked through your negatives and scanned/printed wonderful or missing images, it's time to think about what organizational and storage methods will work best for you, such as the 4×6 Archive 900 Kit.
This kit will hold up to 900(!) of your 3.5 x 5″ or 4 x 6″ prints AND their negatives, providing you with both easy access and the peace-of-mind of knowing that your images are safe.
But first, let's return for just a moment to our old photo processing envelope from the top of this blog (see photos below), as our 4×6 Archive 900 Kit is specifically designed to include important identification & organizational information—once you've actually found this information.
This contains a number of valuable pieces of information, including the name of the individual who originally dropped off the roll of film to be processed / where they lived at the time (see blue box in upper left corner) / and the date it was processed (see green box on the lower left, and in the inverted photo on the right – which dates it to June 10, 1975).
All of this information is important, and can be written (with an archivally-safe pencil or pen) in the spaces provided on the acid-free 4×6 Archive Envelopes that are available separately or come as part of the 4×6 Archive 900 Kit (see red boxes in the photos above & below). Please note how the negatives are stored in their own protective section of this envelope (see photo above, and yellow "X" below).
When writing identification or organizational info, be sure to write on the envelope before you place your prints and negatives inside it in order to prevent pencil or pen pressure damage.
---
Storing Negatives:

Film Storage Systems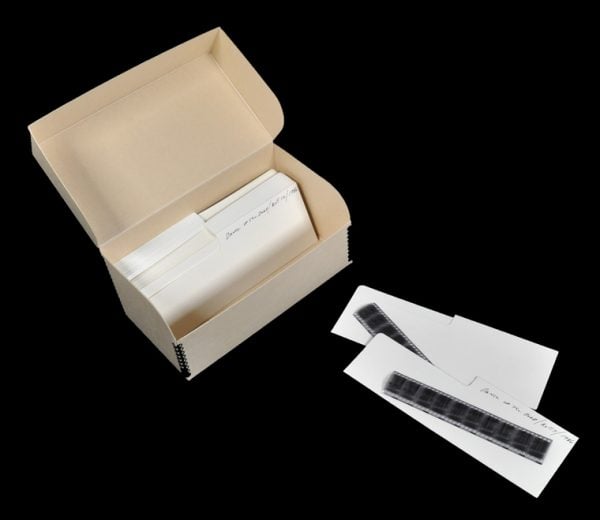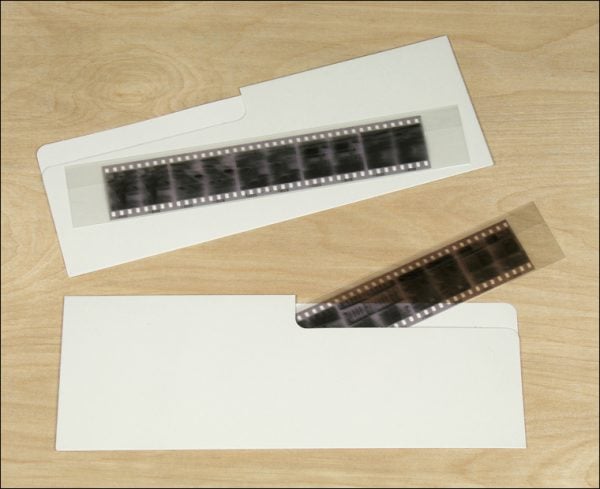 Film Storage System components for storing negatives—35mm (left) and 120mm (right).
(Please click on either image for more information.)
When it comes to storing negatives, many professional and fine art photographers use our all-in-one 35mm / 120mm / & 4×5″ Film Storage System kits for quickly organizing and retrieving the thousands of negatives they often have.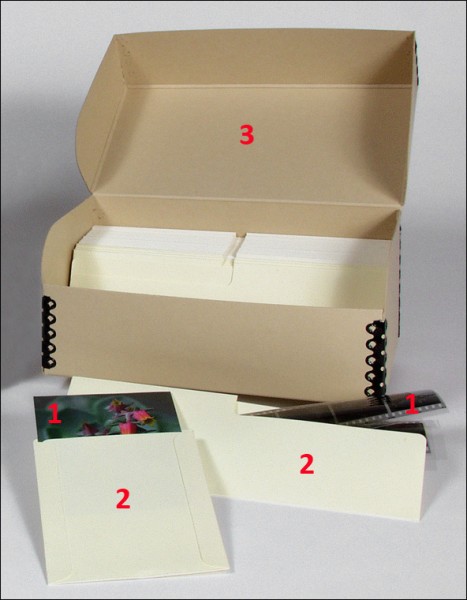 Each Film Storage System kit, available in 3 sizes, offers you THREE layers of archival protection & organization (see photo above):
1. individual negatives or transparencies are placed in Side Lock Film Sleeves
2. which are then placed in Negative File Folders (35mm & 120mm) or Open End Envelopes (4×5″)
3. which are then placed in an acid-free Hinged Lid Box
Organizing & archivally storing negatives has never been easier than with these versatile Film Storage System kits!
---
Storing Negatives:

Four-Up Negative File Kit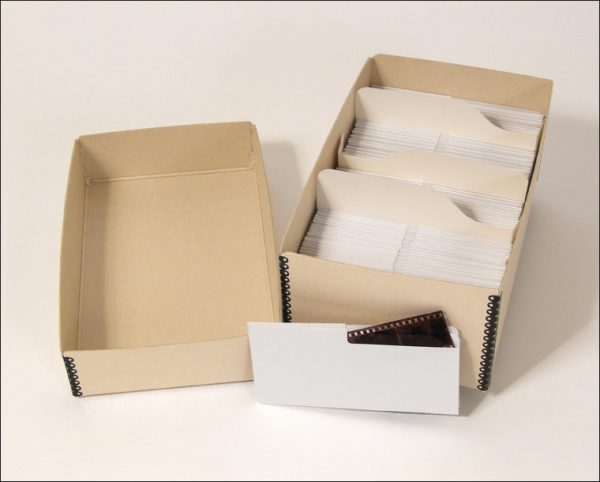 Another convenient kit for storing negatives is our Four-Up Negative File Kit (see photo above), which uses the same three-component approach as our Film Storage System yet is sized for the shorter 4-image negative strips commonly used by many commercial processing labs.
While left blank in the photo above, the tabs on the individual Negative File Folders and All-Purpose Index Cards that are part of this compact kit can include whatever written or organizational information you'd like.
---
Storing Negatives:

Odd Sizes & Glass Plates
Returning for a moment to the odd-sized negative of my sister and her Girl Scout initiation, in the photo above that negative has been placed in an individual HD Poly Envelope, which is perfectly sized for this old-school negative format. It will then be placed in the same 4×6 Archive Envelope with the snapshots that remain from this original roll of film before being placed in its larger 4×6 Archive 900 Kit.
The old 110 film used in the Kodak Pocket Instamatic Cameras from the 1970s-1990s also need attention when it comes to archivally storing negatives.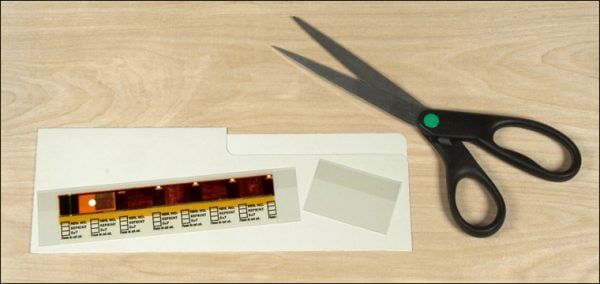 This too is easy to do, as these negatives will fit in 4×6 Archive Envelopes as part of the 4×6 Archive 900 Kit, or they can be placed in 35mm Side Lock Film Sleeves—which can be trimmed to whatever size you need with ordinary scissors—and then placed in Negative File Folders, all of which are available separately or as part of our complete Film Storage System kits discussed above.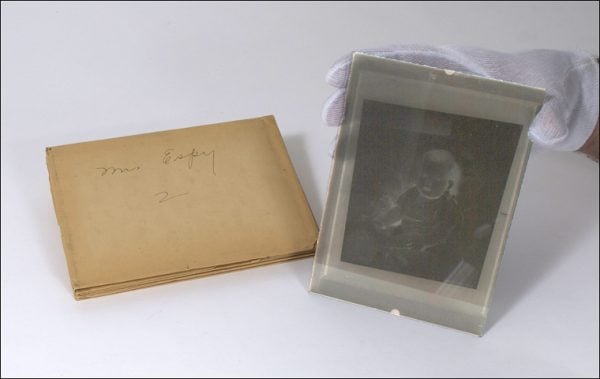 Lastly, no overview of the procedures & products to use for archivally storing negatives would be complete without a brief look at old-style glass plate negatives you might find in your family archive.
Again, scanning these fragile records of people and places from times past is important, as once that is done these delicate objects can be placed into deep storage and you can safely use your new scans for printing images for photo albums or scrapbooks, or for custom matting & framing.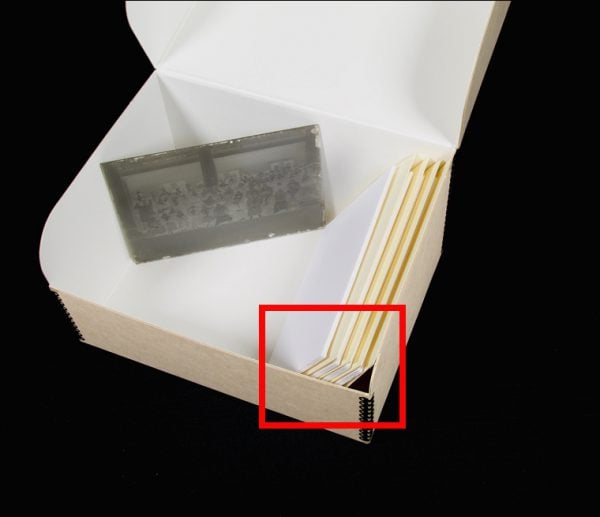 After you have scanned your 4×5″ / 5×7″ or even 8×10″ glass negatives (or had it done professionally), we recommend placing them in the matching-sized enclosures mentioned above, and then into an appropriately-sized Hinged Lid, Short Top or Drop Front Box (see photo above). We also recommend interleaving each glass plate with a similarly-sized sheet of 1/8-inch Acid-Free Foamboard. This will insulate each plate from contact with others, while the Foamboard will not add any significant weight to your storage box.
---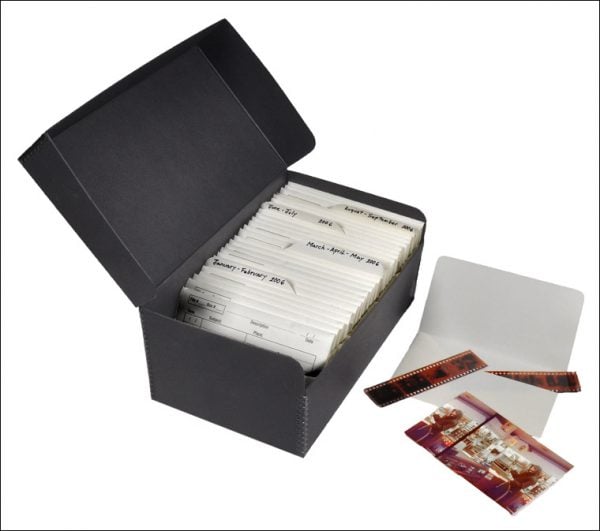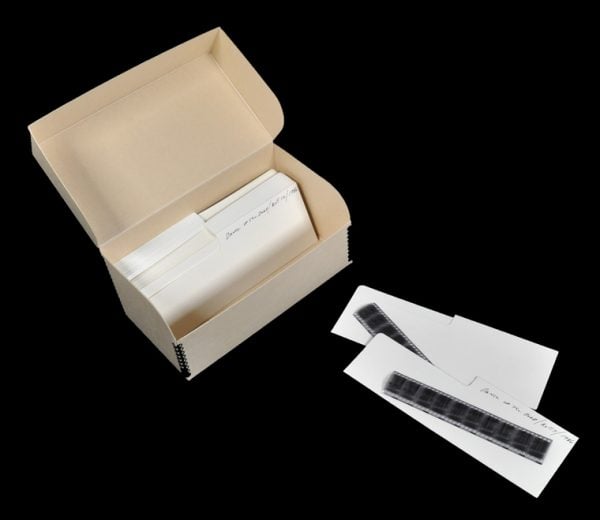 Both the 4×6 Archive 900 Kit and the Film Storage System are PERFECT for organizing and storing negatives, whatever format they may be in.
(Please click on the image for more information.)
In closing, by following the above suggestions for storing negatives you can rest assured that your materials are archivally safe & secure / organized / and properly identified—while revealing treasured images you perhaps did not know even existed.
And finally, we hope that you will contact us here at Archival Methods if you have any other questions regarding storing negatives—both old & new—as we're ALWAYS there to help with friendly, personal advice.