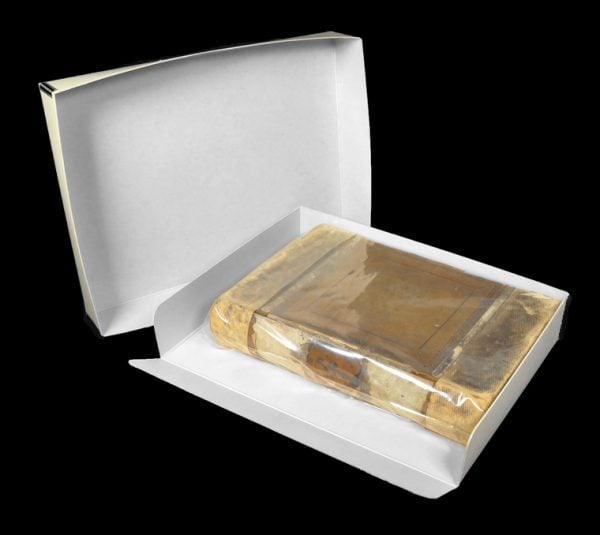 There are distinct differences between archival preservation and conservation, and a great deal of it simply boils down to "protecting" something vs. "repairing" something.
Here we'll cover the easy steps involved in archival preservation to make sure this book continues to survive intact. These are the steps that you can take to preserve books in your collection or family archive.
 
At some point this book survived a serious fire, and the resulting fire damage has actually become an integral part of this book's history.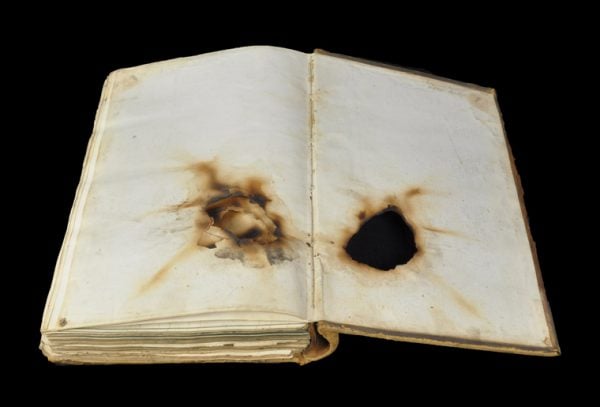 While a trained conservator could undoubtedly repair a great deal of this damage, the damage is part of the object's story and has become part of the family's history.
So, what to do?
To keep this history intact, the book is going to be archivally preserved (maintained by the owner in its current state in a safe archival bag and an acid-free box), but not conserved (professionally repaired by a trained conservator).
Here are the steps that you can take to preserve books in you're collection or family archive.  
1.) Gently brush the book off to remove any surface grime or debris ahead of archivally storing it. Using a dry, soft, clean cloth will usually do the trick, and while wearing disposable white cotton inspection gloves is optional, some people highly recommend it to keep unwanted finger oils and such off of old artifacts and documents. In the image on the right I've actually used the gloves themselves to gently clean off any surface dust and grime.
2.) Place the book in its own polyethylene bag to protect it from dust, dirt and potential liquid spills, but do not seal the bag. Books need to "breathe" as they expand and contract with temperature and humidity fluctuations.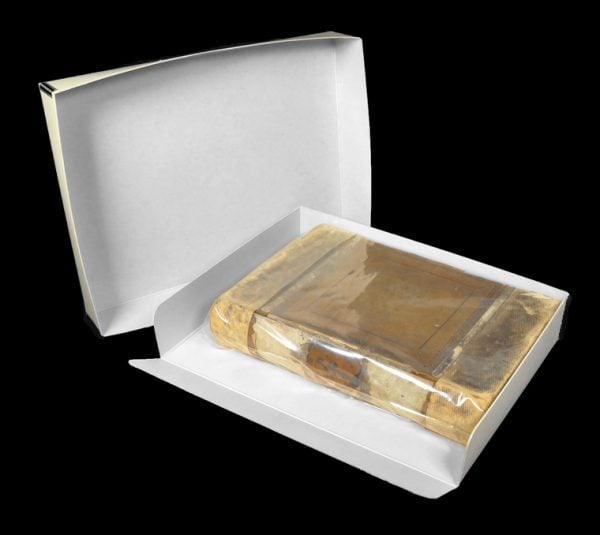 3.) Place the book in an economical acid-free drop front box that will add yet another level of archival protection during storage and handling. Choosing a box that is close to the book's size helps to keep it from sliding around during handling. If there is extra space in the box we recommend that you use crumpled archival tissue to cushion the book within the box.
In the case of this book, because of the fire damage, it is wise to store it by itself in order to not contaminate other books or artifacts that might be stored with it. This holds true for any musty smelling books you might have in your collection.
4.) The last step in archivally storing a book is to find a suitable place to keep the box. A shelf in a closet within one's living space is one of the best home storage locations. It's dark and generally climate controlled. Never store your valued collections in basements, attics, or garages. Temperature and humidity fluctuations are bad for artifact storage. These spaces are also more prone to pest infestations and leaks and flooding.
Having survived for over 185 years this family artifact is now ready for the next century or two, all while remaining both archivally safe and easily accessible—exactly what you want when preserving old books in your collection.
Contact Us
If you have any additional questions, or would you like more information on any of our museum-quality acid-free storage and presentation materials, please contact us here at Archival Methods. We're always there to help with any archiving, storage, or presentation questions you may have.
---