Cabinet Cards & Cartes-de-Visite | 5 Steps to Archivally Preserve YOUR Family Photographs
Cabinet Cards & Cartes-de-Visite:
5 Steps to Archivally Preserve YOUR Family Photographs
Two of the most popular forms of 19th century photography you may have in your family archive are cabinet cards and cartes-de-visite (the latter is French for "visiting cards," and will be shortened to cartes throughout this blog for the sake of convenience).
Formal photographic portraits in these two formats were quite the craze in the years before the introduction of amateur cameras. Created by local professional photographers, individuals would often order multiple copies of these wonderful images for distribution to family and friends when visiting.
The small carte-de-visite was introduced in France—thus its French name—and was hugely popular on both sides of the Atlantic between roughly 1859 and the early 1870s. It was eventually supplanted by the larger cabinet card beginning the 187os, finally disappearing with the advent of inexpensive Brownie cameras and other forms of amateur snapshot photography around the turn of the 20th century.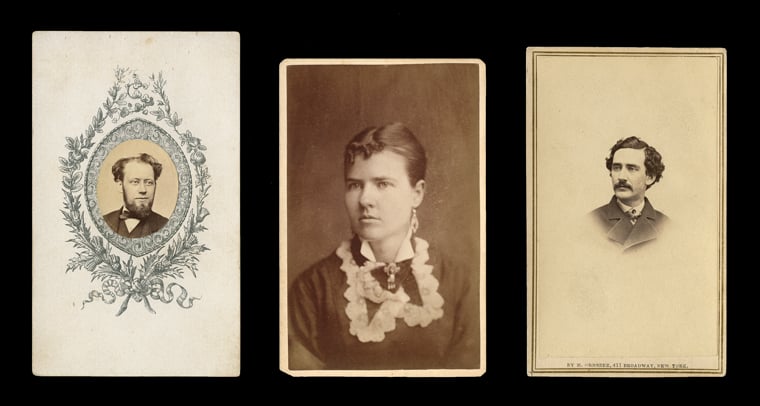 So, with this short introduction, let's take a look at our 5 steps for archivally preserving these photographic records of your family history.
---
Cabinet Cards & Cartes-de-Visite /

Step 1: Scanning
Cartes-de-visite are rather small, measuring only 2-1/2 x 4″, while larger cabinet cards most often measure 4-1/2 x 6-1/2″ (see size comparison above).
Both of these types of images can be archivally stored in a number of museum-quality acid-free materials, but we recommend scanning them first.
Scanning your cartes and cabinet cards will allow you to print & work with a high-quality scan instead of the often one-of-a-kind original photograph, which you'll be archivally storing in the steps below.
While cabinet cards are the larger of the two formats we're discussing, even the smaller cartes hold a tremendous amount of photographic detail, which will allow you to enlarge and print scans of even the smallest images for your photo album and to share with relatives (see photos above & below).
If there is information written or printed on the back of your cartes or cabinet cards, consider scanning it too, as this information may help you to discover who's who in your photographs (see photos below). 
---
Cabinet Cards & Cartes-de-Visite /

Step 2: Safe Archival Storage
  
(Please click on each image for more information.)
The use of various inexpensive acid-free enclosures will help prevent dust, finger oils or moisture from coming into contact with your images during handling & storage (see photos above & below). The clear 3-1/2 x 5-1/2″ Polyethylene Bags on the left let you see your cartes for quick location and identification, while the Open End Envelopes on the right (4 x 5″ for cartes / 5 x 7″ for cabinet cards) will allow you to easily write identifying information on the envelope itself.
Another way to store these one-of-a-kind images is to place them in Crystal Clear Bags with a sheet of Acid-Free Card Stock added for additional rigidity and support (4-1/4 x 6-1/8" for cartes and 5-1/4 x 7-1/8" for cabinet cards, see photo above). You can also write important identification information on these sheets of card stock with an archivally-safe pencil or marker (more on that coming up).
With your photographs securely stored in archival enclosures, they can then be placed in acid free boxes for both easy access and safe long-term storage (see photo below).
---
Cabinet Cards & Cartes-de-Visite /

Step 3: Creating an Archivally-Safe Album
You can also integrate your irreplaceable cartes and cabinet cards into your photo albums by placing them in Print Pages (see photos above & below). Note that a pre-cut sheet of Acid-Free Card Stock has been added to each Print Page pocket for added stability and support, and to allow you to place two images in each page pocket (one on each side of the page).
These Print Pages can then be placed in any of our many styles of archivally-safe binders.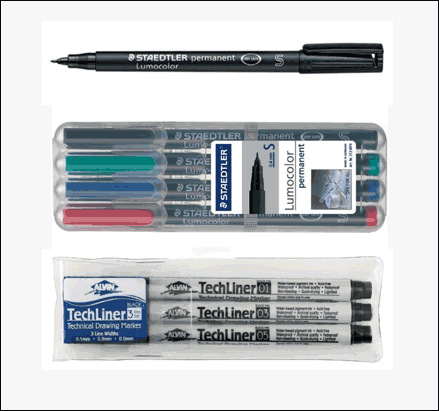 (Please click on each image for more information.)
Using sheets of Acid-Free Card Stock behind your images in your Print Pages will also allow you to write identification information with archivally-safe pencils or markers.
---
Cabinet Cards & Cartes-de-Visite /

Step 4: Protecting Antique Albums
The larger red velvet-covered album above contains cartes / cabinet cards / & tintypes, while the smaller blue album below contains cartes & tintypes.



There were a number of different 19th-century album designs that accommodated cabinet cards and cartes. If you have one of these, consider scanning the images within and then archivally storing the actual album (see photos above & below).
Here each album was placed in an archival Polyethylene Bag and then into an acid-free Artifact Box (on left) and a 3-Inch Drop Front Box (on right). There are many different sizes & designs of archival boxes available which will perfectly fit whatever family photo albums you have in your archive or collection.
---
Cabinet Cards & Cartes-de-Visite /

Step 5: Matting & Framing
  
A hand-tinted cabinet card in an elegant 8-ply acid-free mat (on left) ahead of framing it.
(Please click on each image for more information.)
If you have a particular image that should be archivally matted and framed to be enjoyed every day, consider using an 8-ply mat (see photo above) rather than a "standard" 4-ply mat, as photographs on cards have a certain depth and you don't want the image surface to come into contact with the frame's glass or glazing (please click here for information on our mat board sample kit, which includes samples of all of our mat board colors & thicknesses).
In the photo on the left the cabinet card is being "floated" in the center of the mat in order to show the entire image. This is easy to do yourself with mounting corners. 
---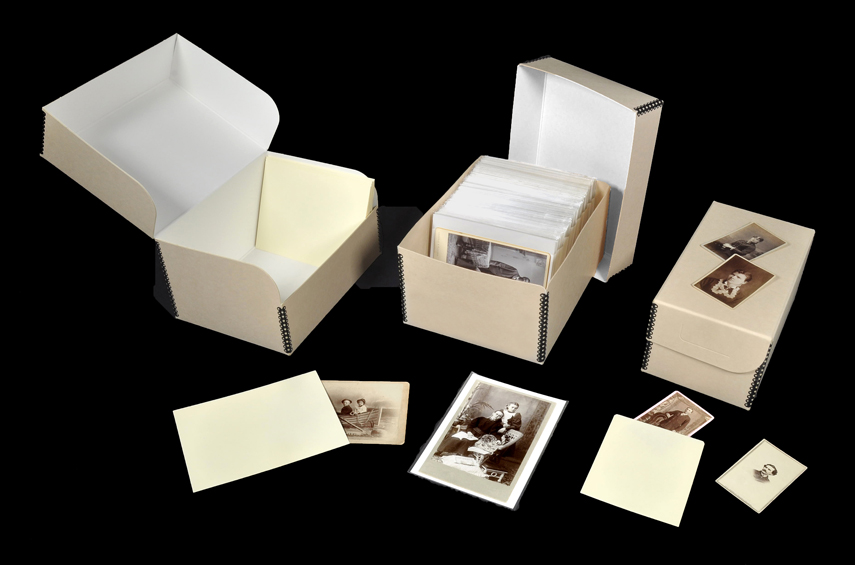 In closing, we hope you'll contact us here at Archival Methods if you have any additional question on how best to preserve and share your family or collectible cartes-de-visite and cabinet cards. Our experienced staff has all the answers you're looking for, and these unique images deserve only the finest in archival care!
Lastly, please click here for more information on cartes-de-visite, and click here to learn more about cabinet cards.
---