Archival Framing:
4 Steps for Choosing What's Right for YOU!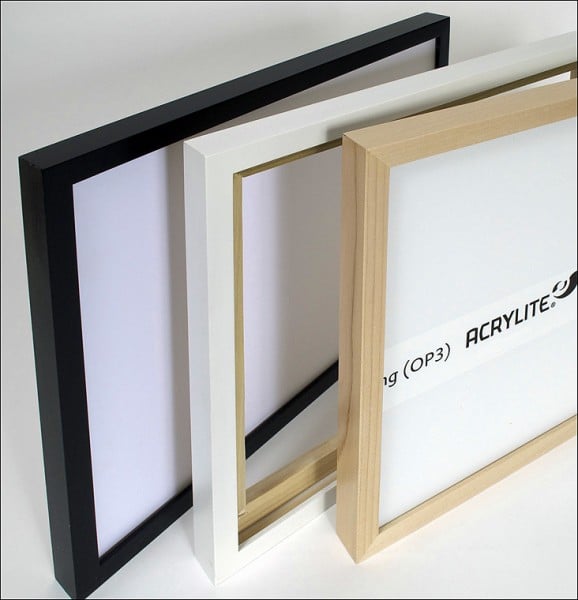 Some of the colors & profiles of wood & metal frames available for you to
choose from for archival framing projects that YOU can do YOURSELF.
(Please click on each image for more information.)
The following 4 steps focus on some of the important things to consider when choosing which frames would best enhance your artwork / photographs / collections / or family archive materials.
These steps—and our library of matting / mounting / & framing videos at the bottom of this blog—also show you how EASY it is to do ALL YOUR OWN archival framing YOURSELF.
Each section is peppered with links to other detailed blogs and easy-to-use products that will get you started on archivally framing your materials both quickly & professionally, all while saving you time & money!
---
Archival Framing / Step 1:
Where to Start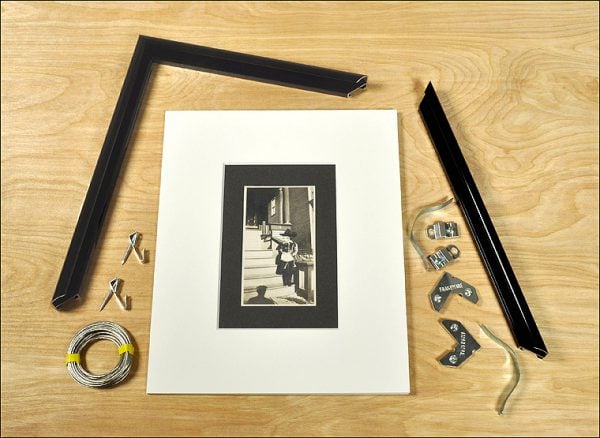 The first step in any archival framing project is correctly MATTING and MOUNTING your piece.
This, too, can be accomplished by YOU, at HOME!
To see just how easy archival matting & mounting can be, we've created a couple of short videos on Ordering Custom Mats and Archival Mounting Solutions (see the video links at the bottom of this blog).
We've also written a series of in-depth illustrated blogs (see list below) on EVERYTHING you need to know about matting your materials before framing them, broken down into specific easy-to-follow steps:
•  Matting / Part 1 / Good Mats & Bad Mats
•  Matting / Part 2 / Choosing Mat Board Color & Thickness
•  Matting / Part 3 / Measurements & Cropping
•  Matting / Part 4 / "Centered" & "Weighted" Mats
•  Matting / Part 5 / Hinging Your Mat Board
•  Matting / Part 6 / Precut & Other Custom Mats
Between our short videos and more in-depth illustrated blogs, you'll know just what to do to prepare your piece for archival framing.
Once you have your piece archivally matted & mounted, it's time to decide on just what sort of frame you'd like.
---
Archival Framing / Step 2:
Important Thoughts on Choosing YOUR Frame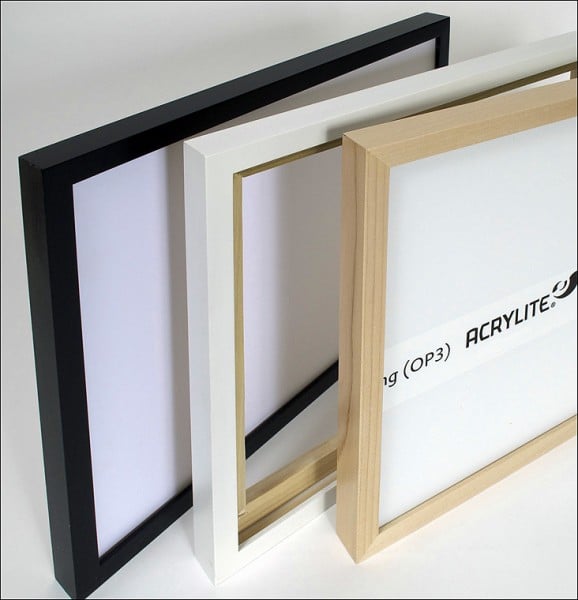 Wood frames? Metal frames? Color? Much of it is a personal choice, but there ARE some general guidelines to consider.
(Please click on either image for more information.)
There are, of course, a number of choices to be made when it comes to what kind of frame might be best for YOUR particular needs:
Wood frame?  /  Metal frame?  /  What color?  /  What frame profile?  /  What depth?  /  etc.
The answers to these questions depend on your personal tastes / what it is you're framing / where it might be hung in your home or office. Yet while tastes vary, there ARE some general guidelines.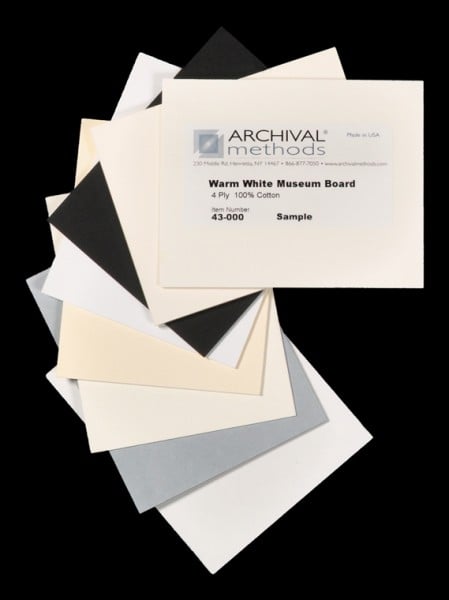 (Please click on the image for more information.)
Just as you have picked a mat board color that "works" with the piece you're going to frame (see the mat board sample kit above, and please click here for an illustrated explanation of just HOW to choose the correct mat board color), you'll also want your frame choice to "work" with:
          1.)  the matted piece itself in terms of matching visual tones
          2.)  the room in which you're going to hang the framed piece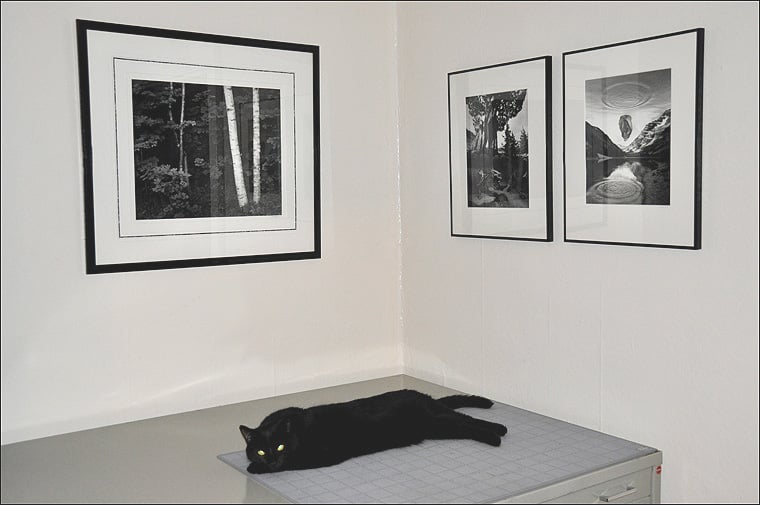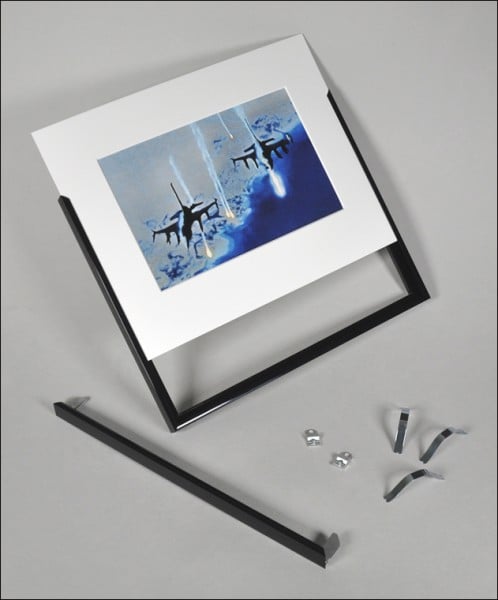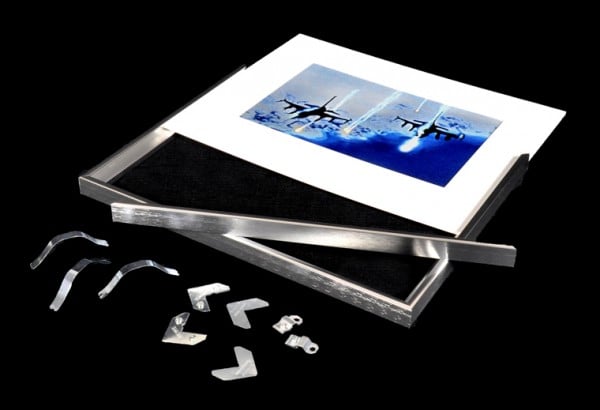 Stepping away from "older" images for a moment, in this contemporary print of jet planes the "cooler color tones" of the piece would be
best served by EITHER a black or silver metal frame as illustrated here (i.e. gold & natural wood probably wouldn't work quite as well).
What's best between the two? Well, that's where "personal taste" comes into play, as there is no "right" or "wrong" choice here.
(Please click on the images for more information.)
Having explained some of the visual factors (i.e. the color tones in a piece) that you might wish to consider when choosing a frame, let's look at some additional details & differences between WOOD and METAL frames.
---
Archival Framing / Step 3:

Gallery 12 Wood Frames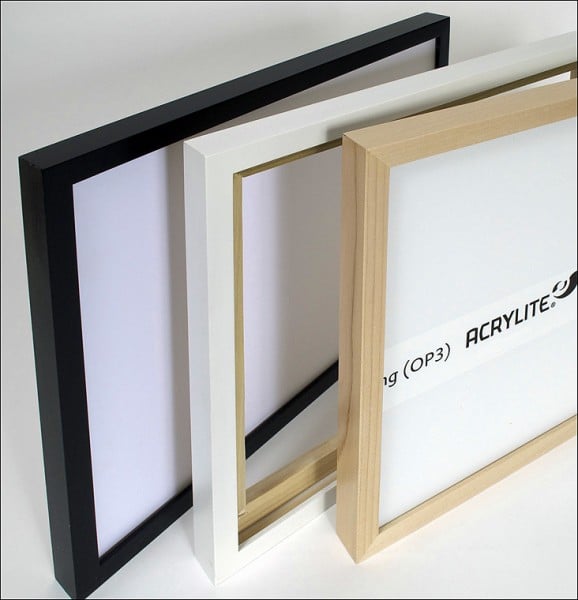 Gallery 12 Wood Frame Kits are available in THREE different colors and
FIVE different standard sizes, all of which go together with just a screwdriver!
(Please click on either image for more information.)
If you're looking for a quality wood frame to enhance whatever matted piece you may have, then consider choosing one of these elegant Gallery 12 Wood Frame Kits! 
These classic yet contemporary frames are made from carefully selected solid woods. The maple frame has a natural clear finish, while solid poplar is used for the satin finish black and white painted frames. The kit includes the frame / all hardware (including picture wire & hooks!) / archival backing board / and a sheet of ultraviolet light-filtering Acrylite OP-3 glazing. 
All you need is a phillips-head screwdriver to assemble these frames, and they're easily re-opened to access your piece or to reuse the frames as needed.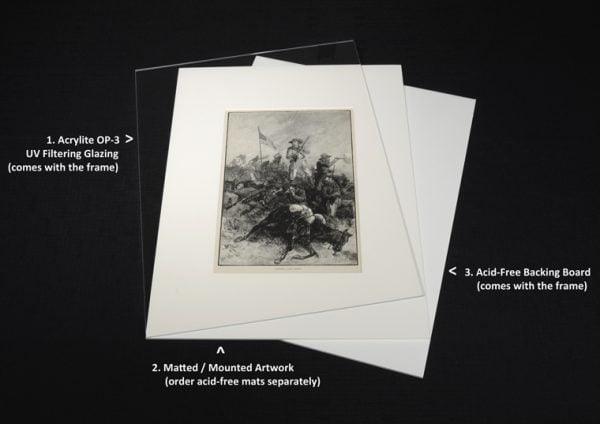 The Gallery 12 Wood Frame comes with EVERYTHING you need to frame your materials. Just add your matted piece, screw it all together, & hang it!
(Please click on either image for more information.)


To see just how EASY it is to use these frames, check out our short video on Gallery 12 Wood Frames at the bottom of this blog!

If you're looking for an all-in-one classic wood frame, consider our high-quality Gallery 12 Wood Frame Kit for its elegance, ease of use, and safe archival protection that will DEFINITELY enhance your framed images, artifacts & collectibles!
---
Archival Framing / Step 4:

Choosing "Pre-Cut" & "Custom" Metal Frames
Metal frames can lend a great deal of gallery- or museum-level sophistication & elegance to your artwork, collections or archive materials.
As illustrated throughout this blog, Archival Methods offers sturdy aluminum frames in a range of various colors & profiles to meet your specific needs, all of which will enhance every aspect of your artwork & flat collectibles! 
Whether displayed in your home, office, or an art exhibition, your matted materials will be showcased in high-quality frames that are sophisticated and yet are very easy to assemble (see the short video on Assembling Metal Frames at the bottom of this blog).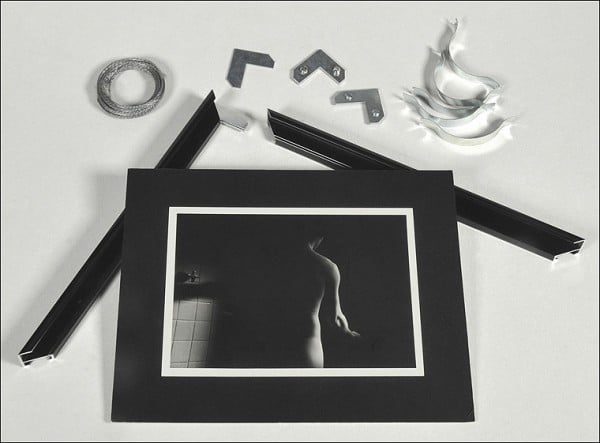 Our pre-cut metal frames are available in a variety of colors, profiles, and ALL the "standard sizes" including:
8 x 10″  •  8.5 x 11″  •  9 x 12″  •  11 x 14″  •  11 x 17″  •  12 x 16″  •  13 x 19″  •  16 x 20″  •  20 x 24″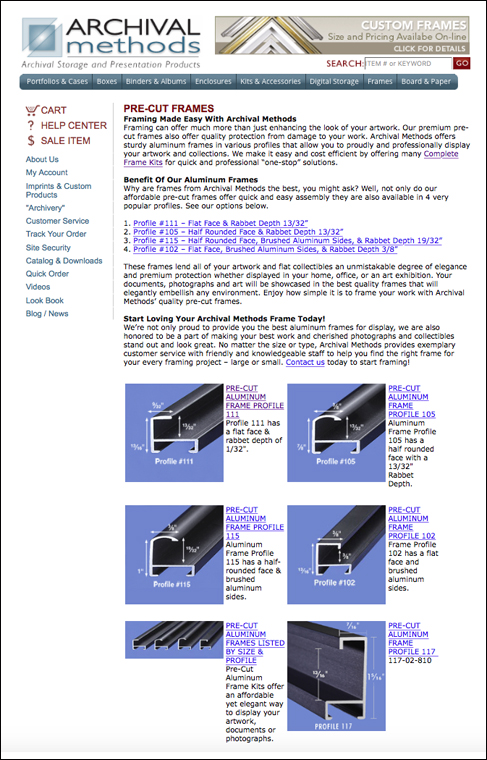 (Please click on the image for more information.)
These "standard sizes" are what most galleries & museums (and photographers & artists, for that matter) routinely use, as these sizes are relatively universal. Having such standard sizes makes manufacturing these frames a bit less expensive, allowing us to pass on the savings!

This photographer's work is DEFINITELY NOT matted & framed to a "standard size," as it measures 13 x 40-inches.
This is not a problem, as Archival Methods offers frames that can be custom cut to practically any size.
(Please click on the image for more information.)
Often, however, our customers need specific sizes / profiles / or colors that fall outside the pre-cut "standard sizes" (see the image above). This is where the flexibility of "custom-cut" frames is tremendously important!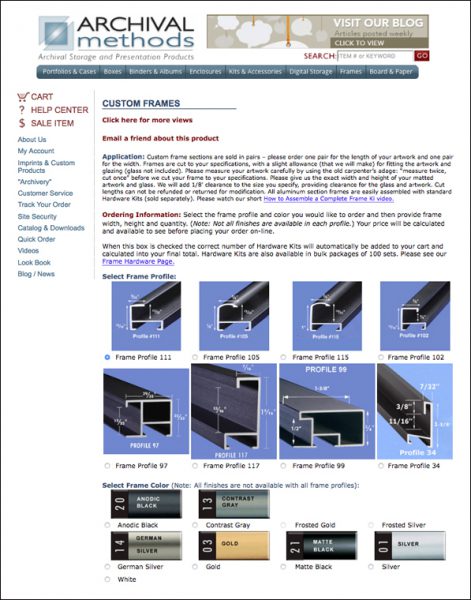 (Please click on the image for more information.)
What's more, our website is set up to make ordering your custom-cut frames both QUICK & EASY!
In a nutshell, no matter what size or profile metal frame you need, Archival Methods can most often meet your exact needs with either our pre-cut or our custom-cut metal frames. Combined with our wide-ranging mat cutting services and our top-of-the-line museum-quality materials, ALL your matting and archival framing needs can be addressed in ONE PLACE!
And, as mentioned throughout this blog, YOU can do all your own archival framing YOURSELF, which saves you TIME & MONEY (no running around to expensive frame shops!).
---
  
(Please click on each image for more information.)
In closing, whether you're archivally framing a single piece, or an entire exhibition, and whether you're framing your materials in a wood frame or a metal frame, look to Archival Methods for ALL your professional-quality matting & framing needs! And feel free to give us a call or send us an email if you have any questions, as helping YOU "get the job done right" is what we're here for!
---
Archival Framing:

Video Library
  
(Please click on each of these images to see our short videos on ordering custom mats & archival mounting solutions.)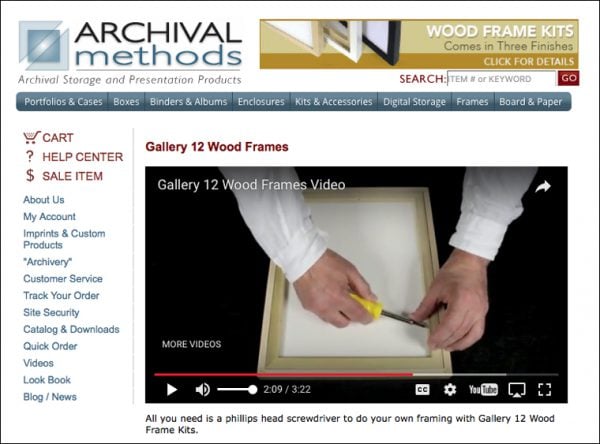 (Please click on the image to see this short video on Gallery 12 Wood Frames.)
(Please click on the image to see our short video on just how easy it is to assemble a metal frame.)
---
Contact Us
If you have any additional questions, or would you like more information on any of our museum-quality acid-free storage & presentation materials, please contact us here at Archival Methods. We're always there to help with any archiving, storage, or presentation questions you may have.
We would also like to encourage you to follow us on Twitter, Facebook, Pinterest, and our large selection of informative and crisply-illustrated (and often humorous!) blogs for up-to-the-minute information, Archival Solutions of the Week (take a look at this archive for more info!), and stories of interest. Likewise, our exclusive short videos illustrate many of the archival products and procedures that you may wish to "see in action," so please take a look!

---