Archival Solution of the Week:
Itoya Art Profolio
We at Archival Methods' are THE acknowledged experts when it comes to professional-looking presentations and the archival storage of ALL your photographs, artwork, family archives and collectibles!
As you may already be aware, our museum-quality presentation and storage materials are in use around the world as you read this. From stunning yet practical portfolio boxes to our economical acid-free drop front boxes, and from our wide range of archivally-safe 3-ring pages and binders to our elegant museum cases, everything YOU could possibly need for YOUR presentations and archival storage are on our shelves waiting to be safely shipped to your door!
One of the most practical and economical (& elegant!) presentation and storage folios we offer is the Itoya Art Profolio. Available in SEVEN different sizes (see pix above / see size list below), this easy-to-use, archivally safe presentation folio will enhance EVERYTHING you place in it!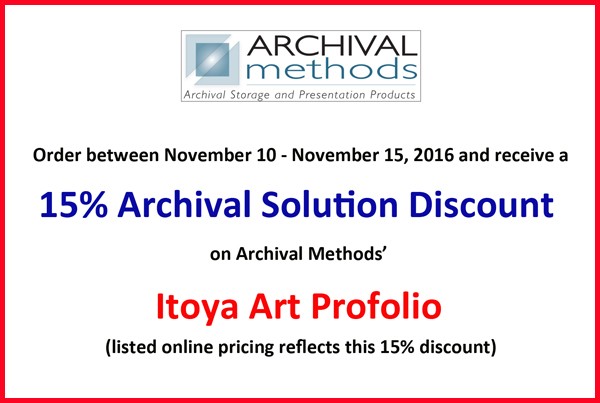 Itoya Art Profolio:

Presentation & Archival Storage Made Easy! 
     1. Select the size(s) you need.
     2. Insert your prints, photographs, artwork or collectibles.
     3. Make a great presentation, or safely (and archivally!) store your materials for the long haul!
Art Profolios, available in seven sizes, each come with 24 top-loading polypropylene pages that will hold up to 48 prints or documents. Each page includes an acid-free black paper insert (we recommended you use clear photo corners to hold smaller prints and materials in place). The pages are bound into the book and therefore cannot be removed nor additional pages added.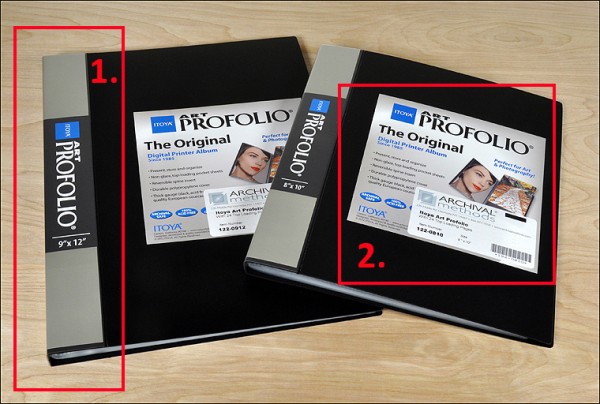 The reversible spine insert allows for customized titling and organization of this unique Art Profolio (see pix above). The black polypropylene cover is acid-free and safe to use for both presentations and long-term archival storage.
Itoya Art Profolio:

Sizes Available
Our Itoya Art Profolios come in a variety of convenient standard and digital format sizes, including:
8 x 10″   •   8 1/2 x 11″   •   9 x 12″   •   11 x 14″   •   11 x 17″   •   13 x 19″   •   14 x 17″
If you're looking for an easy-to-use (and reusable!) presentation or storage folio, one that will give you the peace-of-mind that comes with knowing that your materials are safely and archivally secure, please consider Archival Methods' Itoya Art Profolio. It's elegant, practical, and economical!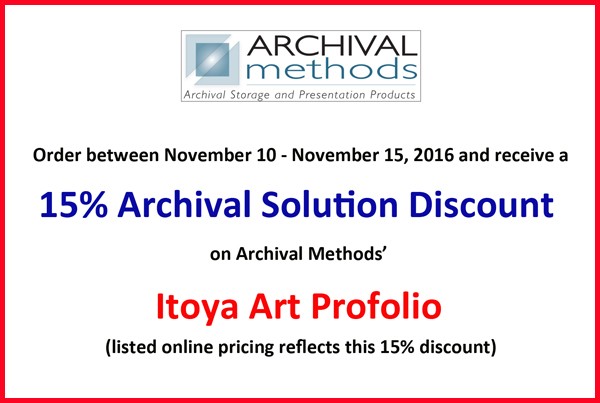 ---
Contact Us
If you have any additional questions on preserving your collections, or would you like more information on any of our museum-quality archival storage and presentation materials, please contact us here at Archival Methods. We're always there to help with any archiving, storage, or presentation questions you may have.
We would also like to encourage you to follow us on Twitter, Facebook, Pinterest, and our large selection of informative and crisply-illustrated (and often humorous!) blogs for up-to-the-minute information, Archival Solutions of the Week (take a look at this archive for more info!), and stories of interest. Likewise, our exclusive short videos illustrate many of the archival products and procedures that you may wish to "see in action," so please take a look!
Lastly, we would like to encourage you to click here to sign up for weekly emails alerting you to our Archival Solution of the Week blogs! It's easy & fast, and usually saves you 15%!
---