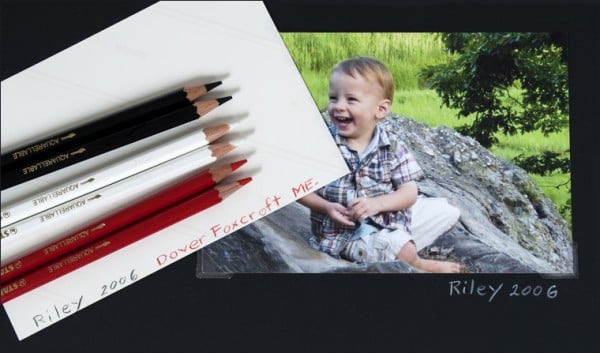 Archival Solution of the Week:

Safe Stabilo Pencils
So, there is a RIGHT way to mark or identify your photographs / snapshots / family artifacts / & collectibles …
…and then, my friends, there is the WRONG way!
In fact, there are a zillion "wrong ways" of marking your materials, some of which can permanently damage or even destroy old photographs and other items in your family archive or collection.
We here at Archival Methods echo the advice of museum professionals and collections experts from around the world in advising you to NEVER use permanent markers, cheap pens, highlighters and such when marking your materials.
What is our advice?
If you need to mark your photographs, negatives, polypropylene or polyester sleeves, family artifacts or collectibles, ALWAYS use the right type of pencil or marker, such as our Stabilo Pencils, as described below.
---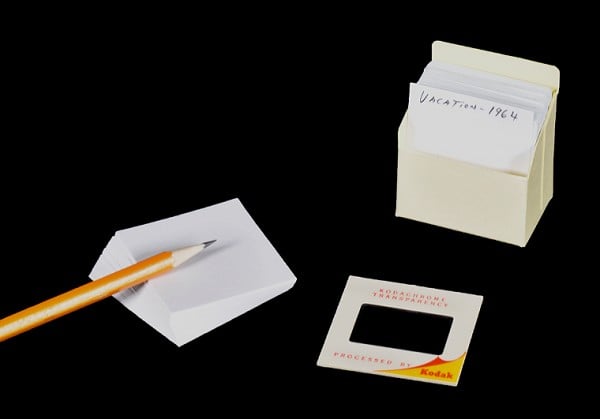 In the pix above, a regular #2 graphite pencil is being used to mark the paper index sheets between 35mm slides. Pencil lead is relatively inert, with none of the oily gunk that makes up the ink in many types of pens.
This gunk (a highly-scientific term used by professional conservators) in pen ink often contains goofy (another highly technical word) solvents and other nasty stuff that can bleed, smear, or contaminate the image you're writing on, and/or transfer to whatever else is in contact with it. Pen and marker ink is also usually "non-reversible," which conservators frown upon (and you should too!).
This is almost never the case when using a pencil.
In the pix above a TechLiner Drawing Marker has been used to mark acid-free All-Purpose Index Cards. Yeah, I know, I said "NO PENS." Yet this particular pen contains inks that are chemically inert and safe, even though we recommend that they be used for writing on Index Cards and the OUTSIDE of Acid-Free Envelopes and such, not on photographs and artifacts themselves.
---
Stabilo Pencils:

The Right Choice for Many Tasks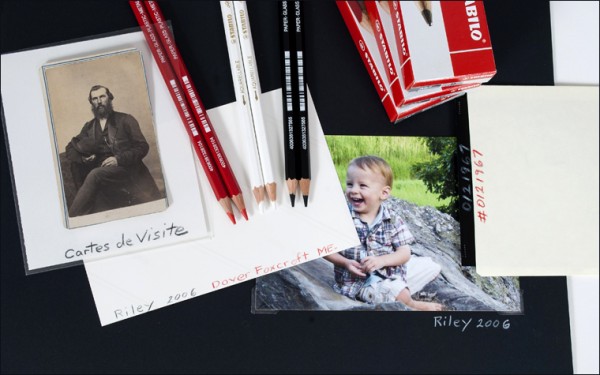 So, what to do if you want to write on the back of a contemporary photograph, or on a polypropylene or polyester sleeve???
As mentioned, conservators advise against using markers or ink pens, as they can bleed, transfer and are not reversible. Standard #2 graphite pencils work well on paper-backed photos, but not on plastic-coated surfaces, which makes writing on the backs of contemporary photographs tricky as they usually have a polyethylene surface.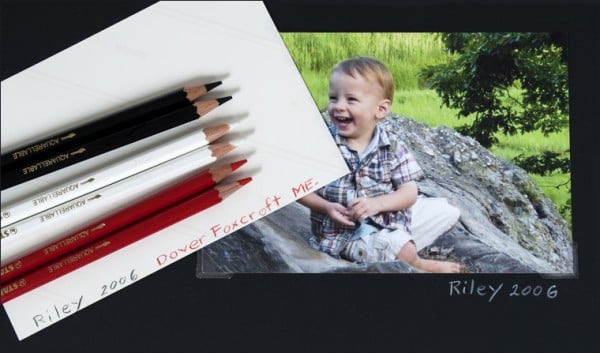 The answer?
Stabilo Pencils will allow you to write clearly and legibly on the backs of photographs or film negatives, polypropylene or polyester sleeves, and on glass, metal, or paper surfaces. They are water soluble and can be wiped off of smooth surfaces with a damp cloth, or erased easily when used on paper.
Stabilo Pencils are available from Archival Methods in 3 different colors and in 4 convenient package quantities:
          •  6-Pack of Black / White / & Red Stabilo Pencils (2 of each color)
          •  12-Pack of Black Stabilo Pencils
          •  12-Pack of White Stabilo Pencils
          •  12-Pack of Red Stabilo Pencils
The Last Word: When using Stabilo Pencils always work on a clean, hard surface and apply a light touch when writing to avoid pressure transfer, which may cause whatever you are writing to be visible on the image side. In a similar vein, it is also always best to write near the edges of your images – not in the middle – just to be safe!
---
Contact Us
If you have any additional questions on preserving your collections, or would you like more information on any of our museum-quality archival storage and presentation materials, please contact us here at Archival Methods. We're always there to help with any archiving, storage, or presentation questions you may have.
We would also like to encourage you to follow us on Twitter, Facebook, Pinterest, and our large selection of informative and crisply-illustrated (and often humorous!) blogs for up-to-the-minute information, Archival Solutions of the Week (take a look at this archive for more info!), and stories of interest. Likewise, our exclusive short videos illustrate many of the archival products and procedures that you may wish to "see in action," so please take a look!
Lastly, we would like to encourage you to click here to sign up for weekly emails alerting you to our Archival Solution of the Week blogs! It's easy & fast, and usually saves you 15%!
---