Are you looking for a self-contained archival binder that opens flat to offer full and easy access to your contents, one that also offers the protection and classic style of a fine portfolio box? If so, then consider Archival Methods' elegant Accent L-Series Binder Box.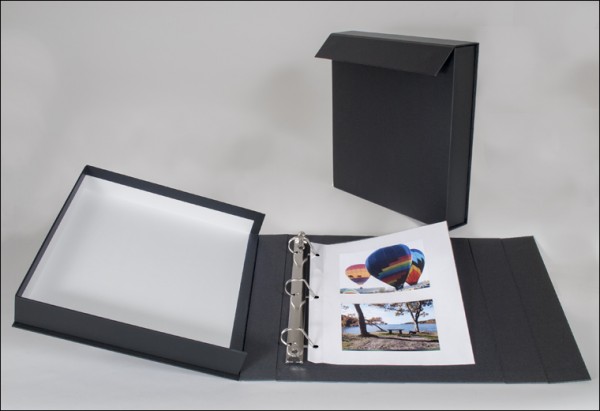 Accent L-Series Binder Box

: For Practically Anything in Your Collection!
Our Accent L-Series Binder Box is perfect for all standard 3-ring print pages, including those sized for photographs and snapshots, as well as postcards, 35mm slides, letters and documents, and even collectible magazines and comic books!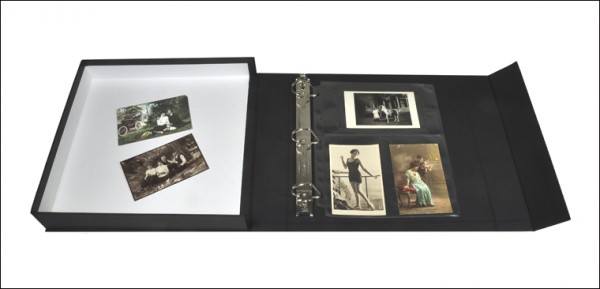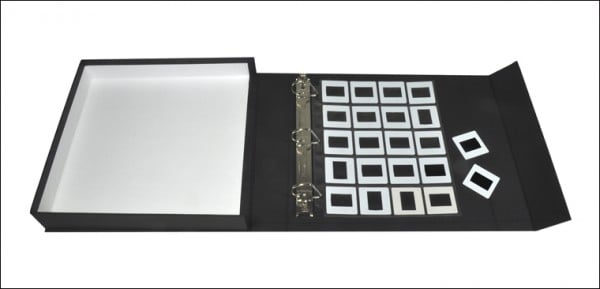 Accent L-Series Binder Box:

 The Specs
The binder-in-a-box design of the Accent L-Series Binder Box provides a dust-free environment that will hold all of our archival three-ring page options, up to a maximum dimension of 12″ H x 11-1/4″ W. The box's protective cover doubles as a built-in tray, which lays completely flat when open to allow both full access to your contents and easy page turning.
A flap-style magnetic closure allows for the secure closing of this binder box, providing an extra level of safety during both transport and storage.
The slanted 1-1/2″ D-rings will hold 60 pages with prints, or 25 pages with up to 200 CDs / DVDs.
The cover material is a rich linen-textured fabric, the same fine material used on our Museum Cases, while an acid-free white accent paper covers the interior tray. 
Accent L-Series:

Strong, Secure Locking Rings
The Accent L-Series Binder Boxes have strong and secure locking rings to keep your important photographs, documents, and ephemera safe in storage and during transport.
To prevent bending the locking rings, always open the rings using both locking tabs located at the top and bottom of the ring assembly. To prevent bending the rings, do not pull the rings open if they're locked. Always close the rings using both tabs.
Following this simple advice will allow your Accent Binder Box to give you many years of dependable service.
Contact Us
If you have any additional questions on preserving your collections, or would you like more information on any of our museum-quality archival storage and presentation materials, please contact us here at Archival Methods. We're always there to help with any archiving, storage, or presentation questions you may have.