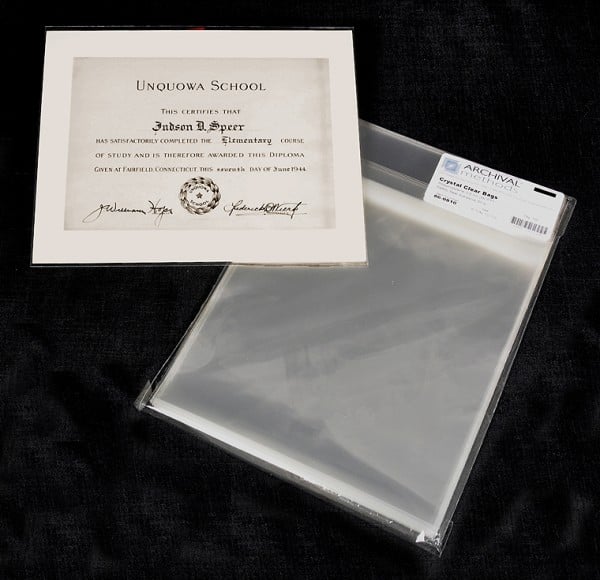 Archival Solution of the Week:

Archival Crystal Clear Bags
So, a bag / is a bag / is a bag, right?
Well, not when its a museum-quality Archival Methods Crystal Clear Bag!
Our archival Crystal Clear Bags are the PERFECT solution for safely storing and protecting matted and umatted prints, photographs, artwork, documents & letters, genealogy materials, magazines & comic books, collectibles, and practically any other flat materials you can think of!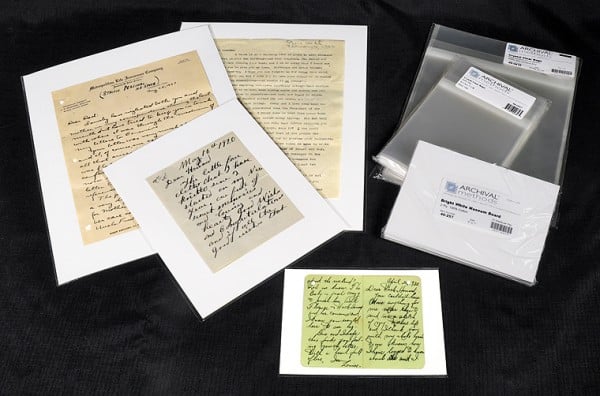 The words "crystal clear" are included in this bag's name for reason, as these strong RESEALABLE archival bags are as clear as glass (see pix below), and will allow you to see both sides of your irreplaceable materials during handling, display and storage.
A portrait drawing from the family archive nestled in a Crystal Clear Bag. The adhesive closure strip is on the BAG ITSELF, not the FLAP (see explanation below). In the lower portion of this image the release strip that protects the adhesive strip is being pulled back to expose the adhesive. When closed and sealed, your materials are safe to both handle or store indefinitely, and can be reopened and resealed time and time again. (Please click on the image to see our fully-illustrated blog on "Archivally Storing & Preserving Paper Drawings".)
Archival Crystal Clear Bags:
The Specs
Our Crystal Clear Bags are made of Biaxially Oriented Polypropylene (BOPP for short), which features excellent clarity and a low electrostatic charge (so as to minimize static attraction to dust). They are completely acid-free and inert, and will not "outgas" any of the harmful plasticizers that are sometimes used in the manufacture of bargain-basement bags – you know, the cheap bags with that nasty "vinyl" smell to them.
All this makes our Crystal Clear Bags PERFECT for both everyday handling and long-term archival storage.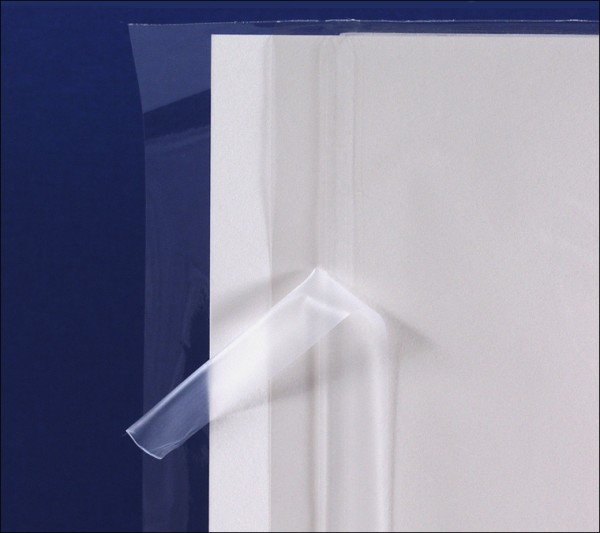 Each bag is sealed on three sides and opens on the short side with a 1-1/2" flap. In terms of easy access and SAFE reusability, Archival Methods' Crystal Clear Bags have a protective adhesive closure strip located on the BODY of the bag itself, NOT on the flap. This adhesive placement is IMPORTANT, as when the contents are removed or re-inserted there is less chance of the artwork sticking to the adhesive strip (many "bargain" brands have their adhesive strip on the flap, which inevitably sticks to your materials and will often damage them). 
Archival Crystal Clear Bags: 
Wide Range of Sizes Available
Archival Methods' Crystal Clear Bags are available in 21(!!!) sizes to meet your every need (see list below). These high-quality bags are sized to accommodate the common thicknesses of matted prints or multiple unmatted prints. Bags up to 11 x 14″ will accommodate 3/16″ in thickness, and bags 12 x 16″ and larger will accommodate 3/8″ in thickness (see pix above). 
Archival Crystal Clear Bags:

SMALL Size Formats
          •  4-1/4   x   6-1/8″
          •  4-7/8   x   6-1/8″
          •  5-1/4   x   7-1/8″
          •  5-11/16   x   8-9/"16
          •  8-1/4   x   10-1/8″
          •  8-3/4   x   11-1/16″
          •  8-3/4   x   11-3/4″
Archival Crystal Clear Bags:

MEDIUM Size Formats
          •  9-1/4    x   12-1/4″
          •  11-1/4   x   14-1/8″
          •  11-7/16   x   17-1/4″
          •  12-7/16   x   16-1/4″
          •  13-7/16   x   19-1/4″
          •  14-7/16   x   18-1/4″
          •  16-7/16   x   20 1/8″
Archival Crystal Clear Bags:

LARGE Size Formats
          •  17-7/16   x   22-1/4″
          •  17-7/16   x   25-1/4″
          •  18-7/16   x   24-1/4″
          •  20-7/16   x   24-1/4″
          •  22-7/16   x   28-1/4″
          •  24-7/16   x   30-1/4″
          •  24-7/16   x   36-1/4″
Whether you're looking to archivally preserve your materials in long-term storage, or have safe & easy day-to-day access to them for everyday use, our economical / resealable museum-quality Crystal Clear Bags are an excellent choice for whatever flat materials you have!
---
Contact Us
If you have any additional questions on preserving your collections, or would you like more information on any of our museum-quality archival storage and presentation materials, please contact us here at Archival Methods. We're always there to help with any archiving, storage, or presentation questions you may have.
We would also like to encourage you to follow us on Twitter, Facebook, Pinterest, and our large selection of informative and crisply-illustrated (and often humorous!) blogs for up-to-the-minute information, Archival Solutions of the Week (take a look at this archive for more info!), and stories of interest. Likewise, our exclusive short videos illustrate many of the archival products and procedures that you may wish to "see in action," so please take a look!
Lastly, we would like to encourage you to click here to sign up for weekly emails alerting you to our Archival Solution of the Week blogs! It's easy & fast, and usually saves you 15%!
---