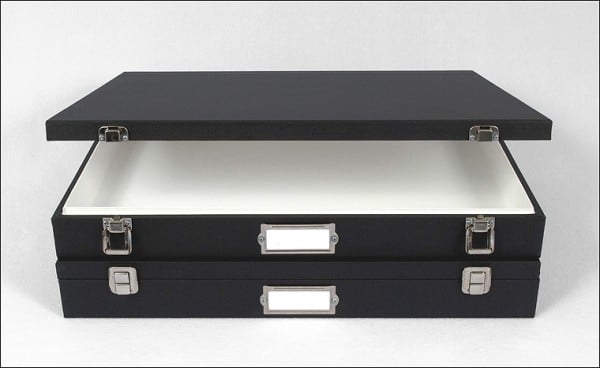 Archival Solution of the Week:
New & Improved
 Museum / Solander Case
So, there is a reason these top-of-line archival boxes are called MUSEUM Cases, as should you walk into practically ANY major museum, archive, or gallery – anywhere in the world! – you will find them in everyday use, full of valuable artwork, photographs and artifacts.
There is actually an interesting history behind this style of box, often referred to as a "Solander Case," as they have been in continual use for over 250 years (they even have their own Wikipedia page! – please click here to learn more).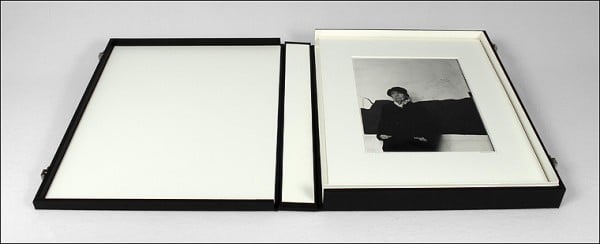 While this time-honored design has been updated here and there over the last 250 years, Archival Methods' NEW Museum / Solander Case is now EVEN BETTER suited to the storage, protection, and presentation of your most valuable matted or unmatted prints, photographs, maps, drawings, posters, genealogical materials and other items in your portfolio or collection.
The case is so solid, so handsome, and so well constructed that before it is even opened one gets the sense that "This is going to be something quite special."
---
New & Improved Museum / Solander Case: 

What's Actually "New"
Archival Methods is known around the world for its museum-quality archival products. Part of this reputation is built on our finely-crafted Onyx Portfolio Boxes, Collector Grade 3-Ring Binders, and workhorse Drop Front Boxes we now make OURSELVES, on-premises, right here in the USA.
When we decided to begin hand-crafting(!) our own Museum / Solander Case, we did a thorough top-to-bottom review of ways to make it EVEN BETTER than it already was. The result of this review led us to make the following improvements: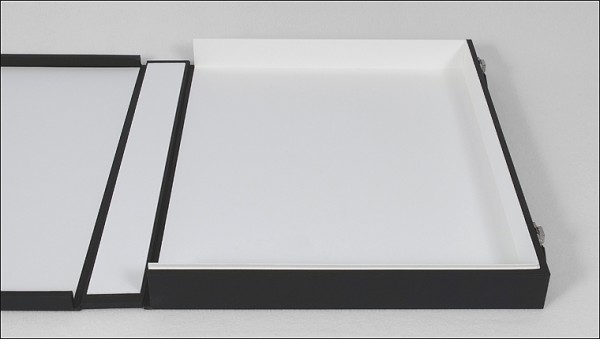 • Each new Museum / Solander Case is now lined with archival, acid-free 4-ply Bright White 100% Cotton Museum Board instead of a card stock liner. While the solid basswood used in the sides of these robust cases (see pix below) is already known as a "low-resin" type of wood and is thus ideal for the construction of these fine cases (see the entry for "basswood" here), having the additional 4-ply thickness of our 100% Cotton Museum Board offers EVEN GREATER protection for your valuable or irreplaceable materials.
          • In addition to the extra protection mentioned above, by using 4-ply Museum Board the back spine of each case closes with no "gap," a feature that helps keep dust, moisture, household pollutants and insects from entering a closed case (a number of different types of insects just love to munch on paper!).
          • The latches on the front of each new case now open DOWNWARD, making them less likely to come into inadvertent contact with the contents of the box when you are inserting or removing your materials.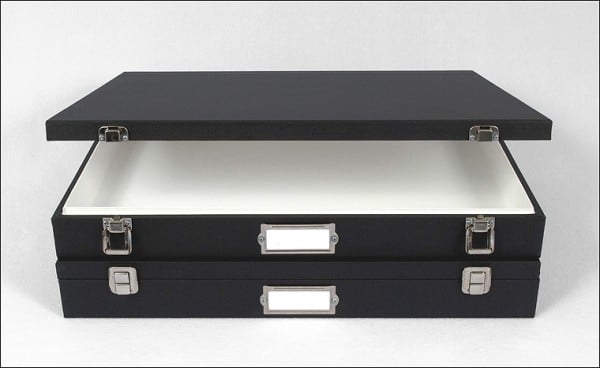 • By making them "in-house" we have an EVEN GREATER level of internal quality control to ensure that EVERYTHING is done right – every step of the way!
---
New & Improved Museum / Solander Case:

The Specs
  
Left to right: a few skids worth of different sizes of the three-sided solid basswood framework that make up the front and sides of each Museum Case  /
a closeup to show the thickness of these robust, rigid sides. All of this amounts to perhaps the strongest, most durable museum cases made anywhere. Period.
To provide a long-lasting service life, the exterior of each Archival Methods Museum / Solander Case is covered with a durable, heavy-weight acrylic-coated black cloth that elegantly wraps the strong, strategically-lipped solid basswood walls (see pix above) and thick top & bottom. When closed, these components fit together snuggly, effectively sealing the box on all four sides to keep out airborne contaminants and moisture (and bugs!). 
As mentioned, when open the hinged spine of each Museum / Solander Case allows the top to fold down and lay completely flat for easy access to your contents. While previously lined with archival card stock, the interior of our NEW & IMPROVED case is now lined with 4-ply acid- and lignin-free Bright White 100% Cotton Rag Board to further protect your materials in storage, transport, and during presentations.
Speaking of storage, the robust walls of each Museum Case provide both outstanding physical protection for your contents and truly superior(!!!) stacking strength.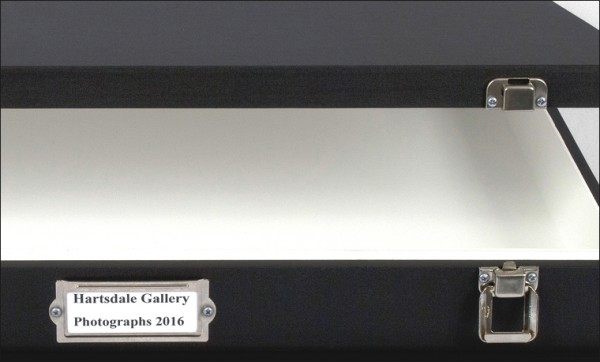 As for finishing touches, the hand-mounted hardware on each Museum / Solander Case is nickel-plated to offer years of service without rusting. The sturdy latches are designed to withstand repeated openings and closings, and a metal label holder on the front accepts standard 1-1/4  x  3-inch (removable / replaceable!) labels.
---
New & Improved Museum / Solander Case: 

Available in 10(!) Sizes
Another important aspect of our Museum / Solander Case involves the range of sizes available. While designed to accommodate many of the most common standard mat sizes (11 x 14″ / 14 x 18″ / 16 x 20″ / 17 x 22″ / 17 x 25″ / 
20 x 24″), due to the inherent strength of its construction our Museum Case is also available in VERY LARGE sizes
(22 x 28″ / 24 x 30″ / 28 x 36″ / 30 x 40″).
These larger sizes are, in fact, among the LARGEST flat archival presentation and storage boxes made! Yet no matter what size you choose, when full of your best artwork or the most important items in your collection, the entire package quietly screams "first-class presentation!"
Our small to medium-sized Museum / Solander Case dimensions:
          • 11-1/2  x  14-1/2  x  2-1/2″
          • 14-1/2  x  18-1/2  x  2-1/2″
          • 16-1/2  x  20-1/2  x  2-1/2″
          • 17-1/2  x  22-1/2  x  2-1/2″
          • 17-1/2  x  25-1/2  x  2-1/2″
          • 20-1/2  x  24-1/2  x  2-1/2″
Our large to extra-large(!!!) Museum / Solander Case dimensions:
          • 22-1/2  x  28-1/2  x  2-1/2″
          • 24-1/2  x  30-1/2  x  2-1/2″
          • 28-1/2  x  36-1/2  x  2-1/2″
          • 30-1/2  x  40-1/2  x  2-1/2″
Special Note: Need a box size you don't see listed? We would be happy to provide you with a quote on any custom-sized box you need! Please visit our Imprints and Custom Products web page for more details and contact information.
---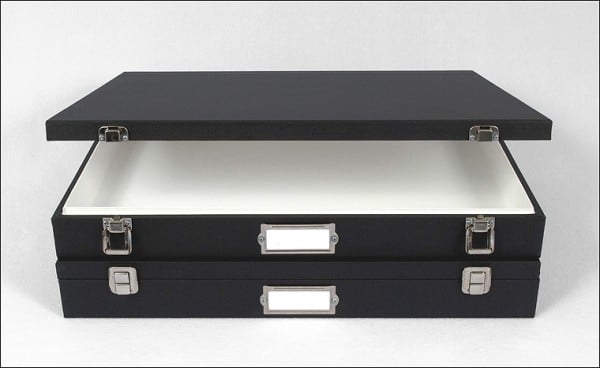 In closing, while built – one at a time, by hand! – for long-term performance with all the high-quality materials mentioned above, our new & improved Museum / Solander Case also exhibits a sophistication that goes beyond the sum of its component parts.
In a nutshell, while RUGGED and PRACTICAL it is also STYLISH, and Just. Plain. Cool.
If you're looking to store or showcase your artwork, photographs, collections, or family archives in the best possible way, consider this stunning, elegant and durable presentation case. As mentioned, it's called a MUSEUM Case for a reason!
(And don't leave without clicking here to see our short, informative video on this versatile case!)
---
Contact Us
If you have any additional questions on preserving your collections, or would you like more information on any of our museum-quality archival storage and presentation materials, please contact us here at Archival Methods. We're always there to help with any archiving, storage, or presentation questions you may have.
We would also like to encourage you to follow us on Twitter, Facebook, Pinterest, and our large selection of informative and crisply-illustrated (and often humorous!) blogs for up-to-the-minute information, Archival Solutions of the Week (take a look at this archive for more info!), and stories of interest. Likewise, our exclusive short videos illustrate many of the archival products and procedures that you may wish to "see in action," so please take a look!
Lastly, we would like to encourage you to click here to sign up for weekly emails alerting you to our Archival Solution of the Week blogs! It's easy & fast, and usually saves you 15%!
---