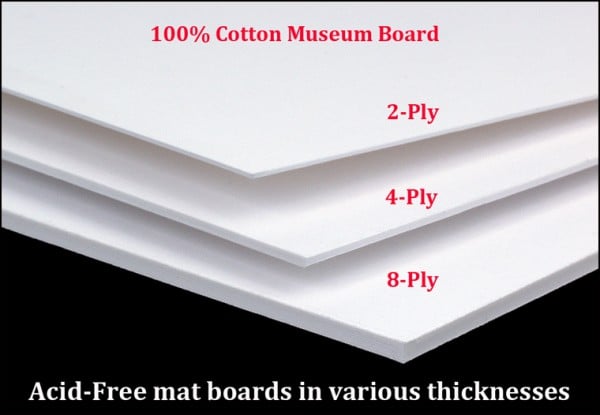 Archival Solution of the Week: 
Bright White 100% Cotton Museum Board
So, mat board is mat board, right?
The stuff you find at your local arts & crafts outlet is "good enough," right?
Well, I'm here to tell ya, folks, that there is a world of difference between your "average everyday" mat board and Archival Methods' Bright White 100% Cotton Museum Board.
Containing NO wood pulp byproducts at all, Archival Methods' Bright White Museum Board is instead made of 100% cotton fiber. This "museum-quality" mat board, as its very name suggests, is acid- and lignin-free, incorporates alkaline / neutral sizing, and is buffered with calcium carbonate. (Puzzled by all this terminology? Please click here to see our full explanatory blog on Archival Definitions: Acid-Free / Buffered / Unbuffered).
All this ensures protection from the damaging and destructive effects of acid migration from the matted work, and from a potentially polluted environment that might cause the pH of the mat board to decrease (become more acidic) with age.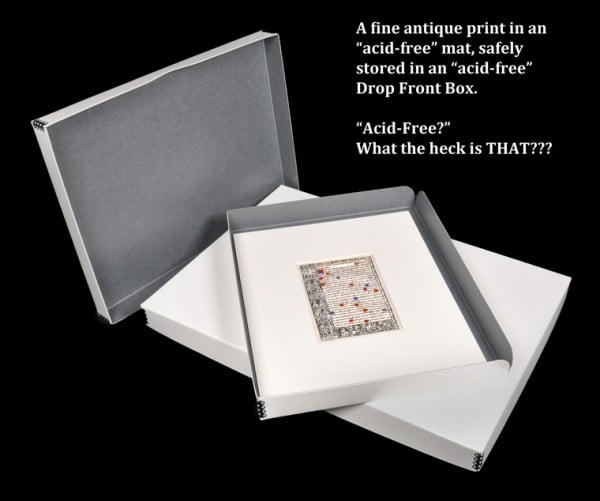 In addition, NO optical brightening agents are used in the manufacture of our 100% Cotton Museum Boards. While the concept of having a chemically "brightened" mat board may seem on the surface (no pun intended) to be a good idea, these chemicals often yellow with age — completely defeating their purpose! — and can contaminate the very things you wish to archivally mat and protect. No brighteners = no such problems!
Bright White 100% Cotton Museum Board:

Quality Manufacturing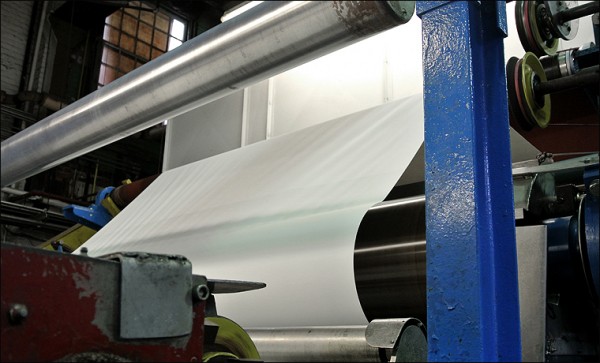 Archival Methods' Bright White 100% Cotton Museum Board is the PERFECT acid-free choice for quality matting, mounting and preservation of fine prints, precious documents, artwork, collectibles, and traditional / digital photographs.
Bright White 100% Cotton Museum Board:
3 Helpful Hints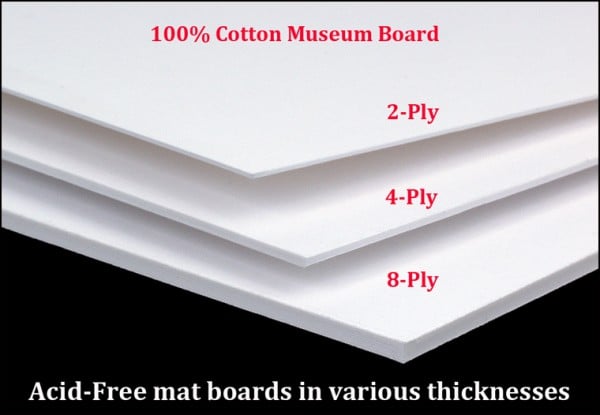 Helpful Hint #1: when looking to mat and mount your materials – whatever they may be – consider using 4-ply Museum Board for both your window mat and for your mat's backing board (see pix above). This is often considered the "industry standard" in both museums and commercial frame shops, as this will create a safe 1/16'' separation between your artwork and its glazing (glass or plexiglas) if framing, and will provide a flat, supportive backing while in storage. (Please click here to go to our fully-illustrated blog on Matting, and click here to go to our full blog on Mounting. Each will provide you with in-depth information on "best practices" that are easy to follow and archivally safe for your materials and collections.)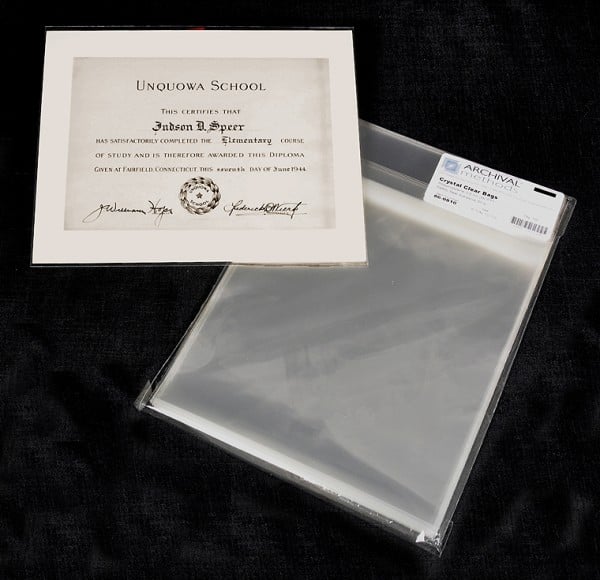 Helpful Hint #2: If you are storing delicate or valuable — either monetarily or sentimentally valuable — materials, consider placing each item you wish to store in an individual Crystal Clear Bag or archival Polyethylene Bag with a correctly-sized sheet of 2-ply Bright White 100% Cotton Museum Board added for structural stability and protection (see pix above).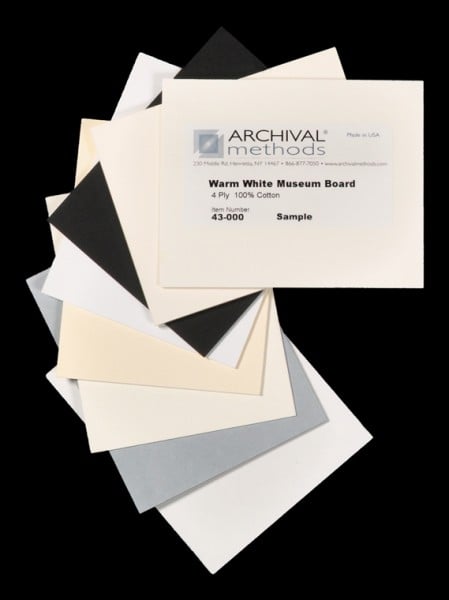 Helpful Hint #3: All mat boards, especially white mat boards, have small tonal shifts in color that cannot be reproduced accurately on computer screens, as each monitor will display colors differently depending on its calibration. To make the best selection regarding the color of the mat board you wish to use, it is best to evaluate an actual mat board sample and your artwork together under the same lighting conditions. To make this an easy and painless procedure, please order Archival Methods' inexpensive ($2 bucks!) Mat Board Sample Kit to see our full range of colors (and thicknesses!) available. 
Whatever you need to mat or support, consider using Archival Methods' Bright White 100% Cotton Museum Board. It's the "professional's choice" for elegant matted presentations and archival preservation!
---
Contact Us
Please click here to sign up for weekly emails alerting you to our Archival Solution of the Week blogs! It's easy & fast, and usually saves you 15%!
In addition, if you have any questions or would you like more information on any of our museum-quality archival storage and presentation materials, please contact us here at Archival Methods. We're always there to help with any archiving, storage, or presentation questions you may have.
We would also like to encourage you to follow us on Twitter, Facebook, Pinterest, and our large selection of informative and crisply-illustrated (and often humorous) blogs for up-to-the-minute information, Archival Solutions of the Week (take a look at this archive for more info!), and stories of interest.
---