Archival Solution of the Week: 
Triangular Roll Storage Box
Let's face it, folks. Storing rolled items (posters, prints, maps, large artworks on fine artist papers, etc.) can be a challenge!
First, ya gotta roll 'em up JUST RIGHT to fit into whatever size tube you figured you'd use. Doesn't quite fit? Well then you have to re-roll it even tighter – increasing the likelihood of potential damage – or try to tighten it up by pulling on the edges of the core. Yeah, we all know what all THAT looks like. Not fun!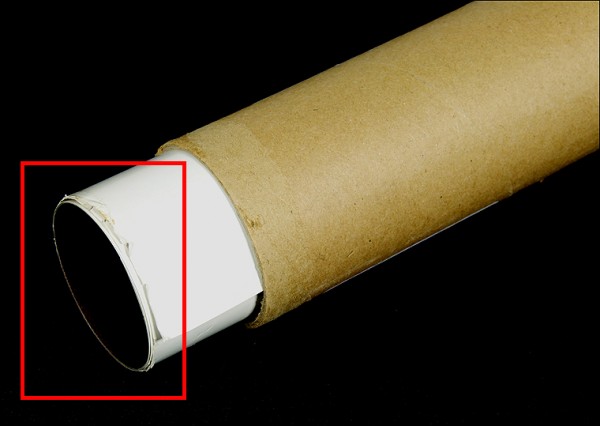 THEN, just try and take your rolled item or artifact OUT of the tube. 
Yeah, we all know what all THAT looks like, too (see pix above).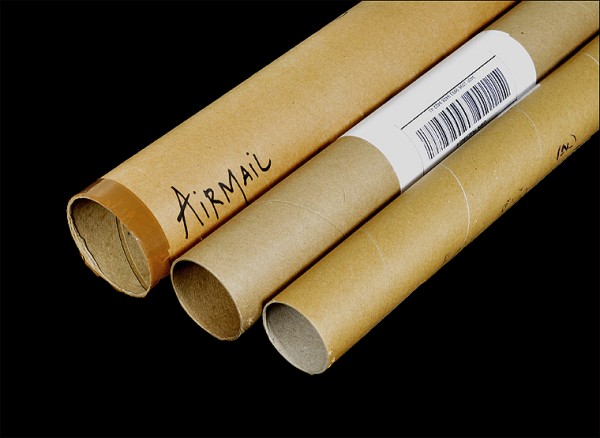 Lastly, that tube you're planning on using – that you picked up at an office supply store / post office / box shop / or had floating around your home or office (see pix above) – well, I can pretty much guarantee that it is NOT acid-free (please click here to see our fully illustrated blog that explains everything you need to know about "acid-free" materials).
So, if the general idea of placing a valued (sentimentally or monatarily) rolled item in a tube is based on protecting and preserving it, well, your HEART is certainly in the right place but your ROLLED ITEM isn't!
Triangular Roll Storage Box:

Easy Access(!)
The improper storage of rolled prints can lead to damage, especially when attempting to remove a rolled artwork from a tube (see above).
To avoid this, the "fully accessible" opening design of Archival Methods' Triangular Roll Storage Box minimizes the kinds of damage that can be inadvertently caused by pulling on the rolled-up edges of items when removing them from tubes. This design also reduces the possibility of causing a wrinkle when handling the rolled item.
As an added benefit, the Triangular Roll Storage Box will NOT inadvertently roll off your work surface / desk / or table, and stacks much more easily than a tube.
Triangular Roll Storage Box:

 Fine Museum-Quality Materials
Archival Methods' Triangular Roll Storage Box is made from acid-free / lignin-free E-Flute archival corrugated – which exceeds 200 lb. strength tests – with a 3% calcium carbonate buffering to minimize potential acid migration from your rolled item (please click here to see our fully illustrated blog that explains everything you need to know about "buffering" materials).
Please Note: As all of our museum-quality Triangular Roll Storage Boxes are buffered with calcium carbonate, as mentioned, if these boxes are to be used to store architectural or other blueprints then it is important that the "blue" image side is rolled inward to prevent contact between the cyan of the rolled print and the buffered walls of the box – all of which is fully explained in the blog mentioned above.
Triangular Roll Storage Box:

 Convenient Sizes
These unique storage boxes come in two convenient sizes:
         • 6 x 6 x 30-1/8″
         • 6 x 6 x 36-1/8″
The three 6-inch sides of this useful storage box fold in to accommodate rolled items with up to a 3-1/2″ diameter, which means you DO NOT need to roll your item too tightly.
Helpful Hint: To keep your rolled items…well…ROLLED for easier handling while placing them in these convenient storage boxes, consider rolling them up and then wrapping them in a band or full sheet of acid-free Archival Paper that is taped closed with a piece of archival Filmoplast P-90 Tape (see pix above). This will keep your poster / map / artwork rolled for easier handling, and NO adhesive will come into contact with the item itself. Just slide this band or sheet of acid-free paper off your item for easy access / carefully slide it back on again when you're finished.
While Archival Methods offers a number of sizes and styles of acid-free museum-quality boxes to meet your every need, sometimes rolling your items up is the answer. If so, look no further that our Triangular Roll Storage Box.
---
Contact Us
Please click here to sign up for weekly emails alerting you to our Archival Solution of the Week blogs! It's easy & fast, and usually saves you 15%!
In addition, if you have any questions or would like more information on any of our museum-quality archival storage and presentation materials, please contact us here at Archival Methods. We're always there to help with any archiving, storage, or presentation questions you may have.
We would also like to encourage you to follow us on Twitter, Facebook, Pinterest, and our large selection of informative and crisply-illustrated (and often humorous) blogs for up-to-the-minute information, Archival Solutions of the Week (take a look at this archive for more info!), and stories of interest.
---