Archival Solution of the Week:
Digital Print Folio
Archival Methods' Digital Print Folio is a finely crafted, hand-made presentation folio designed as a very stylish – yet practical! – way to enhance your work.
A perfect blend of elegant design, archival protection, and ease-of-use, this unique folio is PERFECT for making that important "first impression" during your very next job interview, gallery meeting, or professional presentation.
As its name implies, our Digital Print Folio is purposefully sized for sometimes-difficult-to-find digital print formats (see list below). While Archival Methods offers a number of other museum-quality presentation and storage solutions for these new formats (please click here to see our Onyx Portfolio Boxes, and here to see our 1-1/2″ Drop Front Boxes), sometimes you need to carry a slim, cool, perfectly-sized folio for just the number of prints you want to show – up to 6 matted prints and between 36 and 48 unmounted images (see below).
Digital Print Folio:

The Specs
These professional, high-quality folios are constructed of strong, archival .098-inch thick binder board. Each is hand-bound in a smooth black linen-textured fabric and lined with a hand-applied bright white acid-free paper, all done right here in the USA in Archival Methods' own on-site production facility.
Our Digital Print Folio is "easy-open & easy-closed," with a fold-over side flap fastened with secure magnetic closures and convenient fold-down flaps at the top and bottom (see pix above), all of which makes access to your images go smoothly and efficiently during any presentation you're making. 
The inside depth of each Digital Print Folio is 1/2-inch. Interior dimensions are 1/4-inch larger than standard digital print formats in order to give you enough room to allow for the easy insertion and removal of your prints, while also giving you the peace-of-mind of knowing that your images are enclosed in a snug folio without excess room for unwanted movement during transport.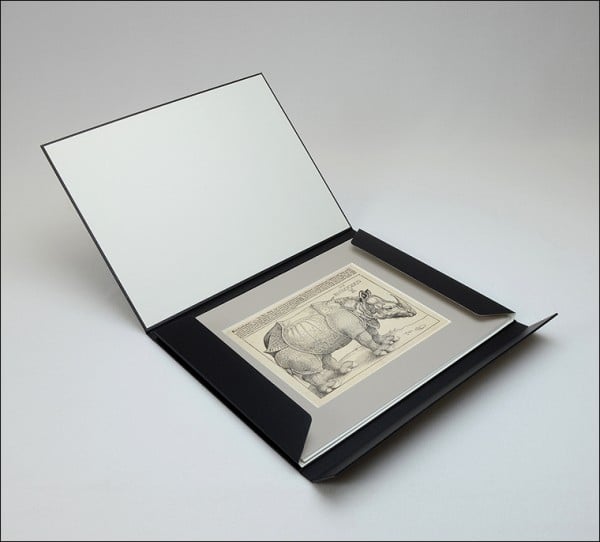 Available in 5 popular sizes for both digital and "standard" formats (standard = our 11 x 14″ size), these folios are ideal for presenting and storing up to 6 matted prints (see pix above) and between 36 and 48 unmounted images, depending on paper weight.
Digital Print Folio Sizes Available:
            •  8-3/4   x   11-1/4   x   1/2″      (fits 8-1/2 x 11″ prints)
            •  11-1/4   x   14-1/4   x   1/2″    (fits 11 x 14″ prints)
            •  11-1/4   x   17-1/4   x   1/2″    (fits 11 x 17″ prints)
            •  13-1/4   x   19-1/4   x   1/2″    (fits 13 x 19″ prints)
            •  17-1/4   x   22-1/4   x   1/2″    (fits 17 x 22″ prints)
If your work is IMPORTANT to you (of course it is!), if you're looking for a CLEAN and SOPHISTICATED transport and presentation folio (yep, you are!), if you're concerned about ARCHIVAL QUALITY and HAND-BUILT EXCELLENCE (you need to be!), and if you're looking to make the VERY BEST of that all-important first impression (right again, folks!), then consider Archival Methods' Digital Print Folio in a number of sizes designed to show off your images in the best possible light! 
---
Contact Us
If you have any additional questions on preserving your collections, or would you like more information on any of our museum-quality archival storage and presentation materials, please contact us here at Archival Methods. We're always there to help with any archiving, storage, or presentation questions you may have.
We would also like to encourage you to follow us on Twitter, Facebook, Pinterest, and our large selection of informative and crisply-illustrated (and often humorous!) blogs for up-to-the-minute information, Archival Solutions of the Week (take a look at this archive for more info!), and stories of interest. Likewise, our exclusive short videos illustrate many of the archival products and procedures that you may wish to "see in action," so please take a look!
Lastly, we would like to encourage you to click here to sign up for weekly emails alerting you to our Archival Solution of the Week blogs! It's easy & fast, and usually saves you 15%!
---