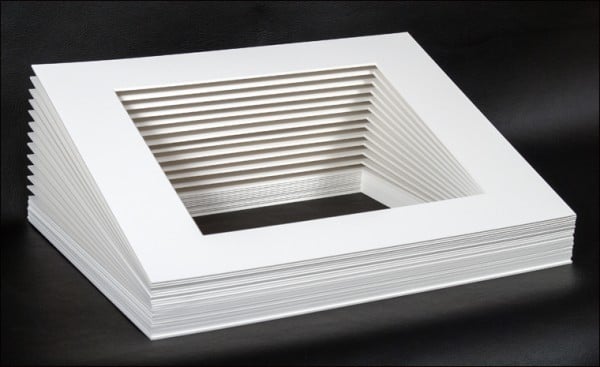 Archival Solution of the Week:

Conservation Mat Board
So, perhaps you've heard of "archival / acid-free 100% cotton mat board."
Well in fact, folks, that type of mat board is one of Archival Methods' most popular products, and is widely-used by individual artists / collectors / genealogists, and by major museums and galleries around the world.
Yet there are a number of pretty good reasons(!) for considering using our Conservation Mat Board as an alternative to our wide range of 100% Cotton Museum Boards.
One such reason is color, as our Pearl White Conservation Mat Board has a slightly warmer tonality than our Bright White Museum Board. It is similar to Antique White Museum Board, yet with less of a yellow tint. The look, feel and cutting characteristics are very similar to mat boards made from cotton pulp, and it maintains a similar lustrous surface.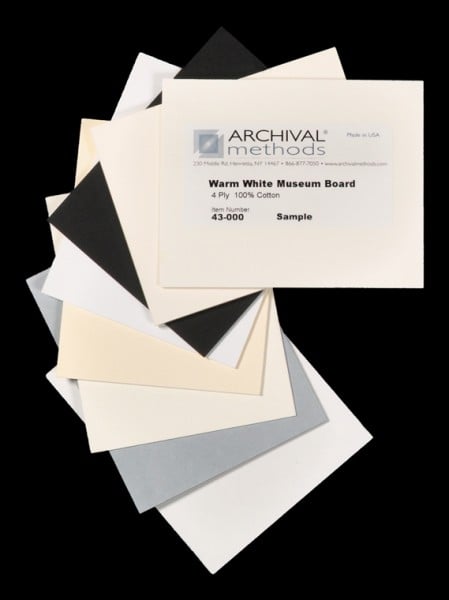 The best way to determine if our Conservation Mat Board is right for you is to order our inexpensive (only $2 bucks, folks, and FREE SHIPPING!) Mat Board Sample Kit, as it will allow you to make the PERFECT choice when it comes to the right color, thickness and material for your particular needs (see pix above).
Another aspect to consider is that our Conservation Mat Board is a PERFECT alternative for those looking for high-quality mat board at a very attractive price (see pix above, and listen to the King!).
Our Conservation Mat Board is made from a highly refined alpha-cellulose pulp that is made from stringently purified wood fiber, and is therefore more economical to manufacture than 100% Cotton Museum Board (and we're happy to pass the savings on to you!), yet it carries with it the same stable, acid-free, long-lasting archival properties as our Cotton Museum Board.
Purified wood pulp paper, such as that used in the manufacture of our Conservation Mat Board, has a long history of being safe to use with paper artwork, photographs, documents and collectibles.
This high-quality board is acid- and lignin-free, and is buffered with calcium carbonate. This ensures protection from the destructive effects of potential "acid migration" from the matted work or from environmental pollutants that might cause the pH of the mat board to decrease – become more acidic, that is – with age (for more information on all this, please click here to see our fully-illustrated blog on Archival Definitions: Acid-Free / Buffered / Unbuffered – see pix above).
Lastly, no "optical brightening agents," which can cause mat boards to change color over time, are used in the manufacture of Archival Methods' Conservation Mat Board.
Conservation Mat Board:

The Specs
Archival Methods' Conservation Mat Board comes in both 2-ply and 4-ply thicknesses (see pix below), and in 16(!!!) standard pre-cut sizes (see list below).
We can also custom-cut this fine mat board to ANY size you might need. Just give us a call, as we'd be happy to discuss your specific needs with you.
In a nutshell, here's what our Conservation Mat Board is all about:
   •  it is made from high-quality alpha-cellulose pulp from purified wood fiber 
   •  2-ply board measures in at a 30-point thickness (approximately 1/32'')
   •  4-ply board measures in at a 60-point thickness (approximately 1/16'')
   •  the single ply sheets are laminated together using an all-natural starch adhesive
   •  all boards are acid-free / buffered with a 2-3% calcium carbonate alkaline reserve / with a pH of 9 ±0.5
   •  alkaline sizing is used for both internal and external sizing / no alum is used in the manufacturing process
   •  all color dyes are light-fast and non-bleeding
   •  this high-quality mat board will not degrade or cause harm to mounted or matted artwork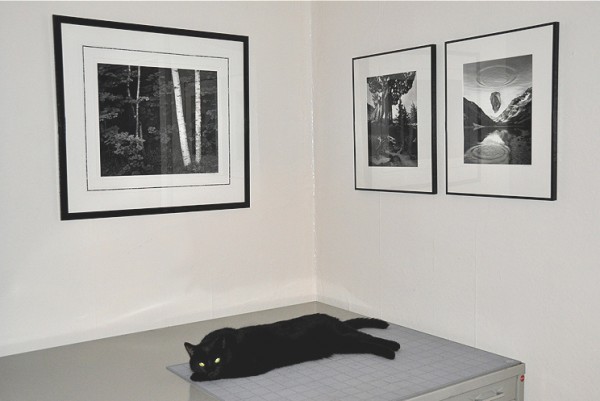 Conservation Mat Board is available in the following standard sizes in both 2-ply and 4-ply (contact us via phone or email if you would like to discuss custom-cut sizes!):
       • 5 x 7″
       • 8 x 10″
       • 8-1/2 x 11″
       • 9 x 12″
       • 11 x 14″
       • 11 x 17″
       • 13 x 19″
       • 14 x 17″
       • 14 x 18″
       • 16 x 20″
       • 17 x 22″
       • 18 x 24″
       • 20 x 24″
       • 22 x 28″
       • 24 x 30″
       • 32 x 40″
So, if you're looking for a high-quality acid-free mat board with similar archival characteristics of 100% Cotton Museum Board, please consider Archival Methods' fine Conservation Mat Board. It's available in the sizes and thicknesses you need – including custom sizes – and can be ordered in packages of uncut board or selected in any custom mat cutting you would like us to perform for you (see pix below).
Want more information on mat cutting? Please click here to see our fully-illustrated, easy-to-follow series of blogs on the subject.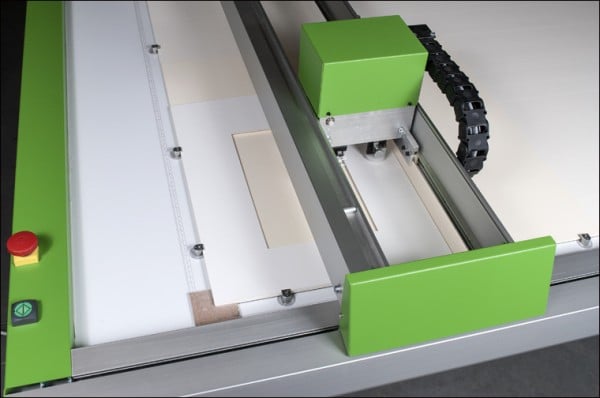 And by the way, we would be happy to cut ANY sort of professional-quality acid-free mat you would like (see pix above) – including standard rectangles / squares / circles / ovals / multiple-opening mats / verticals / horizontals / you name it! – just give us a call and we'll help you figure it all out (and SAVE YOU $$$ over regular frame shop pricing, too!).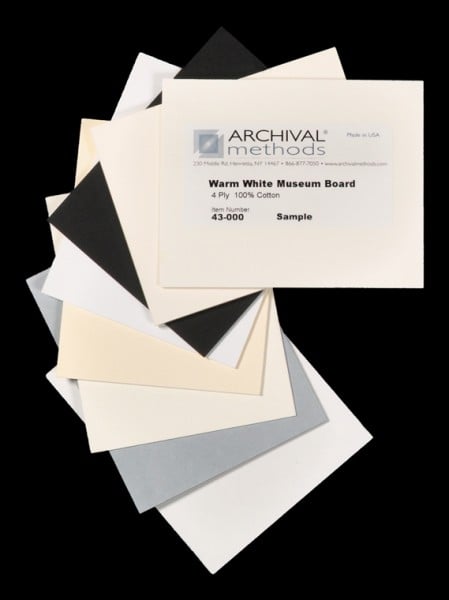 Lastly, as mentioned above, white mat boards have small tonal shifts in color that cannot be reproduced accurately on computer screens, as each monitor will display colors differently depending on its calibration. To make the best selection regarding the color of the mat board you wish to use – including our Conservation Mat Board – it is best to evaluate a mat board sample and your artwork together under the same lighting conditions. To make this possible – and simple! – please order our inexpensive Mat Board Sample Kit to see our full range of colors and thicknesses available (only $2 bucks, folks and we'll pick up the shipping!).
---
Contact Us
If you have any additional questions on preserving your collections, or would you like more information on any of our museum-quality archival storage and presentation materials, please contact us here at Archival Methods. We're always there to help with any archiving, storage, or presentation questions you may have.
We would also like to encourage you to follow us on Twitter, Facebook, Pinterest, and our large selection of informative and crisply-illustrated (and often humorous!) blogs for up-to-the-minute information, Archival Solutions of the Week (take a look at this archive for more info!), and stories of interest. Likewise, our exclusive short videos illustrate many of the archival products and procedures that you may wish to "see in action," so please take a look!
Lastly, we would like to encourage you to click here to sign up for weekly emails alerting you to our Archival Solution of the Week blogs! It's easy & fast, and usually saves you 15%!
---