Our Top 5 List:

Back to School for Art & Photography Students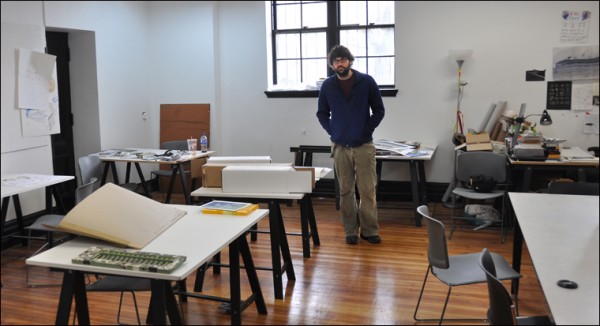 BOOM!
The school year is back!
Sure, everyone's got some sort of "back to school" thing going on, and we at Archival Methods do too!
The following is our Top 5 list of very useful ideas to make any art or photography student's life MUCH easier, smoother and successful – with an emphasis on the MOST ECONOMICAL ways of doing so!
---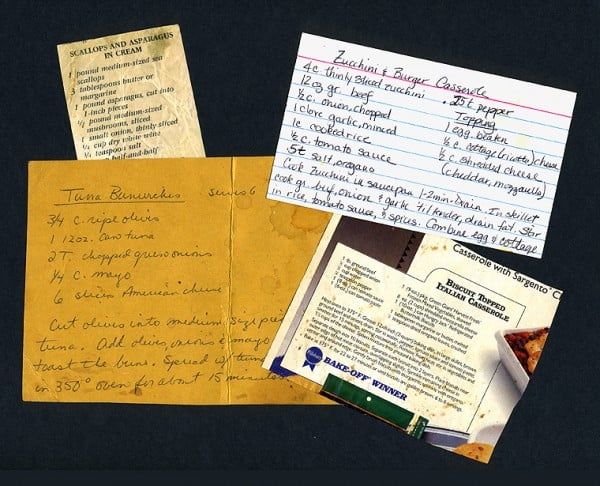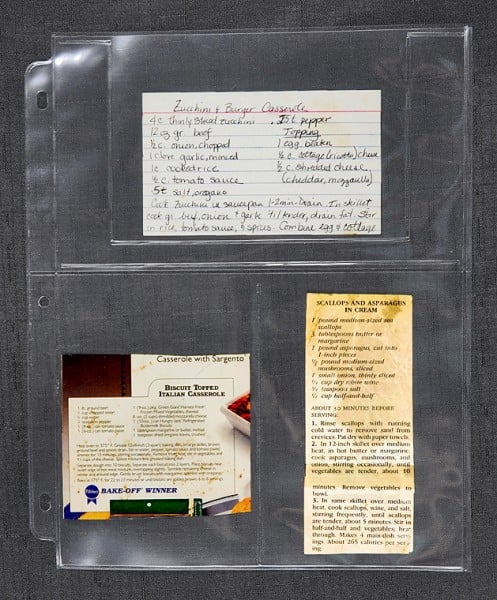 Old family recipes: loose on the left / organized and accessible on the right.
(Please click on either image to see our fully-illustrated blog on "Preserving Old Recipes: Treasuries of Family Traditions."
Ok, ok, so I'm sure your probably scratching your head right about now, wondering why the heck I'm starting off this brief yet important Top 5 list of back-to-school necessities for art and photography students with some random pix of old family recipes.
Well, it's widely known around the kitchen (except by college kids, apparently – see pix below) that one of the BEST ways to stay ORGANIZED(!) and PRODUCTIVE(!!!) is to follow the old adage of "CLEAN AS YOU GO!"
"Clean as you go" simply means that as you finish one task related to making dinner or some fancy dessert, you clean up after yourself before you start the next dish or you ice that cake you've made that's now baking in the oven, stuff like that.
Placing those loose recipes in a clear, strong print storage page has now made those recipes ORGANIZED, EASILY RETRIEVABLE, and was done RELATIVELY INEXPENSIVELY!
The exact same philosophy holds true for a student's art studio or computer lab: "Clean as you go" in a way that is ORGANIZED, EASILY RETRIEVABLE, and done RELATIVELY INEXPENSIVELY!
Now with that brief introduction, it's time to get back to our Top 5 list of ideas for art & photography students to show you exactly how to make your work organized, safe, and easily retrievable.
---
Number 1:
Metal Edge Drop Front Boxes
So, let's step back for a moment and look at a random pile of disorganized work prints from Greg's MFA photography studio (see pix above).
Does it look like yours, folks?
Maybe instead of photography you're studying drawing or printmaking or watercolor, but in all of those cases you're gonna NEED those images – often and soon – for weekly critiques, for use as reference images as you work on final images later in the semester, as you start to organize and sequence them into a series or portfolio, etc., etc., etc.
So, the FIRST thing I would tell you to do, above anything else, is to focus on organization! (That's why this is the FIRST recommendation!):
"Invest in a few standard sized / well made / and relatively INEXPENSIVE drop front boxes."
These utilitarian metal edge drop front boxes (see pix above) were specifically designed and constructed with one set of guiding principles: to organize, protect and store artwork for easy and safe retrieval – and to do so RELATIVELY INEXPENSIVELY.
Just a couple of these acid-free boxes will easily hold over 100 unmatted work prints / photographs / drawings / lithographs / watercolors and other flat media – all in one place – making organization, access and transport a snap.
These metal edge drop front boxes come in 13(!!!) different standard and digital format sizes, in three different depths, and in four different colors.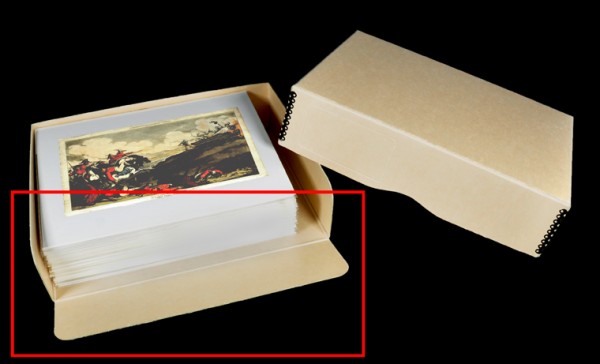 As mentioned, these workhorse boxes are relatively inexpensive, especially if ya do the math. If you add up all the time, money, and energy that goes into creating artwork and photographs for your classes, ya gotta consider taking care of your images – even your work prints – in the RIGHT type of box! (Please click here to see our short video on this style of practical / versatile drop front box.)
The end result? Boom! Everything is at your fingertips!
---
Number 2: 

Archival Corrugated
 Drop Side Boxes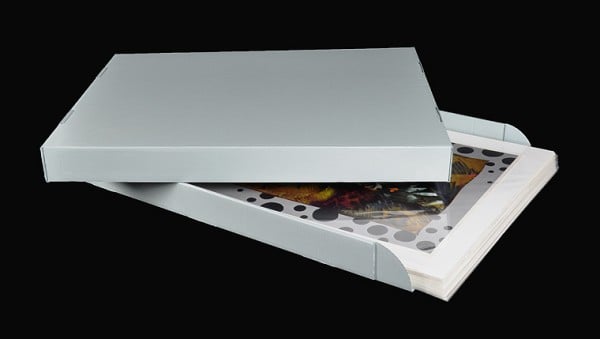 Ok, so maybe you're one of those types of students who likes to make larger artwork, photographs, or paintings. If so, you may want to consider using an Archival Corrugated Drop Side Box for organization (and for easy storage under your bed – just sayin'). It is available in three different sizes up to a very large 24.5  x  31.5  x  2.5 inches.
---
Number 3: 
Archival Tissue & Archival Thin Paper
Now, you might be concerned that your drawings, photos, work prints and such might abrade against each other in the boxes mentioned above. Well, consider "interleaving" them with our Archival Tissue or our Archival Thin Paper. A package of 100 sheets (pix on left) or a roll (pix on right) will last forever, and can be easily trimmed with regular scissors to fit between any sized images you have. Boom! Problem solved!
---
Number 4:

Polyethylene Bags & Crystal Clear Bags
Want even MORE secure protection of your student artwork and photos? Consider placing your images – even your work prints and preliminary drawings – in archivally safe Crystal Clear Bags or Polyethylene Bags, which come in 20+(!!!) different sizes – from a dinky 3-1/2 x 5 inches all the way up to a whopping 35-3/4  x  47-3/8 inches.
Walking across the college quad in the rain for that important critique? Don't let hours and hours (and hours!) of work get messed up! Just slide your images into one of these bags and you're off to the races – for less than half a buck!
---
Number 5: 
Boxes for 3-Dimensional Artwork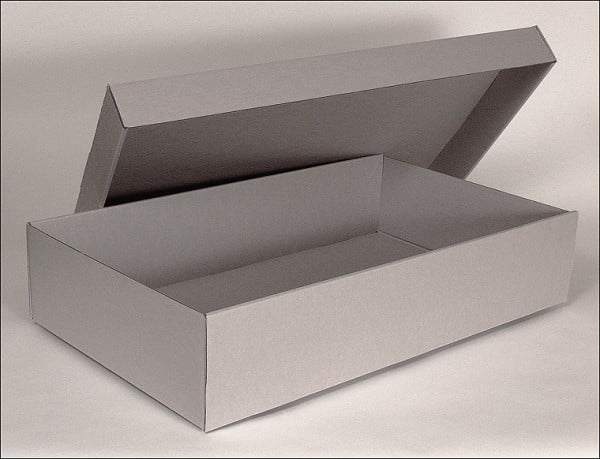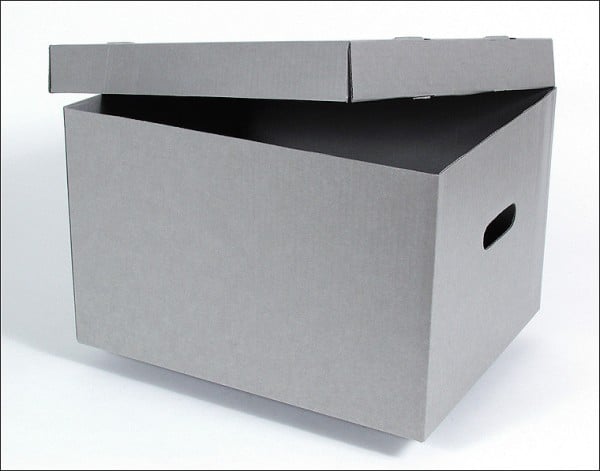 Left to right: Textile Storage Box / Artifact Box / Record Storage Box. (Please click on each image for more information.)
Alright, so let's say that you're studying sculpture, or you're into ceramics, metalwork or the fiber arts. Well, the SAME needs for (ECONOMICAL!) organization and safe protection apply to you, too!
The pix above show a Textile Storage Box, an Artifact Box, and a Record Storage Box, all of which are relatively inexpensive and can be used to organize and store your ongoing work out of the way of clumsy roommates (been there, done that), little brothers or sisters, and many of the other hazards associated with being an art student.
Safe, easy to use, and convenient for dorm rooms or small grad school apartments, these boxes are the answer for protecting and safely transporting 3-dimensional artwork, sculpture, ceramics and textiles. 
Boom! Done! (I say that a lot, folks, cuz it's TRUE!)
---
Back to School for Art & Photography Students: 

Bonus Recommendation
Still looking for other quick and easy ways of enhancing your high school, college, or graduate art school experience? Please take a look at our full range of museum-quality archival supplies here. 
And for the PERFECT "goodbye, good luck, and don't forget to write" send-off present, consider asking Mom and Dad (or Aunt Zelda, see pix above) for an Archival Methods Gift Certificate in any amount you want. Just contact us and we'll set it all up!
So, there you have it, folks. Just a handful of REALLY NECESSARY ideas for getting your (or your kid's) semester of art and photography classes off to a smooth, efficient start.
---
Art & Photography Students:

The Next Steps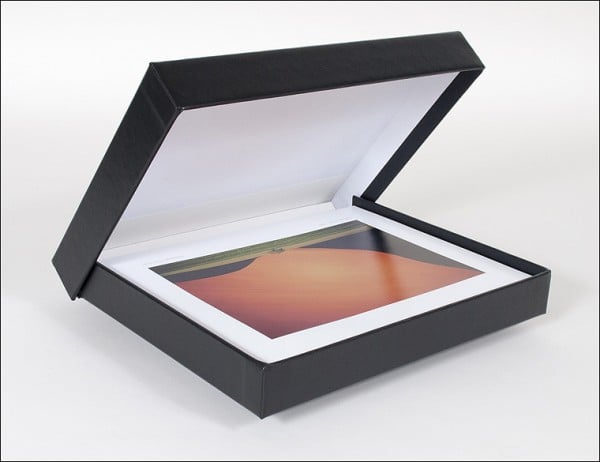 Clockwise, from top left: fine museum-quality window matting  / great-looking & easy-to-assemble framing  / an elegant Onyx Portfolio Box /
an end-of-the-school-year student art show / a professional Tranzporter Case for taking large work to important interviews.
(Please click on each image for more information.)
When the time comes later in the semester / school year, we'll bring you more info on just what to do next when it comes to prepping for those all-important final crits and student shows, and then go into detail about just HOW to make that lasting first impression when showing your artwork and photography during key job interviews, gallery meetings, and college or graduate school admissions appointments (see pix above).
If you want some of that information now, explore our expansive blog page to see our fully-illustrated blogs on student shows, matting & mounting your art and photography, the various portfolio boxes and cases available, transport cases to make your future presentations a breeze, and tons of other timely info on the BEST professional-quality archival materials available ANYWHERE!
---
Contact Us
If you have any additional questions on preserving your collections, or would you like more information on any of our museum-quality archival storage and presentation materials, please contact us here at Archival Methods. We're always there to help with any archiving, storage, or presentation questions you may have.
We would also like to encourage you to follow us on Twitter, Facebook, Pinterest, and our large selection of informative and crisply-illustrated (and often humorous!) blogs for up-to-the-minute information, Archival Solutions of the Week (take a look at this archive for more info!), and stories of interest. Likewise, our exclusive short videos illustrate many of the archival products and procedures that you may wish to "see in action," so please take a look!
Lastly, we would like to encourage you to click here to sign up for weekly emails alerting you to our Archival Solution of the Week blogs! It's easy & fast, and usually saves you 15%!
---