Storing Large Objects, Artifacts & Collectibles
Alternative Uses of Standard Archival Products
Storing large objects, artifacts & collectibles can be an archival challenge, yet sometimes it's necessary if you have a cherished family heirloom or an item in your collection that is…
          1.)  large
          2.)  heavy
          3.)  awkwardly-shaped
…or ALL THREE at the same time!
As a quick example, take this old sewing machine:
While we know that MOST individuals DON'T have old sewing machines from yesteryear floating around in their attics or basements, the reason we're showing you this object is because it serves as a great example of something that actually IS large / heavy / awkwardly-shaped—something that would be perfectly served by being archivally stored in a strong Coroplast Record Storage Box, as briefly described in a bit more detail below.
It is our hope that you can use the following steps for storing large objects and apply them to whatever YOU need to archivally address in YOUR OWN collection or family archive!
This old Singer sewing machine from a century ago belonged to the author's grandmother, and thus holds some true sentimental
value for the family. Storing large objects like this—that are also rather heavy and certainly awkward in terms of shape—
becomes a simple task with our Coroplast Record Storage Box / Polyethylene Bags / & Archival Tissue, as fully explained below.
(Please click on the images for more information.)
---
Storing Large Objects:

How to Do It, Step by Step
This heavy / fragile / awkwardly-shaped 14″-tall porcelain sculpture of fruit has been in the family for generations, and
we're going to use it to explain ALL the steps to take to store it CORRECTLY (& EASILY!) using safe archival materials.
These are the same steps YOU can follow to safely store large or unusual objects that YOU might have!
For safely storing large, heavy, or awkwardly-shaped objects & heirlooms, Archival Methods has the PERFECT solution:
Our immensely strong, durable, and 100% acid-free Flip-Top Coroplast Record Storage Box!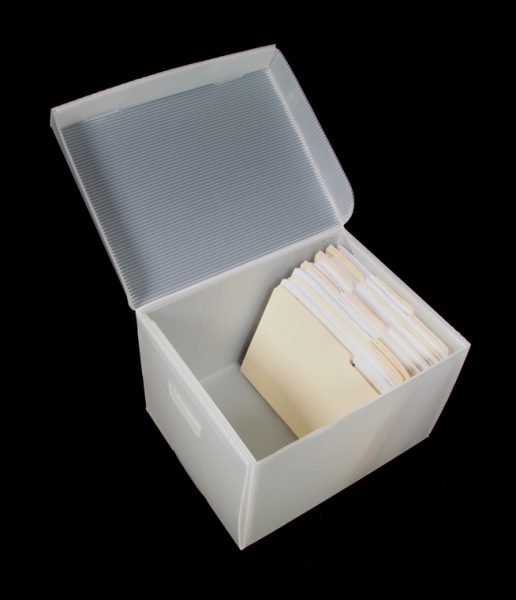 (Please click on either image for more information.)
While this rugged Coroplast Record Storage Box was originally designed to transport and archivally store both letter & legal sized folders (see images above), it is also IDEALLY SUITED for storing large objects or heirlooms like the antique sewing machine and porcelain sculpture we're using as examples in this blog, and for whatever YOU might have!
Coroplast is a chemically inert, acid-free and additive-free material made of a durable extruded polypropylene. This box has a double-walled bottom and tripled-walled sides, which result in significant structural strength that WON'T tear out. This is important, as heavier or fragile artifacts should be stored in a box that is "up to the task!" The convenient hand-grip handles make this carton ideal for placement wherever it will be safest and, like the rest of this sturdy box, they WON'T tear out when heavy items are lifted.
Each box has generous interior dimensions that measure 15''L x 12.5''W x 10''D, and its attached lid prevents the loss or separation of the top when the carton is in use.
As mentioned, while you might not have anything quite like this old porcelain casting in your collection or family archive, the following steps can be applied to preparing whatever large objects you DO have that you'd like to prepare for long-term safe archival storage.
Consider taking a photograph of whatever heirlooms or artifacts you're storing, and
then add important family history or collections information to a printout of this image.
As a first step in preparing an item such as this porcelain piece for storage, it's always a good idea to take a photograph of the object and print out a few copies of these photos. This will allow family history or collections information to be added directly to the picture by writing or typing it on the same sheet (see image above).
A picture of whatever object you're storing – that includes written family history or
collection information – can be placed in a Print Page & a binder for quick reference.
(Please click on the image for more information.)
A copy of this information can then become part of your family archive or collections inventory (see image above), and a spare copy can be placed in the archival box during storage (more on that below).
(Please click on the image for more information.)
Next, place the object in a clear archivally safe Polyethylene Bag, which are available in many convenient sizes, as this will help keep dust & moisture away from the artifact.
Once the object is in its Polyethylene Bag and ready to be stored, a Coroplast Records Storage Box can be lined with either crumpled Archival Tissue or Archival Paper (see left-hand image), or with Shredded Archival Tissue (see right-hand image). The use of a Polyethylene Bag is especially important when using Shredded Archival Tissue in order to keep small shreds out of any nooks and crannies in the piece.
(Please click on this image to see our blog on Archival Methods
Company Policy / Extraordinary Quality that is Eco-Friendly!)
While providing safe, secure, and completely acid-free cushioning, these materials will also not harm the piece, as can other packing materials which should NOT be used such as old newspapers (which can disintegrate or cause potential ink transfer) / bubble wrap (which can sometimes degrade or "melt" onto the object) / or packing peanuts (which are not archival and can get stuck in the nooks & crannies of whatever is being stored).
Lastly, before closing the box ahead of storing it, a copy of the photograph and its description can be placed in the box on top of the object (see image above). This way you can know what is inside the box by just opening the top, WITHOUT having to empty the box or unwrap any fragile objects.
By following these quick & easy steps, and using our strong & versatile Coroplast Record Storage Box for storing large objects, heavy items, or awkward-shaped artifacts from YOUR OWN collection or family archive, you'll have the peace-of-mind of knowing that these items are archivally safe & secure for years (even generations!) to come.
---
Contact Us
If you have any additional questions, or would you like more information on any of our museum-quality acid-free storage & presentation materials, please contact us here at Archival Methods. We're always there to help with any archiving, storage, or presentation questions you may have.
We would also like to encourage you to follow us on Twitter, Facebook, Pinterest, and our large selection of informative and crisply-illustrated (and often humorous!) blogs for up-to-the-minute information, Archival Solutions of the Week (take a look at this archive for more info!), and stories of interest. Likewise, our exclusive short videos illustrate many of the archival products and procedures that you may wish to "see in action," so please take a look!

---