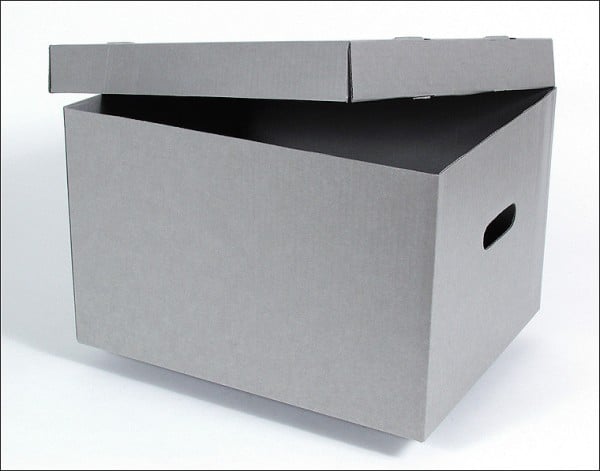 Archival Solution of the Week: 
Record Storage Box
Archival Methods' versatile Record Storage Box is available in two designs. The first, our basic Record Storage Box, has an interlocking bottom and a handgrip opening on each side. The second, our Double Bottom Record Storage Box, has a double layer of cardboard on the sides and bottom for added rigidity and strength (the Double Bottom box's construction also features a flat bottom vs. the interlocking bottom of our basic Record Storage Box).
Both of these acid-free archival boxes assemble easily, feature convenient handgrips & a removable lid, and are PERFECT for storing both "flat" and "3-dimensional" artifacts and collectibles (see below).
Records Storage Boxes /

Storing Flat Materials and Collectibles
As their name implies, both styles of Archival Methods' acid-free Record Storage Boxes were designed for, well, storing records! They are perfectly suited for archivally storing (and retrieving!) any of your important papers, genealogical records, letters*, documents, small artworks, photographs, drawings, prints, pamphlets, magazines, comic books, or any other "flat" papers or collectibles that are best suited to being "filed."
(*Please click here to go to our fully-illustrated blog on Preserving Old Letters in the Digital Age – our most popular blog EVER!)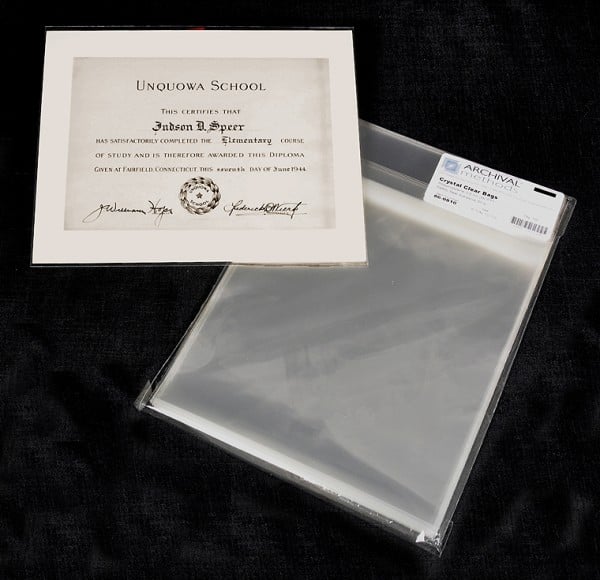 From left to right: old family letters in Archival File Folders / newspaper clippings in an acid-free Flap Envelope / school diploma in a resealable Crystal Clear Bag. (Please click on each image for more information.)
When a Record Storage Box is used to archivally store the type of "flat" documents, papers or collectibles mentioned above, it is recommended that these items should first be placed in a protective enclosure such as an Archival File Folder, Expansion Folder, Flap Envelope, Open-End Envelope, an archival Polyethylene Bag, a Crystal Clear Bag or other such enclosures before being filed or stored (see photos, above). This will afford additional layers of both archival protection and peace-of-mind.
---
Records Storage Boxes /

Storing 3-Dimensional Materials and Collectibles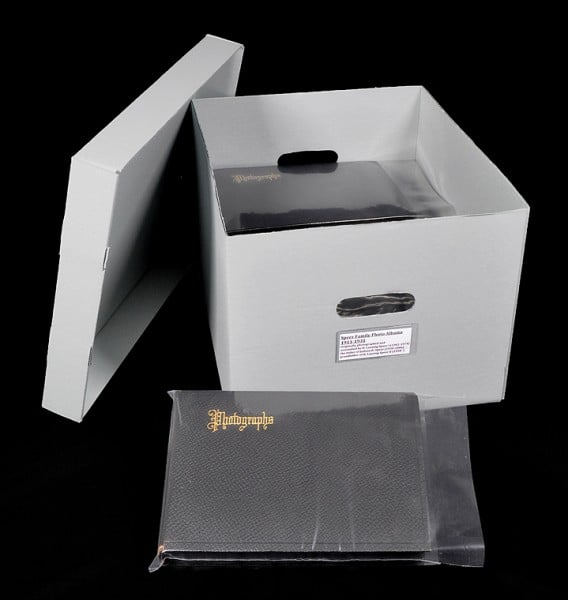 In the image on the left, a Record Storage Box is being used to safely store a collection of family photo albums, each of which is in its own archival Polyethylene Bag for an added layer of protection and security. The image on the right shows a closeup of an Adhesive Back Vinyl Label Holder, which makes identification and organization both easy and convenient. (Please click on each image for more information.)
While specifically designed, as described above, for the archival storage of records, files, letters and documents, Record Storage Boxes have literally hundreds of other uses. These handy acid-free containers can also be used for the safe storage of just about any 3-dimensional objects and artifacts that you can fit inside, including 3-dimensional artworks, collectibles, family heirlooms, folded textiles, books, glassware, antique toys, photo albums, holiday ornaments, sports collectibles, large specimens, or any other objects that are suited to archival boxes with more depth or volume.
Padding a Record Storage Box with crumpled acid-free Archival Tissue, which is available in both conveniently-sized pre-cut sheets and in larger rolls, or our Shredded Archival Tissue, will help cushion your important artifacts and collectibles in storage and in transit (see photo below).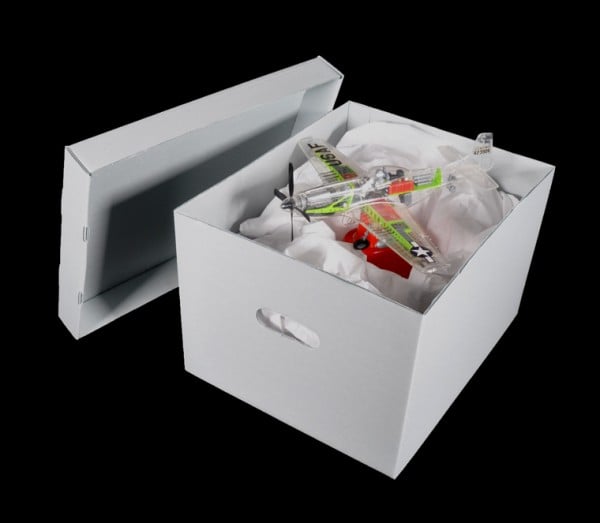 Whether you're storing or organizing documents, files, collectibles or 3-dimensional objects for the long-term, or for frequent day-to-day use, Archival Methods' Record Storage Boxes provide both dependable archival protection and, with their convenient carry handles, easy shelf-accessibility and transport.
For more information on ALL of our versatile archival storage options, please read our informative and fully-illustrated storage solution blogs:
     •  Archival Storage Boxes / Part 1 / Flat Storage
     •  Archival Storage Boxes / Part 2 / Object and Artifact Storage
     •  Archival Storage Boxes / Part 3 / Document and Records Storage
---
Contact Us
If you have any additional questions regarding our Record Storage Box, or you would like more information on any of our museum-quality archival storage and presentation materials, please contact us here at Archival Methods. We're always there to help with any archiving, storage, or presentation questions you may have.
We would also like to encourage you to follow us on Twitter, Facebook, Pinterest, and our large selection of informative and crisply-illustrated (and often humorous!) blogs for up-to-the-minute information and stories of interest.
---