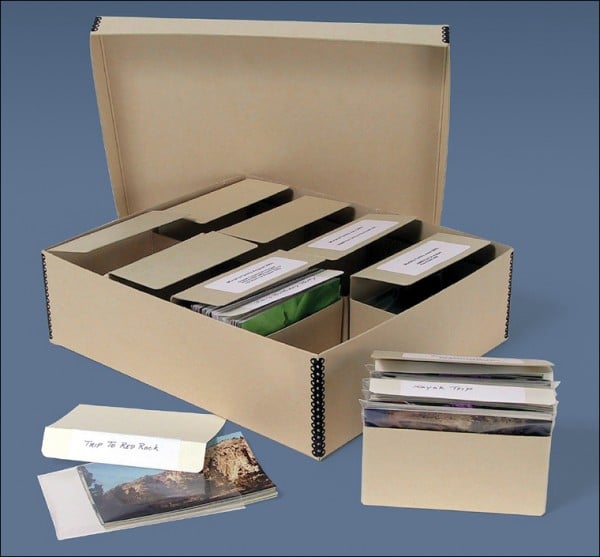 Archival Solution of the Week:
QPO 2400 Kit for Snapshots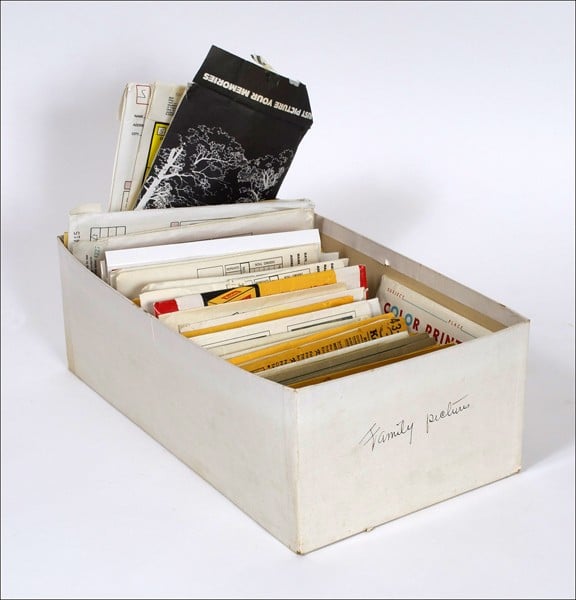 Yeah, no! Don't store your precious and irreplaceable 4 x 6″ snapshots and family photographs
in shoeboxes or even in the processing / print envelopes they originally came in.
(Please click on each image for additional ideas for archvally storing and displaying your snapshots and family photo albums.)
Drawers, shoeboxes, cheap plastic storage containers, or photo-finishing envelopes were never meant for the long-term safe storage of large quantities of 4 x 6'' snapshots and prints, so Archival Methods' QPO 2400 Kit was designed just for that!
This photograph storage solution incorporates a combination of museum-quality Archival Methods' products and contains EVERYTHING YOU NEED to organize and archivally protect ALL your 4 x 6'' snapshots and prints in one easy-to-navigate kit—and save $$$ in the process!
This sturdy, compact, large-volume print organizer is fully archival and holds 2400(!!!) 4 x 6'' prints. As a kit, the price of this product represents a savings of 20% over individually purchased components (which, BTW, are also available separately).
This convenient, all-in-one QPO 2400 Kit allows you to organize your 4 x 6'' family photos by:
1.) dividing your prints into categories of your choosing …
2.) then placing these organized sets of prints in clear, archivally safe 4 x 6″ polypropylene bags …
3.) which are then placed within archival print caddies …
4.) separated by acid-free index cards, on which you can write all sorts of identifying information including
      people / places / dates / special occasions—the list is as flexible and as endless as your imagination …
5.) all of which is then placed in an acid-free short-top box to keep everything archivally safe, secure,
      and well organized for easy retrieval!
QPO 2400 Kit for Snapshots:

What's Included
The kit includes:
• Metal Edge Short Top Box
The 15 x 12.5 x 4.25" Metal Edge Short Top Box that comes with the QPO 2400 Kit is made in Archival Methods' own on-premises manufacturing facility (right here in the USA!).
Each Short Top Box is manufactured from durable acid-free / lignin-free ArchivalGrade™ smooth-finish boxboard (please click here to see our fully illustrated blog that explains everything you need to know about "acid-free" materials).
As with all of our Metal Edge Boxes, the metal corner clamps are anti-corrosion treated with a black polyester coating with a wax-free polyester finish on the blind side. These tough, workhorse clamps provide both rigidity and high stacking strength, so you can rest assured that your important snapshots and family photos are ALWAYS safe and secure!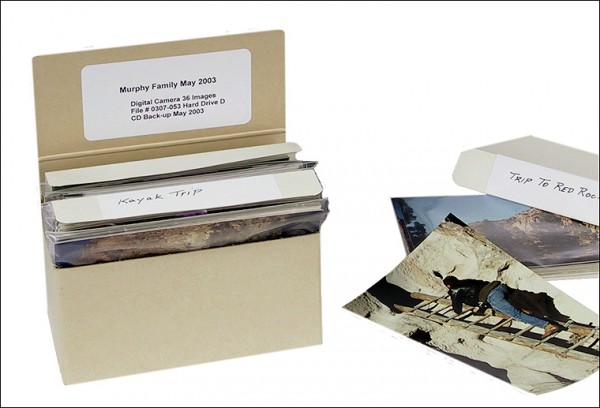 • Print Caddies
Also made from durable acid-free / lignin-free tan boxboard, these rugged print caddies allow you to subdivide your 4 x 6″ prints into easily manageable groupings.
• 4 x 6″ Polypropylene Bags
These handy, completely archival bags allow you to further subdivide your prints into the groupings of your choice, all while keeping your prints safe from fingerprints and household pollutants.
• Index Dividers
With everything archivally protected in each of the boxes and bags mentioned above, all that's left is to add these convenient index dividers to separate and identify your prints by event / people / places / dates / whatever system works for YOU!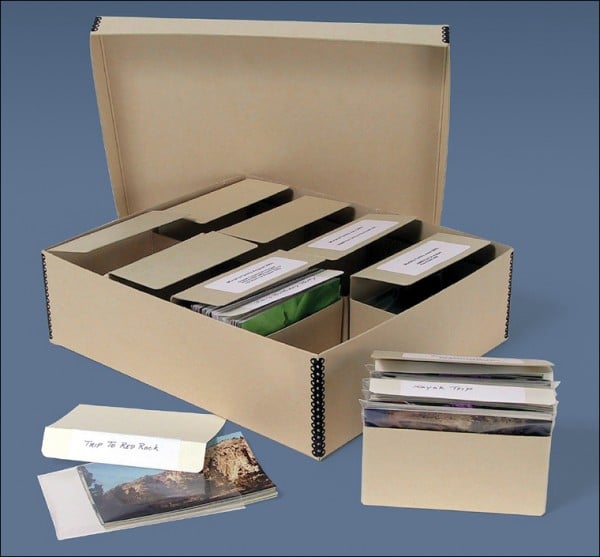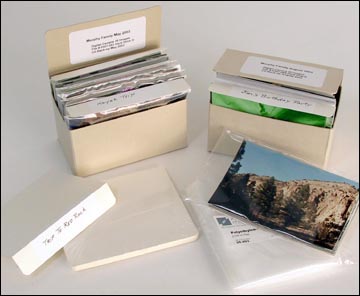 Convenient, compact and archically safe, our QPO 2400 Kit is PERFECT for storing ALL your 4 x 6″ snapshots and prints!
Yes folks, if you're looking for a convenient, compact, all-in-one (and archivally-safe!) way to store up to 2,400(!!!) family photos in a single, self-contained, acid-free environment, look no further that Archival Methods' QPO 2400 Kit.
It's the perfect archival solution for ALL your 4 x 6″ snapshots and prints!
---
Contact Us
If you have any additional questions on preserving your collections, or would you like more information on any of our museum-quality archival storage and presentation materials, please contact us here at Archival Methods. We're always there to help with any archiving, storage, or presentation questions you may have.
We would also like to encourage you to follow us on Twitter, Facebook, Pinterest, and our large selection of informative and crisply-illustrated (and often humorous!) blogs for up-to-the-minute information, Archival Solutions of the Week (take a look at this archive for more info!), and stories of interest. Likewise, our exclusive short videos illustrate many of the archival products and procedures that you may wish to "see in action," so please take a look!
Lastly, we would like to encourage you to click here to sign up for weekly emails alerting you to our Archival Solution of the Week blogs! It's easy & fast, and usually saves you 15%!
---