Part 7:
Preserving 35mm Slides – 

Importance(!!!), Organization & Archival Storage
---
Why I Gotta Do This:
A Journey into Ancestry, Genealogy, Family History, Antique Photographs, Disorganization, Dysfunction, Chaos, and One Man's Search for Archival Salvation
---
35mm slides, like the old 8mm home movies discussed in the previous blog (Part 6 – click here to view), are a pain in the as…er…posterior to have to deal with these days. Sure, they had their cultural moment in time, but the era of the "slide show" was swept away by the same digital tsunami that drowned out the 8mm home movie. In our age of instant digital imaging the whole idea of darkening a room, setting up a clunky / junky projection screen and a carousel slide projector and showing slides is JUST. PLAIN. OVER.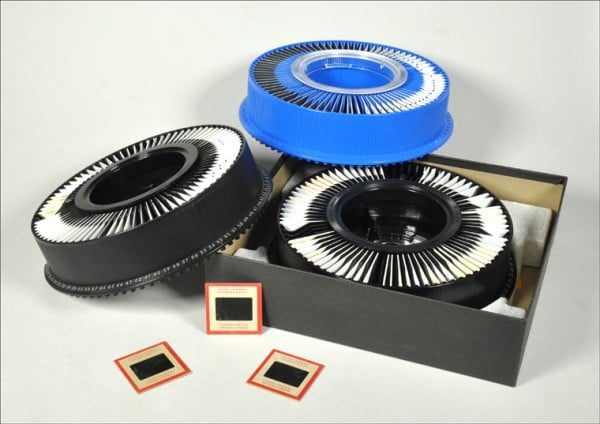 Bye. See ya. Don't forget to write.
Now, having said that, here's the REAL story: Many of my old slides are virtually PRICELESS! Yup, never show 'em, absolutely need 'em.
Perhaps you're scratching your head just now: "Hey Lance, what does THAT look like?" Well, the answer is multifaceted.
---
35mm Slides:
Personal Family History
&
Irreplaceable Professional Records –

Two Case Studies
Case Study #1: In rummaging through my family archive I have come across slides that contain images of people and places that simply do not exist anymore. In many cases these are the ONLY images of these individuals and events that exist, as the only film shot on that particular day was slide film. As an example, the yellow box of slides on the right in the photograph above is labeled "Jane's Tea." Back in the 1940s & 1950s American women would occasionally hold "teas"—tea parties usually set up by the women-folk to mingle and kibitz. Not to be confused with the everyday 4:00pm British teatime or the current political movement, a "tea" was a social affair in an era when many women did not work outside the home and thus sought other opportunities to get together and socialize. My mom (Jane) held one of these gatherings at my grandmother's house back when she was in her early twenties, and other than these slides no photographs of this event exist. So, from a family history point of view, these slides are quite important and completely irreplaceable. They not only record what my mom and grandmother looked like and how the event itself appeared, they also record a social custom and rite-of-passage that has largely disappeared from American popular culture. See, I told you this family archiving project was going to be an archeological expedition!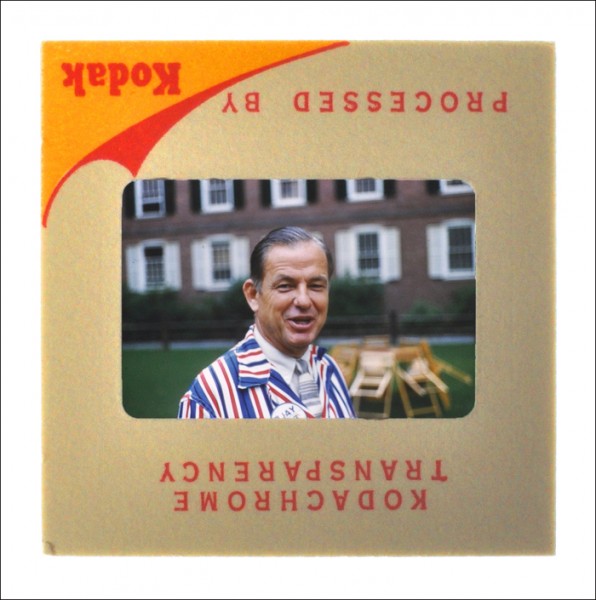 OK, so now that I'm done with society teas, full-length mink coats and goofy red-white-and-blue sport coats from the '50s, what other important things did I find amongst the many 35mm slides in my family archive?
Case Study #2: Well, as mentioned in Part 3 of this series of blogs (click here to view), I have one of those Master of Fine Art edumacation degree thingys from RISD, which at the time—like most art skools—required prospective MFA candidates to submit a slide portfolio for consideration for admission. So that's what I did: I made a number of slides of my then-current artwork, mostly contemporary stereoscopes (click here for more information on stereoscopes), and sent them off along with the requisite $250 "application fee" (read: bribe). Why am I mentioning all this? Well, it came to pass that many of those earlier stereoscopes are "no longer extant," which as mentioned in a previous blog is fancy art history speak for "they got trashed during numerous moves / the cat got to them / they ended up by the curb decades ago, etc." As it turns out, while digging through my attic archives I found a couple of sets of 35mm slides from that time period, including the original slide portfolio from my RISD application, and these images are the ONLY record of some of my artworks that are otherwise lost forever. This is HUGELY important to my current work, as these images from 30-some-odd years ago are being incorporated into portfolio and biographical materials I am assembling to market my current projects. Without these slides I would have no way of reconstituting previous work, so I am damn glad I kept them!
Contemporary stereoscopes, above, that I built in the early 1980s and photographed for inclusion in my graduate art school application slide portfolio. Some the stereoscopes from this period no longer exist, but having the slide is the next best thing. Its now time to gather all these slides together, scan them to use as part of the marketing effort centered on new stereoscopes I am currently making, and then store the original slides in archival pages, binders and boxes.
The same goes for slides from my family archive: there is no way to reconstitute the people and events captured in those slides, so I am damn glad I kept them, too! Now its time to insure their long term survival in high quality archival enclosures.
---
35mm Slides:
Archival Storage Options for Organization
and Easy Access & Retrieval
There are a number of different options available for organizing and archivally storing my vast collection of family and portfolio slides. For the more important and the most important slides in my family and professional archives I want to have very easy access—a mechanism that will allow me to quickly and easily find the slides I need—all the while offering the maximum level of archival protection and longevity.
For these important slides I am using clear archival slide pages, as these will allow me to place up to 20 images per page, all of which can be reviewed at a glance, and store them when not in use in a variety of 3-ring archival binders and acid-free boxes.
(Please click on each image for more information.)
Clear slide pages fit perfectly into archival binders, which can then be placed in coordinated slipcases for a truly elegant appearance while also providing an additional level of protection against dust, dirt and moisture.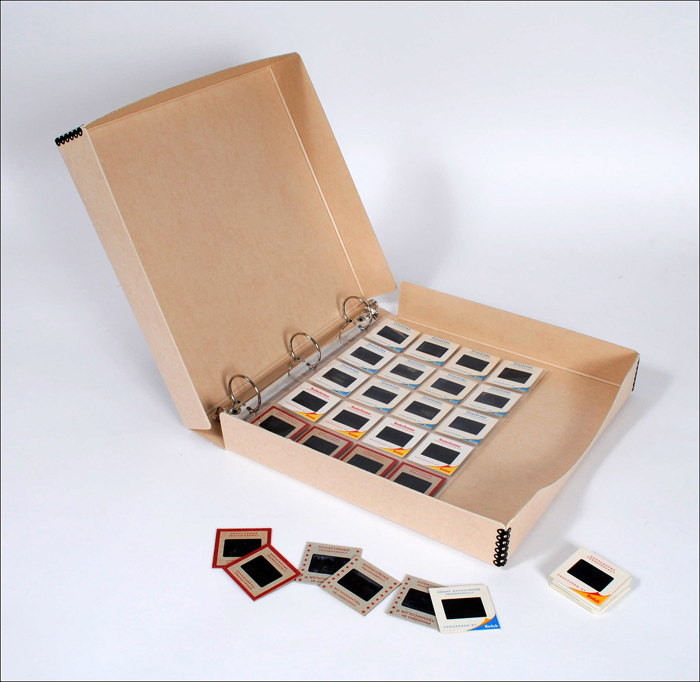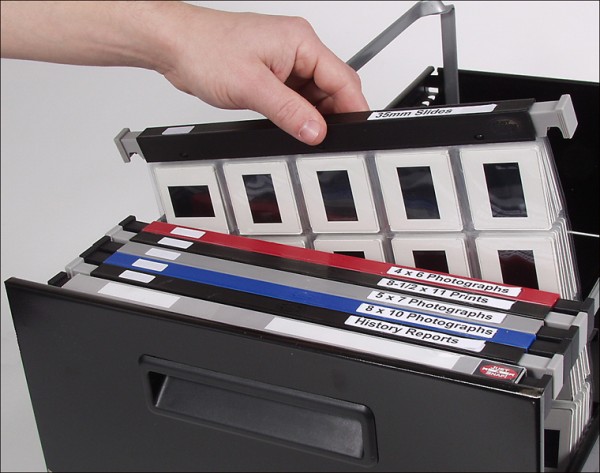 ---
35mm Slides:
Bulk Storage Options
I used to teach Art History (Art Mystery?) at the high school and college level. I mention this as almost all of the dozen or so carousel slide trays I had stored in my attic were full of art history slides, as well as other images I had assembled over the years for use in various guest lectures and such (see the pix at the top of this blog). We're talkin' hundreds and hundreds of slides here, folks. For these images I need organization and archival protection on a bit more massive scale. Fortunately, a number of options exists: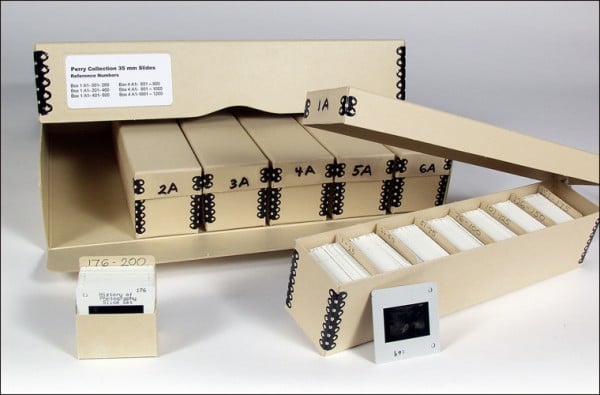 ---
35mm Slides:
A Last Word
These days it is very easy to scan 35mm slides and convert them into digital files for archiving and printing. As mentioned, I have hundreds and hundreds of slides, but I can tell you right now that I am never going to scan them all. Instead, I am going to go through them, organize and file many of the less important slides in bulk archival storage boxes, and select the very best and most important slides for scanning so that I can print them and back them up on high quality DVDs (click here for more information). A reference print will accompany the actual 35mm slides that will then go into archival pages and binders, while the digital files will be printed, added as "hard copies" to the rest of my family's ongoing archive, and sent out to various family members for their own family archives.
With all this I am ensuring the survival of my original photographic "artifacts" (i.e. the slides) while permanently retiring the need for slide projectors and such. The best images will be printed and shared, and in so doing these people and events—most long dead and forgotten—will live again for generations to come.
Its a good thing, methinks.
---
Well, with 8mm films and 35mm slides out of the way, its now time to consider the single largest component of my (and probably your) family archive—snapshots.
Fortunately, while perhaps seeming like a truly daunting task from the outset, the whole process of sorting / identifying / archivally displaying and storing all my zillions of family snapshots can be broken down into manageable, do-able mini-projects. If the "wonder of discovery" is anything like that expereinced while working through my family's slides, this promises to be QUITE the adventure.
So, with that, its on to:
Part 8: Snapshots – Photo Albums
(BTW – got a question thus far? Got a particularly challenging archival / preservation / presentation / organizational / storage nut that just won't crack? Don't know what's what re: your personal archive or collection? Post a comment or contact us. We'll get ya through it!)
---