OK, so you've sold a nicely (i.e. archivally) matted photograph, print or drawing to a collector or patron. Or perhaps you're giving a matted print as a gift to a client or collector you would like to do more business with (hey, that works folks!).
Now what?
Sure, you can stop by at the collector's home or office to "present" his or her print to them like this:
Yeah, no. This sort of thing defeats the purpose from the moment you walk in the door.
You always want to make an impression. That's just a fact. Well, I'm here to tell you that how you are presenting photographs and prints for delivery offers additional opportunities to impress. 
Now, let's face it—it's often difficult to justify the cost of  packaging a single image or a few prints in a really nice portfolio box that you're planning on leaving behind (and quite possibly never seeing again). While the delivery of a single print or a few prints in a handsome portfolio box might well be justified under a number of different circumstances (trust me on that!), there are in fact other options available that will garner the same results (and no, a repurposed public radio tote bag is NOT one of them).
If the idea is to impress your client with a stunning presentation even through the delivery mechanism of his or her purchase or gift, then consider the idea of using a comparatively less-expensive yet classically elegant metal edge box drop front.
Now, I know what you're thinking: "metal edge drop front boxes are archival 3-inch-deep manila-colored utilitarian containers made specifically for storing prints, not delivering them" (see photos, above). Well, you're right about some of that statement, as "back in the day" metal edge boxes were only available in a manila color and were/are often used primarily for storage.
Yet, as with everything else, times have changed!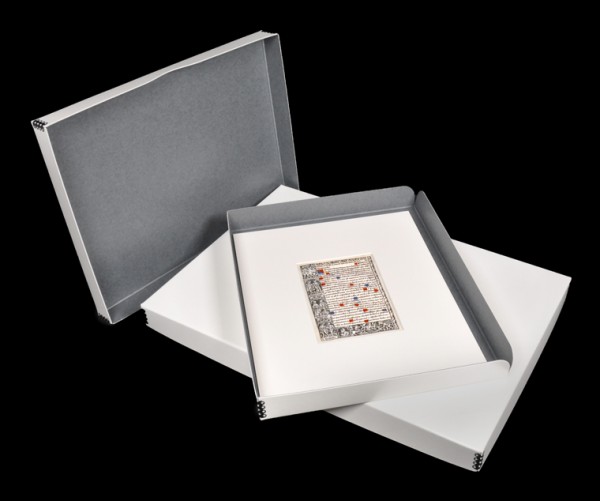 Presenting Photographs & Prints is ALL about the Presentation


(yeah, I know it's redundant…because its IMPORTANT!)
IF you need to make that big delivery to an important buyer / collector / client, and IF you want the "delivery box" you're leaving behind to add class and professionalism to the whole transaction (even if it's a gift!), then go with an elegantly cool, reasonably priced black (oh-so-hip) or white (ditto) 1-1/2-inch drop front box like these:
Yes, perhaps you'll never see that box again, but at half the price—and with all the class—of a classic portfolio box, your intended "target" (i.e. your buyer / collector / patron) will be wildly impressed.
You can take that fact to the bank, folks.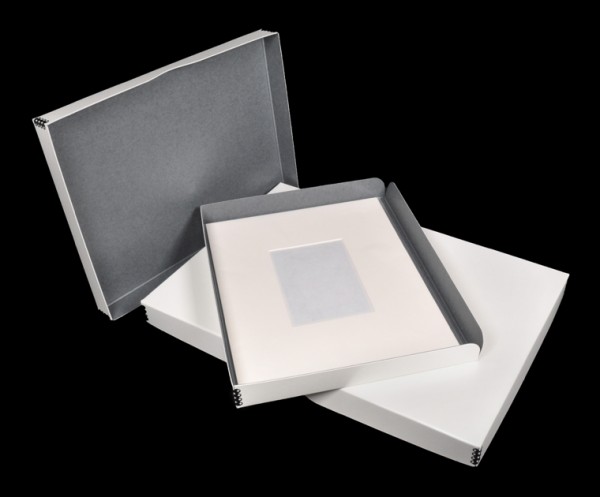 So, for a quick and easy way to elevate even the DELIVERY of your best work, go for it. It's not, of course, for everybody or for every print delivery, but when you're trying to instill that elusive "this guy/gal knows his/her stuff" in the mind of someone you wish to impress or make happy, you just can't go wrong. And it's most likely deductible!
Treat your clients right—and they'll be back for more!
---
Got a question on other sophisticated yet easy presentation hacks? Add a comment below or contact us here at Archival Methods. We know this stuff inside and out, and would be happy to discuss any of our many gallery-level solutions to your archival presentation, preservation or storage questions. We've been doing this sort of stuff for decades, so give us a shout!
We also hope you'll start following Archival Methods on Twitter, Facebook and Pinterest for fascinating and timely up-to-the-minute info you'll find nowhere else!
---