Archive Series:

Case Study –

George Eastman Museum / Photography Collection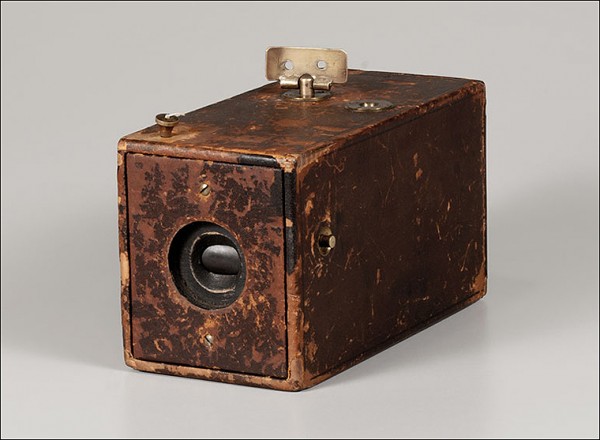 On left: an antique Kodak box camera with barrel shutter from 1888.
On right: a full-plate tintype cataloged and carefully stored in the George Eastman Museum's vast photography collection.
(Please click on each image for more information.)
So, just WHAT DOES a world-class photography collection look like? If you imagined either of the pix above you would be absolutely correct, yet if you stopped there you would be missing the MUCH larger picture (no pun intended)!
To make sure you don't miss a thing, this is the second of nine (!!!) illustrated and fully-linked blogs we at Archival Methods are writing on the fabulous George Eastman Museum (please click here to see our first Overview blog). So, sit back, relax, and take a moment to see what's going on "behind the scenes" in the Photography Department at one of the world's premier museums!
To give this blog some context, while the George Eastman Museum photography department has really informative and detailed website pages that will offer you a tremendous amount of information on just "what it is that they do" (see pix above), I'm going to go off on my own for this short blog and give you a personal tour of what things look like from the outside looking in. This "man on the street / casual museum patron"* perspective will hopefully give you a sense of just how wonderful and dynamic this collection truly is, and how to look at it from slightly different points of view. 
*(Quick Disclaimer: Yeah, folks, I'm kinda NOT a "man on the street / casual museum patron," as I've been working as a photographic artist / writer / historian for a zillion years and have had a long-standing informal relationship with the George Eastman Museum in one form or another for over three decades. Yet I'm not now, nor have I ever been, an employee, so either way you cut it, like you I'm STILL just guy looking in from the outside. Just so ya know.)
So, to start, on a recent visit to the George Eastman Museum (GEM for short) to speak with Jamie Allen, Associate Curator in the Department of Photography, we discussed the varied missions (plural on purpose) of the Museum's photography department and its staff.
From that conversation, from information gleaned from the GEM website, and as evidenced by their interpretative exhibition programs and the online availability of images in the collection, here are some of the key aspects of the photography department's mission, a number of which will be discussed in a bit greater detail below and in subsequent upcoming blogs:
     • to ACQUIRE key historic and contemporary images and artifacts that represent the ongoing  
            "history of photography"
     • to ACCESS THE NEEDS and possible interventions that any particular image might require
            of GEM's highly trained conservation staff (there's gonna be an entire blog on this, so stay tuned!)
     • to CATALOG and ARCHIVALLY STORE the hundreds of thousands of images trusted to their care
     • to INTERPRET these images on an ongoing basis, as new ways of understanding an image and
            its importance are always in play
     • to EXHIBIT images from the photography collection, both old and new, in ways that make them
            accessible and interesting to the general public
     • to MAKE THE COLLECTION AVAILABLE to researchers, scholars, artists and other interested parties
            (including YOU!) through access to the collection either in person or via an ongoing digitization effort
While some random outside observer – who has perhaps never been there – might think that the George Eastman Museum is just a big warehouse full of fossilized old photographs that get hung on the walls for various exhibitions … yeah, NOTHING could be further from the truth!
In fact, the myriad collections of the GEM are in no way static: they are living, breathing entities. They are constantly being reevaluated and reinterpreted, by looking forward and looking back, all to gain an ever greater sense of their original purpose and how they can inform our understanding of both the past and our present.
To quote Ms. Allen:
"Interpretation includes 'locating' a particular image in history, understanding its relationship to other images and the culture that produced it, and making such antique and more recent images relevant to a contemporary audience. In this way we can weave a tapestry that includes a particular image or suite of images by explaining its context, making a perhaps 150-year-old image pertinent and relevant to today's audience."
Wow! I'm certainly hooked!
---
George Eastman Museum / Photography Collection:

Exhibitions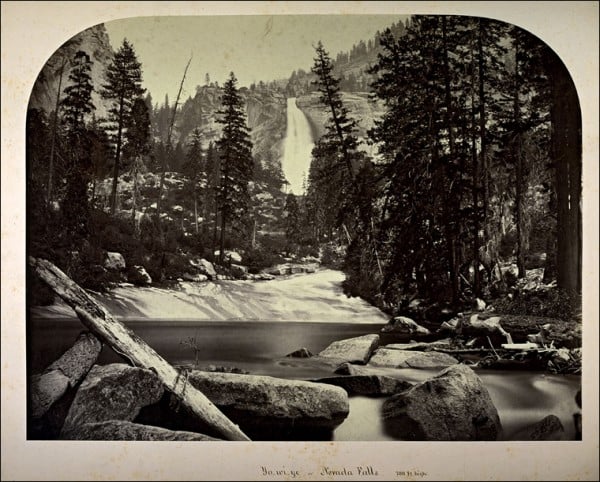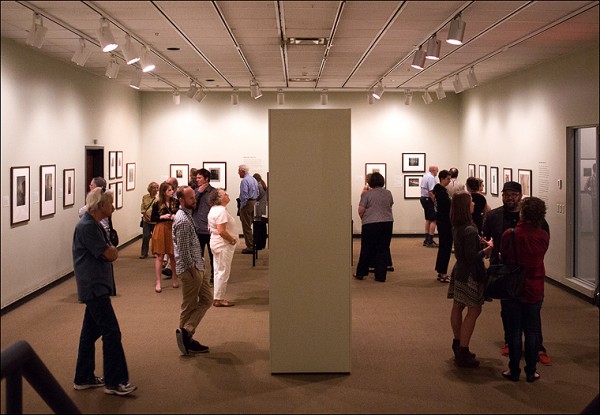 On left: Yo-wi-ye or Nevada Falls / Carlton Watkins / albumen print / 1861
On right: the opening reception for the GEM's Photography and America's National Parks exhibition.
(Please click on either image for more information.)
Part of the conversation I had with Jamie Allen during my visit involved her work on a recent exhibition entitled Photography and America's National Parks, which Ms. Allen curated & for which she wrote the accompanying book (see pix above / below). Years in the making, and timed to coincide with the 100th anniversary of the establishment of the National Park System, the exhibition surveyed a wide variety of photographs that documented and interpreted (more on the key importance of "interpretation" in a moment) the physical and psychological typography of the National Parks System and its role in shaping part of our "national identity."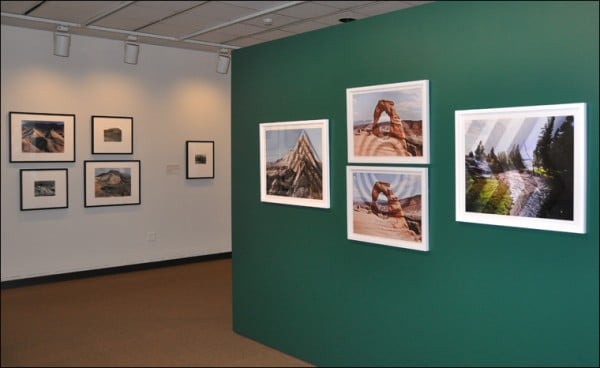 On left: Woman with Scarf at Inspiration Point, Yosemite National Park / Roger Minick / chromogenic print / 1980
– a somewhat more "quirky" (author's description) image of Yosemite National Park.
On right: Four images from the Mountains and Valleys series / Millee Tibbs / inkjet prints / 2013
– photographs altered by the artist alters their meaning.
(Please click on each image for more information.)
While the exhibition included many seminal masterpieces from the "big guns" of 19th-century western photography such as Carlton Watkins (a personal favorite) and William Henry Jackson, along with 20th century masters like Ansel Adams (of course), the images I enjoyed the most were those that revealed a somewhat quirky or altered point of view (see pix above). Yet regardless of my personal preferences, in just this single visit I could understand one of the key missions of the GEM: exhibitions.
Throughout its long and storied history the George Eastman Museum has surveyed its collections, interpreted them (and re-interpreted them, see below), and then choreographed and mounted hundreds of fascinating and wide-ranging public exhibitions that have shown us our collective past and our immediate present, all while asking us to consider new ways of looking at both photography and the world around us.
To allow the curatorial staff the widest range of potential exhibition opportunities, the GEM photography collections are shown in rotating shows in three different exhibition spaces, each with it's own function and parameters. These include (please click on each link for more information):
       • Main Exhibition Gallery 
                (which hosts larger exhibitions such as the Photography and America's National Parks show,
                  and the upcoming A Matter of Memory: Photography as Object in the Digital Age)

       • History of Photography Gallery
               (which hosts a rotating assortment of images and equipment from throughout the history of photography)
       • The Project Space
              (which hosts thematic or solo shows such as the upcoming Catherine Opie: 700 Nimes Road exhibition)
Pretty great stuff, all that! It's certainly worth a trip to Rochester, NY, to check it all out (see the end of this blog).
---
George Eastman Museum / Photography Collection: 

Interpretation
To understand another key mission of the George Eastman Museum's photography collection – one already mentioned above – I'm going to borrow a lyric from Paul McCartney of the Beatles (more on the Beatles in a moment) and ask you to join me on a brief walk down a "long and winding road" by considering the two photographic artifacts below.
Before I start, though, the following might seem just a tad "outside the box," engaging as it does in my own sense of interpretative latitude, yet please remember that much of the best contemporary photographic work, and many great exhibitions, are also often outside the box. Heck, the invention of photography ITSELF was all due to the fact that certain pioneering individuals were thinking outside the box. 'Nuff said.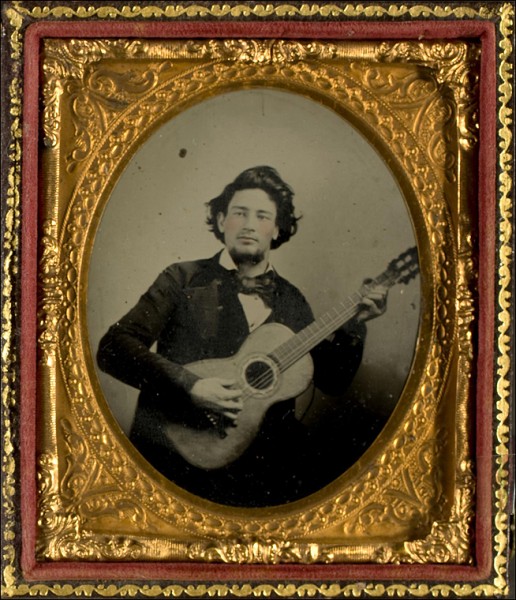 On left: Man Playing Guitar / unknown photographer / tintype / c.1860
On right: Sgt. Pepper's Lonely Hearts Club Band / Jonathan Lewis / inkjet print / 2003
(Please click on either image for more information.)
OK, so why on earth would I place these two seemingly unrelated photographs next to each other? Well, it's to make a couple of points.
Both of these images are in the GEM's photography collection for a reason.
Perhaps it "makes sense" that the "old-looking" cased tintype on the left, with it's elegant brass mat, is something a museum "should" have in its collection. It is, after all, a wonderful example of an antique photographic process popular throughout the second half of the 19th century (please click here to see the GEM's fantastic series of short videos on various historic and contemporary photographic processes).
Yet in addition to this, the sitter is also holding a guitar (see pix above), which adds to its intrinsic value as an "occupational" or "recreational" image of the era (please click here for more information on occupational photographs). It might also be of interest to musicologists and those who study old musical instruments and their place in any given era or culture.
Ok, so all that is fairly reasonable, but what about the photograph on the right???
Well, that is an example of a more contemporary use of photography, a medium that runs the gamut from more "traditional" applications – think Ansel Adams or the snapshots in your family photo album (please click here for a fully-illustrated blog on Preserving Family Photo Albums) – up to and including photographic practices and applications that really stretch both the imagination and the idea of what a photograph can be – take a look once again at the image on the right above, and at the first photograph at the top of this blog.
Well, that sounds reasonable too, right?
In other words, BOTH of these images "deserve" a place in a photography collection as vast and well-rounded as that administered by the George Eastman Museum, as BOTH represent the eras of their creation in their own unique ways.
Yet there is another reason why I chose to pair together these two PARTICULAR images out of any of the 450,000+ photographs in the GEM collection that I could pick from, and it all revolves around another key mission of the entire institution: interpretation.
Yes folks, I placed these two images side-by-side because they each have something in common – they both reference "music" in their own way. I'll even drill down deeper and say that they both reference "guitar music."
The tintype on the above left depicts a 19th-century sitter holding an actual guitar, while the image on the right is a contemporary photographic artist's re-imagining of the Beatles' Sgt. Pepper's Lonely Hearts Club Band record album sleeve (see pix below).
If one had to pick a guitar-based rock band that had the most influence over 20th century music (and culture in general!), it would certainly be the Beatles, and if one had to choose which Beatles album was the most groundbreaking, musicologist would undoubtedly list Sgt. Pepper's as first among many.
So while the interpretative decision to place these particular images next to each other was my own, this little exercise serves to illustrate some of the larger aspects of the overall mission of the GEM's photography collection, as BECAUSE of "what it is that they do" I was able to:
          1) browse the GEM website and actually find these images, which the Museum had acquired /
              correctly identified and cataloged / archivally preserved / and made accessible
          2) make my own interpretations (similar to those done EVERY SINGLE DAY by GEM curators)
          3) then share these images and my new interpretations with you here in this blog
Yup, ya gotta love "what it is that they do." Pretty cool!
  
On left: Koum Ombo – Near View / Francis Frith / albumen print / c.1857
On right: Shipbreaking #12, Chittagong, Bangladesh 2000 / Edward Burtynsky / chromogenic print / 2000
(Please click on either image for more information.)
In a similar vein, another example of a "new interpretation" exists in the above pairing I've made from other images in the GEM photography collection. 
Not at all arbitrary, the images in this paring were specifically chosen as they depict the "ruins" of once-important artifacts of their individual cultures: an ancient temple on the left and decommissioned cargo or tanker ships on the right. 
How these images "inform" each other – and give them each new meaning – all comes down to possible new ways of "interpreting" them, folks, something the curators at the George Eastman Museum are experts at doing ALL. DAY. LONG! 
This same sort of interpretation is also used to decide which particular images may end up in any given exhibition, and where they are strategically placed within the exhibition. I can tell ya right now, folks, that the trained curators at GEM leave NOTHING to chance!
---
George Eastman Museum / Photography Collection: 

Cataloging & Access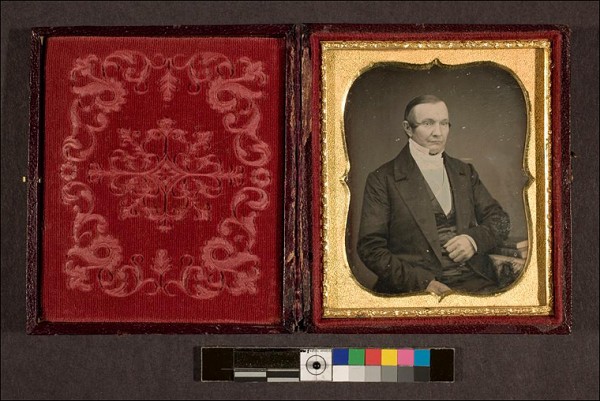 On left: Portrait of Stephen Johnson / unknown photographer / daguerreotype / c.1850
On right: Television / Andy Warhol / dye diffusion transfer print (Polaroid) / 1970
(Please click on the images for more information.)
Ok, so I'm sure you're probably thinking that this is yet another one of my fanciful "interpretational" pairings. Well, it's not (even though I could have a field day with this one!), rather it's an example of another important responsibility of the GEM photography collection: recording & cataloging.
Please note the color calibration bars on the bottom and left of each of these two images. These are often included in photographs made to document a particular image, as they allow someone looking at it to have a sense of the correct colors of the original image, whether they're looking at it as a hard copy print or onscreen.
Please also note that the image on the left is an elegant one-of-a-kind daguerreotype from the 1850s of a sophisticated and formally-dressed gentleman, while the image on the right is a somewhat ordinary – even banal – Polaroid snapshot of a television set. While the snapshot is one of many in the collection by Andy Warhol, and thus "important" specifically because of its authorship and its purposeful banality, the fact that BOTH of these images have been documented the SAME WAY reveals a certain "democratic" attitude towards the historic and artistic value of each artifact.
In other words, this pairing suggests that each item in the GEM photography collection is treated with the SAME level of sophisticated curatorial / administrative / & archival care. Yup, these people are professionals, folks, and they DON'T mess around when it comes to their passion for caring for images and objects in their charge – whether it's a stunning one-of-a-kind daguerreotype or a seemingly banal snapshot. (You shouldn't either, so please click here for more information on Preserving YOUR Snapshots.)   
Once documented and cataloged this way, images such as these can be shared with scholars, researchers, and other curators around the world via the George Eastman Museum photography collection website, which offers another hugely important benefit: access.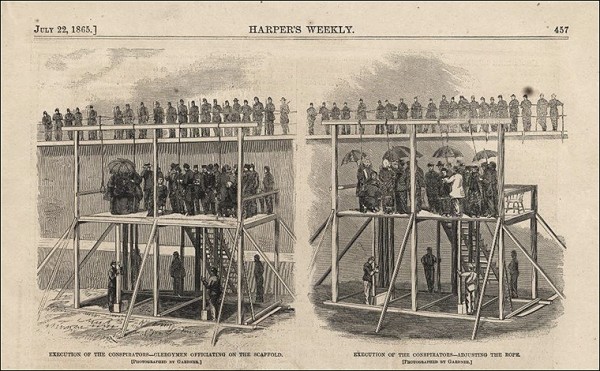 As a true-to-life example of the value of the online accessibility of the GEM's photography collection, the images above are wood engravings from my own collection. They depict the execution of the Lincoln assassination conspirators, and were printed in Harper's Weekly in 1865. While not terribly clear, the captions beneath these images indicate that these images were "photographed by Gardner" (in other words, these wood engravings were copied from Gardner photographs), and while already familiar with Gardner's images of this event I needed to have exact dates, titles and such for a book set I am in the midst of writing that will include these wood engravings.
BOOM! 
By looking up "Gardner" in the GEM's image search window (see pix above) I was able to scroll to the exact photograph I needed in order to make sure all my citations were correct. Thank you GEM!
Along somewhat similar lines, let's imagine for a moment that I'm doing research on noted Pictorialist photographer Alvin Langdon Coburn. By looking up his name in the GEM collections search window I came across a group of negatives of one of his seminal images entitled The Octopus (see pix above). Access to these negative variants in the GEM photography collection would therefore allow me to track Coburn's efforts to capture just the right photographic framing and compositional moment while making this image, giving me more insight into his work habits and vision than I could ever get from looking at the single finished print that I was already familiar with.
Yet none of the access mentioned above would be possible, quite frankly, without the dedicated work of the curatorial and cataloging staff of the GEM's photography department, and while often done behind the scenes – and without the public fanfare of major exhibition openings – such efforts are a core aspect of the department's (and the larger Museum's) overall mission.
---
George Eastman Museum / Photography Collection: 

Let the Images Do the Talking
OK, folks, that's enough for now (well, almost).
Other than a quick list of other upcoming blogs on the George Eastman Museum, and a short observation I made in the Museum's parking lot (!?!?!?), I want to end with just a few pix from the photography collection and its recent/upcoming exhibitions to perhaps get you interested in learning more by digging around in their top-of-the-line website.
So, check 'em out, and try and figure out WHY I placed certain images next to each other, as each pairing was in fact purposefully planned – it's that whole "interpretation" thing yet again – in order to see photographs, old and new, in a different light (no pun intended):
  
On left: Seated Woman with Dog in Her Lap / Alexis Gouin / stereo daguerreotype / c.1850
On right: Group 1 / Diane Meyer / inkjet print with hand stitching / 2016
(Please click on each image for more information.)
  
On left: Untitled / Jerry Uelsmann / silver gelatin print / 1970
On right: New York State / Kenneth Josephson / silver gelatin print / 1970
(Please click on each image for more information.)
  
On left: Greenhouse Flowers / Charles Zoller / autochrome / c.1924
On right: Departure / Robert ParkeHarrison / photogravure with beeswax / 1997
(Please click on each image for more information.)
  
On left: The Searchers / David Levinthal / inkjet print / 2014
On right: Two Men at Convention / unknown photographer / silver gelatin negative / c.1915
(Please click on each image for more information.)
---
George Eastman Museum: 

Upcoming Blogs
  • An Overview 
         (a quick look at everything the George Eastman Museum has to offer)
  • Photography Collection 
         (you're here now)
  • Technology Collection 
         (cameras and equipment from every era and every corner of the earth)
  • Moving Image Collection 
         (from the earliest films up to today's most recent motion pictures)
  • George Eastman Mansion / Historic Landscape & Gardens 
         (truly magnificent reflections on the life and times of George Eastman)
  • Richard and Ronay Menschel Library 
         (from one-of-a-kind treatises on early photography to mass circulation books, journals and magazines)
  • Educational Programming 
         (from local school tours, to workshops on antique processes, to world-class degree programs)
  • Archival Practices 
         (the teamwork, procedures and archival materials used for different images, objects and entire collections)
  • Following a New Photographic Acquisition 
         (a fascinating journey from initial intake, to accessing, to cataloging, and to preservation)
---
George Eastman Museum:

Visit the Photography Collection (& Everything Else)!
In closing, the Photography Collection at the George Eastman Museum is truly unique in the world, and offers something for everyone.
Speaking of "everyone," in my stroll through the Museum's parking lot on my way to meet Jamie Allen of the Department of Photography, I couldn't help but notice the variety of license plates from all over the country (see pix below). The plate numbers are blurred on purpose for privacy's sake, but you can still see where everyone was from, and that was on some random Tuesday in the middle of September, proving that the GEM is truly an "everyday" destination! 
Yes folks, this can only mean ONE thing: that the people who drove these cars perhaps already knew of (or were pleasantly surprised by) the magnificent GEM collections, the Eastman mansion, the gardens, and everything else this gem of an institution (again, no pun intended) has to offer!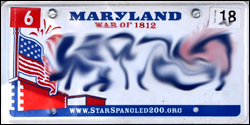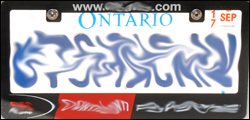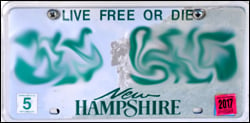 License plates from 8 different states on the random day I dropped by the Department of Photography at the George Eastman Museum, representing
Maryland   •   Colorado   •   Arizona   •   Wisconsin   •   Ontario (Canada)   •   Missouri   •   New Hampshire   •   Pennsylvania
---
Contact Us
If you have any additional questions on preserving YOUR collections, or would you like more information on any of our museum-quality archival storage and presentation materials, please contact us here at Archival Methods. We're always there to help with any archiving, storage, or presentation questions you may have.
We would also like to encourage you to follow us on Twitter, Facebook, Pinterest, and our large selection of informative and crisply-illustrated (and often humorous!) blogs for up-to-the-minute information, Archival Solutions of the Week (take a look at this archive for more info!), and stories of interest. Likewise, our exclusive short videos illustrate many of the archival products and procedures that you may wish to "see in action," so please take a look!
Lastly, we would like to encourage you to click here to sign up for weekly emails alerting you to our Archival Solution of the Week blogs! It's easy & fast, and usually saves you 15%!
---