One of the great things about the digital age is the ability to take hundreds—if not thousands—of pictures and snapshots either with your phone or with a camera whose memory card is the size of quarter. 
The key to that equation, though, is actually PRINTING those images.
With viewing and editing so easy to do these days there is no excuse for not printing your very best photos and snapshots, and the least of those excuses should be "what to do with them all once I've printed them?"

For those images that are not going into picture frames or albums, or for the extra prints you still have kicking around in desk drawers, pigeonholes and photo finishing envelopes from the old film photography days, we at Archival Methods have the perfect solutions for organizing your snapshots: three different all-in-one kits that are just right for the job of storing and organizing 4×6 photos and prints. With components made from the highest quality acid- and lignin-free archival-grade boxboard, you can rest assured that your prints are housed in the finest quality kits available.
---
Three Sturdy, Compact, Archivally Safe Kits for ALL Your 4 x 6 Prints!
Store Up to 1,005 Prints
With this dynamic metal edge box kit you can organize and store up to 1,005 of your 4 x 6 photos by dividing them into categories of your choosing and placing them in the 15 archival Clear File Boxes provided. These handy and safe boxes then fit perfectly into the larger acid-free metal edge box—separated by convenient index cards that allow you to identify each packet—for a low profile / easy-to-navigate / integrated system. The kit also allows you to select a top image (or index print if available) to further identify the photos within each Clear File Box for an easy, visual way to quickly identify, organize and retrieve your photos, all with special kit savings of over 15%!
Store Up to 1,200 Prints
This handsome black kit provides archivally safe storage for all your images and snapshots, including 4 x 6 digital prints and traditional film-based photograph formats. With just one box you have the capacity to store 1,200 prints, divided into four separate print caddies for easy sorting and organizing. Your 4 x 6 prints are placed in archival polyethylene bags, which then go together into the individual print caddies. These are then placed in the larger box for convenient, compact and safe acid-free storage. Each set of prints can be separated and identified with the index card dividers included with the kit, allowing you to identify the date, location, and who's who in your photographs. Additional information regarding where the digital files are stored can also be included on the label. Nothing could be easier—or a better value, as the kit price saves you 20% over the cost of individual components.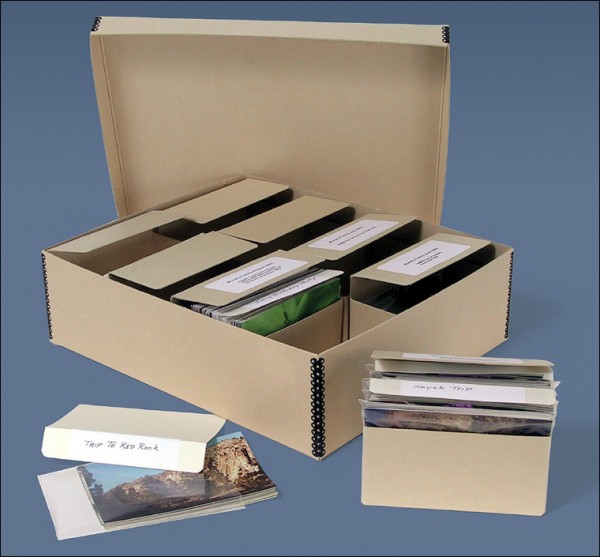 Store Up to 2,400 Prints
This sturdy organizer can hold 2,400(!!!) 4 x 6 prints. Your photos are first placed in archival polyethylene bags, which are then placed in individual print caddies—separated by index dividers that will hold all your important information—with the print caddies all placed in the large archival box. The result? A completely self-contained, organized and well-cared-for archive of all your 4 x 6 prints that is compact, easy to use, and archivally safe. While the individual parts can be purchased separately, there is a 20% savings built into the kit price.
No matter which Archival Methods storage kit you choose to organize 4×6 photos and prints, you can feel confident that your images will be safe, easily accessible, and well protected for generations to come!
If you have any additional questions or would like more information on the archival storage and presentation materials that are right for you, please contact us here at Archival Methods. We're always there to help with any archiving, storage, or presentation questions you may have.
---