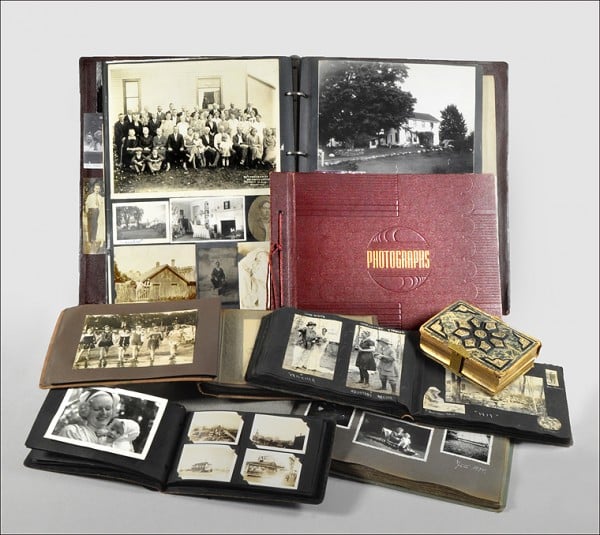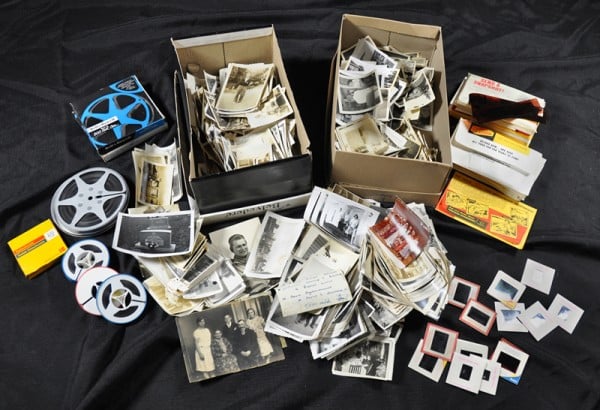 (Please click on each image for more information.)
So, there have been a lot of new apps in the news lately focused (no pun intended) on ways to digitally scan and preserve your cherished old photos and family snapshots.
In fact, just this week (as I write this) Google announced their new PhotoScan app, described in a recent online article on Mashable.com:
———————————–
Google's New PhotoScan App is an Incredibly Easy Way to Digitize Old, Printed Photos
"Google's got a new app called PhotoScan that makes it stupid easy to digitize old printed photos and upload them.
The free app launching Tuesday on iOS and Android uses Google's powerful machine-learning to turn print photos into digital pics in seconds.
(They say more stuff here, folks, but I'm editing for brevity.)
From start to finish, digitizing a photo takes less than 10 seconds. And because they're all stored in Google Photos, you have access to all of the powerful object and face recognition search features."
———————————–
Wow! We here at Archival Methods are ALL FOR IT, as preserving / sharing old photos and family snapshots (and new ones!) is what we're all about!
It's important to note, however, that all the new bells and whistles offered by apps or processes that will allow you to digitize your old photos DOES NOT mean that you're "finished" with the originals! In fact, IT'S JUST THE OPPOSITE!
Consider this: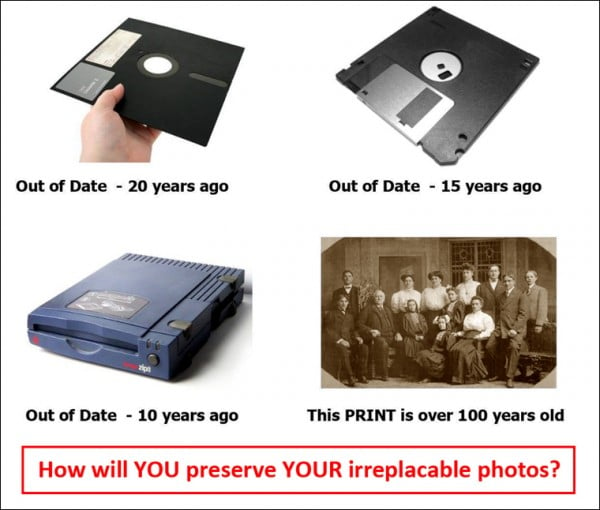 So, if you're considering digitizing your old photos and family snapshots (and by all means, please do!), also MAKE SURE that all these old photos aren't just tossed out or crammed into an old shoebox and parked someplace in the attic or basement (see pix below).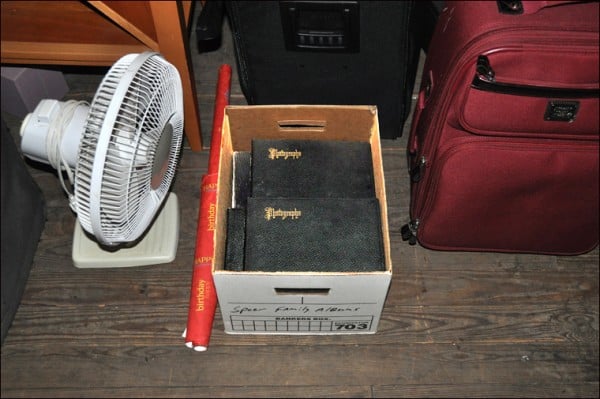 ABOVE: Old photos / film processing envelopes / 35mm slides / home movies on the left; old family photo albums on the right, all in the attic.
BELOW: The same irreplaceable materials organized, archivally stored, easily accessible, and NOT in the heat and humidity of the attic!
(Please click on each image and the highlighted links to see our fully-illustrated blogs on archivally storing each medium.)


To set you on the correct path for archivally preserving ALL your irreplaceable originals—whether you choose to digitize them now or not—please take a quick look at our VERY popular fully-illustrated blogs on the variety of important preservation topics listed below.
After all, the whole point of digitizing and sharing old photos is to enjoy them NOW, and in the FUTURE—and future generations will THANK YOU for keeping this important family legacy intact in its original form!
As they say, "there's NOTHING like the real thing!"
Archival Storage and Presentation of Your Old Photos & Family Snapshots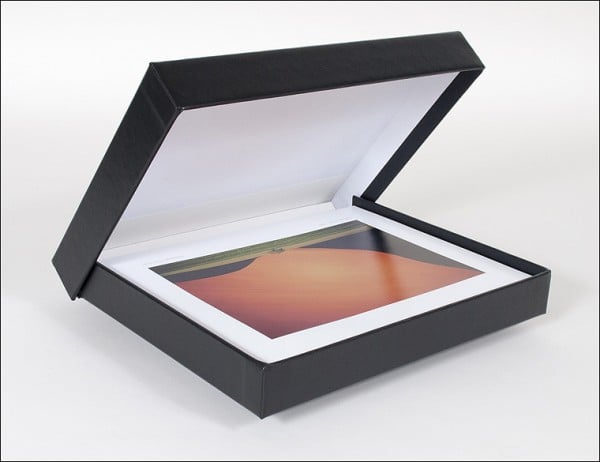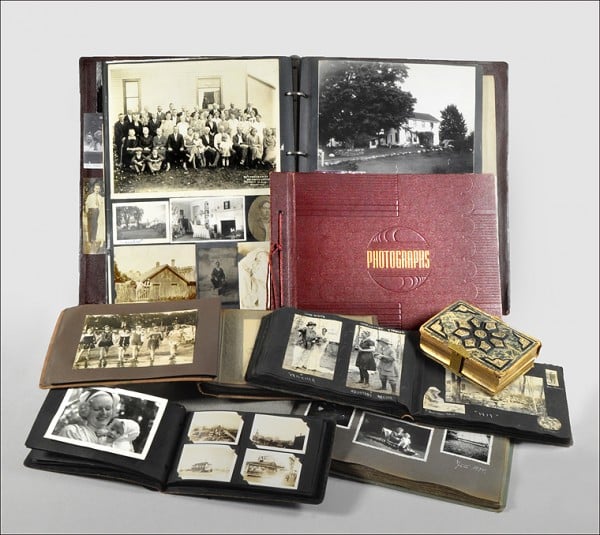 (Please click on each image for more information.)
Our zillions of blogs have covered a number of ways to address the archival storage and presentation of photographs & snapshots / 35mm slides /  home movies /  art photography / even organizations & institutions dedicated to the past, present and future of photography. (Please click on each link below to go directly to each fully-illustrated blog.)
          • American Family Archives / Overall Philosophy
          • American Family Archives / Preserving Snapshots
          • American Family Archives / Preserving Photo Albums
          • American Family Archives / Dating Photos & Media
          • American Family Archives / Preserving 35mm Slides
          • American Family Archives / 8mm Home Movies & Films
          • Presenting Photographs & Prints / A Quick Hack
          • Family Photographs #1 / An Anonymous Tintype
          • Photographic Archives / Case Study – Visual Studies Workshop
          • Association of Personal Photo Organizers / Pros You Should Know(!)
          • Short & Sweet / Our Informative Archival Products Videos
          • Prevent Regrets / The Holidays & Your Family Archive
          • Your Professional Portfolio / Part 1 / Matting Your Artwork
          • Your Professional Portfolio / Part 2 / Mounting Your Artwork
          • Your Professional Portfolio / Part 3 / Portfolio Boxes, Cases, Folios
          • Your Professional Portfolio / Part 4 / Art Carrying Cases & Transport
          • Archival Definitions: Acid-Free / Buffered / Unbuffered
          • Framing Art for an Elegant and Professional Look
          • Conservators / Pros You Should Know



So, there you have it, folks!

Archival Methods' fully-illustrated blogs that explain how YOU can archivally preserve YOUR OWN old photos and family snapshots!

Check back often for new blogs on the best methods for preserving ALL your cherished family artifacts and collections.

We'll keep 'em coming!
---
Contact Us

If you have any additional questions on preserving your old photos and anything else in your collection, or would you like more information on any of our museum-quality archival storage and presentation materials, please contact us here at Archival Methods. We're always there to help with any archiving, storage, or presentation questions you may have.
We would also like to encourage you to follow us on Twitter, Facebook, Pinterest, and our large selection of informative and crisply-illustrated (and often humorous!) blogs for up-to-the-minute information, Archival Solutions of the Week (take a look at this archive for more info!), and stories of interest. Likewise, our exclusive short videos illustrate many of the archival products and procedures that you may wish to "see in action," so please take a look!
Lastly, we would like to encourage you to click here to sign up for weekly emails alerting you to our Archival Solution of the Week blogs! It's easy & fast, and usually saves you 15%!
---