Archival Solution of the Week:  

Newspaper & Magazine Storage Kits
Old newspapers, news clippings and magazines are quite often found in collections and family archives. These include everything from complete newspapers with epic INTERNATIONAL headlines such as …
"Men Walk on Moon"(1)

or

"Titanic Sinks"(2)

or

"New Wave of Elvis Sightings!"(3)
(1 – the Apollo moon landings actually happened, and WERE NOT filmed by Stanley Kubrick on a soundstage in the desert southwest)
(2 – the Titanic, unfortunately, DID sink – it's a true story, even though many young folks think it was just a movie – they really do think that!)
(3 – Elvis is, actually, DEAD – long live the King)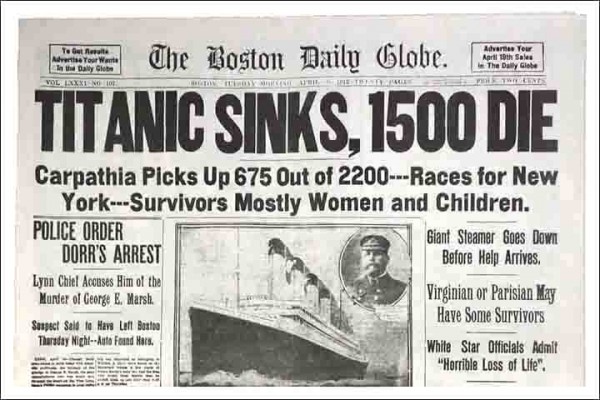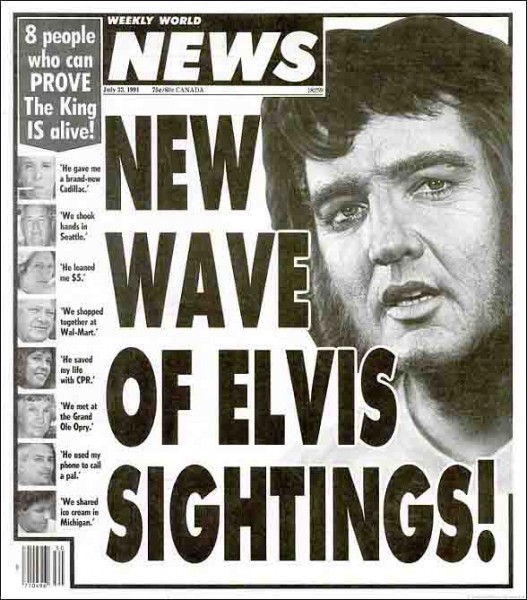 8 People who can PROVE the King IS Alive!
(see the left-hand column of this news rag)
"He gave me a brand-new Cadillac."
"We shook hands in Seattle."
"He loaned me $5."
"We shopped together at Wal-Mart."
"He saved my life with CPR."
"We met at the Grand Ole Opry."
"He used my phone to call a pal."
"We shared ice cream in Michigan."


… to small PERSONAL news clippings such as this society page marriage announcement from the 1920s:
While saved for posterity, there's just one little tiny problem with important clippings such as this: newspapers & newsprint clippings were never built for posterity!
Newsprint is, by its very nature, a poor candidate for long term preservation. It is manufactured at the lowest possible cost and contains acids, lignin, and other impurities that are not conductive to long life (please click here to go to our full blog on the principles behind "acid-free" materials and storage entitled Archival Definitions:
Acid-Free / Buffered / Un-Buffered).
This is also often the case with old magazines in your collection. While perhaps "made of stronger stuff" than newsprint, long-term archival survivability was usually never on the minds of magazine publishers, and they can be just as fragile as old newspapers.
Yet there ARE things you can do. If a newspaper, clipping or magazine in your collection is of important historical or personal value, consider contacting a paper conservator who can neutralize some of the harmful acids and impurities (please see our complete blog on Conservators: Pros You Should Know). This can be costly if you are doing more than a handful of clippings, but such "deacidification" can enhance your newsprint's life expectancy.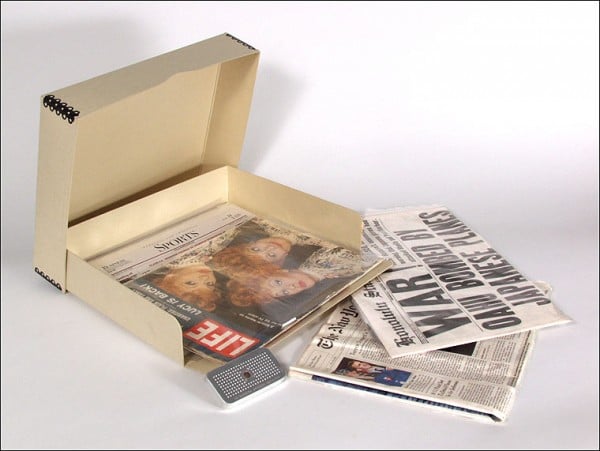 More commonly, however, our customers accept the fact that newspapers and magazines will yellow and get brittle over time, and they simply want to extend that time by properly storing these artifacts under optimal conditions. This is where Archival Methods' Newspaper & Magazine Storage Kits come into play (see pix above).
This "all-in-one" kit contains everything you need to store your important newspapers and magazines:
               • an acid-free Drop Front Box (click here for our blog that fully explains "acid-free" materials)
               • 10 archival Polyethylene Bags
               • a metal or plastic Desiccant Canister of your choice
Our Newspaper & Magazine Storage Kits come in 5 different sizes for your every storage need:
               • 14 x 18″ Tabloid / Folded Broadsheet Newspaper Storage Kit
               • 16 x 22″ Flat Broadsheet Newspaper Storage Kit
               • 20 x 24″ Flat Broadsheet Newspaper Storage Kit
               • 9 x 12″ Small Magazine / Comic Storage Kit
               • 11 x 14″ Large Magazine Storage Kit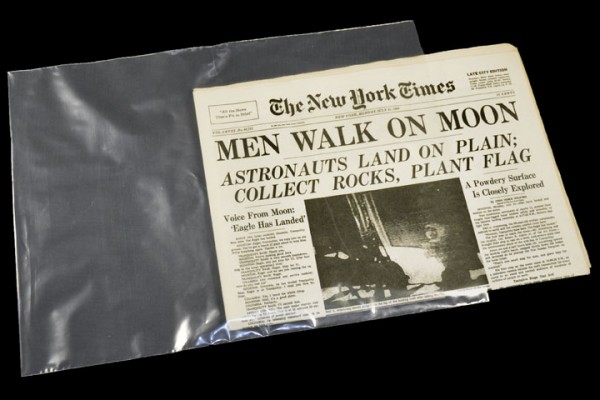 The best way to store your old newspapers and magazines with this kit is to place each artifact in its own archival-quality Polyethylene Bag (see pix above), and then store the individually bagged newspapers or magazines in the kit's acid-free Drop-Front Box.
To enhance this double-layer of protection, your box then needs to be stored in a cool, dry environment such as a closet or shelf in your "living space" of your home. This means avoiding basements or attics, as humidity and temperature variations can harm your materials, as can leaky attic roofs, and leaky basement pipes and water heaters (see pix below).
The rule of thumb holds that if it is uncomfortable for YOU in terms of temperature and humidity (as is commonly the case in attics and basements), it will be "uncomfortable" for your stored newspapers and magazines.
As visible evidence of the dangers of excess humidity, the stain on the newspaper clipping above was caused by high ambient humidity – the paperclip simply rusted from exposure to this humidity, the result of which is permanently stained paper.
There are two lessons here:
1) your collectibles and family artifacts do not need to get soaked (from leaky roofs / pipes / water heaters) in order to still suffer damage from the moisture in high humidity environments. This is one of the reasons we include a Desiccant Canister with each of our Newspaper & Magazine Storage Kits.
2) paper clips and staples should be carefully(!) removed from your newspapers, clippings and magazines BEFORE storing them. As another rule of thumb, however, do not remove binding staples from magazines such as the staple-bound copy of Jugend illustrated below.
To determine just which Newspaper & Magazine Storage Kit(s) are right for you, simply measure the length and width of your newspapers or magazines and order the appropriately-sized kit(s) from the chart on our web page.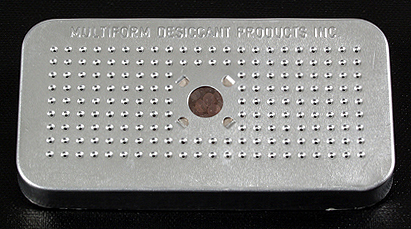 When you are considering your order you will also have the option of choosing which kind of re-usable desiccant you would like to receive with your kit. You can choose between our Metal Canister Desiccant, which is easily re-activated in a conventional oven; or our Plastic Canister Desiccant, which can be re-activated in a microwave oven (please click here for our PDF on re-activating our Metal and Plastic Desiccants Canisters).
Lastly, one final hint – do not "stress" newspapers folds by packing them tightly into your storage box. Pack them rather loosely instead, as this will help keep newspaper creases from becoming too flattened, which can make them difficult to open without tearing.
---
Contact Us
If you have any questions, or would you like more information on any of our museum-quality archival storage and presentation materials, please contact us here at Archival Methods. We're always there to help with any archiving, storage, or presentation questions you may have.
We would also like to encourage you to follow us on Twitter, Facebook, Pinterest, and our large selection of informative and crisply-illustrated (and often humorous) blogs for up-to-the-minute information and stories of interest.
---