Good Mats / Bad Mats:
The Overall Philosophy of Matting
Whether you're matting and mounting a single image from your family archive (see photo on left), a print or photograph from your collection (see photo on right), or an entire portfolio of your artwork—be it photographs / prints / drawings / watercolors / or anything else (see photo below)—utilizing the finest archival materials and practices is essential for both long-term preservation and to showcase the work in the best possible light. This is important for everyone: the armchair family historian or genealogist; the collector; and any artist who needs to prove to gallery owners, art directors, hiring managers, or college / grad school art department interviewers that they "get it."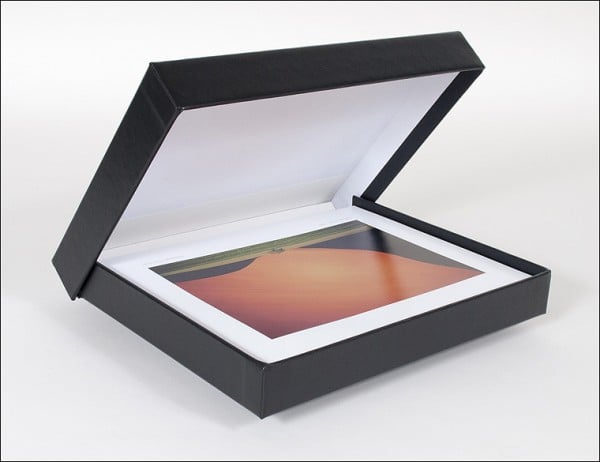 In our series of illustrated blogs on Matting (see full list of links below), we're going to walk through everything you need to know to archivally mat that old family photograph, that image from your collection (I'm using an old press photo of the Enterprise from Star Trek to illustrate all the steps involved), and everything in your art or photography portfolio.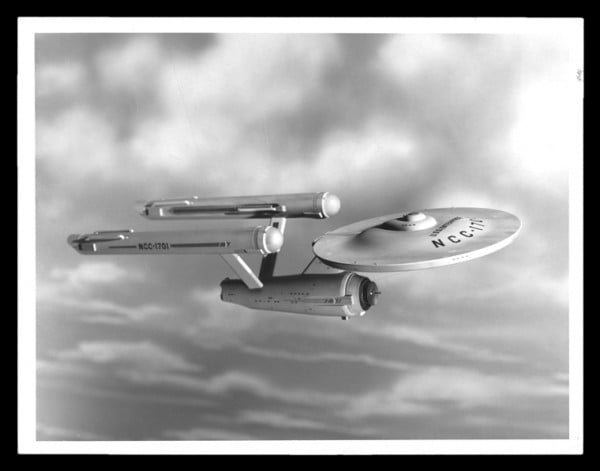 Before we get started, just a bit of overall philosophy:
Really great matting should be INVISIBLE!
So, I know you're probably scratching your head right about now, thinking "well, what the heck does THAT strange, almost counterintuitive thought mean???" In a nutshell, a REALLY GOOD, professional-looking matting and mounting job should "disappear," allowing the photograph or artwork itself to be the absolute center of attention. This idea becomes clear when one realizes that with a poorly matted piece the FLAWS IN THE MAT actually draw the viewer's eye AWAY from the piece itself and focuses it instead on the crappy workmanship of the mount. To illustrate this point, please take a look at the examples below: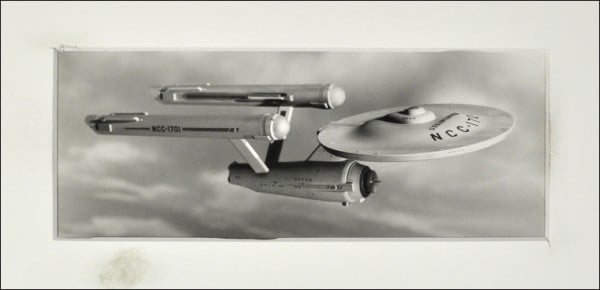 See what I mean? In the top image the photograph is the center of attention, while in the bottom image the thumbprint, doinked up mat bevels ("doinked" is a sophisticated art gallery term, take my word for it, folks), and overcut or torn corners are the primary focal points. The purpose of any good matting and mounting job is to ENHANCE the image or artwork—not detract from it—to the point where the matting and mounting essentially "disappear." Now, armed with that info, one more observation before we get started.
With Mat in Hand, YOU can do EVERYTHING Else!
There are many ways to get the perfect mat for your artwork or your family photograph. You can take the time to stop by your local frame shop and have them cut it, you can cut it yourself with any number of mat cutters that are on the market, or you can save both time and money and order a perfectly sized / perfectly cut standard size or custom mat from Archival Methods. In any of these cases, once you have your mat in hand you can do EVERYTHING else from there on in, including: 
1. mounting your piece
2. interleaving correctly
3. placing your finished mat in the right protective enclosure
4. placing your work in an elegant portfolio box
5. framing your beautifully matted piece
Doing ALL of these steps yourself will save you time, money, and the potential headaches of having to fix stuff that was done wrong elsewhere. As the saying goes, "if you want it done right, do it yourself."
If you've decided that you want museum-quality acid-free mats, follow the steps outlined in Archival Methods' interactive Custom Mat Cutting template below. Its quick, easy and accurate, as it does ALL the math for you. 
Taking the online Custom Mat Cutting specs shown in the screenshot above and entering them into Archival Methods' high-end computerized mat cutting machine. The result–seconds later–is a perfectly cut, clean, undamaged window mat. It couldn't be easier!
By using this easy form, Archival Methods will cut perfect mats to your exact specifications, and we'll even hinge them for you, too.
Lastly, if you're unsure about which color acid-free mat board might be best / what mat board thickness is most commonly used / how to measure your mat / what is the difference between a "centered" or "weighed" mat / and what hinging is all about, please visit the other short yet informative blogs in our Matting series for a deeper understanding of each step of our easy-to-use Custom Mat Cutting template:
   • Part 1: Good Mats / Bad Mats – The Overall Philosophy of Matting (you're here now)
   • Part 2: Choosing the Best Colors and Mat Board Thickness for Your Piece
   • Part 3: Outside Measurements / Inside Window Measurements / Cropping
   • Part 4: "Centered" or "Weighted" Mats
   • Part 5: Hinging Your Mat Board
   • Part 6: Other Precut and Custom Mat Cutting Options and Services
The overall goal of our Matting series is to take the mystery out of enhancing your family photographs, collectible images, or your art portfolio – leaving you with a stunning, archivally matted presentation and the peace-of-mind that comes with knowing that you've done things right! This series will be followed by a similar set of blogs that will explain everything you need to know to mount your work in your new mats. Stay tuned!
---
Contact Us
If you have questions or would like more information on matting or on the archival storage and presentation materials that are right for you, please contact us here at Archival Methods. We're always there to help with any archiving, storage, or presentation questions you may have.
We would also like to encourage you to follow us on Twitter, Facebook and Pinterest for up-to-the-minute information and stories of interest.
---