This guest blog about tackling a project to organize family photos was written by InstaRestoration.
Who doesn't need to organize family photos? Often, there is little or no information to go along with photos we have inherited. While the images are certainly interesting, you may not know when these pictures were taken or even who is in them! This is something anyone who has ever "inherited" old pictures is familiar with. 
It can be a challenge to organize family photos, but your time is well spent preserving family history and memories for future generations. Here are some helpful guidelines.
Dating the Photographs
Obviously, one of the easiest ways to organize family photos is by date. If there isn't information jotted down on the back of the picture, this can be tough to do. Thus, you may have to try out a few different techniques. 
To start with, consider the shape, size, and coloration of the photos. You will often find that images from a specific decade or era have similarities. It is a good place to start your sorting. Other quick clues are dates or paper manufacturers on the reverse of prints or on a slide mount.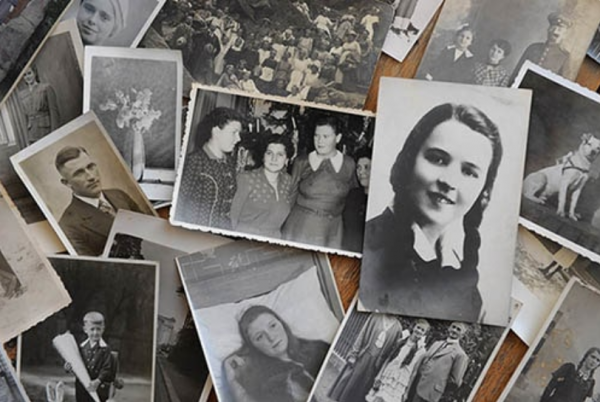 You may also want to include your older relatives in your quest to organize your family photos. There could be a chance that they have already laid eyes on these photos and may be able to help you out. At the very least, they may be able to pinpoint the year that the image was taken (or who is in it!). In any case, it can't hurt to get their assistance. 
Take a closer look at the clothing and the jewelry. Identifying certain features like hats or dress styles, you should be able to pinpoint the date to at least a decade. Cars, stores, calendars, or other items in the background can all provide clues as well. If your images are from the nineteenth century, knowing the type of photograph –Daguerreotype, tintype, etc. — can give context.
Digitizing Your Photographs
Before you decide how you'll store these organized family photos, make sure to digitize them. This can be done with the help of a scanner or simply by photographing them on your smartphone. Make sure you back up the images, and perhaps even upload to a cloud photo service. This will ensure that these images can be shared easily or you can even have new copies made. You can also hire a photo organizer to help with this (or any) part of your project.
Now, if you notice any flaws or tears in these pictures, they can be fixed digitally. This service is available online and you can recreate even the most highly damaged images rather easily. Taking this step may actually help to recover some details that you previously couldn't see. 
Organizing the Digital Images
Once scanned, you need to figure out some kind of order for organizing the digital images. Chronologically often makes the most sense, but other categories might work for you as well. You can also group photos by people/families, by location, events, or holidays.
Rename each image file with names, places, or events and even add a short description if possible. Any information you add will be helpful to future generations. 
Finding the Right Storage
Once you have organized your family photos and digitized them, it's time to get them into appropriate storage. They have survived this long, but need to make sure they are re-housed in storage that will keep them safe for decades to come. If a product is marked "photo safe," unless there is further information about the composition, it's not enough. Look for albums or storage boxes that are labeled "acid-free" and "lignin-free," or "passed the PAT." (The PAT, or Photographic Activity Test, is a measure of archival quality.) This will ensure that the photos are being stored safely for the long term.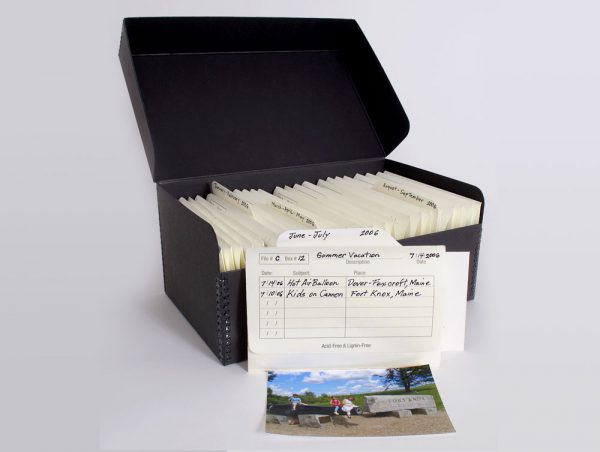 It is important to pay attention to the size of the images when selecting the storage items. When keeping the images in albums, make sure that they are sized to hold the largest photographs in your collection. With boxes, make sure that the container is large enough to hold larger photographs without folding. 
Choosing the Right Storage Environment
Now its time to enjoy your organized family photos! Obviously, there is a limit to how many albums or boxes you can keep in your living room. Thus, you are going to have to store your photos elsewhere. You should be very careful about where you keep these images, though, as they can deteriorate more quickly in the wrong environment. 
First of all, do not place them in your basement or attic. These areas are prone to water damage, humidity, and temperature fluctuations. Ideally, you should be storing your photos on the main level of your house, in room temperature, and perhaps with a dehumidifier if humidity is an issue.. Check on them from time to time to make sure that they are still in good condition. 
These are the main guidelines to follow when organizing old family photographs. Good luck!