Fine Art Photo Archives | Preserving ALL Your Life's Work | Part 1 School
Most fine art photographers already know, as do artists in other media, of the importance of presenting and storing their best, exhibition-level images in high-quality archival mats, portfolio boxes, museum cases and acid-free enclosures. Yet what about all the "stuff" that went into the making of those "good" photographs and images? What about the history, the trial-and-error steps that led to a finished piece, the photo archives of the work you did in college or grad school or even high school? And what about those boxes of stuff you (hopefully) kept from your previous jobs in the arts as you pursued your long-terms goals?
For all the talk about developing a "personal brand" these days, not much is ever said about your "personal archive:" the stuff that actually got you where you are today (or where you want to be). All of this is worth preserving, as it serves as a roadmap to your present and can actually be ABSOLUTELY INVALUABLE to your future work, as I'll explain later.
The following blog post is the first of three, each of which will take a look at a few of the many different types of archives that life as a fine art photographer / artist / hobbyist invariably produces:
1. School Portfolios (high school / college / grad school / the school of hard knocks)
2. Life as an Artist (professional / semi-pro / hobbyist)
3. Working Life (various job archives / writings and notes / misc. "stuff")
While the images and examples presented in this series of blogs may be specific to the author (me), the overall rationale for applying the right archival solutions to one's own archive(s) is something that anyone can understand and apply—in other words, the case study of the ways I'm going to preserve MY stuff can be a template for you to preserve YOUR stuff. Check back regularly to follow all three of the Fine Art Photo Archives blog series, as there is something for everyone in each.
---
Fine Art Photo Archives | Preserving ALL Your Life's Work | Part 1: School
High School:
If you're "fortunate" enough to have kept examples of your early high school work—as unfortunate as these 11 x 14″  examples from 1975 are—at least you can look back on such things with a sense of humor – and amazement at the thought that photography was even something you might consider as a career. Still, these "gems" from my high school photo archive are important to preserve—stored here by being interleaved with archival thin paper and then placed in an acid-free flap envelope—as I actually sold a copy of one of them for five bucks to the father of a kid I knew back then. Voila, I'm a pimply-faced, know-nothing "professional." Hey, this photography thing is easy!
---
College 1 (Photography 101, taken as a non-major):
My first college photography "portfolio" from 1977 (the one I got that C-minus for) consisted of cyanoype contact sheets (hey, the instructor thought that THAT was a good idea), a bunch of crappy photographs (except for one "good" one, see below), and a one-page summary of the course I was required to write. I am REALLY GLAD I kept this stuff, as it keeps me very humble (a C-minus in your chosen field will do that).
Amongst the photo archives I kept from that college class was this image (see below), made in April of 1977, on the eve of my leaving that school for someplace else / changing my major from history to art (dad wasn't pleased!).
The ONE SINGLE PHOTOGRAPH that Changed My Life…Was a Mistake
So, while taking the college photography class where I "earned" a C-minus (hey, I got a D first semester in high school photography, so C-minus was a step up), I was assigned the typical "self-portrait" roll to shoot / process. The photo above was of me standing in a dorm shower and, as I had no clue, the exposure was way off. During my attempts to salvage SOMETHING from my ill-fated attempts at a self-portrait I printed a test strip (remember those?), and to my surprise the really dark areas looked, well, "good" (at least to me). I went ahead and printed the shot way too dark, and BOOM! I was finally happy with something. I had—mistakingly/unknowingly—created "mood" in a picture. 
Looking back, one of the most satisfying aspects of this, other than forging an entire career on the "merits" of this single photograph, is the fact that I STILL HAVE that original photograph from way back in 1977! That is only possible through the archival care I've applied to ALL my photo archives since then—work prints and trial-and-error dead ends (lots of those, I'm afraid) as well as exhibition-level finished pieces.
While some might have been tempted to throw out a less-than-stellar portfolio and grade sheet from their C-minus photo class from decades ago, mine are being treated as follows:
My 1977-era final portfolio of contact sheets, writing assignments and my "cherished" grade sheet are being stored in museum-quality polypropylene pages, which then fit nicely into either a 3-ring archival binder (left) or an economical acid-free binder-in-a-box (right). Boom! Done.
At the same time, this key photograph (the original is on the left) was scanned and digitally "cleaned up" a bit.
The newly-created digital file was then backed up to a high-quality DVD-R (left) which can then be stored in either a DVD kit (center) or a beautiful binder box (right) specifically made for disks. (Please click on images for more information.)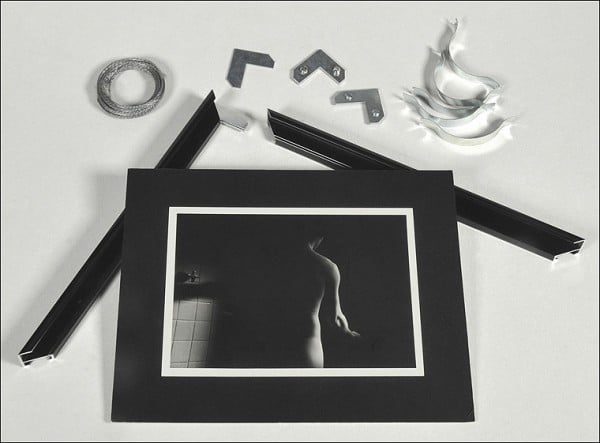 Lastly, the original was framed in an all-in-one frame kit that comes with protective plexi glazing that is engineered to filter out harmful UV light. Now the circle is complete!
---
College 2 (with my one "good" photograph, I figured I'd become an art major – yikes!)
Early undergrad work, all very political (hey, it was the '70s and I had missed the '60s), that used appropriated black & white imagery and color shots I made as a counterpoint. These now have a sheet of acid-free interleaving tissue protecting the image, and each matted print was then placed in an archival polyethylene bag before being safely stored in an acid-free box.
I got into streetlights for a few years as an undergrad. There is something really cool about them, as they are everywhere and yet during the day, when you can actually see them, they serve no purpose – they're just sculptural forms populating the landscape. There's a bunch of metaphor in there someplace, but I digress. This piece is actually a 14 x 18″ sheet of mat board with various mat openings cut into it (see a similar example below/left), rather than a single photograph.
The piece above is stored in a crystal clear bag with sheet of 2-ply acid-free conservation board added for support and structure, as the piece itself is cobbled together by my then-20-year-old self. Hey, at least I knew about using archival mat boards and acid-free linen tapes back then (more on that below).
During the summers between college semesters I took a bunch of classes at Visual Studies Workshop. One of them was on Haloid Xerox, where you used a copy camera to create images on electrostaticly-charged metal plates and "developed" them by running them through an early Haloid Xerox Model-A "machine." It was cool, and a perfect fit in those "alternative process" days (daze?) of the late-1970s. On the left are self portraits (notice the stereo camera in my hands in the right-side pix, more on that later), and on the right was yet another streetlight composition.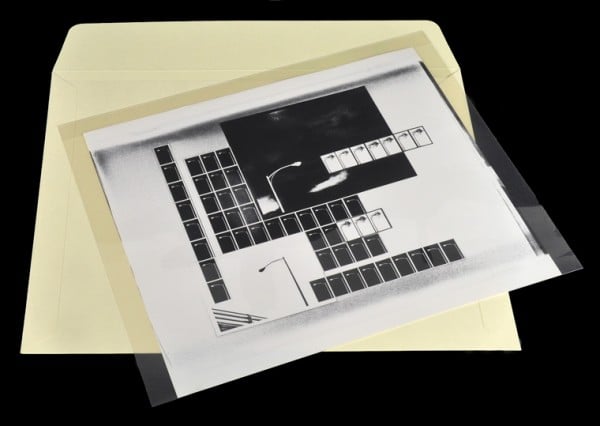 These 11 x 14″ images, which have a relatively delicate surface, are now being stored in individual side-loading print sleeves and then placed together in acid-free flap envelopes.


As you might have ascertained by now, I was very much into multiple imagery. I also knew about archival materials and practices, even back in college, not only as the "right" stuff to use, but also as a metaphor. I combined both of these interests in this two-piece framed work from that era (1980) that still hangs in my house. It features an antique camera—one that had survived for decades in pristine condition—that I had purposefully smashed by dropping a 300-pound anvil on it (shades of old Road Runner cartoons). The before-and-after photographs (above) and the actual parts (below) were then meticulously matted and framed using museum-quality archival materials to last forever in its now-altered state. It was a comment on…well, that's part of the "art" of it all, so I'm not going to tell you.
While rummaging through my old photo archives I came across some mounted outtakes from this piece, which I have now been placed in 5 x 7″ individual polyethylene bags and then into acid-free open-end envelopes.
Remember that stereo camera in one of the Haloid Xerox images above? Well, I got pretty carried away with stereo photography during my undergrad years (still working with it / researching it today, see the second blog in this series). Senior year in college (1981) I built this stereo camera housing to hold two Polaroid SX-70 instant cameras. It had a simple actuator in the back that let me fire them simultaneously, and the resulting two pix were then trimmed, taped together, and recreated as color Xerox stereographs mounted on archival 4-ply mat board. Now its time to securely store this artifact from so long ago.
The same camera, placed in an archival polyethylene bag (unsealed, so it can "breathe"), and then placed in a half-sized record storage carton. The original Polaroid images from this camera (lower left of the right-hand pix) have been placed in acid-free envelopes for filing in archival hinged-lid boxes.
After a few years of work after undergrad it was off to….
---
Graduate School:
Well, more stereo photography in grad school. In fact, my entire grad thesis project, above, was based on it. The Dance of the Dead (subtitled Shop Till You Drop) was comprised of 36 stereographs, edited down from over 3,600 frames shot with a concealed camera in shopping malls. 
All of the zillions of 35mm negatives I shot for this project, as well as 2 1/4″ negatives I shot for other grad school work, are now safely stored in a compact, all-in-one film storage system kit. This kit allows me to organize all my negatives by writing important film data / titles / dates on each negative file folder included in the kit.
I even kept the xeroxed exhibition posters I dummied up for that show, and am storing them in archival side-loading print sleeves.
My interest in 3-dimensional stereographs logically led me to holography. This piece is no longer in existence, as the 30″ wood element "went the way of all things," as they say. I still have the slides I made of it (that's where the pix above came from), and the original holographic glass plate of leaves and branches.
The original slides of this hologram / sculpture are important parts of my photo archive, as the wood piece is no longer around and these slides are therefore the only records I have of the work. The slides themselves are now being stored with others from that era in archival slide pages in a convenient and acid-free binder-in-a-box.
This glass plate was a pain in the a#% to create, as it started out as a standard 8 x 10″ holographic film plate that had to be exposed and then processed in total darkness (no safelights), then cut to shape and then drilled. All that cutting and drilling would be a challenge if this were just a regular sheet of 1/8″ glass, but this plate also had a very delicate photo emulsion on it that would scratch or get messed up if everything weren't executed with the utmost care. This being the case, the plate is now being stored in an archival 8 x 10″ HD poly (high-density polyethylene) envelope, which is static-free, and then inserted into an 8 x 10″ acid-free flap envelope. There is also a sheet of 8 x 10″ 4-ply archival mat board inside the envelope to add structural support. It may seem like a lot of steps but it really isn't, and preserving this irreplaceable plate is worth it!
Lastly, after ALL THAT, it was finally time to graduate! And yes, I did keep the commencement program from grad school in my photo archives, storing it, of course, in an acid-free flap envelope.
---
To circle back again, each of the different school projects briefly discussed above have left distinct artworks and artifacts that weave back and forth and ultimately come together to create a tapestry of my life at school. Sure, my presentation-level stuff has always been well cared for, but so are my diverse photo archives, as keeping this material archivally safe is important to me and has been a life-saver on more than one occasion (more on that later).
In upcoming blogs I am going to walk through a number of the easy archival solutions available to preserve all the assorted elements of other types of photo archives, with the sincere hope that YOU, too, will see the value in keeping your stuff safe and archivally protected. I may not be a rocket surgeon, but I at least know the ins-and-out of keeping things organized, accessible, and stored well. You never know when you'll need any of that old stuff, and by storing things right you can prevent a ton of headaches while keeping things archivally safe within a minimal footprint. Its affordable and easy to do, so I encourage you to jump in. Please check back frequently to follow the Fine Art Photo Archives series of blogs. You may well be very glad you did!
Contact Us:
If you have any questions on preserving ALL your life's work, or would like more information on the archival storage and presentation materials that are right for you, please contact us here at Archival Methods. We're always there to help with any archiving, storage, or presentation questions you may have.
---