Family Photographs #1 | An Anonymous Tintype
Family Photographs #1:

An Anonymous Tintype
So, here's a short observation I had last weekend regarding an antique tintype photograph in my collection,
an observation I had while I was busy doin' something else.
But first, a quick explanation is in order. That particular "something else" I was busy doing last weekend was centered around a book set I am writing on stereographs and related vernacular art images.
This past weekend I found myself re-writing a description I wrote for the image illustrated above, which is a half-plate tintype of two women posed in a photographer's studio, made at some point in the 1860s.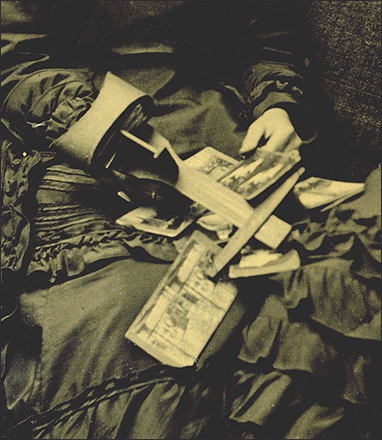 What makes this image so interesting to me, and the reason it's in the book set I'm writing, is the fact that a stereoscope and stereographs are featured quite prominently in the photograph (see pix above).
(BTW, please click here for more information on tintype photographs / please click here for more information on stereographs.)
Family Photographs:

Our Relatives are With Us Still!
I'm sharing my thoughts on this image with you today as they may well pertain to family photographs in YOUR personal archive. Maybe some of you, my gentle readers, will take a moment to reconsider some of this philosophy as you discover (or rediscover!) the people in your family archive or genealogy records who, while no longer with us, are in fact WITH US STILL through the photographic records they left behind.
So, this is what I wrote – or re-wrote, as the new text below is actually rather radically different from what I had originally written. I've taken the liberty of adding a few phrases here and there so it all makes sense, as it's quoted out of context with the rest of my larger thesis, but you get the picture (no pun intended).
---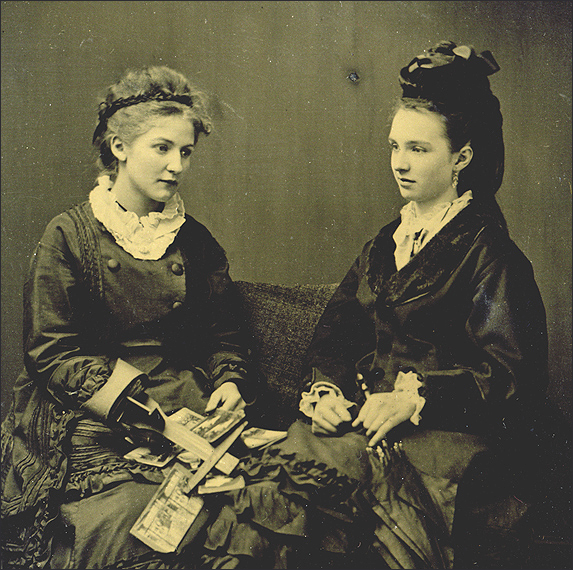 "The ubiquity of the stereoscope and stereograph in popular culture between roughly 1850-1920 meant that such objects were occasionally used as props in studio portraiture. While the focus of this tintype was, at the time it was made, undoubtedly the portraits of the two sitters – whom family and friends would instantly and lovingly recognize – 150 years later these women are, and forever will be, completely anonymous strangers. No record of their names has accompanied them on their journey through the decades. No penciled-in identities were scribbled on the paper backing behind the image [I checked], which sometimes happened with old cased daguerreotypes, tintypes and ambrotypes [please click on each early photographic process for more information].
The "value" of this portrait has thus shifted from one of familial, personally sentimental recognition to one based on any given contemporary collector's or researcher's interest in their period clothing, hairstyles, the overall condition of the image and its case, and in the instance of the current owner – the author – the stereographic ephemera included as common props.
Yet regardless of any transmutation from personally sentimental artifact to commercially valuable commodity in the worlds of photograph collecting and research, these pensive and elegant women STILL retain a universal sense of "identity" that transcends their anonymity. By this portrait's preservation, and its inclusion in this book set, they have achieved a level of immortality that they could never have dreamed of. In this way they are as alive today as they were the day they sat for this portrait."
---
Wordy? Perhaps.
Maybe even a tad veribose? Yeah, guilty as charged.
Yet the reason I'm sharing this observation with you today is NOT to hear myself talk (I do enough of that already, folks, you can trust me on that one). Nor am I expecting you to quit your job and start writing photo / art historical books. I am, rather, trying to make the point that even our "forever anonymous" forebearers and family members can speak to us, even if silently, from across the seas of time – if we just let them.
So, in closing, take the time to look through YOUR OWN family photographs. Identify who you can, date them by the clothes or hats or cars in each picture (please click here to see our fully-illustrated blog on Dating Photographs), archivally preserve them(!!!), and look closely at each one, as the individuals frozen in time may in fact be silently speaking to you in ways that you hadn't previously considered (see pix below).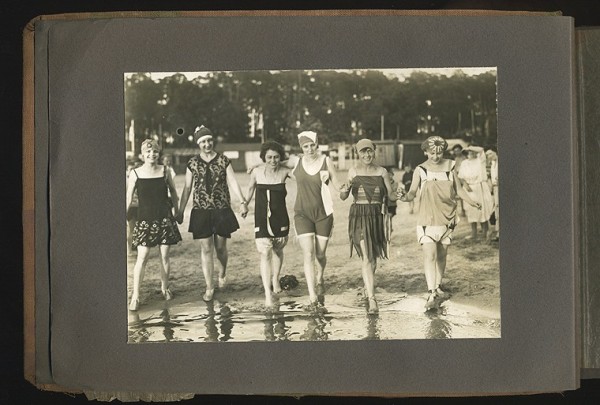 Twilight Zone? Well, maybe. Yet in reality our old family photos and snapshots are really quite capable of telling us so much about the people in them. 
All we have to do is listen with our eyes.
(Please click on the following links to see all of our 90+ fully-illustrated blogs on archivally preserving EVERYTHING in your family archive, genealogy records or collections, including: snapshots / old letters / postcards / old toys / wedding dresses and heirloom fabrics / 35mm slides / old home movies / magazines and newspapers / even old recipes. You can also learn about matting / mounting / conservators / different types of acid-free storage boxes / archival 3-ring binders / portfolio boxes / and much more!)
---
Contact Us
If you have any additional questions on preserving your collections, or would you like more information on any of our museum-quality archival storage and presentation materials, please contact us here at Archival Methods. We're always there to help with any archiving, storage, or presentation questions you may have.
We would also like to encourage you to follow us on Twitter, Facebook, Pinterest, and our large selection of informative and crisply-illustrated (and often humorous!) blogs for up-to-the-minute information, Archival Solutions of the Week (take a look at this archive for more info!), and stories of interest. Likewise, our exclusive short videos illustrate many of the archival products and procedures that you may wish to "see in action," so please take a look!
Lastly, we would like to encourage you to click here to sign up for weekly emails alerting you to our Archival Solution of the Week blogs! It's easy & fast, and usually saves you 15%!
---