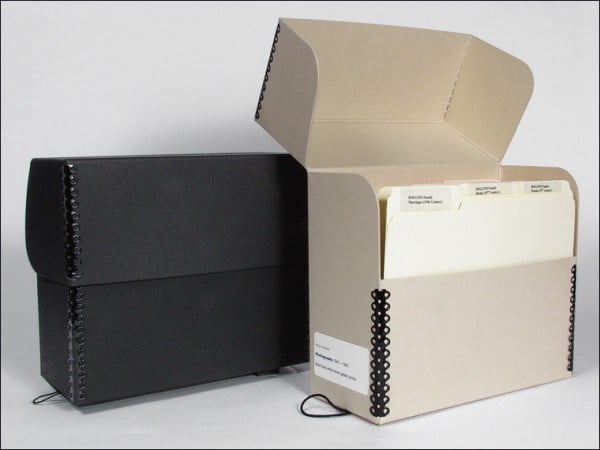 Archival Solution of the Week:

Document Storage Kit
Well, there's a reason we've chosen our Document Storage Kit as our Archival Solution of the Week, and it has to do with what we've learned from YOU, our online readers and customers.
As many people are aware, Archival Methods has been steadily growing its online presence. In addition to our informative and inclusive website we have:
1.) a Twitter feed that we update daily with all sorts of cool news stories and interesting stuff
2.) we post regularly on Facebook 
3.) our Pinterest page is growing all the time
4.) our new series of lively & well-illustrated blogs have had tens of thousands of reads in only a few months
At the end of 2015 we reviewed the stats and created our 11 Most Popular Blogs of 2015 based on which blogs appealed the most to YOU, our online readers. Along the same lines, we have recently taken a look at the results of our Pinterest page and found our single most popular pin thus far:
This image was repined from an article we found entitled "Family History is Fun," which suggests the idea of creating one file folder for each couple in your family. When we posted it on our Pinterest page we added the following important(!!!) information, which was not mentioned in the piece:
If organizing your family tree or genealogy/pedigree charts in file folders, MAKE SURE you are using acid-free file folders and document boxes.
So, with the popularity of this particular Pinterest posting among our online readers in mind, we decided that our new Archival Solution of the Week series of blogs should include our DOCUMENT STORAGE KIT, as it contains everything you need to archivally preserve and store any important papers, artworks, collectibles, genealogical records, documents, birth certificates, tax records or any other materials you have that are best suited to being "filed."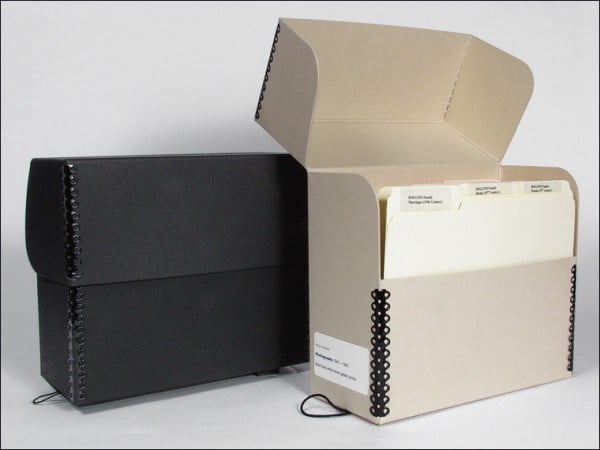 Document Storage Kit:
Archival Methods' all-in-one Document Storage Kit offers TWO levels of content protection and file organization by allowing you to store your documents in 1.) acid-free file folders, within 2.) archival document storage boxes.
Each kit consists of a letter-size Document Box and a package of 50 cream-colored archival letter-size Half-Cut File Folders. You can select from our tan, gray or black document boxes in order to match your taste and decor, all while saving 15% off the cost of purchasing each component separately.
---
Archival Methods' Document Storage Kit Components:
1. Document Boxes: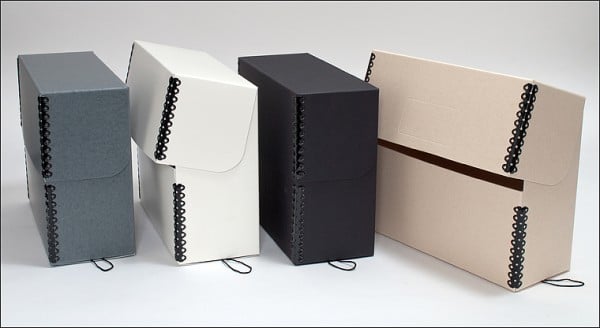 This style of Document Box is a familiar standard for organizing and vertically storing letter- and legal-size documents (our Document Storage Kits come with letter-sized boxes). Archival Methods' Document Boxes feature a one-piece construction with a hinged flip top to provide a safe, archival, acid- and lignin-free container for long-term storage and protection. Interior dimensions are oversized to allow for archival document spacers, and for storing items in acid-free file folders and expansion folders. Archival Methods' document boxes are also well suited for storing and accessing thin books, pamphlets, periodicals and photographs.
These document boxes incorporate an undercut front panel for safe insertion and removal of documents. This design allows for fast and convenient file searching without having to remove the documents or file folders. Embossed labeling areas on the box end and lid front allow you to neatly, accurately and consistently position a standard pressure-sensitive (PSA) identification label or an adhesive backed label holder, while each box has a pull cord for easy box withdrawal from closely stacked shelves. They are available in both letter and legal sizes (our Document Storage Kits come with letter-sized boxes), and color options include tan, gray, black, and white (the white box is sold separately and not as part of our Document Storage Kits).
These sturdy, American-made boxes are manufactured from heavyweight ArchivalGrade™ boxboard in Archival Methods' own on-premises facility. Each metal edge clamp is anti-corrosion treated with a black polyester coating with a wax-free polyester finish on the blind side. These clamps provide both rigidity and high stacking strength to safely preserve your important documents and artifacts.
2. Acid Free File Folders:
We all know that your neighborhood office supply store offers inexpensive file folders in every style and color. Yet they don't have THESE, and they're the ones you actually need! Why? Take a look at commercial-grade or general-purpose file folders and see what kind of materials they are made from. In truth, you usually can't tell. Some are made from recycled material, which might be great as a public policy but offers no assurance of archival quality. If your important documents need to be permanently filed and retained they require these archival, museum-quality file folders.
Archival Methods File Folders are available in both letter- and legal-size formats (our Document Storage Kits come with letter-sized folders). They are made of tested and certified 10-point acid- and lignin-free archival card stock to meet stringent long-term archival storage requirements and specifications. Each folder is bottom-scored to easily fold to your desired capacity – up to ¾" – and will hold up to 50 documents (depending on material and condition). 
---
Quick Hack: Fragile documents and artifacts (see photos, below) should be stored in additional protective enclosures such as our flap envelopes, interleaving materials, sleeves or bags before being placed in acid-free file folders. This adds yet another level of security and protection to delicate items in your collection or archive.
Fragile old letters from the family archive stored in Crystal Clear Bags with a pre-cut 2-ply Museum Board backing added for structural support (on the left). The same letters can also be stored in Archival Flap Envelopes (on the right.) For complete information on storing old letters, please see our most popular blog of 2015: Preserving Old Letters in the Digital Age.
---
Additional Document Storage Components (available separately):
To round out your Document Storage Kit, consider these additional helpful products (sold separately). Archival Methods' easy-to-use Document Box Spacers (on left) help keep files upright when a box is not completely full. Each spacer is pre-scored for ease of use, and fits either letter- or legal-sized document boxes. Our Adhesive Back Vinyl Labels (on right) are available in four different sizes, and can be used to label your Document Storage Kit and any other box or binder in your archive.
Lastly, for more information on other museum-quality options for file organization and storage please visit our complete blog on Archival Storage Boxes Part 3: Documents and Records.
---
Contact Us
If you have questions or would like more information on the archival storage and presentation materials that are right for you, please contact us here at Archival Methods. We're always there to help with any archiving, storage, or presentation questions you may have.
We would also like to encourage you to follow us on Twitter, Facebook and Pinterest for up-to-the-minute information and stories of interest.
---