Archival Custom Binders with
 

Custom Imprints  

/

 

A True Story!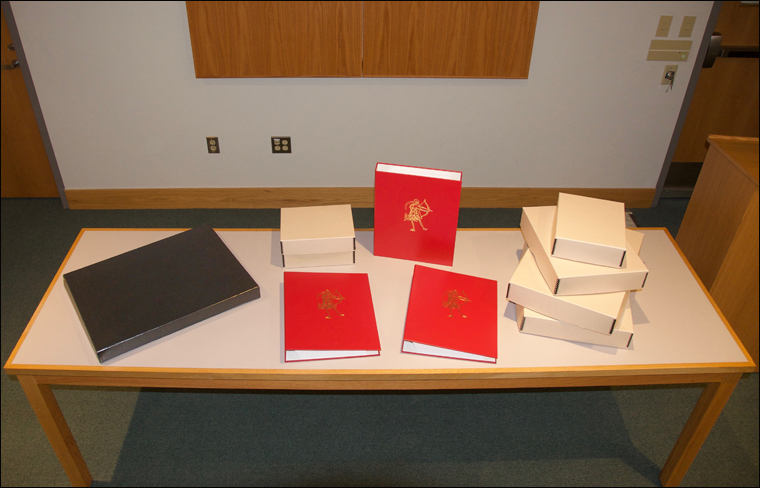 This short blog will show you HOW and WHY these red custom-made archival binders with custom imprints came to be made!

So, the photograph above is of an ACTUAL / REAL-TIME / BOOTS-ON-THE-GROUND professional presentation I made just last month at an Ivy League university.
By showing you this photograph NOW I'm actually starting at the END of this fully-illustrated blog on the custom binders with custom imprints I had made, as this pix is from the presentation itself.
So, just HOW did I get to this point of being ABSOLUTELY READY for this key presentation with these personalized binders?
Well, follow the chain of events below to see how Archival Methods helped me do it, and how YOU can do it too with whatever standard- or custom-sized binders / portfolio boxes / or presentation cases YOU might want to have either made or custom imprinted!
---
Part 1:

Custom Sized Binders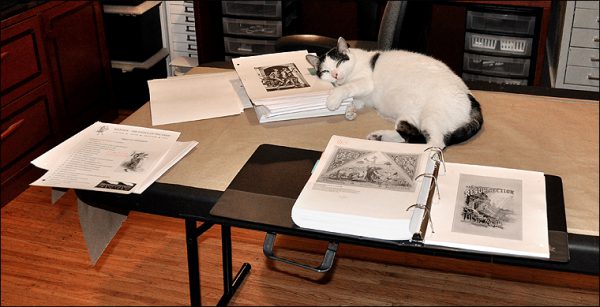 Here is one of the 8.5 x 11-inch (LETTER-size) "work drafts" of a zillion-page book project I've been working on for 5 years. This draft copy was printed in
black & white (to match my research assistant cat), and it's shown here in one of the junky LETTER-sized office supply store binders I was using at the time.
The more finished "presentation draft" of this book project that I was bringing to my meeting was in color & was printed to 8.5 x 14-inches (LEGAL-size).
My need for larger, professional-quality binders posed a problem, though—one that Archival Methods helped me solve quickly with CUSTOM binders!
So, as mentioned, last month I needed to make an EXCEEDINGLY IMPORTANT professional presentation focused on a 4-volume art history / photography book project I've been working on for over 5 years!
And at this stage in the game I certainly didn't want to MESS UP by showing up at my meeting with a sub-par presentation (and EVERYONE who's ever worked on a long-term project knows THAT feeling!).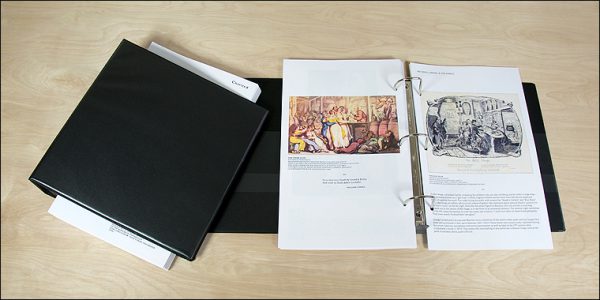 Trying to fit 8.5 x 14-inch (i.e. LEGAL-sized) documents in cheap standard (i.e. LETTER-sized)
office supply store 3-ring binders is awkward, unwieldy, and just plain UNPROFESSIONAL!
(Please click on the image for more information.)
For this presentation I needed unusually-sized binders that would fit the 8.5 x 14-inch LEGAL-sized paper on which I had printed a color, presentation-ready draft of my book project.
I say "unusually-sized" as these larger legal-sized binders are simply NOT readily available.
What's more, I needed these binders to be 100% ARCHIVAL, as this fact would be a STRATEGICALLY IMPORTANT component of my overall presentation, as the individual I was making the presentation to was a seasoned curator at an Ivy League university who knows ALL ABOUT archival materials!
What to do???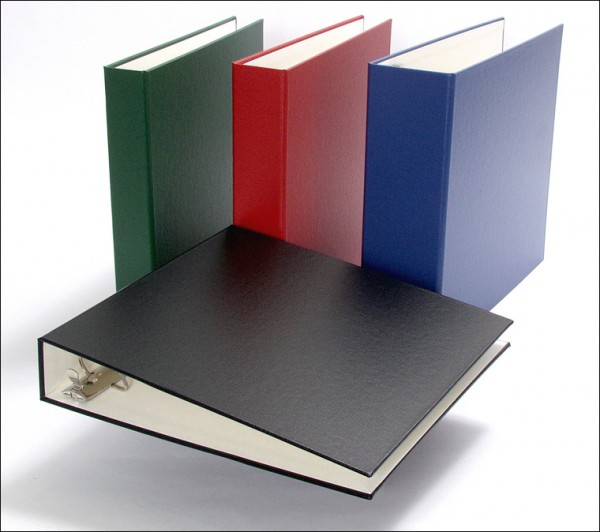 100% archival Collector Grade 3-Ring Binders are all made—one at a time, and by hand!—in Archival Methods own on-site facility.
Their "standard" colors for these binders are green / red / blue / & black, but other fabrics & colors are available for custom projects.
(Please click on either image to see a short video on these versatile binders.)
Well, I've always known that Archival Methods makes what are perhaps the FINEST archival binders in the world (see pix above), and while their Collector Grade Binders are generally considered "LETTER-sized" (actually a bit larger to easily accommodate a host of print & slide pages), Archival Methods has recently begun to offer expanded opportunities for creating a variety of CUSTOMIZED versions of their in-house products, including these binders.
So, with my diagram for a CUSTOM 8.5 x 14-inch LEGAL-sized archival binder in hand, I gave them a call.
Only a few days later the custom archival binder design they created from the rough diagram I gave them was up on their computer screen (left-hand pix above), and shortly after that the sturdy binder's board covers for my custom binders were cut to EXACT specifications on Archival Methods' computer-controlled fabric & board cutter (right-hand pix).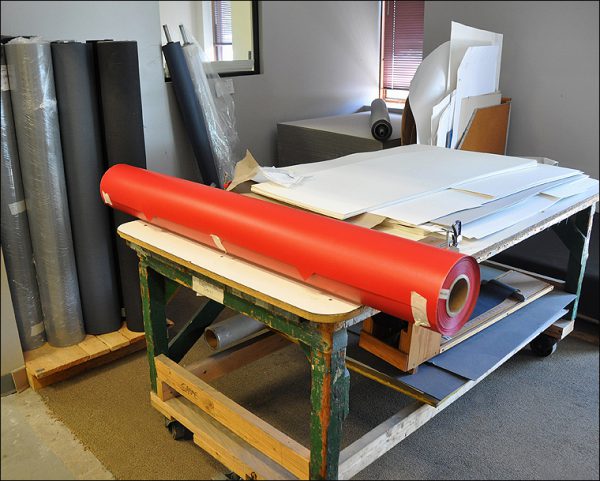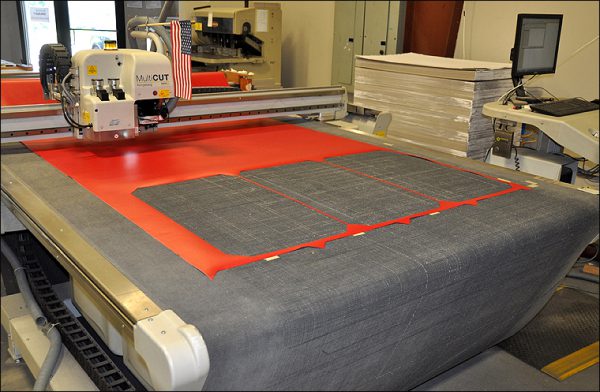 Once I chose what fabric & color I wanted (hey, it's CUSTOM, so there were lots of options!), a roll of red fabric was mounted onto Archival Methods'
cutter and EVERYTHING from there on in was controlled by precise computer programs. And since quality control is of PARAMOUNT importance,
each step in the process was monitored & checked by Archival Methods staff with DECADES of experience making museum-quality archival products.
(Please click on any image for more information.)
While I had the opportunity to have my custom binders wrapped in Archival Methods' standard red / black / green / or blue library-quality Buckram fabric, they were also open to other custom colors and materials I might have wanted.
I ended up going with their red Buckrum fabric as:


          1.) it fit the content of the materials I was presenting
          2.) it's just STUNNING for professional presentations.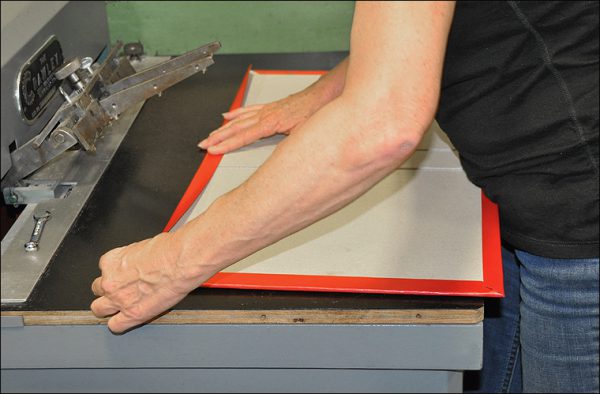 Once the binder's board covers & red fabric were cut to PRECISE dimensions, these components were assembled—one at a time, by hand—using the finest ARCHIVAL ADHESIVES that won't:
     1.) "delaminate" (translation: things won't come apart)
     2.) "outgas" (translation: emit any harmful adhesive fumes—because there AREN'T any harmful fumes!)
     3.) "contaminate" my stuff by adhesives coming into contact with my materials
           (translation: this NEVER happens with ANY Archival Methods products!).
When my binders had been wrapped in their library-quality fabric (pix on left), a fine liner was adhered to the inside
(pix on right).
This liner is a 10-point acid- & lignin-free card stock that adds both protection & elegance to the finished binder (please click here to see our fully-illustrated blog that explains what "acid-free" is all about).
As a last step, D-ring assemblies were securely riveted in place. D-rings will accommodate more pages than traditional O-ring binders—an important consideration for my zillion-page project—while the rugged tab-actuated locking mechanism will help to ensure that my (and YOUR!) materials won't accidentally fall out during handling or storage.
So, from raw materials – to hand assembly – to finished binder (see pix above), EVERYTHING was done with care & precise attention to detail.

BEFORE (yeah, NO!)
&
AFTER (PERFECT!)


THIS. LOOKS. GREAT!!!
Yet, do you know what else it still needs???
Yeah, custom imprints of my project's art history "logo" is JUST what this presentation needed!
(Please click on the image for more information.)
Yup, custom imprints!
---
Part 2:

Binders with Custom Imprints
My project's "logo" was taken from a Renaissance-era print that dates from 1514 (yeah, it's out of copyright, so I'm cool—please click here for more info on copyright).
  
On Left: The Renaissance-era logo for the art history / photography book I'm writing.
On Right: The same logo translated by Archival Methods into a custom imprint die.
(Please click on either image for more information on creating YOUR OWN imprints.)
The folks at Archival Methods had this die for my custom imprints made from a digital file I emailed over to them (see pix above). My part in all this was a simple as that!
If YOU'RE thinking about any sort of imprint of YOUR OWN on either standard or custom Portfolio Boxes / Museum Cases / or Binders, then give Archival Methods a call. It will add a distinct "COOL (& PROFESSIONAL!) FACTOR" to your presentations!
Setting up the die for my custom imprints was an exacting process (see pix above), accomplished by a knowledgeable Archival Methods staff with DECADES of experience.
Yeah, I'll admit it, I was standing there at Archival Methods (to shoot these pix) and I was—quite literally—holding my breath.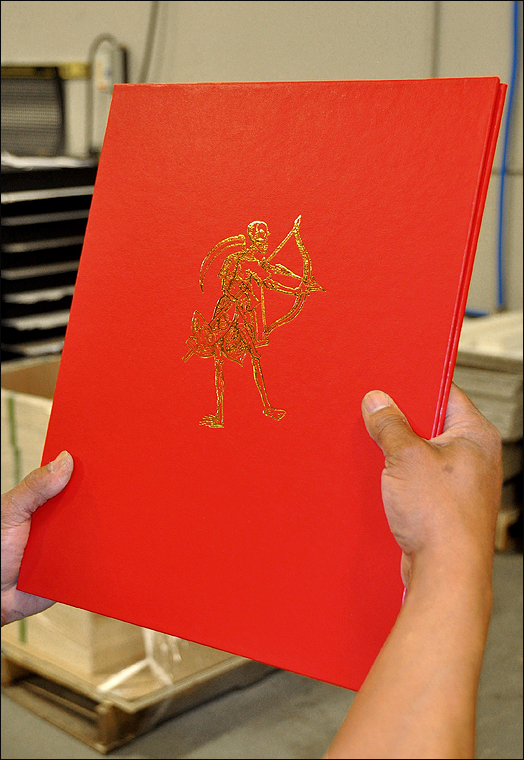 Got only one word for this result, folks: BOOM!
PERFECT!
And all that breath-holding? Yeah, it was unnecessary, as these guys are absolute PROS!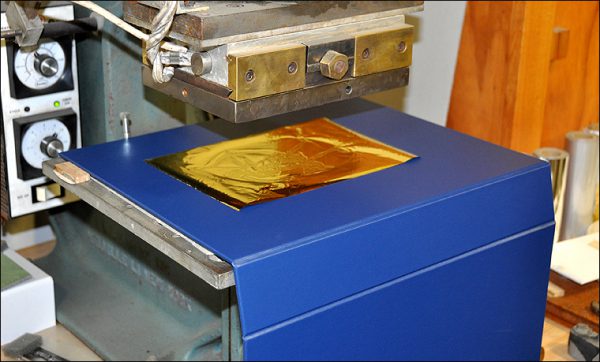 Now, I ended up ordering my custom imprints on RED custom-sized binders, but for the sake of this blog the gracious folks at Archival Methods made a few others so that you can see what these custom imprints might look like on different colored binders.
And while I chose a GOLD foil imprint, all sorts of other foil colors were available in either a GLOSSY (such as my gold imprint) or a MATTE finish.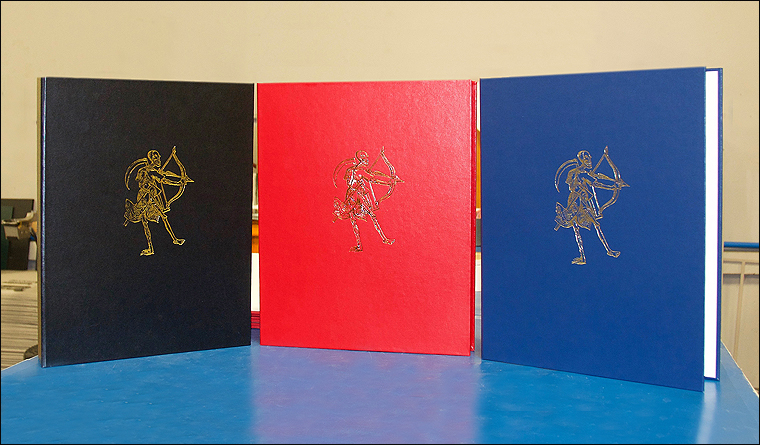 Wow!
Many different colored foils are also available, in glossy or matte finishes. Very cool!
(Please click on the image for more information.)
So, with my beautiful new custom binders with custom imprints under my arm, I was COMPLETELY READY to head out to my presentation (see pix below).
All this allowed me to make a TRULY GREAT & PROFESSIONAL "first impression"—the same sort of great impression YOU can make while presenting YOUR OWN artwork or photographs.
Just follow the ideas expressed in this blog and threat whatever it is that YOU'RE presenting in the best way possible. People will REALLY appreciate it, and you'll be on your way!
---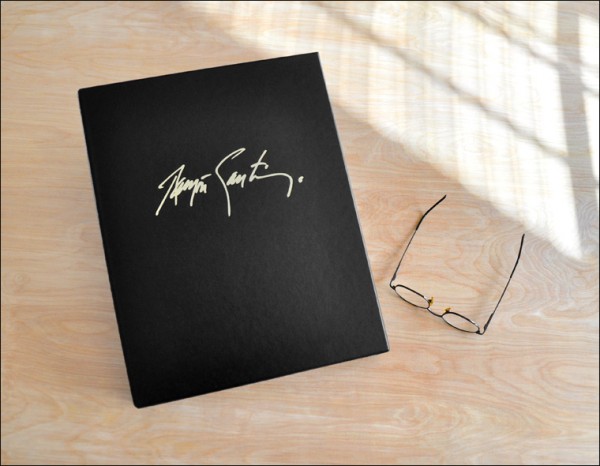 Museum-quality Onyx Portfolio Boxes (and MANY OTHER fine boxes & binders) can be imprinted with almost ANYTHING you'd like!
(Please click on either image for more information.) 
In closing, before we leave this blog that focuses on MY PARTICULAR custom imprints on my MY PARTICULAR binders, I need to mention once again that YOUR OWN imprints can be placed on ALL SORTS of both custom & off-the-shelf Portfolio Boxes / Museum-Solander Cases / Digital Print Folios / Museum Drop Front Boxes / and more (see pix above)!
If this is something YOU'VE always wanted for YOUR OWN portfolios or presentations, give Archival Methods a call or shoot them an email for more information. You'll be glad you did!
---
Contact Us
If you have any additional questions on custom manufacturing or imprinting to meet YOUR specific needs, or would you like more information on any of our museum-quality archival storage and presentation materials, please contact us here at Archival Methods. We're always there to help with any archiving, storage, or presentation questions you may have.
---