Organizing and storing CDs and DVDs can be a challenge, especially when you need to find that critical disc quickly. To remedy this situation, Archival Methods has created our exclusive CD/DVD Storage Kits to allow you to easily organize your collection for both safe archival storage and quick retrieval.
These versatile kits will allow you to store both CD/DVDs in jewel cases and discs in sleeves. One version of the kit comes with archival sleeves.
Each of the kit's three acid-free caddies will hold 9 CD/DVDs in standard jewel cases, or up to 40 CD/DVDs in sleeves. This allows the complete kit to hold between 27 and 120 CD/DVDs, depending on how they are housed.
Archival Methods offers two types of CD/DVD Storage Kits. While both include an acid-free Black Short Top Box and three CD/DVD caddies, one kit also includes 100 archival CD/DVD Storage Sleeves.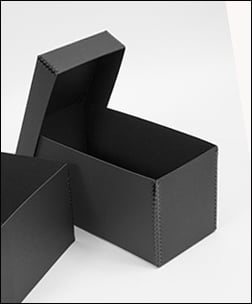 Black Short Top Box
The archival Black Short Top Box that comes with each kit is made of textured black paper laminated onto an acid-free, lignin-free black core.
The color dyes are light-fast and will not fade, and are non-bleeding should your box inadvertently come into contact with moisture.
As with all of our Metal Edge Boxes, the metal corner clamps are anti-corrosion treated with a black polyester coating with a wax-free polyester finish on the blind side. These tough, workhorse clamps provide both rigidity and high stacking strength, so you can rest assured that your important CDs and DVDs will be safe and secure!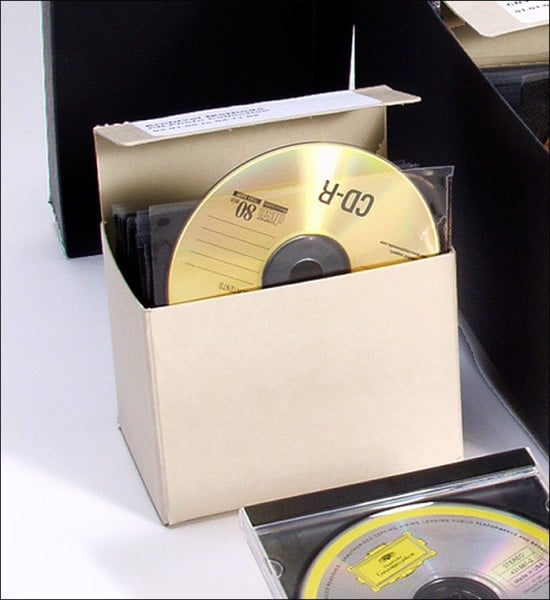 Three CD/DVD Caddies 
Each caddy is made of tan acid-free board, and has a top lip where you can add written or printed notes regarding the contents. Each caddy will hold 9 CDs/DVDs in standard CD jewel cases, or up to 40 CDs/DVDs in sleeves.
Package of 100 CD/DVD Sleeves with Black Liner
Available as an option with one of our two CD/DVD Storage Kits, these CD/DVD Storage Sleeves are significantly less bulky than jewel cases, allowing you to store up to 120 sleeved discs per kit.
These inert polypropylene sleeves have a clear front and feature an interior non-woven divider and will hold two discs per sleeve. The black non-woven, static-resistant fabric on the back of each sleeve is a clean-room material that will not shed or form lint. Any dirt that inadvertently enters the sleeve will fall through the fabric and become trapped away from the disc where it cannot scratch the play surface.
Don't risk damage or loss of your important CDs and DVDs! Organize them with the versatile Archival Methods' CD/DVD Storage Kit that's right for you. Each will give you years of elegant, practical service while also providing you with the peace-of-mind that your materials are safely and archivally protected! 
Contact Us
If you have any additional questions on preserving your collections, or would you like more information on any of our museum-quality archival storage and presentation materials, please contact us here at Archival Methods. We're always there to help with any archiving, storage, or presentation questions you may have.