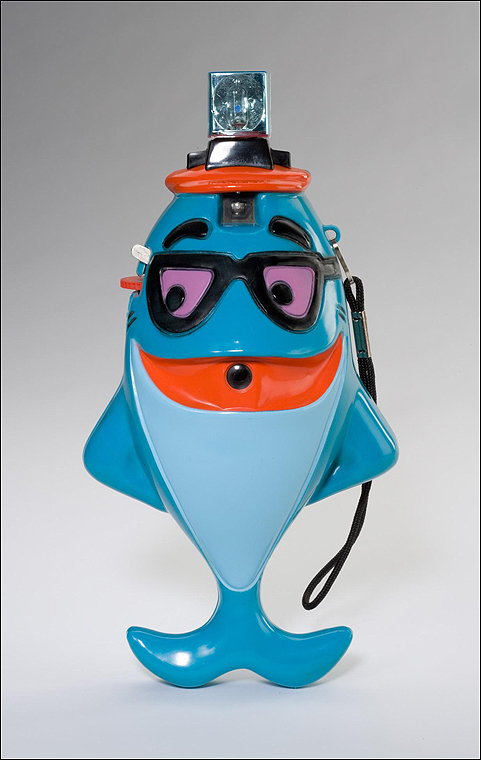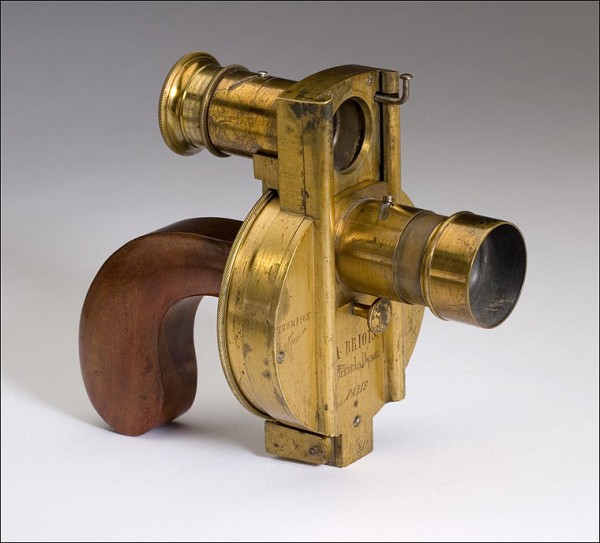 Archive Series:

Case Study –

George Eastman Museum
Camera & Technology Collection
The first blog in this series of 9 (count 'em NINE!) blogs on the George Eastman Museum (GEM for short) offered an overview of each of the collections housed there / the historic mansion & gardens / the library / the work being done in the conservation lab / its wide-ranging educational programs / and more (see pix above).
The second blog focused (no pun intended) on the Photography Collections (see pix above) and how they are deployed in various exhibition spaces / how "interpretation" works / and how cataloging and "access" to the collections via online resources offers curators, scholars, and even the general public the opportunity to experience the vast holdings of this singular, world-class museum.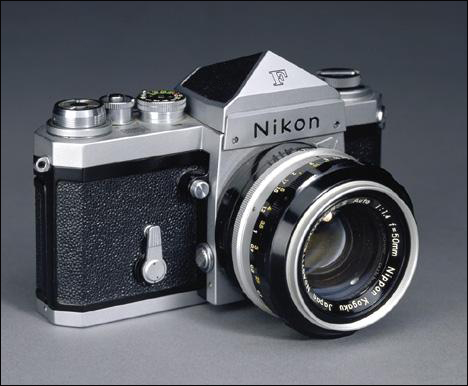 From examples of the "everyday" cameras that you, your parents, maybe even your great-grandparents owned, to the rarest 
photographic equipment, literature, and ephemera out there, the Technology Collection of the George Eastman Museum has it all!
For this third blog, based on the Technology Collection, it's time to do a few additional things:
1.) introduce you to the widely diverse holdings of the "stuff" of photographic history ("stuff" is a sophisticated art historical term, folks) held in this amazing collection
2.) step back in time and remember with you the specific camera or camera types that you, your parents, grandparents, or even great-grandparents used to make family snapshots (see pix above), back when cameras were cameras and phones were phones
3.) introduce you, along the way, to the archival practices and materials that YOU can use to preserve YOUR OWN artifacts (photographic or not, read on)
4.) sit back and enjoy all the "eye candy," as there is a ton of it (not the least of which is the Charley Tuna camera!)

On left: full-plate daguerreotype camera built in 1839 by Alphonse Giroux, Paris, France, and signed on the paper label by Daguerre.
On right: Charley Tuna camera / Mick-a-Matic camera / Spider-Man camera /  Snoopy-Matic camera / Taz Instant Polaroid camera.
(Please click on each image for more information.)
To begin, we must first define just what the "Technology Collection" actually is. Well, all you need to do is take a look at the two photographs above to begin to get the idea.
On the left is a pix of an extraordinarily rare Giroux daguerreotype camera from 1839—the same year as the "official" announcement of the invention of photography—which was purposefully placed next to the kiddie cameras on the right to illustrate the point that ALL of these artifacts of photographic history (and much more!) are part of the Technology Collection of the George Eastman Museum.
So, just who has the "to-die-for" job of administering this amazing assortment? Well, please allow me to introduce Todd Gustavson (see pix below), a veteran of 29 years amongst the seemingly endless treasures (and eye candy!) of the GEM Technology Collection.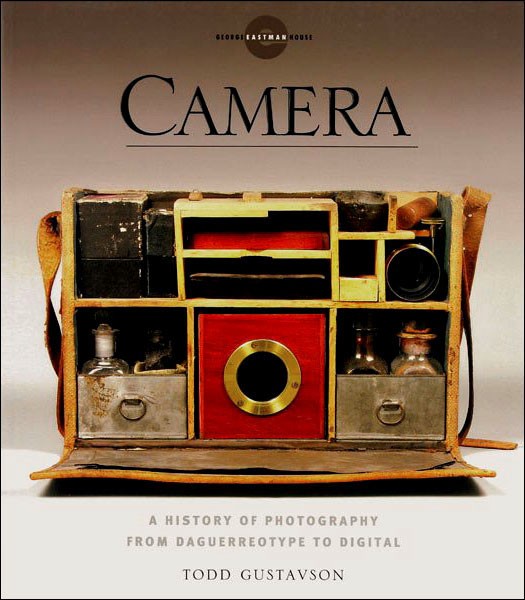 Left to right: Technology Collections curator Todd Gustavson with a film holder that was used to create the huge Colorama transparencies
that hung in Grand Central Station in New York City between 1950-1990 / Todd's 2009 book on cameras (well that figures, right folks?) /
Todd holding a 1962 prototype of the Kodak Carousel Slide Projector tray, which was made of aluminum instead of the familiar plastic. 
(Please click on each image for more information – and to order Todd's book!)
On left: Bourquin daguerreotype camera, with cast dragons, c.1845.
On right: Polaroid Land Camera Model 95, c.1948.
So, with the introductions out of the way, let's take a look at what's what.
The Technology Collection—as distinct from the Photography Collection, which oversees "images" rather than "equipment"—is comprised of various types of objects from different eras.
A good example of this is seen above in the very cool, but undoubtedly cumbersome, "Dragon" daguerrean-era camera. Beside it is a Polaroid Land Camera—which delivered a finished photograph in sixty seconds—that belonged, as the original label mounted on the front indicates, to Beaumont Newhall. Newhall was the first curator of the International Museum of Photography at George Eastman House (as it was then known). He also wrote The History of Photography: from 1839 to the Present, which was the text used in practically every photo history class of the mid- to late-20th century. It seems to "make sense" that these two aesthetically and historically important artifacts are part of the Technology Collection, but there's more (much more!).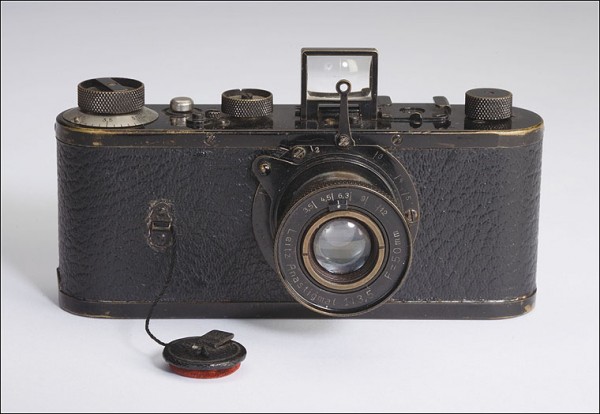 Top image: Leica 0-Series 35mm Camera, 1923. One of 25 made, and one of only 3 known to have the original Newton viewfinder.
Bottom images: Kodak No.1 Brownie Camera, 1901 / Autographic Vest Pocket Camera, c.1915 (see description below).
(Please click on each image for more information.)
While we're talking "historically important," the three cameras in the pix above certainly qualify. At the top is one of the FIRST Leica cameras, and for those who might not know, Leicas were/are considered some of the best 35mm cameras made. In fact, the eventual near-universal use of 35mm as the "go-to" film format for professionals, artists and amateur photographers alike was accelerated with the introduction of the Leica, and many important images—both historic and fine art—have been captured by photographers using Leicas.
The cameras below the Leica? Well, they just so happen to have belonged to Ansel Adams (yup, THE Ansel Adams the whole world knows). Pretty cool.

Left: Boeing / Kodak Lunar Orbiter camera payload, 1967.
Right: Kodak Picture Maker digital print kiosk, 1991.
(Please click on each image for more information.)
So, if you're starting to think that the Technology Collection at the GEM is just about the history of "familiar-looking" cameras, here are two other gems. On the left is one of the rare Lunar Orbiter cameras built by Eastman Kodak. These were intended to photograph the surface of the moon ahead of the Apollo moon landings in order to give NASA scientists a sense of both where the safest landing zones might be for the then-untested Lunar Module, and which areas of the moon might offer greater opportunities for the more complex, science-oriented missions that occurred later in the Apollo program.
(Please click here to see Todd narrating a short, cool, GEM-produced video on this unique camera, and click here to read the fascinating story on the ongoing Lunar Orbiter Image Recovery Project which involves the restoration and preservation of original images from the five Lunar Orbiter missions.)
On the right is a typical photo kiosk that might have been found in any chain drugstore in the 1990s, one that ingeniously incorporated a flatbed scanner and front-loading ports that accepted 3.5-inch floppy disks (remember those, folks?) / a Photo CD / or a DAT tape, all of which could be used to upload digital images and snapshots and print them on relatively stable, water-resistant photo paper.
(Please click here to see our fully-illustrated blog on the importance of printing & preserving YOUR digital images, and please click here to see our blog on preserving YOUR snapshots and here to see our blog on preserving YOUR family photo albums.)
Yet why on earth (no pun intended) have I placed these two artifacts next to each other? One—the Lunar Orbiter camera—is as rare as they come, and the other—a picture kiosk—was as common as a streetcorner drugstore.
Well, in a nutshell, BOTH represent significant aspects of the history of photography, and each rightfully belongs in the Technology Collection of the George Eastman Museum!
  
Left: Image from Lunar Orbiter 1, August 1966.
Right: Snapshot of biker dudes at a 4th of July party.
Guess which pix is more important to dear old Aunt Martha (see below).
(Please click on each image for more information on the Lunar Orbiter 1 mission [left] / preserving your 4th of July—and year round—memories [right].)
The rare Lunar Orbiter camera changed history by doing its part in allowing mankind to step on another world for the first time, while the ubiquitous picture kiosk allowed the rest of us to print records of our everyday life that are cherished today, and will be for a lifetime—and beyond! (That's what "archival preservation" is all about—click here for more info.).
In some ways, and while not trying to go overboard here folks, picture kiosks, like the first Kodak cameras, had a significantly more wide-ranging impact on everyday life—even if only on a personal basis—than all the Lunar Orbiter cameras combined!
'Nuff said.
---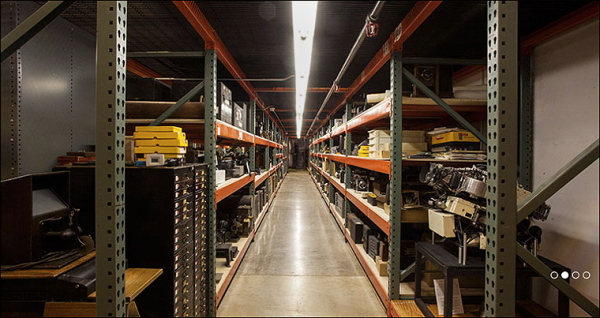 Yeah, it's clear that the Technology Collection is certainly much more than just cameras & lenses and such (see top pix, above), and while we're on the subject of the seemingly mundane (i.e. a common picture kiosk), other fascinating objects and artifacts also dwell deep in the Collection's vault (yup, that's what they call it – see bottom pix, above).
Take, for example, both of these:
Ok, ok, maybe this ad for a darkroom chemistry graduate and a glass graduate itself aren't as sexy (actually, they're not) as some of the other cool hardware and cameras in the collection (yeah, I'm talkin' about the Charley Tuna camera, and click here for our fully-illustrated blog on Preserving Old Toys), yet the "ephemera" of the history of photography DOES have a place in the collection, and rightly so.
It is from this material that researchers can gain a better understanding of the "everyday" aspects of photography, both professional and amateur, as well as other societal or cultural trends and signposts.
As case in point, take a look below at the two Kodak camera ads from 1923 and 1963, respectively: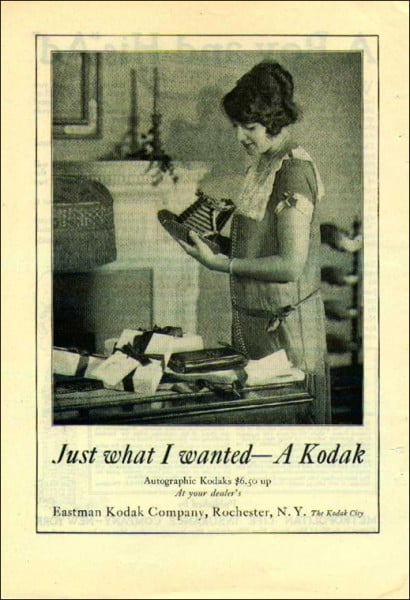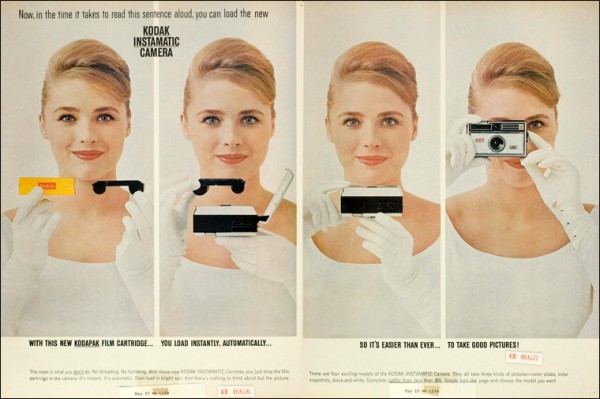 Left: Magazine advertisement for the Kodak Autographic Camera, December, 1923.
Right: Life magazine advertisement for the Kodak Instamatic Camera, May 10, 1963.
Above and beyond documenting the types of cameras these ads were trying to sell, these two advertisements, separated by 40 years, tell us a lot about the style, dress, and even the way women wore their hair during each era. Yet perhaps more importantly—at least to cultural anthropologists, and believe me they're out there—there are also both subtle and overt aspects of "cultural comportment" displayed by the two women in these ads.
The woman from the 1960s ad exudes a contemporary self-assuredness that seems missing from the woman from the 1920s ad, who only three years earlier didn't even have the right to vote. There is also a sense of domesticity in the camera ad from 1923, which is diametrically opposed to the Mad Men-esque sophistication of the camera ad from the early 1960s.
Yet while I may be going into the weeds a bit here, folks, the bottom line is "if the George Eastman Museum hadn't preserved these two ads, who would have?"
(Do YOU need to archivally preserve YOUR OWN magazines and newspapers from your collection or family archive? Click here to check out our fully-illustrated blog on the topic, and do it like the pros!)

(Please click on either image for more information.)
Since Todd is in charge of all the "technology" in the George Eastman Museum's collection—everything from cameras / lenses / darkroom equipment / motion picture cameras and projectors / digital imaging equipment (more on that below) / films & photographic printing papers / even the "posing chairs" from 19th-century photography studios—it makes sense that he is also in charge of the zillions of camera manuals / instruction booklets / advertisements (see pix above) / letters & correspondences / contracts / patent documents / and other paper ephemera that collectively form an integral part in the development, growth and dissemination of photography in all its forms.
To store this material, the GEM has what are known as "compressed information storage files" that hold row after row of acid-free / archival file storage boxes (see pix above). And by the way, "compressed" simply means that these large shelving units, which move on recessed floor tracks, slide together in order to take up the least amount of physical space while offering the largest amount of easily accessible shelf space.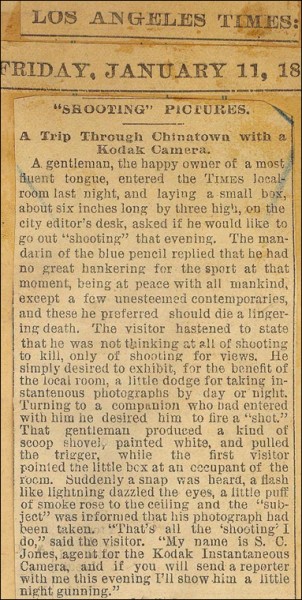 Left: Patent for a panoramic camera, from India, 1905. (Please click on that image for our blog on archivally preserving old letters.)
Center: Advertisement for a No.1 Pocket Kodak Camera. (Please click on that image for information on storing old magazines.)
Right: Yellowing (due to internal acids) newspaper clipping promoting the first Kodak camera, from the Los Angeles Times, January 11, 1889.
(Please click on that image for our blog on preserving old newspapers and clippings.)
By storing such one-of-a-kind—and often quite fragile—paper ephemera in acid-free file folders placed within archival file boxes, all of these various types of artifacts are logically arranged, easily accessible, and archivally secure for generations to come. 
And if, by some weird alignment of the planets, I were given the task of describing just HOW such material SHOULD be stored (YOURS TOO!), I simply wouldn't have to—cuz I just did!
In addition to all the "stand-alone" cameras, lenses and paper ephemera we've just discussed, Todd is also in charge of keeping track of, and safely storing(!), all sorts of smaller items like the glass darkroom chemistry measuring graduate pictured above. These are kept in individual archival enclosures, either bags or boxes, and then placed in well organized bins within shelving units (see pix above) that offer easy accessibility while keeping such smaller artifacts organized and out-of-the-way in the larger vault that houses the Technology Collection.
Amongst all this photography-related "stuff" (there's that sophisticated art historical term again, folks), are materials that fall under the umbrella of "sensitized materials." This includes all sorts of films and photographic printing papers that come in a variety of shapes and sizes, from all the major manufacturers, all different eras of production, and all different regions of the world.
The pix above shows an assortment of different types of camera films including 35mm / motion picture / black & white / color negative film / color transparency film / and familiar brand names such as Kodachrome, Kodacolor, Tri-X, and Ektachrome.
This small, self-contained display was created as part of a GEM exhibition entitled Innovation In the Imaging Capital. If you think about it, as Todd related to me, the level of expertise and the unbelievable sophistication that HAD to be in place to mass produce enormous quantities of consistently uniform film simply boggles the mind. Much of the chemical and mechanical expertise that helped make photography the "universal language" came down to the skill and foresight of the Kodak Research Labs, which were founded in Rochester, NY, in 1912. It was there that George Eastman's engineers perfected the materials and procedures of what became "the Kodak Century." In fact, as Todd told me, Eastman himself had said that "Who ever owns color films owns the photographic century."
If ya think about it, in spite of what transpired with the rise of digital photography and the decline of Kodak, that statement was resoundingly true.
---
Speaking of digital photography, the pix above (shot with a digital camera, by the way) includes a number of old-school glass plate and film cameras on the top shelf, and a host of newer digital cameras—including a camera-enhanced flip phone—on the bottom shelf.
What a great way to segue from the antique worlds of wood cameras, leather bellows and brass lenses into the contemporary universe of digital photography.

Top left: Nikon camera with a prototype M1 sensor, the first of its kind, 1990
Top right: Nikon camera outfitted with an updated M3 sensor, 1990
Bottom: pre-production DCS (Digital Camera System) prototype camera back next to a production model DCS
Yup, you guessed it. The Technology Collection holds a number of pioneering models of early digital camera backs, sensors, and related output & image transmission devices. These include examples of both contemporary off-the-shelf consumer cameras, as well as some of the prototypes and early production models of what, after 2005, would come to dominate the worlds (plural on purpose) of everyday snapshooters, serious amateurs, seasoned pros, and everything in between.
If it's photography-related, more than likely the George Eastman Museum has it—analog, digital … and Charley Tuna!
---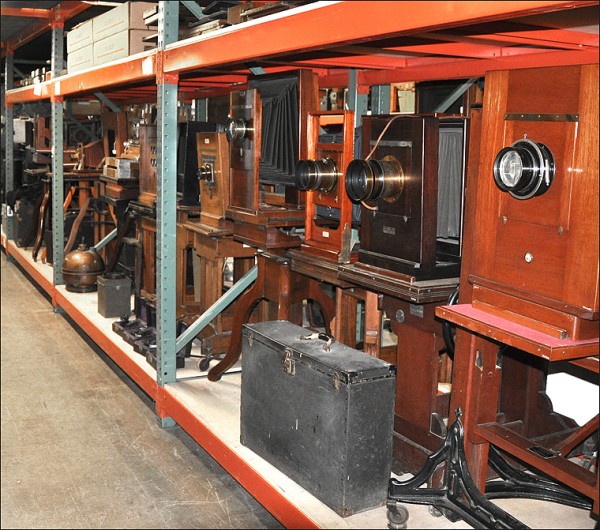 So, in closing our little tour of the treasures of the Technology Collection, I would like to share with you the answers to three short questions I asked Todd Gustavson, seeing as he has been immersed in this "stuff" (that's a sophisticated…ok, nevermind) for almost 30 years.
The questions I asked him were rather simple, yet the answers he gave hold all sorts of significant importance:
"What, in your opinion, are the MOST significant artifacts in the Technology Collection from the 19th century? / the 20th century? / the 21st century?"
Here, ladies and gentlemen, are Todd's extraordinarily well-informed answers:
The 19th Century Artifact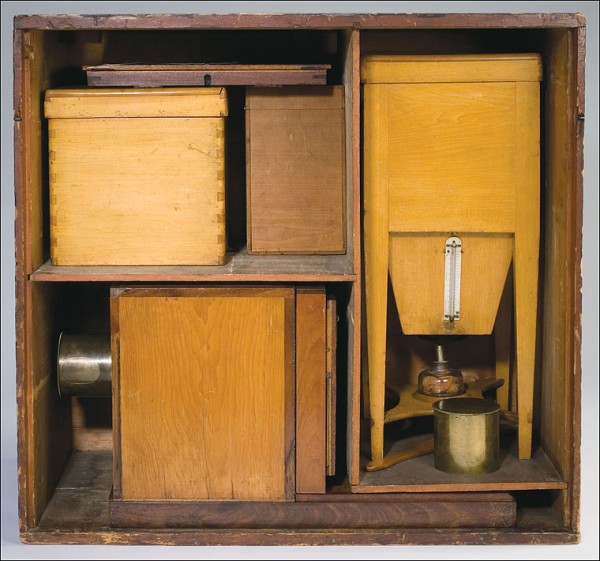 Full-plate daguerreotype camera and related equipment purchased by American S.A. Bemis in 1840.
(Please click on either image for GEM's short video on the daguerreotype process.)
While the exceeding rare full-plate daguerreotype camera built in 1839 by Alphonse Giroux and signed on the paper label by Daguerre himself (see pix at the top of this blog) would certainly be in the running for most important 19th century artifact in the Technology Collection, Todd's choice was the daguerreotype camera ensemble pictured above, which was purchased by American photographer S.A. Bemis in 1840. 
The reason for this choice is that this grouping is completely intact: it includes the daguerreotype camera, lens, the plate holder, the iodine fuming box for sensitizing the daguerreotype plates, the mercury fuming box for developing the plates, the original wooden crate the entire set came in, and even the RECEIPT for its original purchase! This makes this particular artifact unique amongst the treasures of the collection, one that can be seen, metaphorically speaking, as the precursor to EVERYTHING ELSE that happened in American (and worldwide) photography.
(Please click here to see our fully-illustrated blog on all the different kinds of acid-free storage boxes that YOU can use to store three-dimensional objects in YOUR collection or family archive.)
The 20th Century Artifact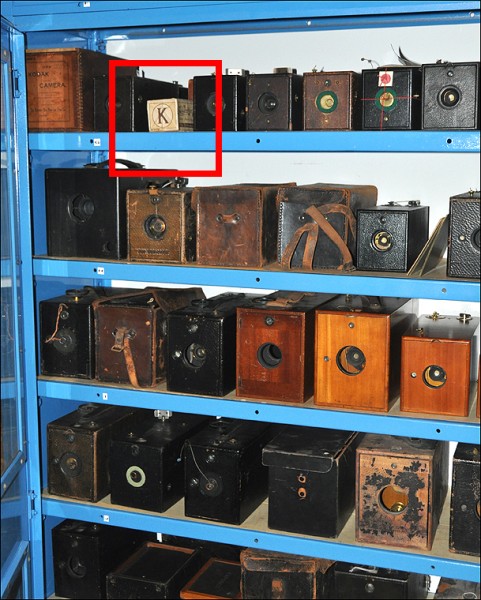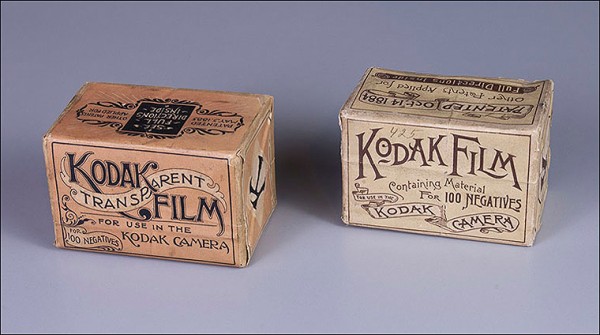 On left: examples of the earliest Kodak box cameras, 1888 and later. The red box encloses the film for the first 1888 Kodak cameras
On right: two unopened boxes of the first Kodak films, one of three (left) and the ONLY one (right) known to exist.
(Please click on either image for GEM's short video on silver gelatin film and paper.)
For all the amazing and historically important 20th century objects and ephemera that reside in the GEM's Technology Collection, Todd picked the recently acquired roll of film on the left in the right-hand pix above as THE most important artifact, as it is perhaps the ONLY unopened example of the very first roll film created in 1888 by Eastman Kodak when the firm was first starting out. 
Now, while "technically" a 19th century artifact, Todd's reason for selecting this item as important to the 20th century was based on this roll of film's symbolic role in shaping the entire 20th century in terms of both the world-changing technologies pioneered by Kodak and other companies in the creation of subsequent photographic materials and, just as importantly, the meteoric growth of "amateur" film and camera markets that followed the introduction of this film that would allow EVERYONE access to the magic and memories of photography, changing the world forever. Excellent choice!
The 21st Century Artifact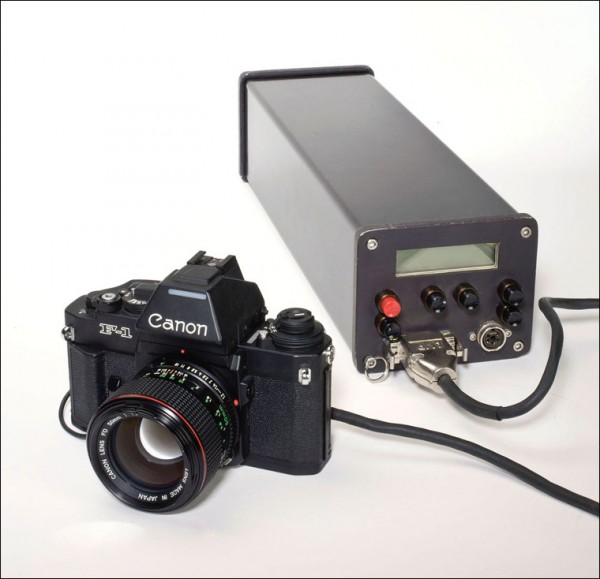 Tactical Camera, the earliest known DSLR, 1988
(Please click on the image for GEM's short video on digital photography.)
Well, ya can't discuss 21st century culture and society without addressing digital photography, and the camera set-up pictured above was one of the first to launch what we now take for granted—the ability to effortlessly (and instantly!) make and share digital photographs of practically everything that is important to us. So even though this camera system was built in the 20th century, its long-range impact was in setting the stage for the 21st.
The Tactical Camera is the earliest known digital single-lens reflex camera (DSLR), and was comprised of a Canon F-1 camera modified with a back that contained Kodak's first M1 monochromatic imaging sensor, all supported by a tethered image storage system.
What makes this ground-breaking camera system important is represented by the fact that all this technology, increased by orders of magnitude and decreased in size, now resides in everyone's phone, everywhere in the world—including YOURS!
(Please click here to see our fully-illustrated blog on the ABSOLUTE(!!!) importance of printing and preserving YOUR OWN digital images, something that most people NEVER do!)
---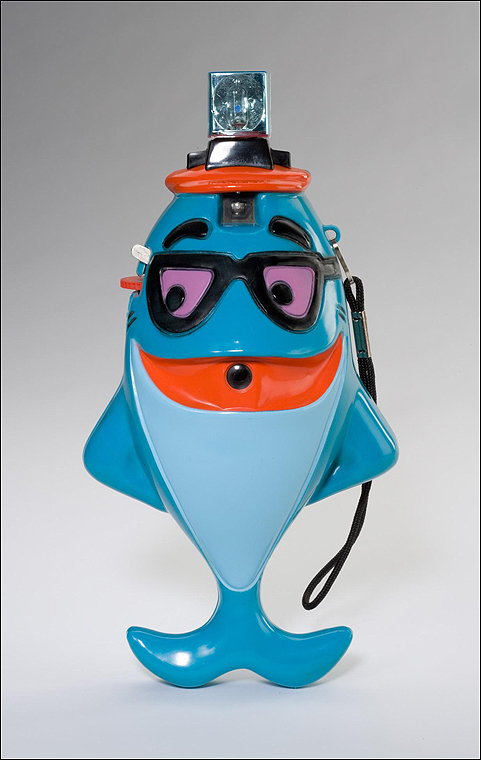 (Please click on the images for more information.)
So, there you have it, folks. 
With our tour complete I have only to ask you a few quick favors:
1.) check back often to see the new blogs in our 9-part series on the wonderful George Eastman Museum (see list below).
2.) consider visiting the GEM here in Rochester, New York (more information is at the bottom of this blog).
3.) consider becoming a MEMBER of the George Eastman Museum. It absolutely deserves your support!
4.) check out our full line of illustrated blogs to archivally preserve & protect YOUR photographs, family archives and collections!
---
George Eastman Museum: 

Upcoming Blogs
  • An Overview 
         (a quick look at everything the George Eastman Museum has to offer)
  • Photography Collection 
         (from photography's pre-history up to the most recent digital images and photographic artwork)
  • Technology Collection 
         (you're here now)
  • Moving Image Collection 
         (from the earliest films up to today's most recent motion pictures)
  • George Eastman Mansion / Historic Landscape & Gardens 
         (truly magnificent reflections on the life and times of George Eastman)
  • Richard and Ronay Menschel Library 
         (from one-of-a-kind treatises on early photography to mass circulation books, journals and magazines)
  • Educational Programming 
         (from local school tours, to workshops on antique processes, to world-class degree programs)
  • Archival Practices 
         (the teamwork, procedures and archival materials used for different images, objects and entire collections)
  • Following a New Photographic Acquisition 
         (a fascinating journey from initial intake, to accessing, to cataloging, and to preservation)
---
Contact Us
If you have any additional questions on preserving your collections, or would you like more information on any of our museum-quality archival storage and presentation materials, please contact us here at Archival Methods. We're always there to help with any archiving, storage, or presentation questions you may have.
We would also like to encourage you to follow us on Twitter, Facebook, Pinterest, and our large selection of informative and crisply-illustrated (and often humorous!) blogs for up-to-the-minute information, Archival Solutions of the Week (take a look at this archive for more info!), and stories of interest. Likewise, our exclusive short videos illustrate many of the archival products and procedures that you may wish to "see in action," so please take a look!
Lastly, we would like to encourage you to click here to sign up for weekly emails alerting you to our Archival Solution of the Week blogs! It's easy & fast, and usually saves you 15%!
---