Archival Solution of the Week:

Economical & Practical Binder-in-a-Box
Archival Methods' unique Binder-in-a-Box combines the protection of an acid-free metal edged box with the utility and convenience of an archival ring binder!
Constructed of durable ArchivalGrade BoxBoard – and available in FOUR different colors! (see pix above) – our Binder-in-a-Box is a multi-purpose storage solution that offers ease-of-use, economical practicality, and assured archival quality!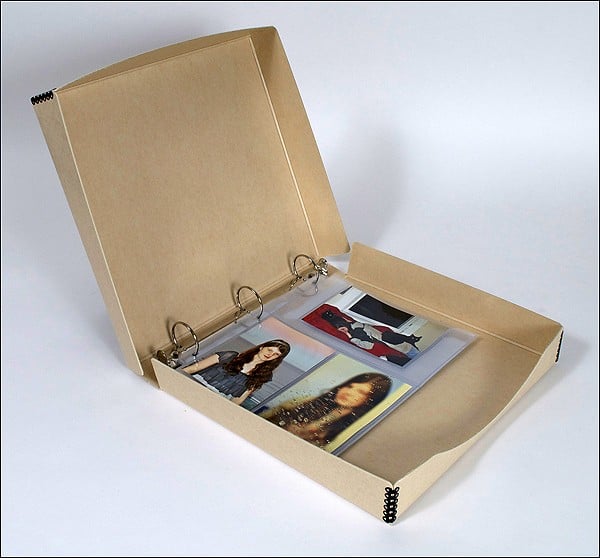 While well-suited for acid-free photo organization, filing, storage and display (see pix above), our Binder-in-a-Box can also be used for genealogical records, 35mm slides (see pix below), important papers & letters, postcards, CDs & DVDs, and practically ANY collectables one might otherwise store in a "standard" binder.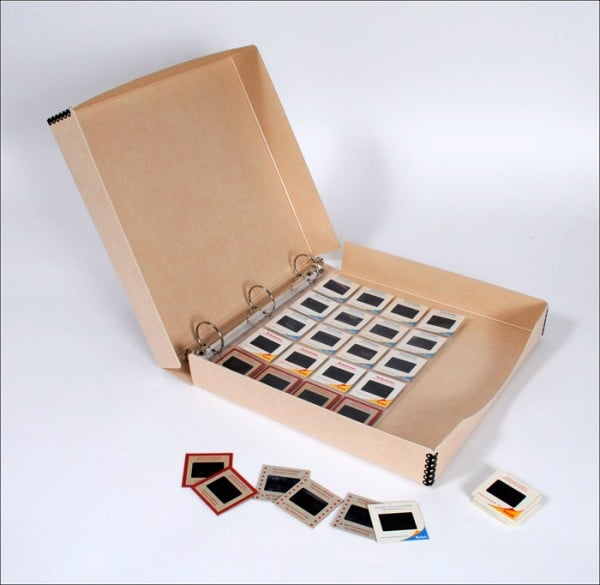 In addition to being a great "long-term" storage solution, the rugged design of Archival Methods' Binder-in-a-Box also lends itself well to "active storage" of collections that are used frequently – even on a day-to-day basis – by family members, collectors, genealogists, students, researchers, and archivists.
Binder-in-a-Box:

The Specs
The 1-1/2 inch O-Rings of our Binder-in-a-Box provide the storage capabilities of a secure BINDER, while the BOX enclosure itself provides much greater protection from dust, dirt and other environmental pollutants than standard, "open" 3-ring binders.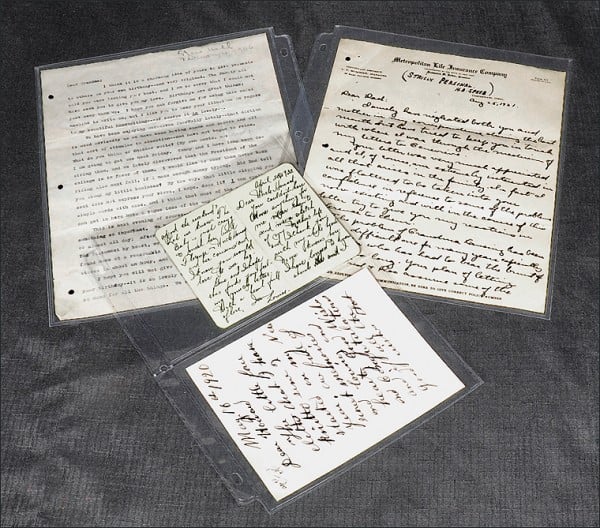 Left to right: important letters and notes from the family genealogy archive / collectible first day covers of envelopes signed by Apollo moon mission astronauts. Such important artifacts can be easily stored in a variety of archivally safe 3-ring pages, and then placed in our Binder-in-a-Box for both quick access and long term acid-free protection. (Please click on each image for more information, and please click here to see our illustrated blog on Preserving Old Letters in the Digital Age / please click here to see our illustrated blog on Historic Signatures: Preserving Signed Artifacts.)
Our Binder-in-a-Box accommodates ALL of Archival Methods' 3-ring page formats (see pix above), up to and including 10-1/2 x 12-1/2 inch sizes.
The clamshell design offers double wall protection, while the cutaway side provides easy access for page turning. The rust-proof black metal corners provide excellent stacking strength, and the embossed labeling area on each box accurately and consistently locates and positions standard pressure-sensitive (PSA) identification labels.
As mentioned, Archival Methods' Binder-in-a-Box is available in FOUR distinctive colors to perfectly match your tastes and decor (see pix above):
          •  Tan (smooth plate finish / white acid-free interior & core)
          •  Gray (smooth plate finish / white acid-free interior & core)
          •  Black (laminated black textured finish / black acid-free interior & core)
          •  Matte White (laminated white smooth-textured & water-resistant finish / gray acid-free interior & core)
All of the color dyes used in the manufacture of the ArchivalGrade BoxBoard used to make our high-quality Binder-in-a-Box are light-fast and non-bleeding.
If you're looking for a museum-quality binder that is both economical and offers the protection of a fully-closable acid-free outer box, then look no further than Archival Methods' Binder-in-a-Box! They're made with pride right here in the USA in Archival Methods' own on-site production facility, so quality workmanship is ALWAYS assured!
---
Contact Us
If you have any additional questions on preserving your collections, or would you like more information on any of our museum-quality archival storage and presentation materials, please contact us here at Archival Methods. We're always there to help with any archiving, storage, or presentation questions you may have.
We would also like to encourage you to follow us on Twitter, Facebook, Pinterest, and our large selection of informative and crisply-illustrated (and often humorous!) blogs for up-to-the-minute information, Archival Solutions of the Week (take a look at this archive for more info!), and stories of interest. Likewise, our exclusive short videos illustrate many of the archival products and procedures that you may wish to "see in action," so please take a look!
Lastly, we would like to encourage you to click here to sign up for weekly emails alerting you to our Archival Solution of the Week blogs! It's easy & fast, and usually saves you 15%!
---