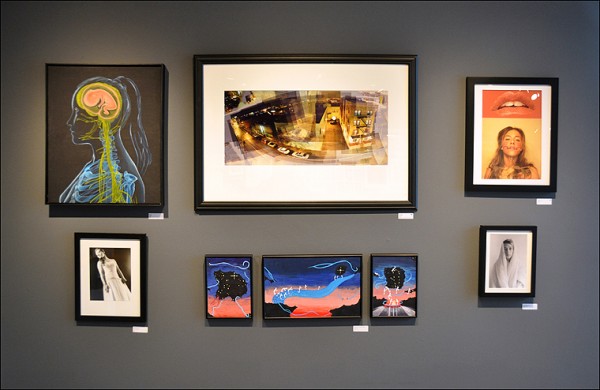 Student Shows & Final Crits:

Your Art & Photography Presentation
Art and photography students – whether in high school / college / or grad school – NEED to think about this simple yet critical fact:
Your work for your final crits & student shows will look 
EXPONENTIALLY better through high-quality presentation.
As a former high school & college photo instructor, as a former gallery director, and as a current high-end photo/art book publisher, I KNOW what I'm talking about here, folks!
So, the time has come to REALLY think about it:
~ You've spent COUNTLESS hours in the studio, computer lab, darkroom, classroom, or out in the world.
~ Now is the time for pulling together your VERY BEST work for presentation in student shows & final crits  
    (and job interviews! – don't forget those all-important job interviews!).
~ Now is the time to think about the THREE RULES of art and photography:
• Presentation
• Presentation
• Presentation
This being the case….
~ Now is the time for elegantly MATTING your key work for presentation during your final crits and shows.
~ Now is the time for FRAMING your best work for this year's student shows.
~ Now is the time for selecting stunning PORTFOLIO BOXES & PRESENTATION FOLIOS to enhance your work.
So, with all this being the case, just how does one get from HERE …
… to HERE!!!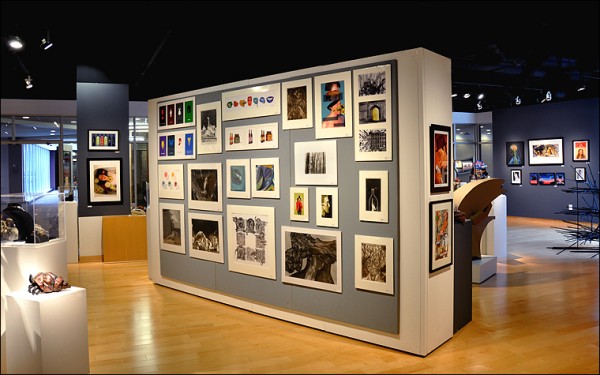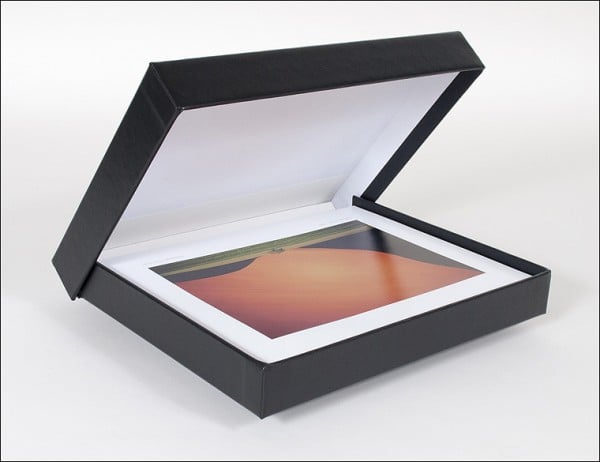 Nothing sends the message to your instructors that you "get it" better than presenting your very best work in perfect archival mats, presented in an elegant portfolio box or presentation folio. Boom! (Please click on each image for more information.)
---
Student Shows & Final Crits:
A True-to-Life Case Study
My bro Greg Jones (I'm his grad advisor) isn't even out of graduate school, yet and he's already publishing photo books & running In the In-Between / Journal of Digital Imaging Artists. Check it out!
Greg's studio space, complete with piles of unedited work prints ahead of final selections / matting / framing / portfolio assembly / thesis show / final crits.
---
Student Shows & Final Crits:

Perfect Matting
No matter what type of photography you do …
digital    •   silver gelatin    •   color    •   black & white    •   alternative process   •   antique processes
Or what type of two-dimensional artwork you're working with …
drawings   •   watercolors    •   prints   •   charcoal sketches   •  pastels    •   collage   •   mixed media
… the elegant enhancement of your work begins with a PERFECT(!!!) mat.
   
Some of Greg Jones' work, which is comprised of screen grabs of news events and other culturally important images and moments that he manipulates
and sequences to create new meaning. A great matting job (see pix on the right) enhances ANY work!
How hard is great-looking archival matting? It's a piece of cake! Just check out this series of Matting blogs, which we've broken down into 6 well-illustrated parts that explain EVERYTHING you need to know to get the perfect mats to enhance your work:
   • Part 1: Good Mats / Bad Mats – The Overall Philosophy of Matting
   • Part 2: Choosing the Best Colors and Mat Board Thickness for Your Piece
   • Part 3: Outside Measurements / Inside Window Measurements / Cropping
   • Part 4: "Centered" or "Weighted" Mats
   • Part 5: Hinging Your Mat Board
   • Part 6: Other Precut and Custom Mat Cutting Options and Services
As a follow up to our Matting Series, our illustrated blog on Mounting Your Work offers quick and easy-to-follow methods for ABSOLUTELY NAILING IT, whatever medium you're working in and need to mount.
(Please click on each pix for more information.)
---
Student Shows & Final Crits:

Perfect Framing
Many, if not most, student art shows suggest—if not require—that your artwork or photographs be FRAMED. Sure, you could run your work out to a local frame shop, but why not save time / money / hassle and DO IT YOURSELF!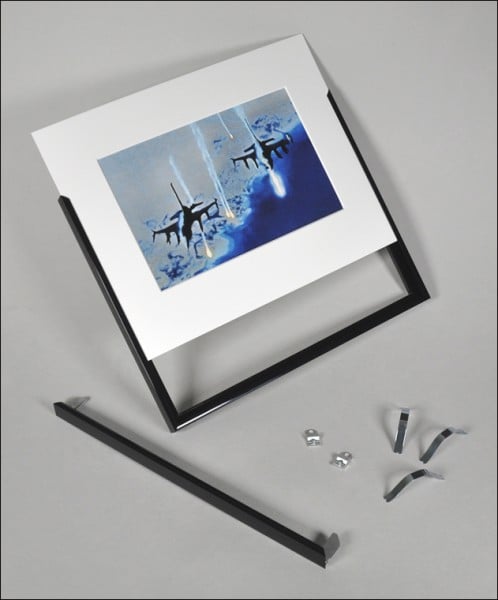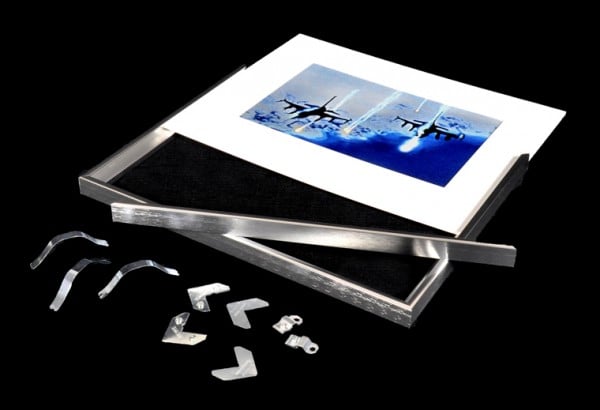 One of Greg's screen grabs in standard-sized black (left) and silver (right) metal frame kits. These are SO easy to assemble, and add SO much class!
(Please click on each image for more information.)
It's actually easy & quick to elegantly frame your artwork and photographs with either standard-sized or custom-cut metal frames, available in a number of profiles and colors (see pix below). For more info, check out this illustrated blog on Framing Art for an Elegant and Professional Look.
Want to REALLY stand out? Think about going with wood! But let's face it, folks, wood frames are often:

          1) expensive 
          2) hard to assemble yourself
          3) not built for re-use
          4) expensive (or did I already say that?)
None of these factors is the case with Gallery 12 Wood Frames. These cool and easy-to-assemble wood frames are perfect for setting your stuff apart from the crowd. They are elegant and sophisticated, they come in three different colors/finishes and a number of standard sizes, they won't break your budget, they can be easily assembled with only a phillips-head screwdriver, and they can be quickly disassembled and used over and over again. Boom!
  
Gallery 12 Wood Frames include the frame / UV-shielding glazing / backing board / hanging hardware / picture wire.
(Please click on the images for more information.)
---
Student Shows & Final Crits: 

Porfolios and Presentation Folios
OK, time to check the ol' checklist:
            • your work for the semester / entire year has been completed – check
            • your best work has been edited & selected – check
            • your best work has been perfectly (and archivally!) matted & mounted – check
            • your matted pieces have been framed for the student show – check
Now it's time for your final crits!!!
As mentioned above, NOTHING says you've "arrived" and that you "get it" better than presenting your final portfolios in stunning portfolio boxes, presentation folios, or beautiful high-class drop-front boxes.
From Left to right:  1-1/2″ Drop Front Boxes  /  Museum Drop Front Box  /  Digital Print Folio  
(Please click on each image for more information.)
Whether you're presenting photographs or any other type of 2-dimensional artwork (see list above), a great presentation will enhance your work's "presence," that elusive quality that telegraphs to your instructors (and potential employers!) that you understand the value of valuing your work. Sure, having a nice presentation portfolio will make your work really sing, as it will all look really great, but it also communicates this crazy intangible sense of "quality" that will also shine through. The result? A fine, concise portfolio of your best work showcased in the best way possible. Yup, you've ARRIVED!
As a final note, all of what I've just written about is not just what your instructors want to see, it's what the world actually demands! I've been doing this sort of stuff for a long time, folks, so trust me on this one!
It is, in a nutshell, expected.
For more information on just which portfolios boxes and presentation mechanisms are right for you, check out these two illustrated blogs:
            • Your Professional Portfolio / Part 3 / Portfolio Boxes, Cases, Folios 
            • Your Professional Portfolio / Part 4 / Art Carrying Cases and Transport Options.
And with that (and without wanting to sound like some windbag graduation speaker!), we here at Archival Methods wish you the very best of luck with everything you are doing (and gonna do!) with your photography and your artwork. We hope you will come to see us as a valuable resource for showcasing your stuff now, and for all your future endeavors.
Be well, and knock 'em dead during your student shows and final crits! Greg Jones is going to, and this is NOT the last you'll be hearing about him!
You can trust me on that one too, folks.
---
Contact Us
If you have any questions, or would you like more information on any of our museum-quality archival storage and presentation materials, please contact us here at Archival Methods. We're always there to help with any archiving, storage, or presentation questions you may have.
We would also like to encourage you to follow us on Twitter, Facebook, Pinterest, and our large selection of informative and crisply-illustrated (and often humorous) blogs for up-to-the-minute information, archival solutions of the week (take a look at this archive for more info!), and stories of interest.
---