Archival Methods'
Easiest

&

Most Versatile

Archival Storage Solution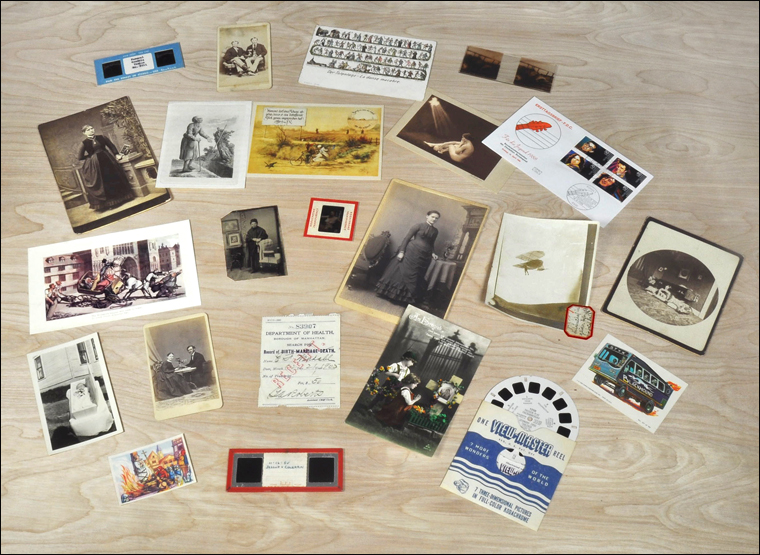 The photo above shows a variety of different antique images & artifacts—similar to some of the kinds of materials you might have—that are featured in a current book project. Placed together like this they may seem like an organizational & archival storage nightmare. Indeed, these items are all over the map in terms of size / date / media / subject matter / and photographic or printing process.
So just what can be done to quickly / easily / & inexpensively organize and safely store this material in a cohesive, accessible, "uniform" manner?
As shown in the photos above, by simply using an ensemble of just THREE compact, relatively inexpensive yet extraordinarily versatile acid-free products—Crystal Clear Bags & 2-ply Museum Board (on left) and Metal Edge Boxes (on right)—ALL the images & artifacts from the image at the top of this blog (plus over 200 others per box!) are each strategically organized for instant access and archivally stored for decades to come.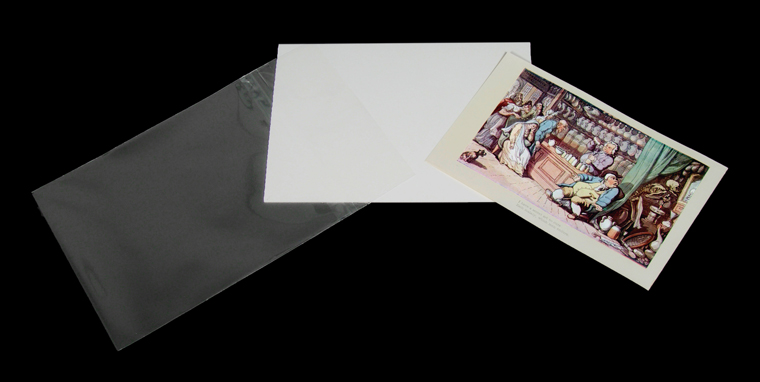 Yet why choose this particular ensemble as one of the best archival storage solutions we offer?
Like many of you, whether you're a working photographer / artist / collector / or family historian, I have a variety of different portfolios, archives and collections, and over the years I have found that this group of three products—used in unison—provides the most flexible / least expensive / & easiest to use solutions to most of my archival storage needs for the personal and professional projects I find myself working on.
Let's see how…
---
By placing each object illustrated above in its own uniformly-sized, resealable Crystal Clear Bag with a sheet of 2-ply Museum Board added for rigidity and structural support, I can handle even the most fragile items without fear of inadvertent damage, fingerprints, moisture or environmental contaminants, and can file all these images (and more!) in quick-access Metal Edge Boxes—all precisely organized for the particular project I'm working on (see photos above).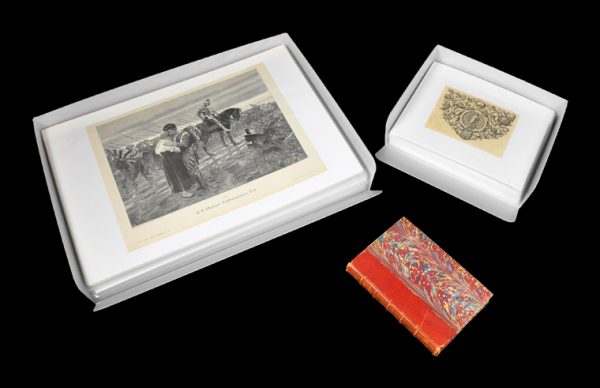 Yet this three-part ensemble of archival products is not just for small materials, as it works with all sorts of other images and flat artifacts in all kinds of shapes and sizes (see photo above), each of which can be safely stored—and easily accessed & identified!
And in terms of sheer simplicity, this process boils down to just 4 easy steps…
---
---
---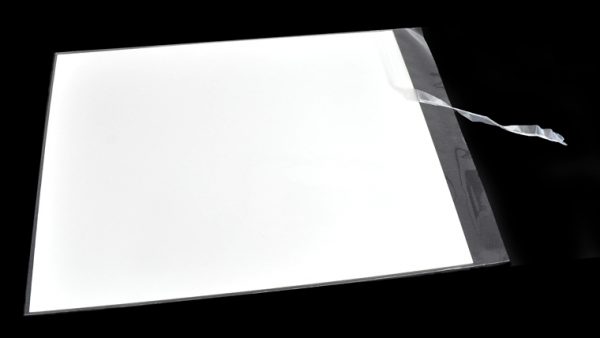 ---
---
As mentioned, this easy-to-use ensemble of museum-quality archival storage products can be used to protect and store practically all your images and flat artifacts—no matter their shape or size—including old photographs, artwork, letters, even large maps and posters when using a larger box (see photos below).
So as the title of this blog suggests, this indeed makes the combined use of these products perhaps the easiest & most versatile (and economical!) archival storage solution we offer.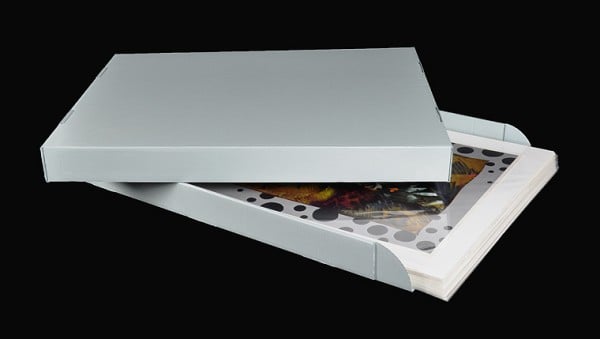 In closing, we hope you will feel free to call or email with any additional questions you may have, as we here at Archival Methods are always there with friendly, personal advice on the best ways to preserve your collections, artwork and family history.
We would also like to encourage you to follow us on Instagram, Twitter, Facebook and Pinterest for up-to-the-minute information and links to stories of interest.
---