Archival Storage Boxes Part 1 | Flat Storage
Definition: Flat Storage is for any 2-dimensional artwork, photographs, documents, maps, matted pieces, books and pamphlets, record albums, newspapers and magazines, genealogical records, musical scores, photo albums, posters or other items that should be stored flat. It is recommended that flat items should also be placed in an appropriately-sized protective enclosure such as an archival polyethylene bag, a crystal clear bag, an acid-free open-end envelope or flap envelope, or between sheets of archival interleaving tissue or paper before being placed in archival storage boxes.
(Please Note: While Onyx portfolio boxes, museum cases, museum drop front boxes and other types of more highly finished "presentation" products can be—and often are—also used for flat storage, these specific products will be covered separately in an upcoming blog.)
---
Options for Flat Storage:
3-Inch Drop Front Boxes can be used to store prints, books, albums, or virtually any other flat items. (Please click on images for more information.)
3-Inch Drop Front Boxes:
Available in a number of sizes and colors, these economical metal-edged 3-Inch Drop Front Boxes are absolutely perfect for storing almost every kind of flat print, photograph, document or artifact. They consist of a removable top and a bottom with a hinged "drop front'' panel on one of the long sides. This feature "opens'' the bottom section so the contents can be inserted, removed or examined safely, without bending or flexing the contents in any way. The risk of "dog-earing'' your materials is also greatly minimized.
These boxes are manufactured from heavyweight ArchivalGrade™ boxboard. As with all of our metal edge boxes, the metal clamps are anti-corrosion treated with a black polyester coating with a wax-free polyester finish on the blind side. These clamps provide both rigidity and high stacking strength.
---
1-1/2-Inch Drop Front Boxes:
1-1/2-Inch Drop Front Boxes are available in black, white and tan in a number of convenient sizes. Our white boxes (see below) are constructed with a matte laminate coating, making them water resistant, and are available in both standard sizes and formatted for digital prints.
Like the 3-inch boxes described above, these metal-edged boxes consist of a removable top and a bottom with a hinged "drop front" panel on one of the long sides.
---
White Metal Edge Boxes:
This style of White Metal Edge Box offers a practical yet elegant solution for the archival storage of documents, photographs, artwork, magazines, newspapers, musical scores and more. The 1-1/2-inch-deep design consists of a removable top and a bottom with a hinged "drop front'' panel on one of the long sides. While the three sizes available were specifically formatted for digital prints, these handsome boxes can also be used for just about any other flat artwork or collectibles you have, depending of course on their size (up to 13-1/2″ x 19-1/2″).
The fine quality white ArchivalGrade™ boxboard is acid- and lignin-free, and has a matte laminate coating making it water and scuff resistant. The interior of each box is lined with a rich acid-free gray paper.
---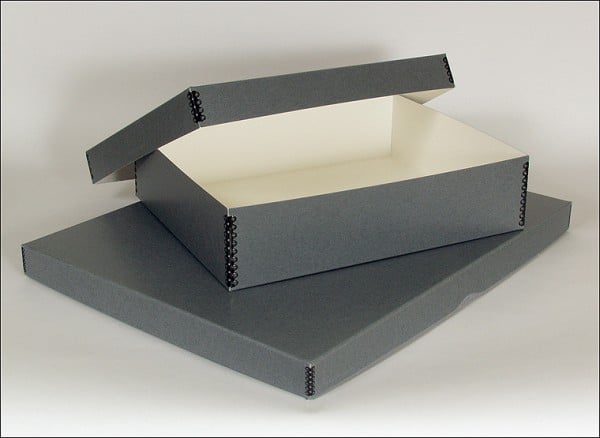 Flat Storage Boxes:
These gray archival Flat Storage Boxes come in two versions for storing all kinds of materials. The larger/shallower box (22-1/2″ x 28-1/2″ x 2″ deep) comes with a fully-telescoping top, while the smaller/deeper box (16-1/2″ x 20-1/2″ x 5″ deep) comes with a shorter (non-telescoping) top. All four corners of the bottom tray are fastened with metal edge clamps (and are thus non-drop front boxes).
---
Archival Corrugated Drop Side Boxes: 
These museum-quality, blue-gray Archival Corrugated Drop Side Boxes provide safe, acid-free storage for artwork, photographs, prints, maps, oversized newspapers and documents. The drop-side construction of these boxes allows items to be easily removed without damage. Available in larger sizes (up to 31-1/2″ x 24-1/2″ x 2-1/2″ deep), these boxes should be considered for even some of your largest items.
The removable lid completely covers the box tray, adding protection to the contents in storage. The self-locking design sets up quickly without fasteners.
---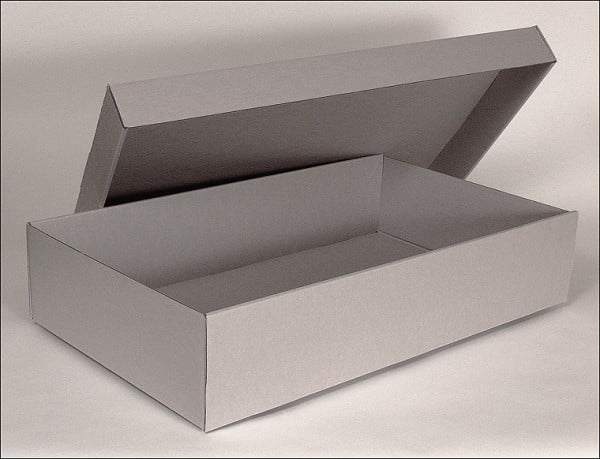 Textile Storage Box:
While specifically designed to be part of the popular all-in-one Textile Storage Kit, these handy archival Textile Storage Boxes can also be used to safely protect many other types of larger flat prints and artifacts.
These museum-quality corrugated boxes are easily assembled with a self-locking tab design and are manufactured from acid- and lignin-free paper. For added protection from acidic migration, the gray corrugated board is buffered with 3% calcium carbonate. Interior dimensions are a roomy 28-3/4" x 17" x 6″ deep, with a 3″ removable top.
---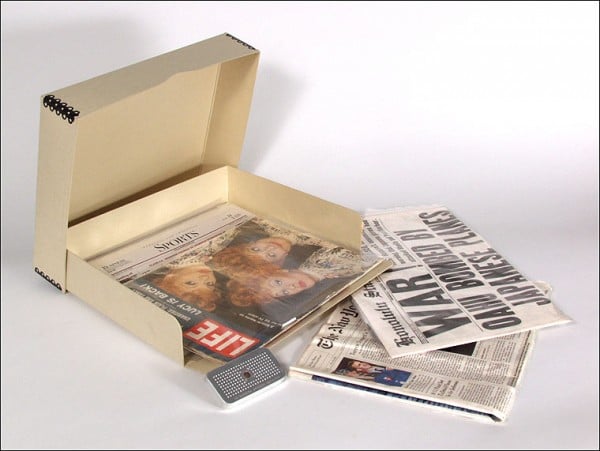 News Storage Kit:
Newsprint is, by its very nature, a poor candidate for long-term preservation. It is manufactured at the lowest possible cost and contains acid, lignin and other impurities that are not conductive to long life. While we all must accept the fact that newspapers will yellow and get brittle over time, it is certainly possible to extend their life through proper storage.
This can be achieved by storing newspapers and magazines in archival-quality polyethylene bags and then storing these bagged items in high-quality archival boxes. Archival Methods offers this all-in-one News Storage Kit for just this purpose. Simply measure the length and width of your newspapers or magazines and order the appropriate kit (and the type of moisiture-absorbing desiccant you prefer – see full explanation here). One last hint—do not "stress" newspapers by packing them too tightly in a storage box, as it is always best to pack them rather loosely to prevent extra wear and tear on delicate folds.
---
Short Top Boxes (left) and Hinged Lid Boxes (right) both come in a variety of convenient sizes that will accommodate many types of flat objects and artifacts. (Please click on images for more information.)
Short Top Boxes & Hinged Lid Boxes:
Often called "Archival Shoe Boxes," our Short Top Boxes and Hinged Lid Boxes are general-purpose containers often used for safely storing and protecting flat items such as postcards, photographic prints, film negatives, sports cards, recipes, CDs & DVDs, and many other small artifacts.
Our short top boxes have removable, close-fitted tops to seal out dust, pollutants and insects. Our hinged lid boxes have an attached lid and are available in both tan and elegant black. Embossed labeling areas on each box end and lid front neatly, accurately, and consistently locate and position standard pressure-sensitive (PSA) identification labels or an adhesive backed label holder.
---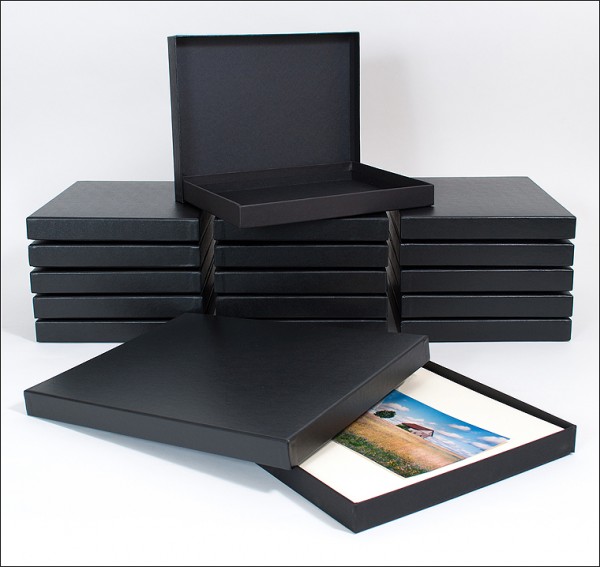 Black Proof Boxes:
In photography, presentation is all-important. This box allows you to deliver proofs with elegance in order to make your presentation as artistically engaging as your actual work. Our Black Proof Boxes are also widely used for both on-site storage and as an attractive, reusable inner box for shipping in a corrugated container or other shipping case.
These precision boxes are of a two-piece construction with a black paper lining and a sharp-looking black textured acrylic-coated exterior. The double-wall thickness of all box panels assures rigidity and resistance to crushing, and each is designed with a close tolerance to keep out dust, dirt, and other pollutants.
(Please Note: The Black Proof Box is intended for the organization, presentation and storing of proofs and not for the long-term storage of finished images, as the materials used to construct the boxes have not been submitted for formalized archival testing.)
---
Triangular Roll Storage Box. (Please click on images for more information.)
Triangular Roll Storage Box:
Large prints, maps, posters and such should be stored flat, if possible, in an appropriately-sized polyethylene bag, crystal clear bag, or between sheets of archival tissue or paper, and then placed inside in a museum-quality archival box. This can often prove impractical, however, and rolling your large flat prints or posters may be the solution you seek. Yet the improper storage of rolled prints can lead to damage, especially when attempting to remove a rolled artwork from a tube (we all know what THAT'S like!). Archival Methods' Triangular Roll Storage Box avoids the kinds of damage caused by pulling on the edges of rolled items when removing them from tubes. This design also reduces the possibility of causing a wrinkle when handling a rolled item. As an added plus, our Triangular Roll Storage Box will not inadvertently roll off your work surface, desk or table, and stacks much more easily than a tube.
Made of archival-quality corrugated board, these boxes provide safe, acid- and lignin-free storage for maps, prints, drawings and other rolled items. The six inch sides of the triangle will hold a roll diameter of up to 3-1/2″, and opens fully along the long side allowing for the safe placement and removal of rolled items. These quality archival boxes come in two convenient sizes: 6″ x 6″ x 30″ long, and 6″ x 6″ x 36″ long.
---
Got a Question on Choosing the Right Archival Storage Boxes?
If you have any additional questions or would like more information on the archival storage and presentation materials that are just right for you, please contact us here at Archival Methods. We're always there to help with any archiving, storage, or presentation questions you may have.
---