Welcome to the Future!
(…of Preserving the Present & the Past!)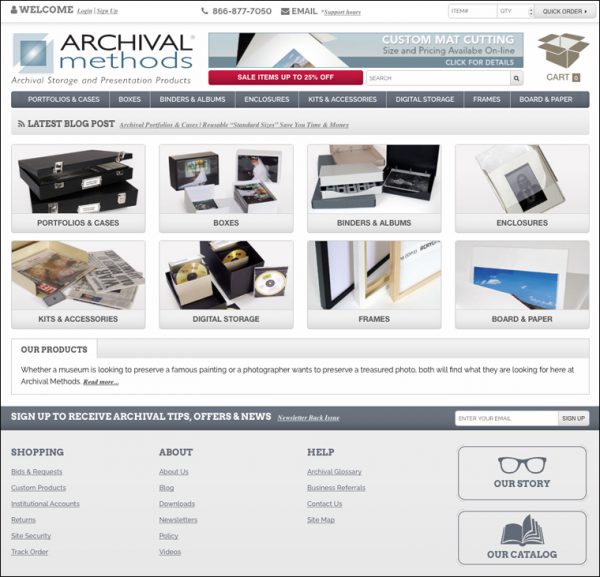 Archival Methods is always moving forward—with new products / new manufacturing capabilities / new blogs & online updates—and today we're pleased to announce our NEW website design!
Finding the perfect archival solutions for your every need was the motivation behind our 6-month effort to streamline the look & feel of your online Archival Methods experience, and after months of work the moment has finally arrived to go live!
In addition to many new navigational tools and more robust visual & written product descriptions, we've also added enhanced responsive design to our site, which means that you can explore the museum-quality archival products you're looking for on a desktop computer and just as easily on a tablet or smartphone (see photo above).
Whether you're a photographer / artist / serious genealogist / armchair family historian / or a collector of just about anything, you'll find exactly what you're looking for with our new, easy-to-navigate website.
So with that introduction, let's take a quick tour of the site's new features!
---
Overall Look & Feel:

Keeping (& Enhancing!) the Best Features
In the screenshot above you'll see that we've kept the best elements of our previous website design, such as the 8 general categories of archival products you're looking for (Portfolios & Cases / Boxes / Binders & Albums / etc.).
By clicking on any category a new page will come up that displays all the products in that category, allowing for quick visual navigation (see the Portfolios & Cases category screenshot below).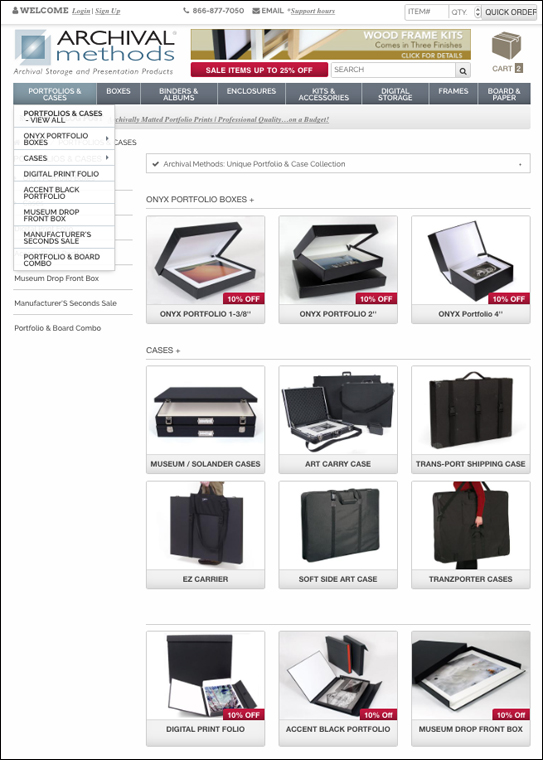 ---
Menus:

New Sidebar AND Drop Down Menus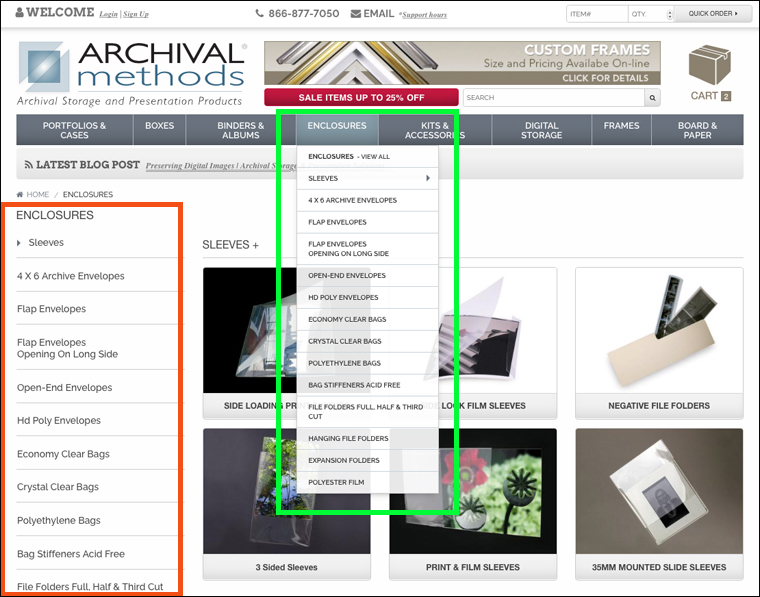 For this quick tour we've highlighted new features on screenshots of our redesigned website to help us point them out (these colored highlights do not appear on the actual site).
Using this highlighting on our Enclosures page above as an example, it's easy to point out that there are now two ways you can use our navigation menus: as a sidebar on the left of the screen (see orange box), and as a drop down menu under each product category (see green box).
---
Product Photographs:

MORE of Them / NEW Magnification Feature
Pictures often tell a deeper story, so our new website has more of them! Using the general category of Metal Edge Boxes as an example, let's zero in on Short Top Boxes (see green box above).
Above is the new online page for our versatile acid-free Short Top Boxes. Notice the 4 smaller product shots below the main photograph.
Here are enlargements of the central photo. You can scroll through and click on each additional product shot below to select it as the central image (see green box & arrow on the left), and when you hover over the image with your cursor you get a magnified view (see purple boxes on left & right).
The final result? More product pictures, and more detail in each one!
---
Product Applications & Features: 
New Easy-to-Navigate Windows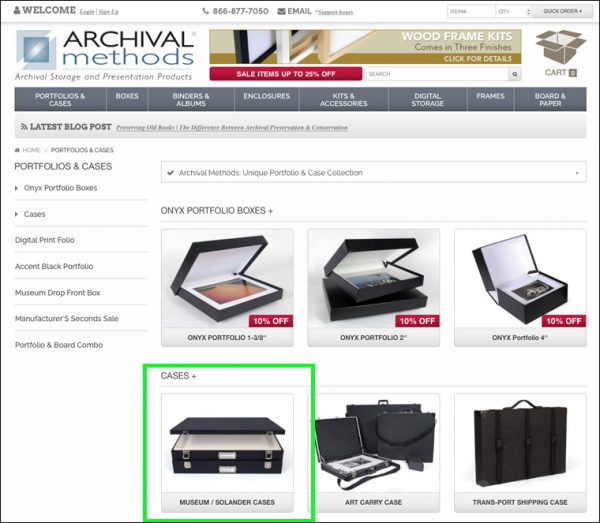 Selecting Museum / Solander Cases from the larger Portfolios & Cases category (see green box above) opens a window on that specific product (see below).
As shown in the images above, each product offers the following information options as part of a horizontal menu bar on the top right, including: Application (green box) / Features (blue box) / Specifications (purple box) / and Ordering Info (red box). Each option opens below the menu bar and provides you with all sorts of additional information on the specific products you're looking for—right at your fingertips!
---
Related Product Suggestions:

What Works with Each Item
Here we're looking at Collector Grade 3-Ring Binders (see green box above) on our larger Binders & Albums page.
At the bottom of the each product page—in this case for our Collector Grade Binders—is a section of Related Products You May Be Interested In, complete with photographs for easy visual navigation (see the green box). The small arrow on the far right of this window lets you scroll through suggested products related to what your considering on any current web page.
---
Customer Signup:

For Our Informative Newsletters & Special Offers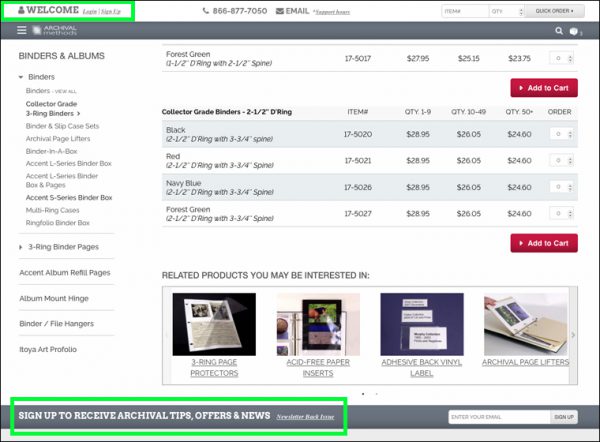 On each page of our new website we include active links that you can use to sign up as a Registered Customer (see the green boxes above). By clicking on either of these two links you'll open the window below.
There are a number of benefits to signing up as a registered Archival Methods customer! You'll receive all of our current newsletters with helpful tips & sale announcements, and you'll be able to streamline your ordering process as both your shipping address and your billing address will already be on file (please note: for increased security—and your peace-of-mind—Archival Methods DOES NOT keep your credit card information on file). 
In addition, by keeping track of your order history we can process your new orders easily & efficiently. We also offer a "Quick Order" feature at the top of every web page to speed the process along.
---
Visual Shopping Cart Preview:

Automatic Estimated Shipping Costs by Zip Code
Our new website design incorporates a short yet detailed shopping cart preview—which includes pictures of the products you've selected—that can now estimate your shipping cost by specific product. Once you've finished shopping simply enter your shipping destination zip code in the box indicated by the blue arrow in the screenshot on the left, and the estimated shipping costs are automatically calculated (see green box on the right).
Need to delete or change the order quantity of any particular product in your cart? No problem, as the new website will instantly recalculate with whatever changes you would like to make.
---
Our Wide-Ranging Blogs:

New Homepage Design for Easy Navigation
Coinciding with the work being done on our new website, we redesigned our blog homepage to make navigating by blog subject both quick and easy!
Our six categories of blog topics (see the top of each screenshot above) will allow you to find the exact type of illustrated information you're looking for, whether you're a photographer or an artist / a genealogist or family historian / a collector / or simply looking for additional information and "how-to" guides on whatever archival solutions you're interested in knowing more about.
---
Our Video Library:

Archival Methods Products "In-Action"
If you would like to see many of Archival Methods' products "in action," take a look at our video library. Our short videos will help you get a better sense of the features each product offers, and show you just how easy it it to use any specific item.
---
The NEW Archival Methods Website:

Stop By Often!
So, that's it in a nutshell! While covering the major conveniences offered by our new website design—including its ease of use on tablets and smartphones, where you may be reading this right now—perhaps the best way to see what's new is to go in and wander around! We're sure you'll find it an enjoyable experience!
And while you're there, consider signing up as a registered customer to experience the many benefits discussed above, and please follow us on Instagram, Twitter, Facebook and Pinterest, as we post new photos and links to interesting stories daily! 
In closing, we hope you will call or email with any questions you may have regarding anything you see on our new website, as we're always there with friendly, informed advice regarding all your archival presentation and storage needs.
---