Have you ever thought to yourself:
"So, just WHAT ARE all those mysterious icons at the bottom of each Archival Methods website page???"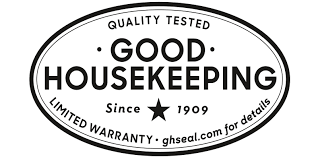 To understand the value of today's need for quality assurance and consumer protection, one can look back to an earlier time. Remember back in the day when different products would tout the fact that they had earned "The Good Housekeeping Seal of Approval." (Careful, you're dating yourself here, even though it's still a "thing.") For those who don't know, Good Housekeeping was / is a magazine that would grant its "seal of approval" (a "symbol of quality assurance and consumer protection," as described on the Good Housekeeping website) only to those products that met its high standards for endorsement.
Don't Get Scammed  /  Ripped Off  /  Phished  /  Hacked  /  Cyber-Ransomed  /  Deleted
(or respond to those "please help me get $5 million dollars out of the country" e-mails)
Today, in the Digital Age—or should we call it the Digital Jungle—there are any number of ways to get scammed / ripped off / phished / hacked / cyber-ransomed / deleted / and otherwise assaulted by identity theft and promises of millions from some "government official" in some foreign country who promises you a cut of some mystery bank account. To combat this, there are certain web-based firms that will certify online retail companies as being completely legit, secure, and safe to deal with. This is becoming ever more important in an era of both expanding e-commerce and expanding opportunities to be hacked or ripped off.
Which brings us back to the mystery icons featured at the bottom of each Archival Methods web page, all of which we are proud to be associated with and be recognized by. They are, from left to right (see fuller descriptions, below):
Braintree (a PayPal Company)
Thawte
ResellerRatings
Trustwave
We at Archival Methods tout our endorsements and associations with these firms, as such endorsements must be EARNED and PROVEN. Yet while appearing on every Archival Methods web page, the real reason they are there is not to blow our own horn, but rather to assure YOU, our customers from around the world, that your transactions are safe and secure.
Combined with our Return & Refund policy (simply put: "If you buy an Archival Methods product and it doesn't meet your needs, return it for a full product refund." – click here for complete customer service information), the endorsements, reviews and certifications Archival Methods has earned from these diverse firms is further proof that we have our customers' best interests in mind at all times.
Please scroll down to see a brief description of each of these four icons and their corresponding companies. More in-depth information on each company can be found by clicking on each icon on the bottom of any of our Archival Methods web pages.
---
World-Class, Museum-Quality Archival Methods Products
+
Proactive Cyber Security
=



Archivally Safe Collections  &  Electronically Safe Transactions
---
Braintree

 
(Secure Transaction Processing)
---
Thawte
(Secure Communications and Transaction Encryption)
---
ResellerRatings Elite
(Customer Review Ratings – Elite Level)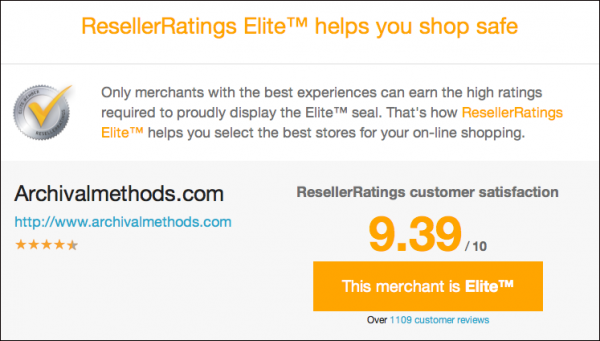 ---
Trustwave
(Credit Card and Identity Security Compliance)
---
Contact Us
If you have any questions on our elaborate cyber-security protocols, or would like more information on the archival storage and presentation materials that are right for you, please contact us here at Archival Methods. We're always there to help with any archiving, storage, or presentation questions you may have.
We would also like to encourage you to follow us on Twitter, Facebook and Pinterest for up-to-the-minute information and stories of interest.
---