Part 2:
Finding My Family Archives, Photographs
and Artifacts
---
Why I Gotta Do This:
A Journey into Ancestry, Genealogy, Family History, Antique Photographs, Disorganization, Dysfunction, Chaos, and One Man's Search for Archival Salvation
---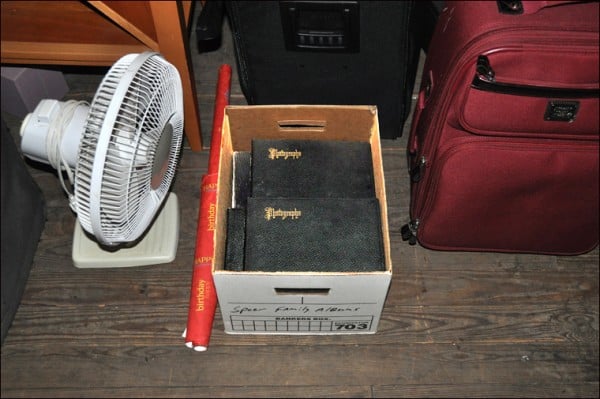 What is actually "good" about this arrangement is that this box of family photograph albums is:
     1. in a single location, and was therefore relatively easy to find
     2. the photo albums themselves are in a box, offering at least
         some organization and protection
What is "bad" about this arrangement is:
     1. the albums are being stored in the attic, with its harmful
         temperature and humidity fluctuations
     2. the box, while offering some protection and organization,
         does not meet any requirements for true archival storage
The same pros and cons mentioned above apply to this photograph: while stored in the wrong place (my attic) and in the wrong enclosures (non-archival storage enclosures, shoeboxes, plastic containers, office storage boxes, etc.), at least these absolutely irreplaceable photographs, films, framed works and family artifacts are in one place, and while junked together they were at least somewhat protected.
Hey, we should all take what we can get!
---
The task now is to convert all this fossilized crap…er… wonderful and irreplaceable family photos, home movies, genealogy records, and heirlooms…
…into THIS! The correct archival storage solutions across the board.


(Please click on images for more details)



---
Now then, my fellow adventurers and time-travelers, let's make our start, beginning with… 
Part 3 – Setting Up a Work Space
(BTW – got a question thus far? Got a particularly challenging archival storage / preservation / presentation / organizational nut that just won't crack? Don't know what's what re: your personal archive or collection? Post a comment or contact us. We'll get ya through it!)
---