Part 4:
The Preliminary Sort – 
Images, Media Types, Family History,
and Priceless Junque
---
Why I Gotta Do This:
A Journey into Ancestry, Genealogy, Family History, Antique Photographs, Disorganization, Dysfunction, Chaos, and One Man's Search for Archival Salvation
---
(Subtitle: Hey, these one-of-a-kind letters from Amelia Earhart to my old man from 1968 have gotta be of interest to SOMEONE, right?)
By separating the various "types" of archive materials I have, a few rather interesting things began to happen. First, I started to more fully wrap my mind (what's left of it) around what exactly was in my family's archive:
    •

Snapshots (lots of 'em)
    •

35mm Color Slides
    •

8mm Home Movies
    •

Family Photo Albums in a Variety of Colors and Flavors
    •

Framed Photographs and Ephemera
    •

Letters, Correspondences and Family Documents
    •

Newspapers and Clippings
    •

Genealogical Stuff
    •

Fabrics
    •

Old Toys
    •

And – a category unto itself – Weird Stuff
Secondly, and perhaps unexpectedly, I'm growing closer to this material, which until now was sort of just "there," if you know what I mean. More precisely, I knew these archives existed, but they seemed sort of "distant"—out of sight and out of mind, up in the attic somewhere—completely removed from deeper emotional attachment in the here-and-now of my everyday hectic life. All this changed when I began to dig deeper into my family history and the visual and written records left to me by so many different people—living, breathing people who helped shape their world and, consequently, my own.
Lesson Learned: Pain and Sorrow + Joy and Happiness = Life
Thus far I have been bustin' chops here and there about different aspects of this archiving adventure (see previous posts #1-3), but certain elements of this project are also a bit more serious, more touching, more laden with sadness and loss. Sure, there is lots to laugh about, like my so-called "taste" in clothing or hairstyle back in the 1970s, but there are also somber moments, such as when I discovered some old color photographs of my Uncle Michael. He was my godfather, back when that generation assigned such roles, and I only met him twice when I was fairly young. Yet the memories I do have of him were VERY pleasant, and that's what made finding his photographs so touching.
My Uncle Michael took his own life in 1969.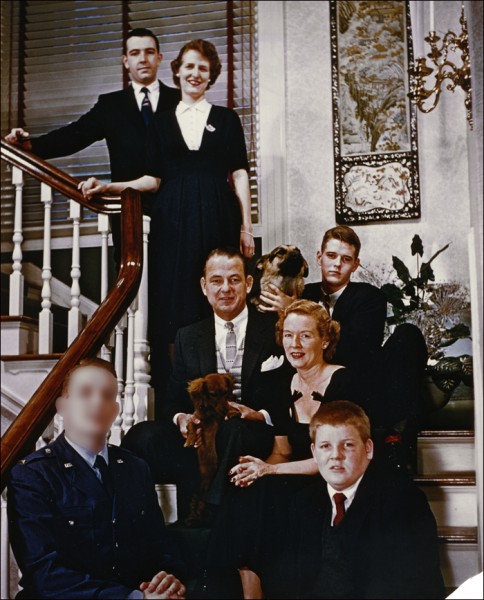 The very few images I have of a young, vibrant, smiling Uncle Michael, full of life in his late teens and early 20's, are thus very important to me, and seeing as I inherited my maternal grandmother's (Uncle Michael's mom's) photo archive, these may represent the only surviving evidence that Michael ever lived at all, as he never married and left no children. This makes my desire to care for these images even stronger, as by archivally preserving the photographs of this troubled young man (I had mentioned in this blog's headline that there was dysfunction in the family, and more's coming I'm afraid) I keep his memory alive in a way that is tremendously important to me, and can be passed down through the generations. That, my friends, is worth doing. The preservation of family history at its finest.
So, with that said, its on to perhaps more pleasant tasks – the Preliminary Sort.
---
Using the list of "stuff" above, here is the way I sorted things out:
Drug Store Film Processing Envelopes: Keep the photos and negatives you find in these packets together inside their original envelopes, as there is often valuable information on who / where / when the images were taken or processed written on the outside of each envelope. You will eventually transfer this information onto archival envelopes and enclosures, but in the meantime enjoy what you find in these miniature time capsules. Its your family's whole life – in pictures! Ya can't beat that!
Loose Family Photos and Snapshots: Jeez Grandma, what's up with THAT??? If faced with this, you might consider sorting these images AFTER you've looked through the snapshots in the drug store processing envelopes and family photo albums, as any identification you can make THERE may help you make family history identifications HERE.
35mm Color Slides: Keep these in their original boxes in order to preserve information and keep slides from the same roll / time period together until the time comes to print the best of them (much easier these days) and transfer them to archivally safe pages, enclosures or boxes.
8mm Home Movies: Follow the rule of keeping these films in their boxes, if they have them, as important identifying information is often present on these boxes. Hmmmm, "home movies," eh? Wink, wink, nod, nod, say no more. Probably not, actually.
Family Photo Albums: These come in all sorts of shapes, sizes, and level of "finish" when it comes to what's been written and documented in terms of names / dates / places. Also of great importance is the overall condition these albums are in, as that will determine how they are handled and shared.
Framed Images and Ephemera: My entire family's history once hung on a wall. Some of these images are going to remained framed, while others will not. One thing is for certain, though, harmful acidic backing boards will undoubtedly be found in direct contact with every image, and that must be addressed. BTW, the huge 18-inch bow in my grandma's hair in the pix at top left from when she was a kid? Those are coming back, my friends. I personally think you should invest all your life savings in BigWeirdHairBowsAreWayCool.com. You'll make millions, millions I say. I'm actually selling stock, so send me your paycheck every month and I'll make sure ya get in on the ground floor.
Letters, Correspondences and Documents: The era of this level of letter writing is sadly over. Fortunately, though, all these letters and correspondences – mostly from the 1920s and 1930s – were kept, and even organized in a binder! Now it falls to me to ensure the next 100+ years of their survival. I mean, one-of-a-kind letters from Amelia Earhart to my old man from 1968 have gotta be of interest to SOMEONE, right?
Newspaper Clippings: These offer unique insights into the interests of my family, while simultaneously offering a number of challenges with regard to archival presentation and preservation. In the case of the news clippings above, I found a whole packet of articles from a fatal dorm fire at Kenyon College on February 27, 1949, that my dad (Kenyon class of '52) lived through. That tragic fire killed 9 students in the prime of their lives. I'm planning on organizing these clippings, copying them, storing them in archival enclosures, and then donating the originals to Kenyon's Special Collections Library, the archive that will benefit the most from this vintage material, while I keep copies for the family collection. For more information on old newspapers, including some that might reference your own family history, please click here.
Genealogical Stuff: I've found all sorts of crazy records, including this huge 2-foot by 3-foot circular hand-written genealogical chart (only a portion of which is shown here). The oldest relative listed on this chart was born in 1590! Inspired by this find, I went online to see what else I could find out about my family's history (click here to do the same thing). Who knew this stuff has been sitting around in my attic all these years / decades? Not me! Something else I found out while reading this stuff? Apparently my two kids qualify to be Daughters of the American Revolution. Who knew about any of THAT, either! Do they have a secret handshake? A decoder ring? Do they go door-to-door sellin' cookies (I'll take eleven boxes of Thin Mints, please)? Questions, questions.
Fabrics: Dad and mom's baby socks, 1930 / 1932, respectively. Hallelujah, the sock on the left (blue for boys, remember?) even has its original announcement card that includes the date – October 19, 1930 – my old man's birthday. Baby clothes, wedding dresses, military uniforms, the kids' first stuffed animals, all of it calls out for appropriate archival care, and each has its own archival solutions.
Toys: My dad was into building elaborate ship models (more on preserving his vast archive of all that coming up in a future blog), while I was always into airplanes, especially from the "Streamlined" era of the 1930s & 1940s. My dad shared this passion, at least a bit, as back in the day he had actually flown on a variety of these cool streamlined planes. For Christmas in 2002 I gave him a DC3 tin toy (see top photo), and the photo on the left shows him holding it that day. A few years after he died in 2006 my daughter gave me an ink drawing she made from that photograph. Just how cool is THAT! All of these artifacts are truly dear to my heart, and each requires its own archival solutions to ensure they last a lifetime, and beyond.  

Weird Stuff: While my dad was playing with toy trucks in the 1930s (I have one of these trucks from dad's childhood – see blog #1 from this series), I was messing around with Rat Finks in the 1960s. What a hoot. Duplicates of these are going to be stored in the finest museum-quality archival materials (as they should be!), while the rest are going out on a shelf TODAY! Hey, I grew up with this weird junk, so its IMPORTANT!  'Nuff said, Daddy-O.
---
Well, with all that sorted out (no pun intended), its on to the next step:
Part 5: Quick and Easy Methods for Dating Photographs
See you there.
(BTW – got a question thus far? Got a particularly challenging archival / preservation / presentation / organizational / storage nut that just won't crack? Don't know what's what re: your personal archive or collection? Contact us and we'll get ya through it!)
---