Part 10:
Preserving Snapshots – Chapter 1:
The "Old-School" Drug Store
Film Processing Envelope

---
Why I Gotta Do This:
A Journey into Ancestry, Genealogy, Family History, Antique Photographs, Disorganization, Dysfunction, Chaos, and One Man's Search for Archival Salvation
---
So, today we're gonna play "Just How Old ARE You?"
To wit…
Question #1 (there is…er…only one question):  
What is this thing???
If you answered "Well, Lance, I do believe that it's an instruction booklet for a neutral-gravity shrimp boat engine for use on the methane seas of Jupiter's moon Titan," then you and I are destined to be great friends!
But seriously, folks, if you're old enough recognize this as one of those old-school drug store film processing envelopes from the 1940s / 50s / 60s / 70s / 80s / 90s then YOU WIN! Your prize? A personalized invitation from me to read the rest of this in-depth blog on preserving YOUR old-school snapshots, photographs and negatives.
---

Yup, goofy and dated as these sorts of envelopes are (despite best efforts to brighten them up with color and graphics), what's inside is often a REAL treasure (see snapshot below). Contained within my own pile of these envelopes were priceless and irreplaceable images and memories of people, places, events, relatives, friends, graduations, my first car, my first girlfriend, my marriages (yup, more than one, a couple of divorces too, but who's counting), my kids growing up, and everything in between. You've got all these precious packets somewhere in your collection, too, so go and find them and we'll walk through all the steps to make them accessible, identifiable, presentable, and archivally safe for generations to come.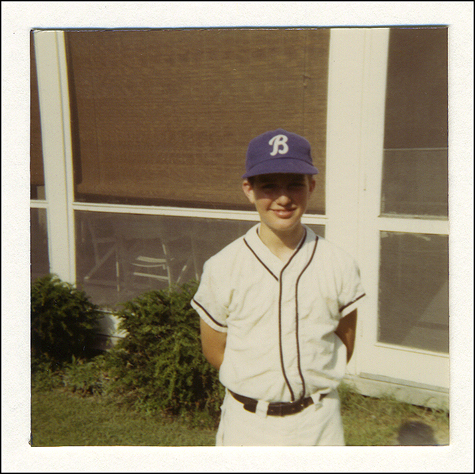 So, without further ado, it's on to the task at hand…
Preserving Snapshots Found in My Old-School Drug Store Film Processing Envelopes
To review, this is what my own family's archive looked like when I dug it out of the Attic of Doom (please see Blog #1 here). The purple rectangle indicates the random drug store film processing envelopes that were strewn helter-skelter (apologies to Beatrix Potter / The Beatles / C.M.) amongst other artifacts such as my family's 8mm color movies (please see Blog #6 on preserving 8mm home movies here).
As mentioned in Blog #1 (please click here), shoe boxes are for…well…SHOES! Not irreplaceable family photographs. The first step (no pun intended) in preserving snapshots, then, is locating them, getting them out of crappy old shoeboxes and such, and sorting them out (see pix below).
The (relatively easy) "task" of turning THIS ↑ …                                      …into THIS ↑.
If there is any "problem" associated with this particular procedure it is definitely centered around my desire to look at EVERY SINGLE IMAGE in these wonderful time capsules!!! Great stuff, all those images, and certainly worthy of archival care (it's easy, too).

So, this is what I'm gonna do. I have taken a random drug store film processing envelope from my family archive (the yellow and red packet on the left) and determined what information I can glean from the envelope itself and the prints / negatives within. In this case the envelope holds snapshots from "Winter & Spring, 1965 / including camping," as written by my old man back when this roll of film was processed (see purple rectangle, above). Sure enough, when I opened it I found those specific images—black & white snapshots and negatives (the dark black thingies) from a camping trip we all went on in June, 1965 (the snapshots themselves are dated with that month and year). After looking through these snapshots—with quite a bit of nostalgia—I transferred all this information (as well as what I can remember in terms just WHERE this camping trip was) to an acid-free 4×6 Archive Envelope that was conveniently pre-printed with spaces for this specific information. Everything is now ID'd with month / year / place / people, and the prints and their associated negatives are now archivally safe, identified, and securely filed together.
BOOM! Organizing and preserving snapshots is as easy as that!
IMPORTANT NOTE: write on your acid-free envelopes in pencil (click here for more information), which is relatively inert and will not bleed through or otherwise contaminate your collection with the oils and other harmful stuff found in many inks. Also make sure you write any important information on the envelope BEFORE you place your prints and negatives inside to prevent any pencil impressions from transferring to the images themselves.
Quick Hack (see below): When going through your old drug store film processing envelopes take a moment to quickly compare the prints that you find with the images on the negatives (which usually accompanied the prints in these envelopes). The reason to do this is because often, over the course of many years, different people have undoubtedly gone through these envelopes and removed the very best images for placement in photo albums, picture frames, to use as wallet keepsakes, etc. If you quickly compare prints with negatives (not super easy but also not super hard) you might find what appears to be a GREAT snapshot on the negative strip that just wasn't in the envelope. Since you still HAVE the negative, however, you can easily get a new print made of the "missing" image. This is why it is recommended that you ALWAYS keep the negatives and, since its so easy to store negatives in the same new 4×6 Archive Envelope as your prints from the same roll, it makes no sense not to. Future generations will thank you for it!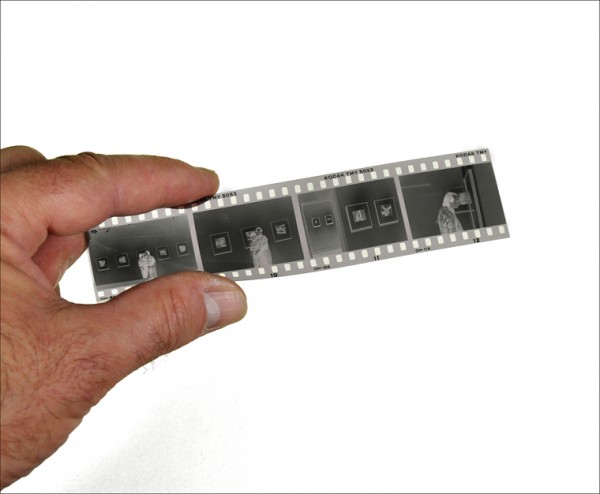 (Please click on images for more information.)
The next thing I did was grab a pack of Acid-Free Index Cards. These will fit a number of different archival boxes and kits and can be easily trimmed to fit whichever size / color / format box I choose. The index tab allows me to write what's what / who's who / where's where / when's when on these convenient dividers, making locating my family's snapshots easy for me in the here-and-now, as well as quite useful for my children's children's children 100 years from now while they're living on a shrimp boat sailing the methane seas of Jupiter's moon Titan (see explanation above).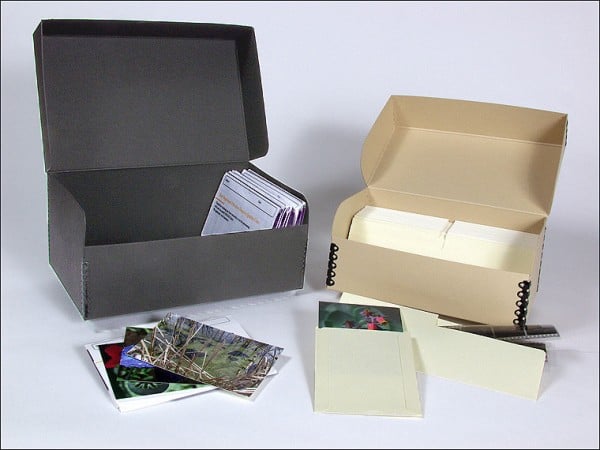 Another option for preserving snapshots: prints in one box, negatives in another – each keyed and cross-referenced to each other through the information I wrote (in pencil!) on the acid-free open-end envelopes and the negative file folders pictured above.
In today's world of digital photography, where the venerable negative is no longer a part of the photographic equation, preserving snapshots is a breeze with a number of practical options available. The Metal Edged QPO 2400 Kit above is economical (it holds up to 2400 snapshots!), accessible, and easy-to-use.
Quick Hack: In the era of digital photography where no negative exists, it is recommended that you back up your digital snapshots, videos and other such files on high-quality DVDs (please click here for more information) and keep them organized and archivally protected the same way you would keep your negatives safe. This can be done with any number of Archival Methods' high-quality digital products and solutions such as those described here.
For more information on preserving snapshots with print storage kits,
please watch our short online video here.
---
Preserving Snapshots From Drug Store Film Processing Envelopes in Photo Albums
While going through my drug store film processing envelopes I came across a good number of snapshots that I wanted to include in photo albums, with the "less important" images stored in the print/negative envelopes and boxes/kits described above. Easy-to-use archival polypropylene pages make this a simple process, and with the particular pages illustrated above and below the important information found on the original film processing envelopes was transferred to the acid-free paper identification insert that comes with each page (see images above / below).
Archival polypropylene pages, available in a number of formats to accommodate various print sizes, allow me to insert up to 8 snapshots per page (4 on each side), which can then be placed in a variety of different 3-ring archival boxes, binders and albums.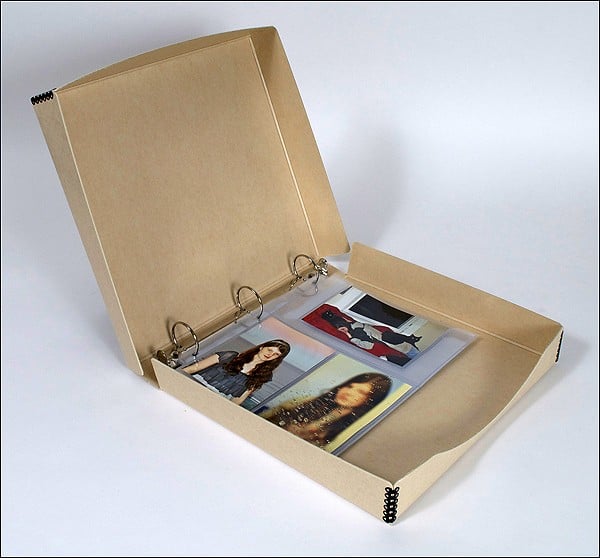 These are just a few of the economical, practical and archivally safe ways to store and present dozens upon dozens of family snapshots.
(Please click on images for more information.)
The "best" snapshots from my family archive of old drug store film processing envelopes are going into exceptionally well made Collector Grade 3-Ring Binders which then slide into elegant slip cases for an additional layer of protection against dust, moisture and household pollutants (they look great on a shelf, too). I'm a big fan of the red and black binders (they also come in blue and green options), and are available in both 1.5 inch and 2.5 inch sizes.
---
So, with the snapshots and negatives from all my old-school drug store film processing envelopes sorted and stored, I now want to take a bit of time to think about the various loose photographs that were floating around in my family's archive. The really nice thing about the the drug store packets was the fact that the prints and negs were TOGETHER and often IDENTIFIED. This is not the case with the random photographs and snapshots I found in THIS circumstance: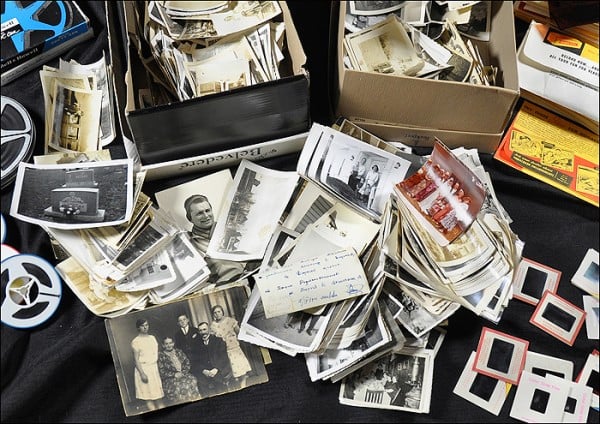 With the "easy" stuff done thus far—8mm home movies (please see Blog #6 here) / 35mm slides (please see Blog #7 here) / family photo albums (please see Blog #8 here) / and drug store film processing envelopes (please see above)—I am now going to sort through the "loose" photographs to determine who's who and what's what. 
And with that, we're off to…
Part 11:

Preserving Snapshots – Chapter 2:

The Loose, Unidentified, Random Family Image
---
Contact Us: Got a particularly challenging archival / preservation / presentation / organizational / storage nut that just won't crack? Don't know what's what re: your personal archive or collection? Contact us, and we'll get ya through it!
---